Under the covers... Captain Fantastic Aldridge's Art
Aldridge's Art
Graphic artist Alan Aldridge began his career as an illustrator in earnest with The Sunday Times magazine in the early 1960s, but he probably drew the notice of pop's cognoscenti when he was hired by Penguin in 1965 to give their sci-fi titles a more exciting, surreal look.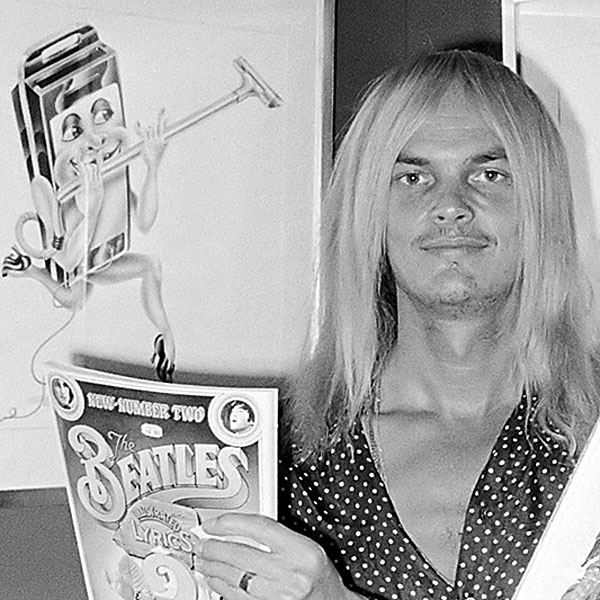 Andy Warhol evidently took note, and commissioned Aldridge to come up with the startling graphic image for his 1966 movie Chelsea Girls, featuring a hotel's doors and windows strategically positioned across teenage artist Clare Shenstone's body. 'I wish the movie had been as good as the poster', Warhol commented.
By 1969 he was a face on the London scene centred around The Beatles' new Apple Corps HQ, and that year the Fabs employed him to provide much of the eye-warping art for The Beatles: Illustrated Lyrics book.
He was working on sleeve art, too: one of Aldridge's designs was for Cream's 1969 album Goodbye. The shot of the trio posing, showbiz-style in silver tuxedos was allegedly assisted by Lionel Blair, who Aldridge bumped into in the street outside. Swinging London, eh?
Later, his illustrated 1973 version of the children's poem 'The Butterfly Ball And The Grasshopper's Feast' sold a million in its first year, further spreading his reach. So chances were that if you were coming of age in the late 1960s and early 1970s, Aldridge's bewildering but brilliant art was already in your home somewhere, long before Elton let him loose.