Under the covers... Captain Fantastic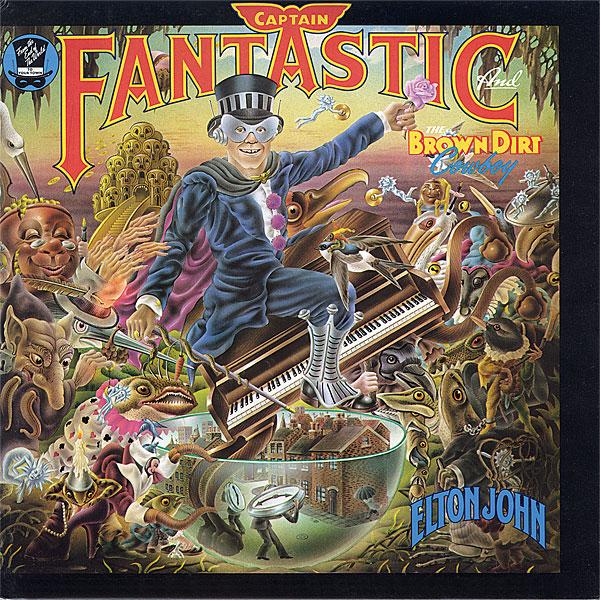 Johnny Sharp on the creation of the artwork for Elton John's 1975 album Captain Fantastic
Pride, it is said, comes before a fall. But when Elton John made a concept album at the height of his success, celebrating the journey he and lyricist Bernie Taupin had made since their first meeting in 1967, the old maxim didn't hold true. Not only did it become the first album to top the Billboard charts in its week of release, it would also prove to be a creative high-water mark for the songwriting partnership.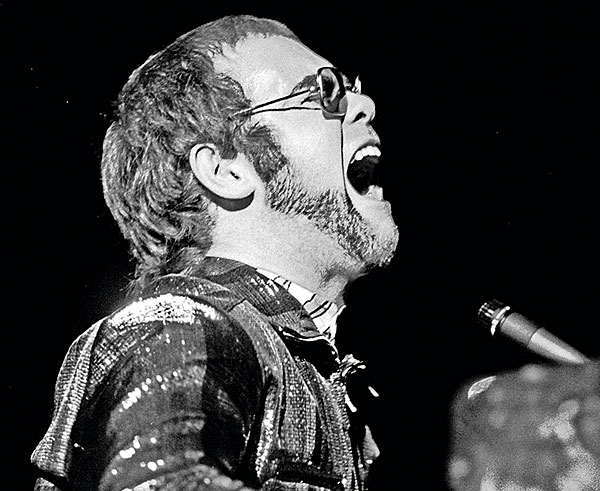 It was the work of an artist and band riding high, ready to sit on the mountain top and reflect on how far they'd come. And for the LP's sleeve, Taupin and Elton's regular art director David Larkham asked mercurial pop artist Alan Aldridge to come up with a lurid, lysergic yet playful illustration to suit.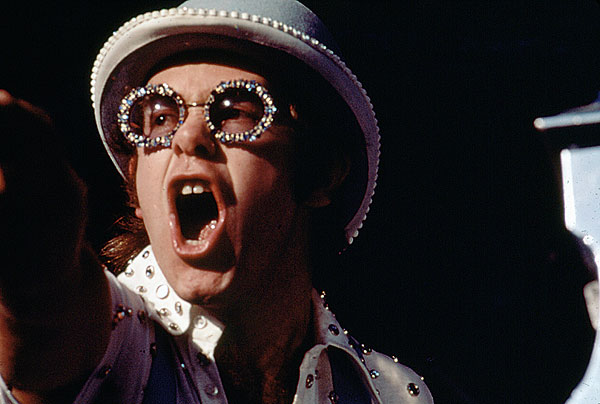 Before the cover, however, came the ideas, the vision and the songs, and these took shape amid the blizzard of success and excess experienced by Elton and Bernie following the release of 1974's platinum-selling Caribou. In the autumn of that year, Elton was invited by John Lennon to accompany his ex-wife Cynthia and son Julian to New York on the SS France. He invited his band and their partners along, intending to record once they'd arrived, and en route took the opportunity to put music to new lyrics Bernie had given him.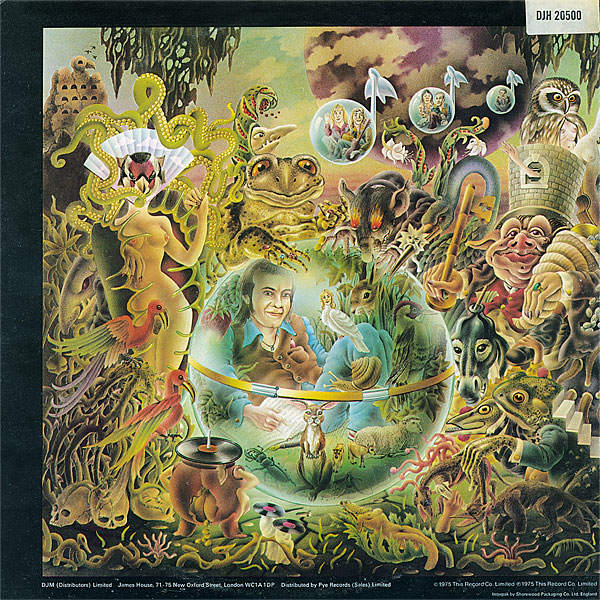 Dynamic Duo
'They'd only let me use the music room for a couple of hours a day during lunch', he recalled in 2019. During that time, the ship's resident singer and her pianist would relocate to the floor above, where he would rehearse with an opera singer, doing his best to disturb the green-haired pop peacock in the midst of fevered creation. 'I'd write a song – or sometimes two – every day during lunch break, to the accompaniment of an aggrieved pianist hammering away through the ceiling. And I'd have to remember them. I didn't have a tape recorder with me.'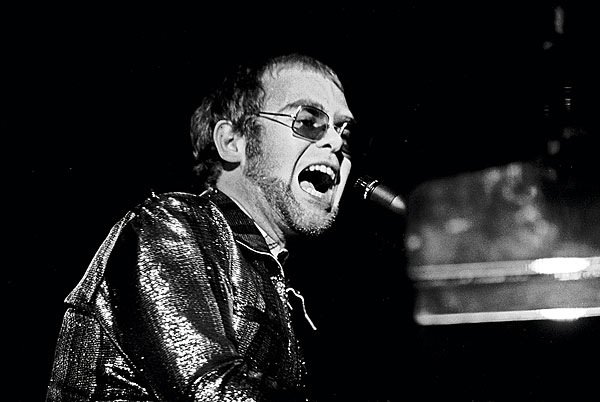 As strong a testament to Elton's talent as that may be, the lyrics had reputedly already been penned by Taupin in sequential order as they should appear on the finished LP. So while the Sleaford bard routinely wrote words for the star of the show to weave melodic gold around, on this occasion the clear vision of how they would form an album's narrative flow was Taupin's in a more pronounced way than ever.
The opening title track sets the scene as it references Reginald Dwight's childhood in a 'raised and regimented' environment while Taupin is wondering 'should I make my way out of my home in the woods'.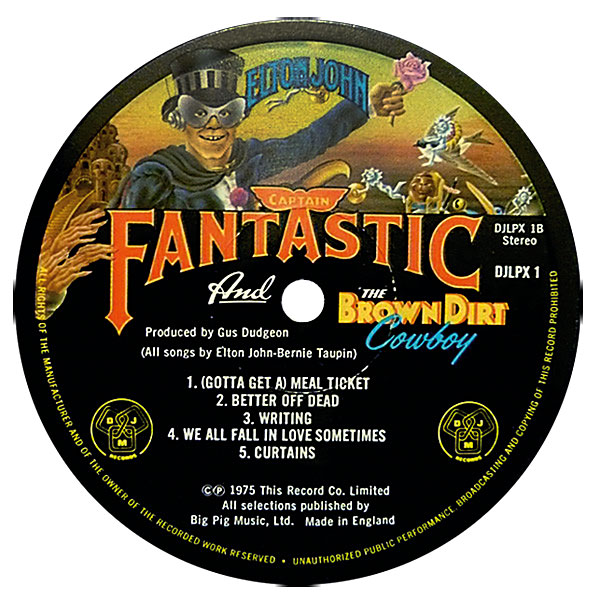 Once in London in 'Tower Of Babel' they see 'Sodom meet Gomorrah, Cain meet Abel', and then 'Bitter Fingers' recalls the less-than-ideal experience of being a songwriter for hire at Dick James music. Further in, the album's sole hit single, 'Somebody Saved My Life Tonight', referenced the young Reg's engagement to Linda Woodrow, which he was talked out of just weeks before the wedding by would-be best man Long John Baldry. 'You almost had your hooks in me, didn't you dear', it observed, rather caustically. It also referred to the suicide attempt around that time, when Taupin found his writing partner with his head in the gas oven of their communal flat.
Boys In The Bubble
While the words were Bernie's, Elton found himself emotionally invested in the story more than ever. 'Before, I just used to write melodies to Bernie's experiences and fantasies', he told Melody Maker. 'I identify with this album so much more than anything else I've done. For me it will always be my favourite.'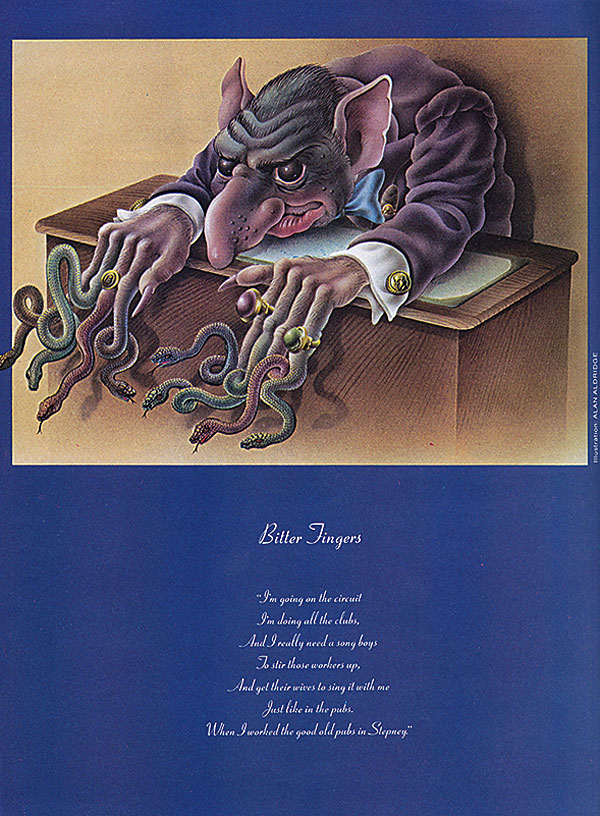 Aldridge set about representing all this with an illustration spanning two panels of a gatefold sleeve, inspired by Hieronymous Bosch's famously grotesque and surreal Renaissance work 'The Garden Of Earthly Delights'. At the centre of the image on the cover itself is Elton, masked and top-hatted like the cartoon superhero the Captain Fantastic name suggests, riding a piano as if it's a wild horse, apparently about to jump out of the image, larger than life as per usual.