Under the covers... Bringing It All Back Home Dylan's '60s Albums
Dylan's '60s Albums
For a man who you could hardly describe as conventionally handsome, Bob Dylan's '60s albums featured some pretty charismatic portraits.
The first truly iconic Dylan cover would be photographed for 1963's The Freewheelin' Bob Dylan when Don Hunstein suggested Bob and girlfriend Suze Rotolo leave their apartment and take a walk down West 4th Street despite the freezing, snowy conditions. Dylan chose the resulting shot partly because of its resemblance to a photo of one of his heroes, James Dean.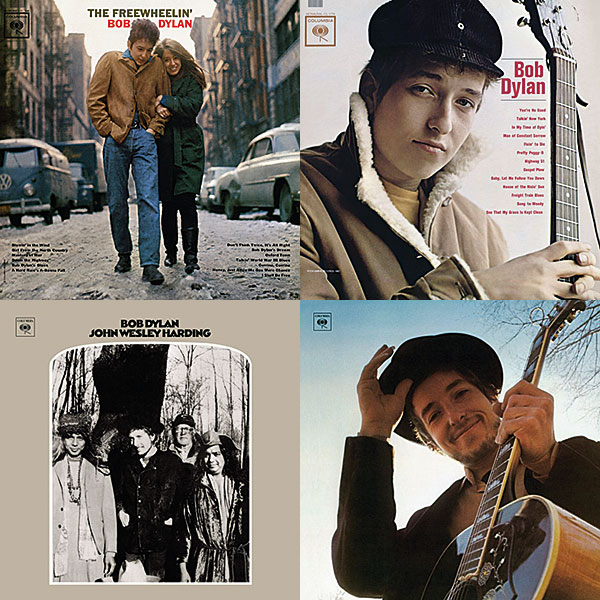 Two years previously Hunstein had first photographed the then-20-year-old Dylan for his debut album with no such evocative backdrop required [above]. Dylan, clad in a fisherman's cap, simply sat down by a window holding his guitar and the shot was sealed. A similarly low-maintenance approach was taken for Barry Feinstein's shot of a glowering Dylan for The Times They Are A-Changin' (taken on a friend's NYC balcony) and the cover photo for Another Side Of Bob Dylan, in which photographer Sandy Speiser wandered Manhattan until they found a street corner to shoot on.
Another Kramer portrait adorned Highway 61 Revisited, then the tradition of taking sleeve photos in NYC was returned to for the cover of 1966 album Blonde On Blonde. Once again the photograph was taken on a pretty freezing February day. The slightly blurred image was no nod to psychedelia, though, as Jerry Schatzberg revealed in 2015: 'Everybody said, "Oh, they were trying to do a drug shot". It's not true… the two of us were really cold'. The photo was out of focus by accident – because he was shivering.
A more notably random image was found on the cover of Dylan's back-to-basics 1967 set John Wesley Harding, with our coy-looking hero flanked by two rather baffled-looking Indian musicians and a local carpenter. Taken by Columbia art director John Berg at minimal expense, it's as if Bob has just put a band (of outlaws?) together from strays he's found walking past.
To help Dylan's decade to a close, Elliot Landy was commissioned to shoot the cover of 1969's country-influenced Nashville Skyline, and the shot inadvertently seems to offer a faint mirror image of that used on his 1962 debut, once again with guitar in hand. You've come a long way, Bobby.