Rotel CD11/A11 CD Player/Amplifier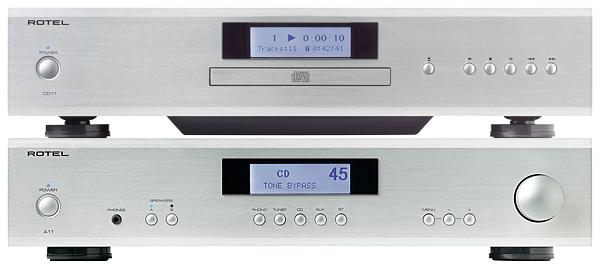 The big beast of the budget audiophile jungle is back with two new models to beef-up its 14-series lineup. Does this affordable CD/amp combination have real teeth?
Something is afoot in the land of hi-fi separates. First we had Musical Fidelity with its M2scd/M2si [HFN Jul '19], then Cambridge Audio's AXC35/AXA35 [HFN Sep '19] and now Rotel has launched its own affordable amplifier and CD player pairing, in the form of the £429 CD11 and £599 A11.
It may seem something of a backwards step to release traditional components when the way in which we consume music is becoming increasingly 'virtual'. Yet the good old CD refuses to die and there is a mountain of music that already exists on the format just waiting to be enjoyed. And as for the amplifier here, well it has a few modern tricks up its sleeve.
Both components are a development of the company's higher-specification '14' models, the amplifier sitting below both the A14 and A12 units, but above the no-frills A10. The CD11 CD player, on the other hand, is currently the first step on Rotel's CD player ladder. That said, both products pack an impressive amount of technology into their compact forms and conform to Rotel's long-standing 'Balanced Design Concept'.
Core Beliefs
Rather than a physical circuit topology, as the name might suggest, this concept summarises a process that governs the entire evolution of a Rotel product. It encompasses component selection, circuit design and the way in which the final unit is evaluated. Ultimately, Rotel states that its two core principles within this process are that good sound comes from informed engineering, and that no single design aspect of any unit will be emphasised if it means lower performance in another area.

Considering the A11 first, this is an integrated amplifier offering a claimed output of 50W per channel into 8ohm. To the rear can be found four line-level inputs labelled CD, Tuner, Aux1 and Aux2, though there is no fixed line-level output for a cassette or digital recorder. There is a preamp output, however, should you wish to boost the A11's performance by adding a matching Rotel power amplifier at a later stage.
The A11 also offers a moving-magnet phono stage, as well as a Bluetooth input for streaming music from a suitable device. It's with the latter that this amp shows its thoroughly modern credentials as first-time buyers will be highly likely to have large virtual music collections that they're used to sending through the ether. This Bluetooth input caters for both AAC and aptX protocols and passes signal through a Texas Instruments DAC chip.
Two pairs of loudspeaker outputs are provided, and these are switchable using buttons located on the amp's front panel. In addition, the A11 has socketry to enable external remote control, both in and out, and RS232 serial control in an automated home audio set-up, for example.
The fascia is clean and uncluttered, but additional functionality is available using the remote handset and LCD display. Extra options available through these include display and front panel LED dimmer settings, auto power off after a preset time, auto power on through signal sensing, and the ability to set and fix the gain of the Aux1, Aux2 and Bluetooth inputs, thereby circumventing the volume control.
Tone Modes
Although by default the A11 is set to bypass the tone controls, there are independently adjustable bass and treble settings, plus two additional, fixed tone modes. The first is 'Rotel Max' that increases low-frequency output to give smaller speakers a bit of a helping hand. The second is 'Rotel Boost' in which, to use the company's words, 'audio performance is "boosted" and delivers a unique blend of tonal characteristics'. In essence this is best thought of as a loudness control, and not a particularly subtle one at that. I played with it briefly so you don't have to!

Moving to the CD11 CD player, this is a more conventional unit with a PCM5102A DAC from Burr-Brown at its heart. There are no digital inputs, and just two sets of outputs – unbalanced analogue and single coaxial digital. Its rear panel offers similar trigger and RS232 controls to the A11 amplifier and, just like the A11, further LCD and LED dimming and power-off control options are available within its menu. The remote handset supplied is more comprehensive than the amp's, although the latter will control the CD player's basic functions.
Both components are available in a black or silver finish and will also stick in my memory for being the first ever hi-fi products I have encountered to have a specified heat output rating in BTU/hour. And in case you are wondering, the figures given are 40 for the CD player and 479 for the amplifier into 4ohm at '1/8th power'.
Ultra Vivid
The two components were auditioned together and the amplifier, in tone bypass mode, also fed from an iPhone 6S via its BT input and a NAD C558 turntable into its MM phono stage. Speakers were Usher S520s on Atacama SL-600 stands and PMC Twenty5.24s [HFN May '17].