T+A MP 200 Networked CD Transport

The final, or should that be first, component in T+A's 200 series quartet is a CD-playing, network-attached media transport that boasts a proprietary 'SYS-Link' connection
After delighting headphone lovers with the HA 200 DAC/amp [HFN Aug '20], which nicely matched the Solitaire P headphones introduced at the same time, T&A has been on a roll. The HA 200 transpired to be just the first in a range of units forming the new 200 series – all compact separates, but all designed to dovetail seamlessly together.
To flesh out the range, the German company introduced a standalone DAC and two choices when it comes to amplification – the stereo A 200 [HFN May '22] or monoblock M 200, both based on Purifi's Class D Eigentakt modules. So it didn't take a genius to see what was missing: a source component. Enter the MP 200.
Digital All The Way
Priced £4400, this networked CD spinner is sleek and almost desktop-friendly in its dimensions, but also quite specialised – it's a pure transport, possessing only digital outputs. This is in line with the company's belief that fidelity increases by keeping functions such as streaming apart from D/A conversion. Yes, T+A does sell the all-in-one Caruso components [HFN Jul '21], but the 200 series is not meant to be a 'lifestyle' product. Instead it's positioned as a compact alternative to its more traditionally-styled R and E ranges.
Being a digital-only player makes it the must-have complement to T+A's DAC 200 [HFN May '22], and vice-versa. It's hard to imagine buying one without the other, although there's no reason why you couldn't combine the MP 200 with an outboard DAC from another brand. Standard coax/optical digital outputs are provided for this very purpose.
Indeed, there are good reasons why you might consider the T+A player as an addition to an existing system, starting with its broader than usual feature set. Even though there are enough other digital transports packed with streaming options available, few also offer an integrated disc spinner next to a radio tuner. Alongside wired/wireless networking, the MP 200 also allows you to lace up other sources via coax (192kHz) and optical (96kHz), or add an external HDD via its USB-A port. All this explains why T+A labels the device a 'Multi Source Player', not a mere digital transport.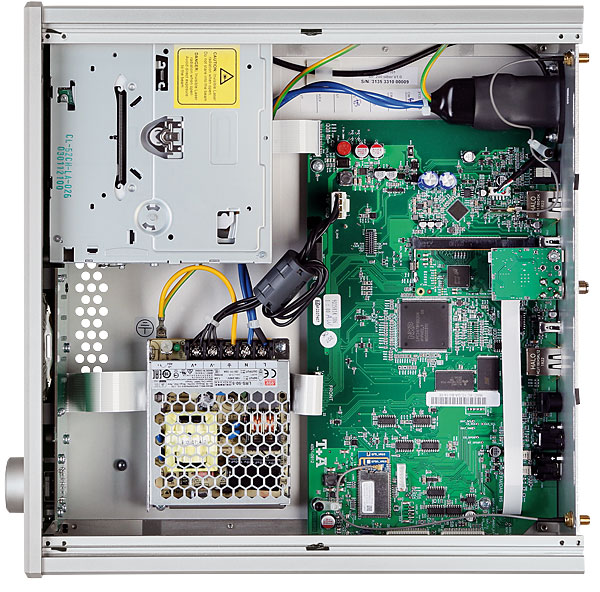 Part And Parcel
Of course, the main reason to combine the MP 200 with the DAC 200, and then add either the A 200 amplifier or M 200 monoblocks, is that the range fits nicely together aesthetically and technically – the combination of both being what the German brand is all about.
The MP 200 is immediately recognisable as a part of the 200 series, sharing the same industrial design – which in turn harks back to T+A's MiDi range. As digital transports go it's a hefty unit, weighing in at 4.4kg, courtesy of its substantial alloy chassis with fine chamfers to add some sophistication. The front panel takes its cues from the DAC 200, sharing the same OLED display flanked by a large volume knob and a row of input buttons. But where the DAC 200 brandishes some eye-catching VU meters, the MP 200 has a barely noticeable slot for the CD mechanism. There's very little further embellishment, making for a solid, streamlined look.
Showing off its engineering chops, T+A seems quite proud that the streaming module inside the MP 200 was developed in-house and not sourced from, say, Stream Unlimited. It's well stocked too. Next to the options embedded in the MusicNavigator app, the MP 200 is Roon Ready, accepts DLNA streams, and implements Bluetooth with the higher quality aptX codec. AirPlay and Chromecast are missing, but T+A's app is a user-friendly experience and has plenty of options. One thing I particularly like is the ability during setup to deselect unwanted sources, keeping the app's interface clutter-free.
System Link
In addition to being a digital source, the MP 200 can also as the control centre for the whole 200 series ecosystem. Through its proprietary SYS-Link connection (essentially an Ethernet cable) on its rear, it can marshall any T+A 200 series component that's 'next in line'. This integration goes a lot further than the usual volume control, as the transport's metal-finished remote will also switch inputs on the DAC 200, for example – even the latter's optional HDMI board, if you've shelled out for it. Furthermore, when using the MusicNavigator app, your smartphone or tablet offers an even greater scope of control, such as selecting one of the six digital filters on the non-networked DAC.