Exposure XM CD/XM5 CD Player/Amplifier

Despite its diminutive dimensions, this half-size CD player/integrated amp combination offers a grown-up sound along with facilities normally seen on full-width separates
Size matters – or does it? Most hi-fi manufacturers stick rigidly to the traditional 'full width' separates model, but not all. The former often maintain that the market simply isn't ready for the latter, arguing that many key countries demand 'proper size' boxes. Yet over the years we've seen brands like Cyrus make high-quality, half-width hi-fi their stock in trade. So which is it to be? The answer, reckons Exposure, is to offer both.
As a result, the company has in its catalogue its 2010, 3010 and 5010 range [HFN Nov '18] with 440mm-wide fascias, but also a half-size 218mm XM series. This includes the £1200 XM CD player and the £1260 XM5 integrated amp you see here, both of which are available in a choice of black or titanium finishes. The former has just joined the range, while the latter has now been on sale for around two years. Internally, both are closely based on the full-width 2010S2 series, and this extends to the finish and feel of the XM range too, with one notable exception…
From The Top
The XM CD features a top-loading disc arrangement. On top of the machine is a 'sled' with runners to either side, which slides back to reveal the mechanism and a magnetic puck to lock the disc into position. It moves smoothly enough but feels 'old school', similar to the first generation Philips machines from way back when. Some – such as yours truly – love this arrangement, but others might find it a chore to use after a while.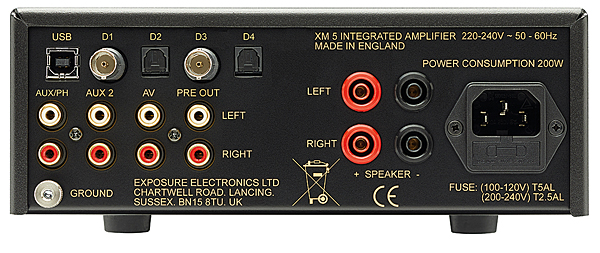 The fascia below has a large central display that lights up red, with power and transport controls beneath it. The brushed alloy front, and matt case and bonnet, are sturdy for a product at this price, but the finish is not quite up to the lofty standards we once enjoyed with Japanese players.
Exposure's chief designer Tony Brady says that the XM CD is, in effect, a 3010S2 CD transport with a simplified version of the 2010S2 CD's DAC section. As such, inside can be found a Sony KSS213C CD drive mechanism alongside a PCM1716 96kHz/24-bit DAC from TI. This has 'multi-level delta-sigma modulator' architecture and an 8x oversampling digital filter. A precision digital clock is also fitted, with dedicated power supplies for the digital transport and analogue audio stages.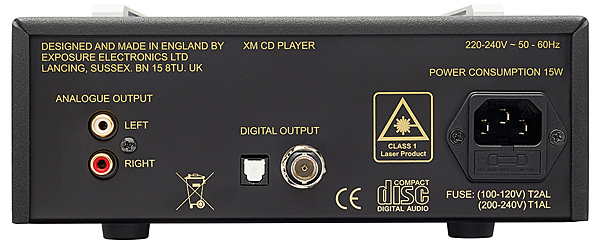 Double-sided printed circuit boards are used, with careful attention paid to minimising both mechanical resonance and electromagnetic interference. A decent sized toroidal transformer is employed – given the XM CD's modest dimensions – with separate windings for digital and analogue stages, while to the rear are RCA analogue outputs, optical and coaxial digital outs. Unlike so many of its rivals, there's no Ethernet or Wi-Fi functionality here, because this is a very traditional silver-disc spinner.
The XM5 integrated is, according to Brady, effectively a brand new power amp design equipped with a simplified version of the 2010S2 integrated amp's DAC and phono stage. Aside from the half-width case, it has a similar visual look to the full-sized 2010S2 amplifier.
Class Act
Exposure hasn't gone down the Class D route with the XM5, which one might have assumed given the amp's compact dimensions. Instead you get a claimed 60W/8ohm via a Class AB amp based around Toshiba bipolar power transistors. Brady makes the point that as fully discrete Class AB power amplification is the company's speciality – it has been making and selling the things for decades – why would he change the formula now?