EISA Hi-Fi Awards 2023-2024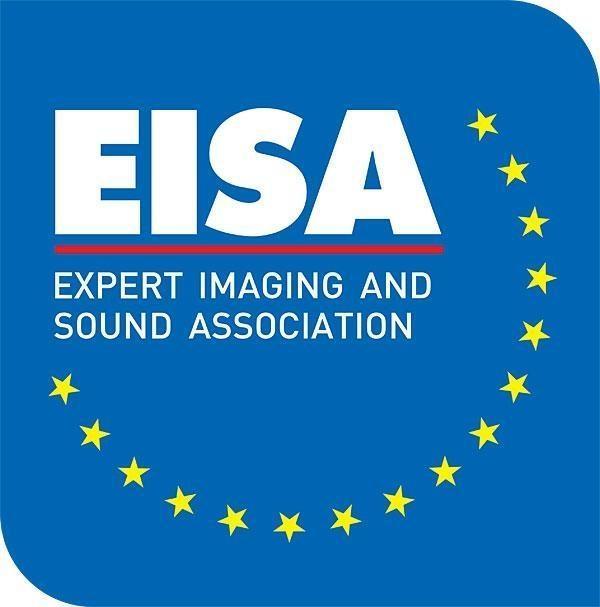 EISA, or the Expert Imaging and Sound Association, is an organization representing 58 of the most respected special interest publications and websites from 29 countries that cover Hi-Fi, Home Theatre Video, Home Theatre Audio, Photography, Mobile Devices, and In-Car Electronics. Every year EISA's Expert Group members, including editors from this publication, test a very wide range of new products from their field of expertise before comparing results and voting to decide on the cream of every product category.
To win an EISA award all products undergo a comprehensive multi-step judging process, and many still fall by the wayside. EISA's product evaluation begins in the first few months of the year and runs right through to early July with EISA's webinar program putting brands and their latest technologies in front of the Association's expert editorial audience. Over 50 brand webinars were hosted by EISA this year and over 100 new – often very new – products were shipped between member countries. In-depth testing and judging extended over many months, fueling lengthy and highly informed discussions. Finally, after all the testing, EISA's democratic voting process establishes a consensus of excellence that ultimately determines the winning products.
To find out more about EISA, visit www.eisa.eu
---
EISA STANDMOUNT LOUDSPEAKERS 2023-2024
MoFi SourcePoint 8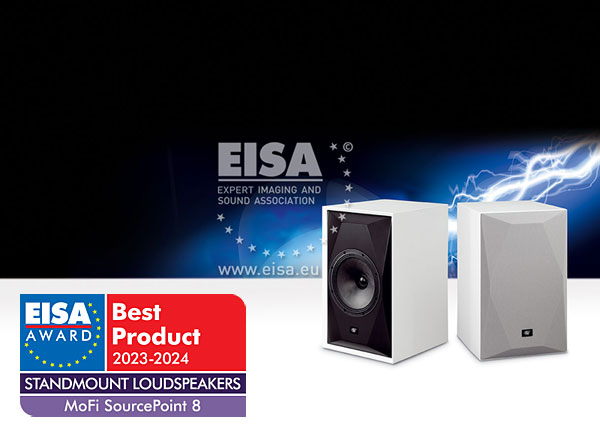 Although MoFi Electronics is a relative newcomer to the loudspeaker market, the accomplished performance of its SourcePoint 8 speaks of great experience. The retro-infused styling of this standmount model belies the fact it's a thoroughly modern design, employing the latest coaxial driver technology from noted engineer Andrew Jones, carefully modelled to deliver a smoothly integrated, full-range performance. Paired with a capable amplifier, the SourcePoint 8 provides a confident, engaging listen suited to both small and medium-sized rooms, underpinned by weighty bass from its 200mm (8in) bass/mid driver and topped by a lucid treble. This is a technically innovative speaker – and stylish to boot.
---
EISA FLOORSTANDING LOUDSPEAKERS 2023-2024
Bowers & Wilkins 703 S3
The impressive bass, treble detail and cohesive soundstage attest to the engineering skill that's gone into developing the third generation of Bowers & Wilkins' 700 Series, much of it trickled down from the company's top-tier 800 D4 models. Nowhere is this more the case than with the 703 S3, a slender tower that gains a tweeter-on-top for the first time, allied to a pair of 165mm Aerofoil bass drivers and a 150mm Continuum cone midrange. This floorstander delivers an engaging and emotional listen and makes B&W's superior performance accessible to more music lovers. The new Mocha colourway, next to classic white or black options, is also stunning.
---
EISA PREMIUM FLOORSTANDING LOUDSPEAKERS 2023-2024
Perlisten R7t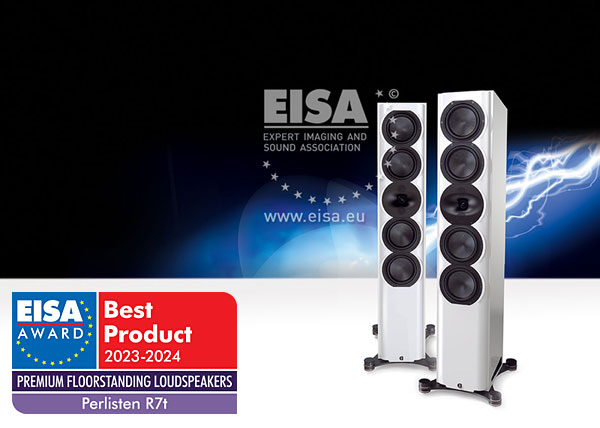 Although the junior model to Perlisten's flagship S7t, this floorstander inherits so much of its sibling's design and engineering DNA that its premium status is assured. The company's patented DPC (Directivity Pattern Control) array takes centre stage, its carefully optimised trio of mid and tweeter units flanked by bass/mid and bass drivers in a four-way design offering the option of both vented and sealed operation. In full flight, the R7t creates a largescale and evocative sound built on a foundation of deep and tightly controlled bass that blends seamlessly with lush midrange tones and fine treble detail. This loudspeaker is worthy of the highest praise.
---
EISA HIGH-END LOUDSPEAKERS 2023-2024
Wilson Audio Alexia V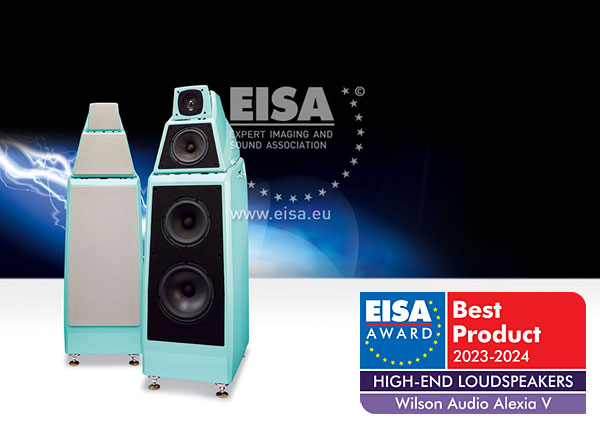 The Alexia V exemplifies Wilson Audio's approach to high-end loudspeaker design, from its customised drivers and bespoke cabinet materials to its fine-tuning potential and array of luxurious finish options. A three-way model, its lower enclosure – hewn from proprietary V-material and featuring 200mm and 255mm bass drivers – is topped by separate midrange and tweeter housings, both adjustable for precise time alignment. The Alexia V's performance can therefore be matched to any environment, and the listening experience is magnificent: vast in scale, exquisite in detail and completely free from the speakers themselves. To sum up in one word? Sublime.
---
EISA WIRELESS BOOKSHELF LOUDSPEAKERS 2023-2024
KEF LSX II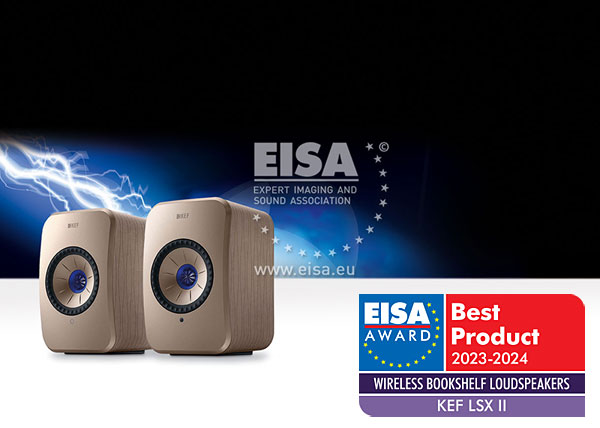 For this second-generation upgrade of its EISA Award-winning LSX speakers, KEF has expanded functionality through additional USB-C and HDMI ARC inputs and a new wireless control platform delivered via a superb app. Use the latter to navigate streaming services, switch between sources and access comprehensive EQ settings, and then enjoy the LSX II's powerful and natural performance. The diminutive, rear-ported cabinet features KEF's bespoke Uni-Q array, its tweeter and bass/mid units separately driven by Class D amp modules. Available in several eye-catching colourways, the LSX II can replace a complete rack of hi-fi separates – and sound just as good!
---
EISA WIRELESS ON-WALL LOUDSPEAKERS 2023-2024
System Audio Silverback 1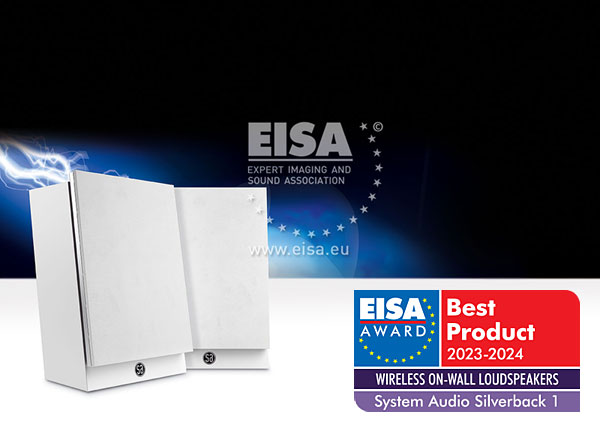 Proving that impressive sound quality doesn't always require sizable floorstanders, the Silverback 1s utilise their on-wall position to produce spectacular, bass-rich sonics. System Audio's two-way speakers, with their woven silk dome tweeter and 133mm mid/woofer, are about the size of an A4 page, making them ideal for smaller living rooms or environments where discreet style is demanded. Onboard amplification, performance-enhancing DSP and compatibility with System Audio's WiSA-enabled cable-free Stereo Hub complete the Silverback 1's user-friendly nature. Equally capable of laying on music or upgrading TV sound, these good-looking on-wall models play big…
---
EISA WIRELESS FLOORSTANDING LOUDSPEAKERS 2023-2024
Dynaudio Focus 50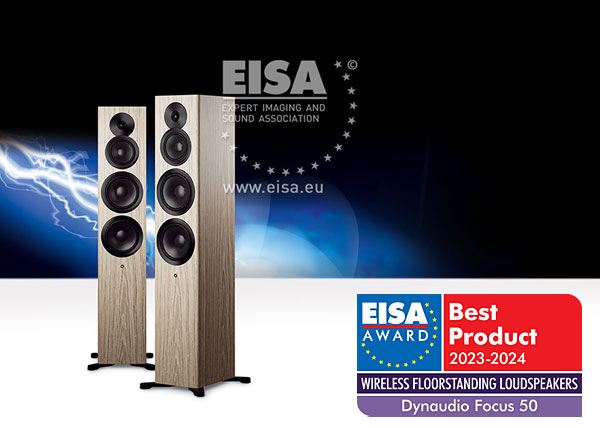 Leveraging proven driver technologies from Dynaudio's high-end Confidence and Contour loudspeakers, married to powerful built-in amplification from Pascal, the three-way Focus 50 delivers music with superb dynamics and scale. Aiding this no-compromise performance is a high quality, WiSA-enabled connection between the speakers, plus Dirac Live for room correction. A wide range of sources are supported, from streaming services and Roon to physical hardware connected via analogue and digital inputs. The Focus 50 is a complete music system that shows the full promise of active loudspeakers - you only need to add a power cord and choose from its four beautiful finish options.
---
EISA HEADPHONES 2023-2024
Meze Audio 109 PRO
For a company well-known for its luxurious and award-winning isodynamic headphones, the 109 PRO is something of a departure for Meze, being an open-back design with 50mm dynamic drivers. Yet its performance proves the manufacturer's adaptability: with its alluring combination of expansive, detailed soundstaging and tight, controlled bass, the 109 PRO is a superior headphone suited to all types of music. It triumphs in the looks department too, its acoustically smart design built around opulent black walnut housings and a slender, lightweight frame. And thanks to its elegant self-adjusting headband and velour earpads, listening comfort is guaranteed.
---
EISA STREAMER 2023-2024
iFi Audio NEO Stream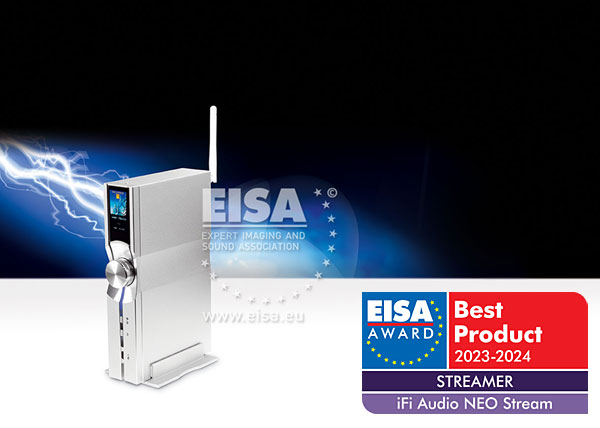 Functioning both as an outboard DAC and digital transport, iFi Audio's NEO Stream impresses with its versatility before beguiling with its sonic performance. Onboard conversion handles files to 768kHz PCM and DSD512, whether streamed from a home network, integrated service or connected hard drive, while digital outs range from optical to I2S. Such broad capabilities, plus app control and filter selection, make the NEO Stream irresistible to music lovers looking for an easy-to-use system add-on, as well as restless hi-fi tinkerers. A compact, futuristic design, which supports vertical or horizontal installation, adds to the appeal of a device that outstrips many costlier rivals.
---
EISA DAC 2023-2024
Ferrum Audio WANDLA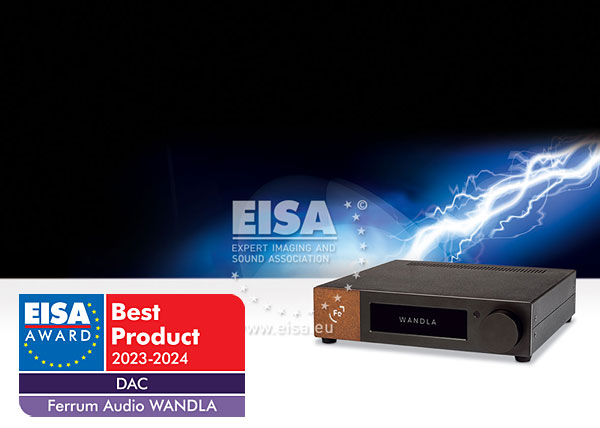 The WANDLA is another home run from Poland's Ferrum Audio. Nicknamed 'The Convertor', this innovative DAC/preamp goes the extra mile thanks to its combination of an ESS Sabre DAC chip, custom DSP and bespoke analogue electronics. Performance is superb, with music of any genre faithfully rendered and packed with detail, while Dynamic Digital Filtering, which incorporates filters from specialist software house Signalyst, provides options to finesse the listening experience. Want to improve the WANDLA's performance further? Just add the EISA Award-winning HYPSOS as an outboard power supply for even better sonics.
---
EISA DIGITAL PLAYER 2023-2024
Volumio Rivo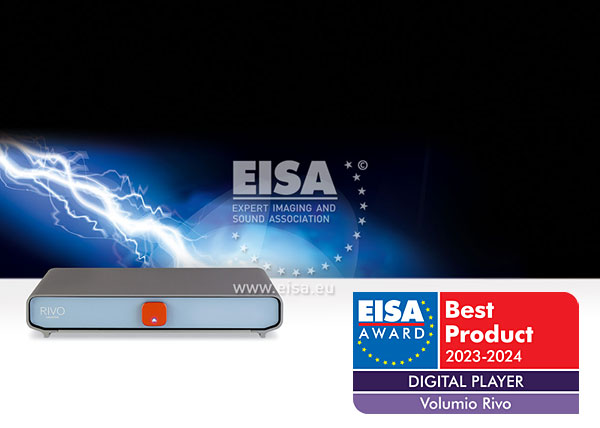 One of a trio of new devices launched by Volumio and running the company's eponymous software, the slim and stylish Rivo is focused on delivering high-quality digital streams to your DAC or integrated amplifier, without complication. It's an impressive marriage of well-crafted hardware and the proven Volumio software, allowing you to stream your own music library, play files from USB storage, and browse its myriad streaming options. The remarkable flexibility of the software, including the possibility of adding further functionality (including DSP) via plugins, is as appealing as the Rivo's ability to get the best from your chosen DAC.
---
EISA HIGH-END CD PLAYER 2023-2024
Hegel Viking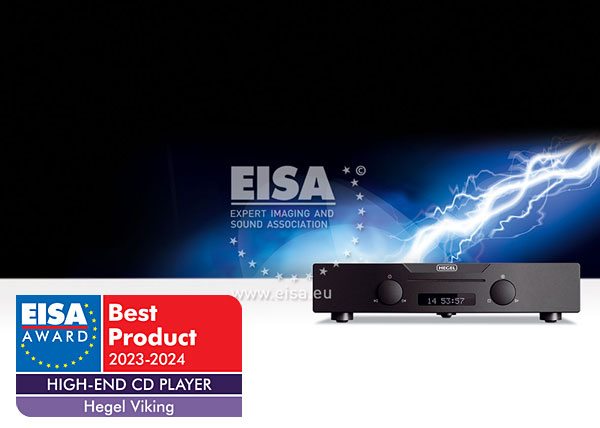 This player from the Norwegian marque takes an unapologetically purist approach, focused on extracting every last drop of performance from your CD collection. To that end, Hegel has engineered a high-quality AKM-based DAC stage and fully balanced analogue output, each fed by separate power supplies, while its proprietary SoundEngine technology also works to suppress digital jitter. An aesthetic match for Hegel's latest pre/power amplifier designs, the Viking's premium-grade sound has to be heard: articulate, three-dimensional and faithful to the source, it makes long listening sessions an absolute pleasure. Excellent build quality and supreme ease-of-use only heighten this CD spinner's appeal.
---
EISA TURNTABLE 2023-2024
Thorens TD 204
A bridge between Thorens' entry-level turntables and its high-end models, this well-priced deck is aimed at vinyl enthusiasts seeking an all-in-one solution, but with the potential to be upgraded. Fitted with an in-house 'J-shaped' tonearm, Audio-Technica MM cartridge and integrated phono stage – plus offering electronic speed control – the TD 204 is a genuine plug-and-play solution. Out of the box it rewards with a sound performance showcasing midrange insight, excellent speed stability and an open, inviting soundstage. Moreover, as its in-built phono preamp can be switched out of circuit, the TD 204 is perfectly set up for future cartridge and outboard phono preamp upgrades.
---
EISA VINYL SYSTEM 2023-2024
Pro-Ject T2 W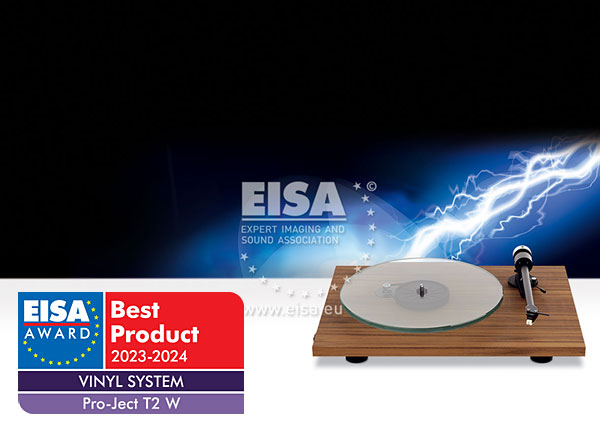 The T2 W is an audacious attempt to marry analogue vinyl playback with digital convenience, and one that Pro-Ject manages to pull off with zest. At its core is a belt-drive turntable with 9in aluminium tonearm and Sumiko MM cartridge, plus electronic speed control, but elevating the T2 W is an integrated wireless module that lets owners stream their music to networked speakers and hi-fi systems. The 'Pro-Ject Control' app makes setup and operation easy, with options including lossless 48kHz/24-bit FLAC output and automatic streaming when you drop the needle. Spinning discs, while integrating the vinyl format into a 'modern' system, has never been easier.
---
EISA INTEGRATED AMPLIFIER 2023-2024
NAD C 3050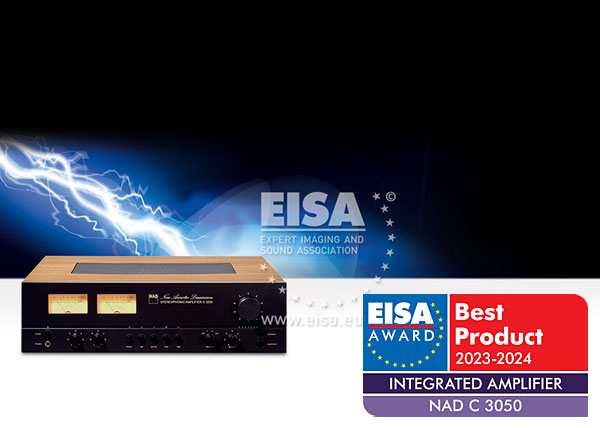 From the outside the C 3050 pays homage to NAD's earliest designs with its faithfully executed vintage styling, but in all other respects this is thoroughly modern integrated amp with a do-it-all ethos. Power, rated at 2x100W, comes via Class D amplification, and connectivity includes HDMI eARC, a dedicated MM phono input and more. Plug in NAD's optional BluOS-D card and the functionality grows to include superior streaming options (including app control and multiroom compatibility), plus Dirac room calibration. And while the forward-thinking technology delivers impressive sound quality, you can feast your eyes on the C 3050's large VU meters. What's that about having your cake and eating it?
---
EISA BEST VALUE STREAMING AMPLIFIER 2023-2024
SVS Prime Wireless Pro SoundBase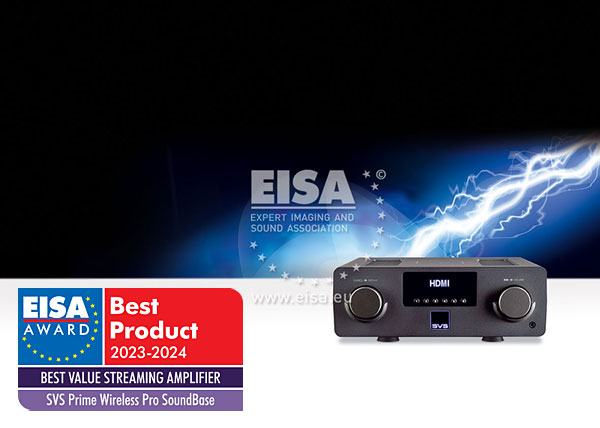 Smart features and potent amplification unite in SVS's Prime Wireless Pro SoundBase, as do a punchy, authoritative sound and ease of operation – just add your own speakers and you're ready to go. Keenly priced, but showcasing plenty of attention to detail, this compact all-in-one amp includes aptX HD support when streaming via Bluetooth, television hook-up over HDMI eARC, hi-res music playback through the DTS Play-Fi app (or one of its many other streaming options), and control options including a physical remote and Google/Siri/Alexa voice. In a competitive arena, this highly flexible amplifier stands out.
---
EISA COMPACT STREAMING AMPLIFIER 2023-2024
Bluesound POWERNODE EDGE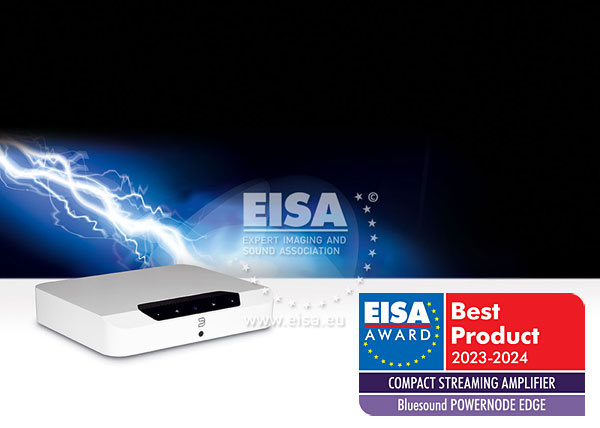 Thanks to its impressively sleek, wall-mountable chassis, the POWERNODE EDGE can be installed practically anywhere – and the compact form factor is complemented by wide-ranging functionality. Controlled via Bluesound's intuitive BluOS app, this sleek 'just add speakers' amplifier can access streaming services, Internet radio and music files from a network or USB storage, while connections including HDMI eARC and two-way Bluetooth add even more to its versatility. Its sound, delivered by onboard amplification and with hi-res audio support, packs a punch. Use the POWERNODE EDGE as a discrete amp in a standalone set-up or combine with other BluOS devices to form a multiroom music system.
---
EISA STREAMING RECEIVER 2023-2024
Yamaha R-N2000A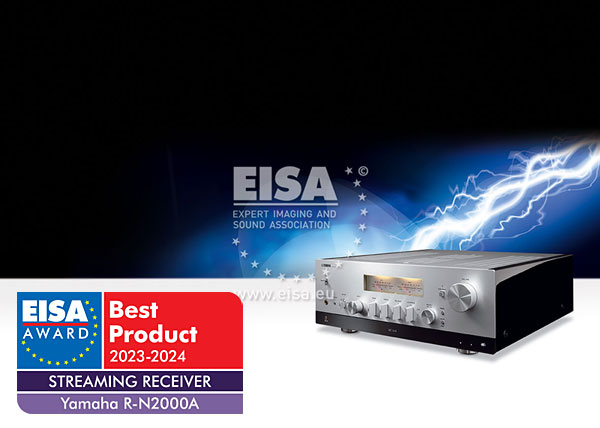 Japanese craftmanship and hi-fi tradition combine with cutting-edge digital technology to ensure Yamaha's R-N2000A streaming receiver is both stunning and innovative. The vintage-inspired front panel sports traditional VU meters and tactile controls but these are augmented by a classy OLED display to help navigate its plentiful features. Yamaha's excellent MusicCast app delivers streaming options and multiroom functionality, but there are also inputs for a TV and turntable, plus FM radio. Under the hood, Yamaha's tried-and-tested amplifier technology delivers a musical, refined performance, with fine detail painted over a wide and deep soundstage. Yamaha's YPAO room correction is particularly welcome, allowing this amp to deliver the goods in every room.
---
EISA HIGH-END INTEGRATED AMPLIFIER 2023-2024
Musical Fidelity Nu-Vista 800.2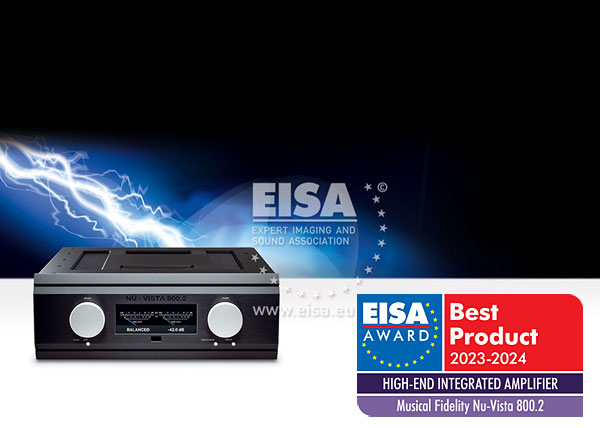 This flagship integrated amp adopts the core form and function of its highly respected predecessor while showcasing performance and aesthetic improvements. Combining solid-state power amplification with nuvistor tube-based input and driver stages, Musical Fidelity's hybrid offers a best-of-both worlds sound: smooth and musical with cavernous soundstaging, but also gloriously aggressive and weighty when required. Driving ability also startles – this 2x330W-rated amp will handle any loudspeaker that crosses its path – while the reimagined front-panel display makes operation easy. The Nu-Vista 800.2 is a fantastic addition to Musical Fidelity's top-flight lineup, and a must-hear for any music-lover.
---
EISA HIGH-END STREAMING AMPLIFIER 2023-2024
Hegel H600
Benefiting from an upgraded digital stage built around a new DAC chip and network board, Hegel's H600 is a worthy successor to the spectacular H590 streaming amplifier. The company's bespoke SoundEngine 2 error-cancelling technology is on hand to deliver a sound with abundant detail and control, aided by a comprehensively redesigned preamp stage that guarantees an organic, honest and compelling performance. All flavours of loudspeaker are welcome, thanks to the H600's hugely powerful '2x303W' output. Generous connectivity, in addition to its LAN port, includes digital inputs on USB-B (384kHz/32-bit; DSD256), three on optical and two via coaxial sockets. Aesthetically pleasing and easy to use, this flagship integrated is a tour de force.
---
EISA HIGH-END HEADPHONE SOLUTION 2023-2024
dCS Lina System
A stunning addition to the high-end head-fi landscape, dCS's Lina comprises a network DAC, master clock and analogue headphone amplifier, all built to the same exacting standard and designed to be neatly stacked. Supporting streamed and wired digital sources up to 384kHz/DSD128, the Lina DAC is the beating heart of the system, and employs dCS's proven RingDAC technology to bring music to life with remarkable clarity and detail. The fully-balanced amplifier, meanwhile, has the energy and punch to work with even the most demanding of headphones. Interoperability between the three units is handled by 'Power Link' connectivity, and dCS's Mosaic Control app offers music selection, upsampling/filter choice, and much more.
---
EISA HIGH-END HEADPHONES 2023-2024
Yamaha YH-5000SE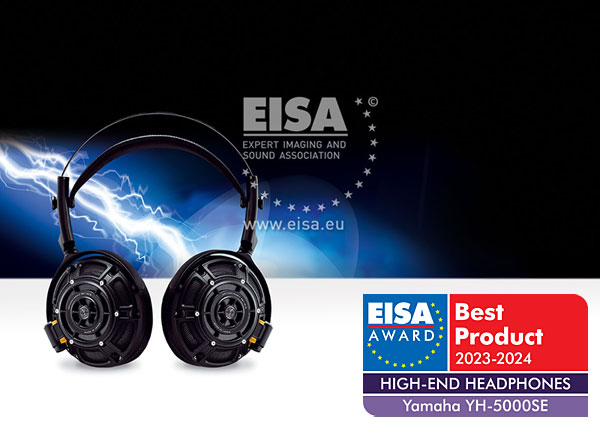 The YH-5000SE is a spectacular return to the high-end headphone arena for one of the pioneers of planar-magnetic technology, and with a lineage that goes back to Yamaha's famed HP-1 of the 1970s. The modern design and build of these ultralight over-ear headphones is stunning, from the pressure-controlled open-back housings to the choice of two premium earpad materials, but it's the dynamic performance and the sense of detail and intimacy that will take your breath away. There are many challengers for the apex of headphone performance, but Yamaha's new flagship is without doubt a force to be reckoned with.
---
COMBINED WITH MOBILE DEVICES EXPERT GROUP
---
EISA PREMIUM WIRELESS HEADPHONES
T+A Solitaire T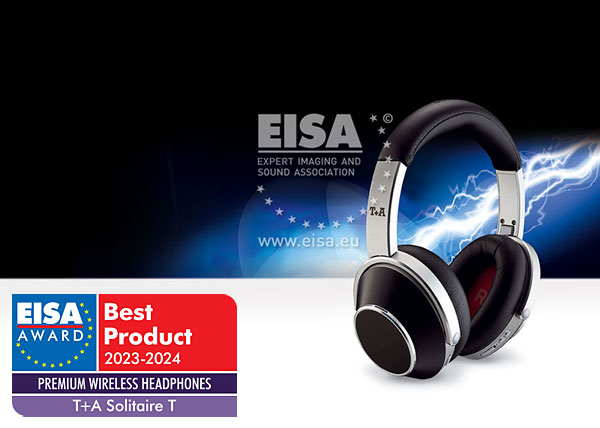 Leveraging audiophile technology into a mobile, wireless headphone is challenging, but T+A carries it off with the smart Solitaire T, a luxurious and lightweight set that offers excellent noise-cancelling and a performance that rivals accomplished wired designs. Key to its appeal is its versatility: a separate ESS DAC supports an HQ listening mode, the high-spec Bluetooth chipset is compatible with aptX HD, and there are USB-C and analogue connections too. Surrounding its 42mm dynamic drivers are closed-back earcups linked by an aluminium frame – gorgeous black and white colour options ensure the Solitaire T is as durable as it is stylish. You can consider these a triumph of technology and sound.
---
EISA MOBILE DAC 2023-2024
iFi Audio GO pod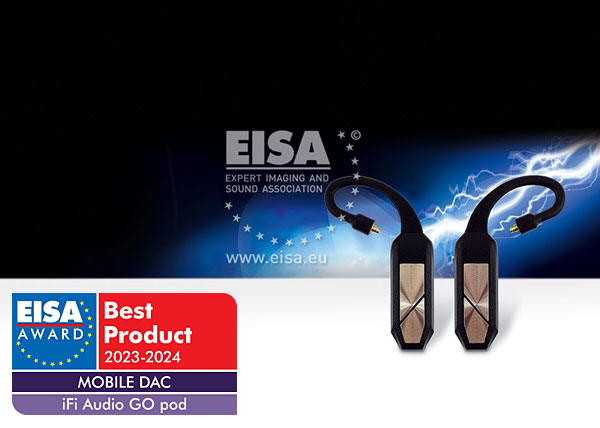 Thanks to iFi Audio's GO pod, devotees of high-end, cabled in-ears finally get an alternative to mainstream 'true wireless stereo' designs. This novel system features two smart, touch-controlled adapters that fit snugly behind the ear and wire directly to IEMs of your choice – industry-standard 2-pin and MMCX connectors are supplied, with others available as optional extras. A capable DAC/headphone amplifier is built into each 'pod' to drive even the most demanding of in-ears, while broad support for Bluetooth codecs (including aptX Adaptive and LDAC) ensures wireless fidelity. Even the GO pod case, which recharges the adapters' seven-hour batteries, is smart – in all senses of the word!
---
COMBINED WITH HOME THEATRE AUDIO EXPERT GROUP
---
EISA LOUDSPEAKER SERIES 2023-2024
KEF R Series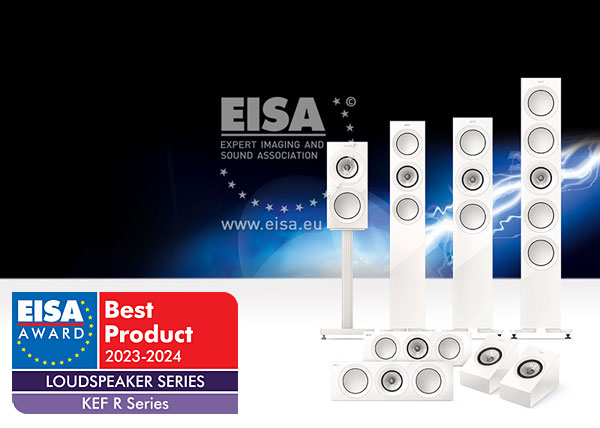 Technologies developed for KEF's higher-end loudspeakers, including the latest- generation Uni-Q driver with Metamaterial Absorption Technology (MAT), inform the design and performance of its stunning R Series. A seven-model range comprising floorstander, standmount, centre and Dolby Atmos-enabled surround options, it's suited to both home theatre and hi-fi enthusiasts alike. Whether used for music or movies, across the speakers there's a dynamic, detailed and thrillingly natural sound combining controlled, extended lows with open, wide-reaching highs. And the various colour options, including special editions for the R3 standmount and R7 tower, will have these gorgeous-looking cabinets fitting right in.
---
EISA POWERED STANDMOUNT LOUDSPEAKERS 2023-2024
Klipsch The Sevens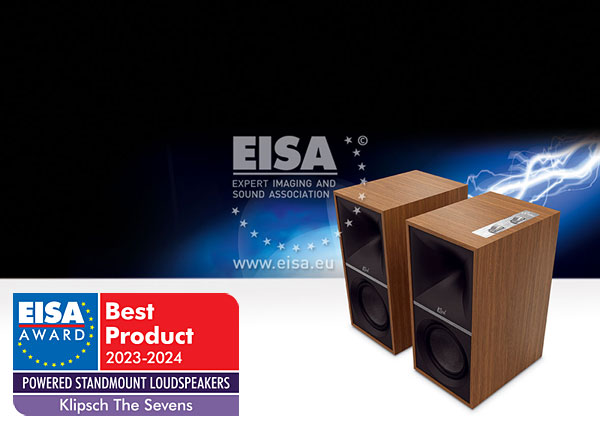 This powered bookshelf/standmount model takes a design cue from the American brand's 'Heritage' speakers and combines it with a forward-thinking specification – the result is a package notable for its styling, feature set and performance. Tractrix horn-loaded tweeters and 165mm bass/mid units are pushed into action by custom DSP and beefy internal amplification. The Sevens' sound is bass-rich, largescale and packed with detail, and can be fine-tuned to suit personal taste through Klipsch's intuitive Connect app. Comprehensive connectivity including HDMI ARC, USB-B, Bluetooth, analogue (inc. MM phono), plus hi-res music playback to 192kHz/24-bit, ensures this is a system that's ready for anything!
---
More EISA Awards 2023-2024:
Photography Expert Group
EISA CAMERA OF THE YEAR 2023-2024
Nikon Z 8
EISA ADVANCED FULL-FRAME CAMERA 2023-2024
Sony Alpha 7R V
EISA FULL-FRAME CAMERA 2023-2024
Canon EOS R6 Mark II
EISA CONTENT CREATOR CAMERA 2023-2024
Sony ZV-E1
EISA APS-C CAMERA 2023-2024
Fujifilm X-H2
EISA BEST BUY CAMERA 2023-2024
Canon EOS R8
EISA VIDEO CAMERA 2023-2024
Panasonic Lumix S5IIX
EISA LENS OF THE YEAR 2023-2024
Sony FE 20-70mm F4 G
EISA WIDEANGLE ZOOM LENS 2023-2024
TAMRON 20-40mm F/2.8 Di III VXD
EISA STANDARD PRIME LENS 2023-2024
Sony FE 50mm F1.4 GM
EISA PORTRAIT LENS 2023-2024
Nikon NIKKOR Z 85mm f/1.2 S
EISA TELEPHOTO LENS 2023-2024
Canon RF 135mm F1.8L IS USM
EISA SUPER-TELEPHOTO LENS 2023-2024
Nikon NIKKOR Z 400mm f/4.5 VR S
EISA TELEPHOTO ZOOM LENS 2023-2024
TAMRON 50-400mm F/4.5-6.3 Di III VC VXD
EISA SUPER-TELEPHOTO ZOOM LENS 2023-2024
SIGMA 60-600mm F4.5-6.3 DG DN OS | Sports
EISA MACRO LENS 2023-2024
OM System M.Zuiko Digital ED 90mm F3.5 Macro IS Pro
Combined Award with Mobile Expert Group
EISA MULTIMEDIA SMARTPHONE 2023-2024
Sony Xperia 1 V
Home Theatre Audio Expert Group
EISA BEST BUY AV RECEIVER 2023-2024
Onkyo TX-RZ50
EISA AV RECEIVER 2023-2024
Primare SPA25
EISA PREMIUM AV AMPLIFIER 2023-2024
Denon AVC-A1H
EISA BEST BUY SOUNDBAR 2023-2024
JBL Bar 300
EISA SOUNDBAR 2023-2024
Loewe klang bar3 mr
EISA PREMIUM SOUNDBAR 2023-2024
Bang & Olufsen Beosound Theatre
EISA SOUNDBAR SYSTEM 2023-2024
Yamaha True X series
EISA HOME THEATRE POWER AMPLIFIER 2023-2024
Musical Fidelity M6x 250.7
EISA HOME THEATRE SUBWOOFER 2023-2024
Perlisten D212s
Combined Award with Hi-Fi Expert Group
EISA LOUDSPEAKER SERIES 2023-2024
KEF R Series
EISA POWERED STANDMOUNT LOUDSPEAKERS 2023-2024
Klipsch The Sevens
Combined Award with Home Theatre Video & Display Expert Group
EISA HOME THEATRE DISC PLAYER 2023-2024
Magnetar UDP800
Home Theatre Video & Display Expert Group
EISA BEST BUY MINI LED TV 2023-2024
Ηisense 65U7KQ
EISA BEST BUY OLED TV 2023-2024
Philips 55OLED808
EISA BEST BUY PROJECTOR 2023-2024
XGIMI HORIZON Ultra
EISA HOME THEATRE PROJECTOR 2023-2024
BenQ W4000i
EISA M INI LED TV 2023-2024
Ηisense 65U8KQ
EISA HOME THEATRE MINI LED TV 2023-2024
TCL 65C845
EISA GAMING TV 2023-2024
TCL 55C745
EISA FAMILY TV 2023-2024
Philips 55PUS8808
EISA PREMIUM OLED TV 2023-2024
Samsung 77S95C
EISA GIANT TV 2023-2024
TCL 98C735
Combined Award with Home Theatre Audio Expert Group
EISA HOME THEATRE DISC PLAYER 2023-2024
Magnetar UDP800
Combined Award with Mobile Devices Expert Group
EISA PORTABLE PROJECTOR 2023-2024
XGIMI MoGo 2 Pro
Mobile Devices Expert Group
EISA BEST BUY SMARTPHONE 2023-2024
HONOR 90
EISA CONSUMER SMARTPHONE 2023-2024
OPPO Reno10 Pro
EISA SMARTWATCH 2023-2024
HONOR Watch GS 3
EISA PREMIUM PORTABLE SPEAKER 2023-2024
Bang & Olufsen Beosound A5
EISA PREMIUM SMARTWATCH 2023-2024
Huawei Watch Ultimate
EISA BEST BUY WIRELESS HEADPHONES 2023-2024
Philips Fidelio L4
EISA IN-EAR HEADPHONES 2023-2024
Philips Fidelio T2
EISA MOBILE DAC 2023-2024
iFi Audio GO pod
EISA BEST BUY PORTABLE SPEAKER 2023-2024
Pure Woodland
Combined Award with Photography Expert Group
EISA MULTIMEDIA SMARTPHONE 2023-2024
Sony Xperia 1 V
Combined Award with Mobile Devices Expert Group
EISA PORTABLE PROJECTOR 2023-2024
XGIMI MoGo 2 Pro
Combined Award with Hi-Fi Expert Group
EISA PREMIUM WIRELESS HEADPHONES 2023-2024
T+A Solitaire T
In-Car Electronics Expert Group
EISA IN-CAR HEAD UNIT 2023-2024
Alpine HDS-990 Status
EISA IN-CAR AMPLIFIER 2023-2024
Ground Zero GZUA 6SQ
EISA IN-CAR DSP AMPLIFIER 2023-2024
Mosconi Gladen One 8|10 DSP
EISA IN-CAR SOUND PROCESSOR 2023-2024
ESX QE812SP
EISA IN-CAR DSP SOFTWARE 2023-2024
Audison bit Drive
EISA IN-CAR SPEAKER SYSTEM 2023-2024
Ground Zero GZPC 165.3SQ-ACT
EISA IN-CAR SUBWOOFER 2023-2024
Morel Ultimo PowerSlim PS12D
EISA IN-CAR OEM PREMIUM AUDIO SYSTEM 2023-2024
Maserati GranTurismo with Sonus faber High Premium Audio System
EISA IN-CAR INTEGRATION 2023-2024
Helix Compose Platform
EISA MOTORCYCLE AUDIO COMPONENT 2023-2024
Rockford Fosgate HD9813RG-STAGE3