EISA Awards 2018 2019
Welcome to the EISA Awards for 2018-2019.
For over 30 years EISA has been selecting the most innovative, cutting-edge products for its prestigious EISA Awards. The Awards are debated and voted upon by groups of specialist judging panels covering the full spectrum of consumer electronics and photographic products, including Hi-Fi, Home Theatre, In-Car Electronics, Photo, Video and Mobile Devices. Key to the success and relevance of the annual EISA Awards lies in the evolution of its categories, always reflecting the changing trends and technologies of the consumer electronics world. Moreover, the Association itself continues to evolve, recently welcoming new members from Australia, Canada, India and the USA.
To win an EISA award all products undergo a comprehensive multi-step judging process. Products are intensively tested at the facilities of individual EISA member magazines and are also presented at the Association's annual Convention in Antwerp in May. Products that pass this stage already rank among the best in the world. The final deliberations take place at EISA's annual Global Meeting in June where a democratic voting process establishes a consensus of excellence and determines the winning products. Unsurprisingly many of this year's EISA Award-winning products in the Hi-Fi category were premiered – as World Exclusives – within the pages of Hi-Fi News.
To find out more about EISA, visit www.eisa.eu
---

EISA ANALOGUE MUSIC SYSTEM 2018-2019
Pro-Ject Juke Box S2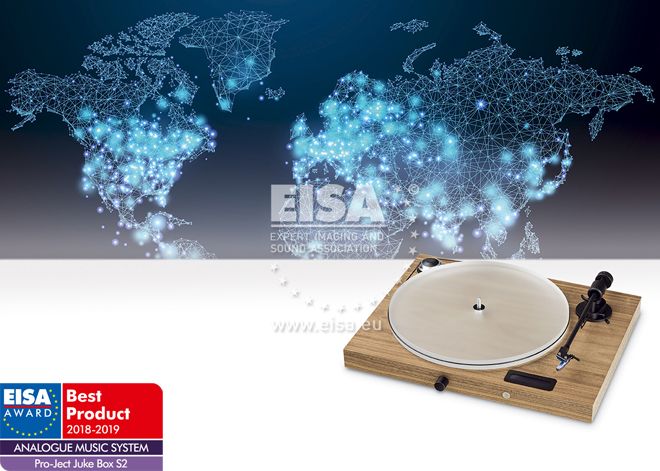 With the record revival in full swing, more and more people want a simple, one-box vinyl solution. The Pro-Ject Juke Box S2 is precisely this, being an 'active turntable' with a phono stage, amplifier and Bluetooth built in. You can also buy the matching Speaker Box 5S2 speakers, or source your own. Ease of use is important for a product such as this, so a Pro-Ject cartridge comes pre-fitted and the arm is pre-aligned. Just remove the stylus guard, attach the drive belt and you're ready to go. The sound is big and addictive, giving LPs old and new a fresh lease of life.
---

EISA COMPACT MUSIC SYSTEM 2018-2019
Denon CEOL N10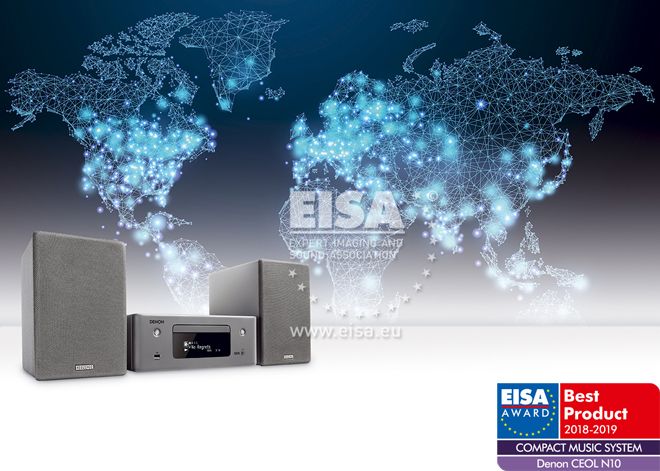 The latest iteration of Denon's CEOL compact music system is the first with HEOS multiroom streaming built-in, making this cute little unit more versatile than ever. Despite a footprint less than the size of an A4 page, the CEOL N10 neatly bundles a radio tuner, CD player and a wealth of streaming options. Via the user-friendly HEOS app you can listen to music via popular music services, or stream your hi-res music over a network or from a USB stick. Alternatively, you can play your favourite tunes wirelessly via Bluetooth or AirPlay 2. Whatever the source, the Class D amplifier amazes with its powerful sound – something totally unexpected from such a small system.
---

EISA ALL-IN-ONE SYSTEM 2018-2019
Naim Audio Uniti Atom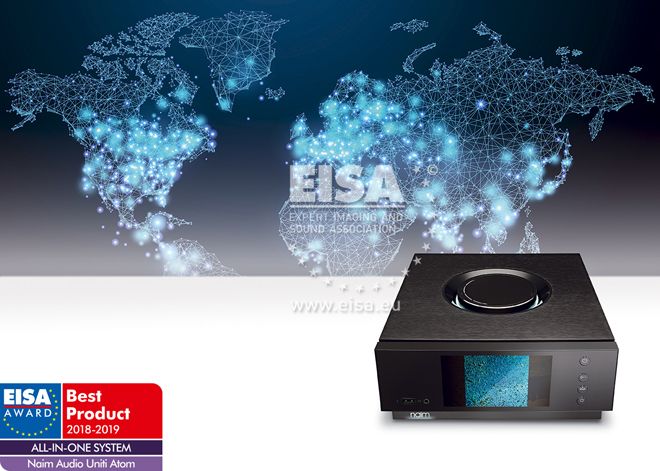 Don't be fooled by the gorgeous metal casework, for the Uniti Atom is more than just a pretty face. Its large top-mounted volume control is intuitive to use while the crisp looking, informative display makes accessing the Atom's myriad functions easier. A streamer, DAC and preamp are all built-in together with the same gutsy power amplifier design seen in the company's grown-up NAIT integrated amps. It's extremely flexible with Google Chromecast, Tidal, Spotify Connect and Internet radio on board, plus AirPlay 2 and Bluetooth aptX HD. The accompanying Naim app is well thought out and easy to use, and allows for multiroom use. Smooth, detailed and dynamic, this is a super sounding small system.
---

EISA WIRELESS SYSTEM 2018-2019
DALI Callisto 6C & Sound Hub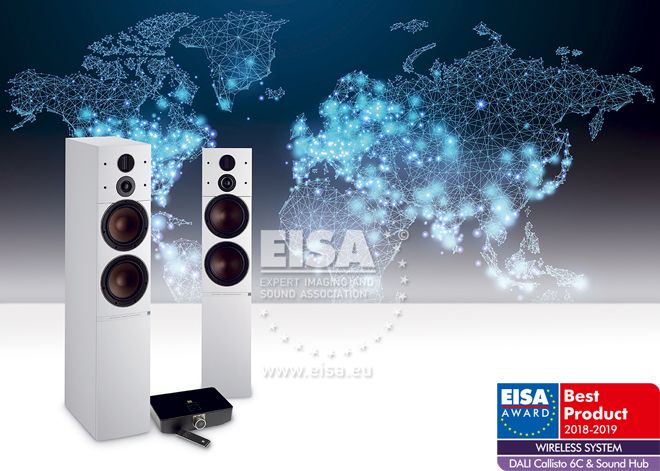 One of the major downsides of having a decent hi-fi system in your home is the mess of cables that inevitably results. DALI has overcome this by producing the active Callisto loudspeakers that work with the company's Sound Hub. Stable transmission at a high 96kHz/24-bit resolution gives great stereo sound without wires. The Callisto/Sound Hub system works seamlessly, playing from external sources such as a CD player, or streaming via Bluetooth aptX HD. Add the NMP-1 expansion card for total compatibility with the BluOS multiroom platform. Surprisingly easy to set up, you'll soon be enjoying a thoroughbred musical performance thanks to the best driver technology that DALI offers.
---

EISA STEREO SYSTEM 2018-2019
Marantz ND8006/PM8006
Offering great performance at the price, the ND8006/PM8006 streamer/integrated amplifier combination plays pretty much any music format from any source. The ND8006 spins CDs and streams via AirPlay 2, Bluetooth, Spotify Connect, Tidal, Deezer and more. Meanwhile, HEOS compatibility allows it to play in a multiroom set-up with matching products. It sports multiple digital inputs with 192kHz/32-bit conversion via an ESS DAC, and the unit is sprinkled with hi-fi goodies including Marantz's selectable digital filters. The partnering PM8006 amp boasts 70W per channel, sports proprietary HDAM op-amps and a double-shielded toroidal transformer. A special mention goes to its exceptional phono stage. It's a classic combination.
---
EISA STEREO RECEIVER 2018-2019
Yamaha R-N803D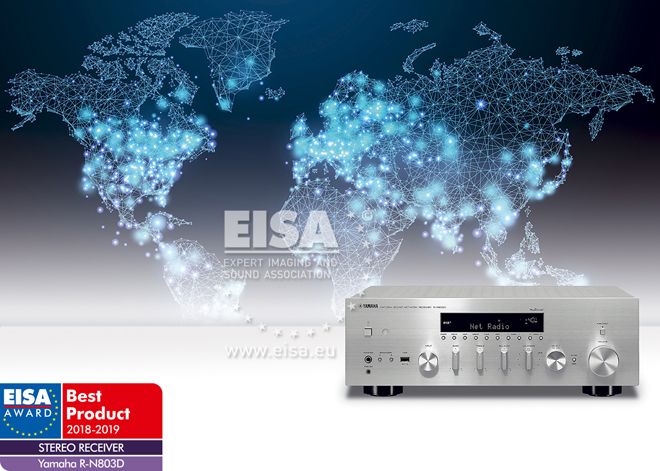 Products like this show just how far affordable hi-fi separates have improved of late. Yamaha's R-N803D is a sophisticated stereo receiver, with careful attention paid to the shortness of signal paths to keep the purists happy. Yet it's packed with features, including an ESS Sabre DAC for great sound and YPAO – Yamaha's Parametric room Acoustic Optimiser – to assist in tailoring speakers to your listening room. With substantial power under the hood the R-N803D can drive most loudspeakers with ease, and has a detailed and precise sound that belies its price tag. Factor in Bluetooth connectivity, and Yamaha's MusicCast streaming platform for Tidal, Spotify, Deezer and Qobuz, and it's a veritable Swiss Army knife of amplifiers.
---

EISA AMPLIFIER 2018-2019
Primare I15 Prisma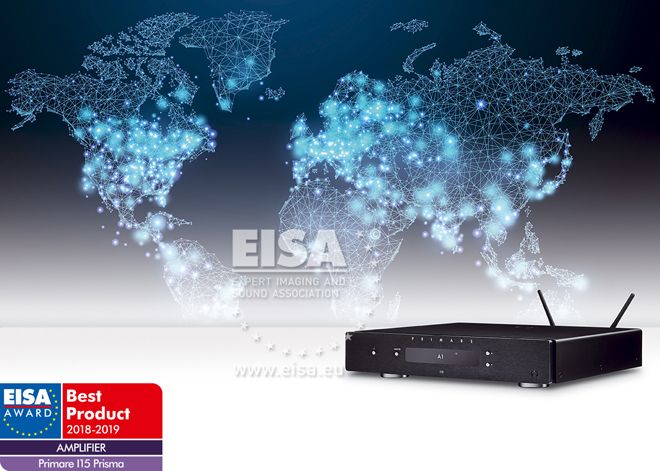 Primare's industrial design speaks volumes in this stylish, slimline amplifier. Despite being just three-quarters the size of conventional separates, it punches way above its weight in sound and features. Alongside conventional analogue inputs, there's a hi-res PCM/DSD DAC plus Prisma connectivity and control technology that includes Bluetooth, AirPlay, Spotify Connect and Chromecast functionality. It sounds surprisingly good for its size – super-smooth and creamy with detail aplenty and satisfying stage depth. The proven Class D power amplifier is meaty enough to drive most loudspeakers, while the fascia's crisp OLED display keeps track of source and volume settings. Factor in the svelte alloy casework and the I15 Prisma makes great sense for those seeking something out of the ordinary.
---

EISA BEST BUY AMPLIFIER 2018-2019
Pioneer A-40AE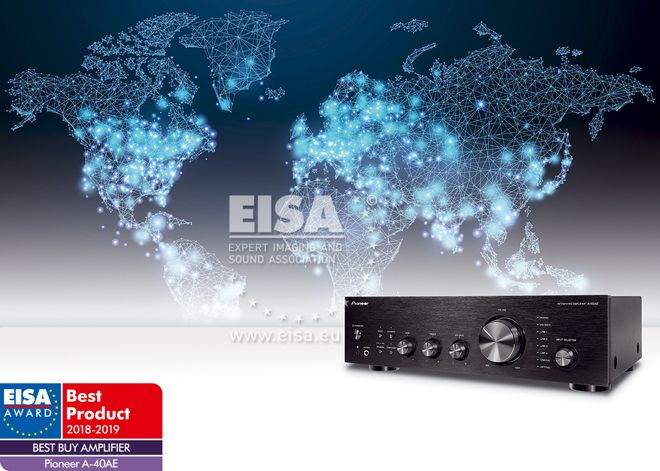 To celebrate its 80th anniversary, Pioneer has unveiled this affordable integrated amplifier that exceeds expectations, thanks to an enticing combination of flexibility and smooth sound. With five line inputs, a moving-magnet phono stage and built-in DAC, the A-40AE will form the heart of a great budget system. With generous power on tap Pioneer's 'Direct Energy' amplifier design comfortably drives most loudspeakers, and does so really sweetly. Sonically, its polished yet beguiling sound makes for a satisfying listen, setting up a wide soundstage that is given life by great dynamics. It's an excellent first step on the hi-fi ladder.
---

EISA HIGH-END AMPLIFIER 2018-2019
NAD M32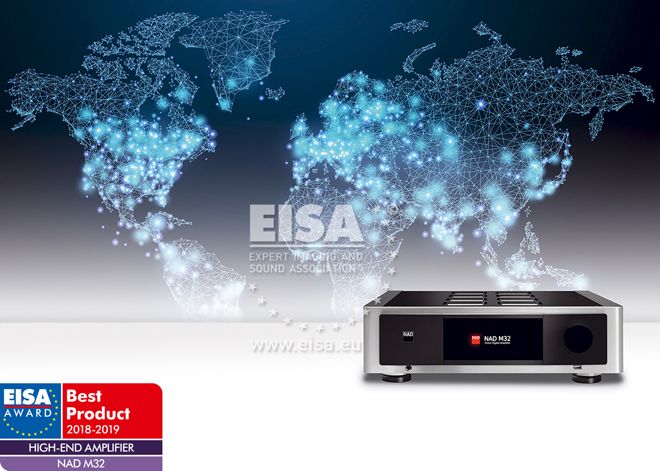 One of the few true digital Class D amplifiers on sale, the sophisticated M32 integrated model uses NAD's 'DirectDigital' technology to deliver a claimed 180W per channel. Combining pre- and power amplifier functions into a single amplifying stage, it's both technically innovative and highly versatile. Furthermore, an optional BluOS module opens the doors to streaming and networked music playback, making it highly future-proof. Confident and assured, this amplifier sounds open, detailed and expansive – giving a panoramic feel to every piece of music it plays. With its touchscreen display and app control, it's a breeze to use too, and the robust aluminium casework is as substantial as its sound.
---

EISA STREAMER 2018-2019
Pro-Ject Stream Box S2 Ultra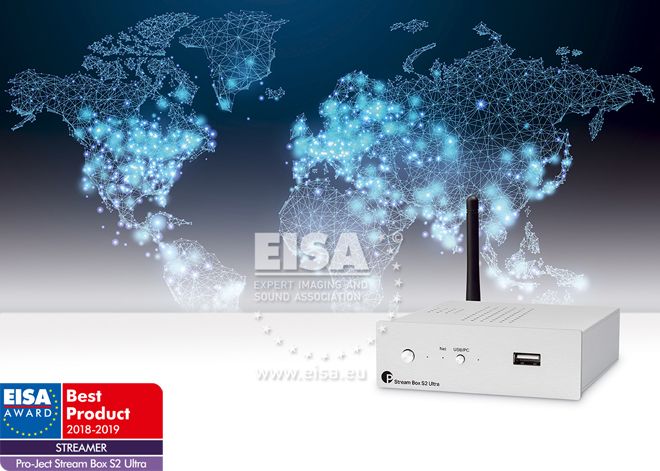 Does the world really need another streamer? Perhaps not, but the Stream Box S2 Ultra offers so much more. Think of it as a powerful network bridge that routes your music from a multiplicity of sources. Just plug in a DAC and the Stream Box S2 Ultra plays music from a hard disk via its USB-A inputs, Bluetooth aptX and online streaming services such as Tidal, Spotify and Shoutcast, plus DLNA- or Wi-Fi-connected NAS drives. It's Roon Ready and there's also an HDMI video output. There's also a handy control app for iOS and Android, and savvy users can even customise the system to their needs. Working at up to 352.8kHz/32-bit PCM and DSD256, it's future-proofed, too.
---

EISA DAC 2018-2019
Chord Electronics Hugo 2
Chord's original battery-powered DAC/headphone amplifier was a hard act to follow, but the new Hugo 2 is a giant leap forward. Inside its ultra-modern aluminium case is a custom-coded digital converter and filter that sounds like nothing else around. Comfortably able to see off any conventional DAC at its price, it's astounding for a compact music machine, with a vibrant and rhythmic sound. Whether with standard CD or hi-res PCM or DSD, music comes packed with energy and emotion. The Hugo 2 runs for 14 hours from its rechargeable battery, plays practically every format around, includes switchable filters and a uniquely colourful control interface that makes using it fun.
---

EISA TURNTABLE 2018-2019
Technics SL-1200GR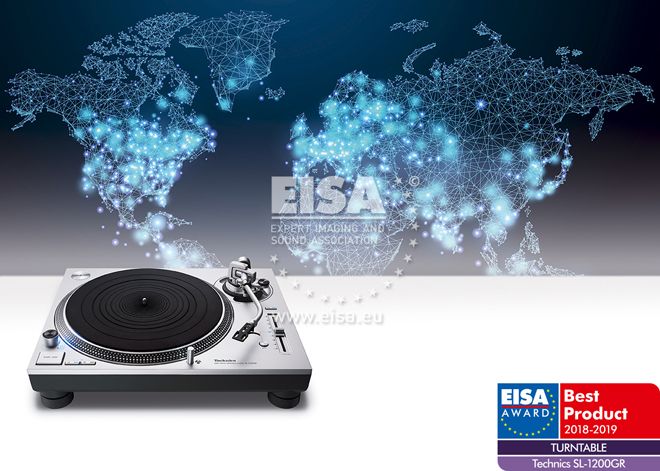 When Technics relaunched its iconic SL-1200 turntable three years ago, its brilliant build and superlative sound caused a sensation. This latest SL-1200GR version is designed to offer value-conscious vinylistas most of this in a far more affordable package. The updated version of the company's legendary quartz-locked direct-drive system keeps better speed than a Swiss watch, and the deck's aluminium base soaks up vibration like a sponge. The S-shaped tonearm is robust, a joy to cue and deserves a good pick-up cartridge. The result is a gutsy sound that's solid as a rock, with bold images and plenty of detail. It's a great way to spin your precious vinyl.
---

EISA LOUDSPEAKER 2018-2019
ELAC Adante AS-61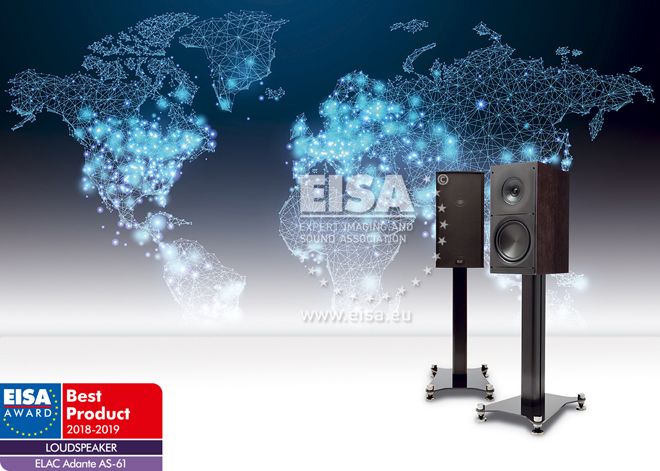 This Adante AS-61 may look understated, yet is actually anything but. Meticulous application of clever technology has given this attractive standmount speaker a surprisingly dynamic and powerful sound for its size. Designer Andrew Jones has achieved great performance from a novel cone/dome coincident driver array, with coupled-cavity bass loading via an auxiliary bass radiator. The result is a wonderfully panoramic soundstage, impressive depth perspective and a smooth tone from top to bottom. The Adante AS-61 is surely one of today's boldest and most technically advanced new loudspeakers.
---

EISA BEST BUY LOUDSPEAKER 2018-2019
Q Acoustics 3050i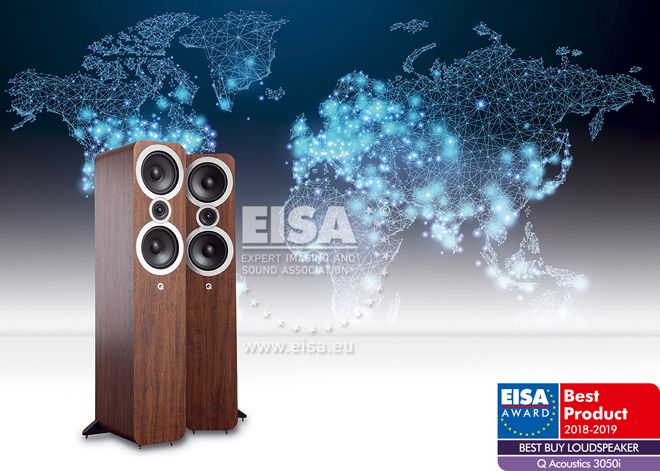 This innovative brand has been a powerful player in affordable speakers for a decade now, but the 3050i is arguably Q Acoustics' best value product yet. More than just another box, this neat two-way, reflex design sports bespoke new drive units, with careful decoupling of the tweeter by a rubber suspension system. The sizeable cabinet has been extensively braced to reduce resonances, and there's a clever internal ducting system to deliver a more linear bass. The result is a commanding sound with real scale and power – and it is delicate and detailed too. With a range of four attractive modern finishes, this is by far the best all round floorstander at the price.
---

EISA SMART SPEAKER 2018-2019
Harman Kardon Citation 500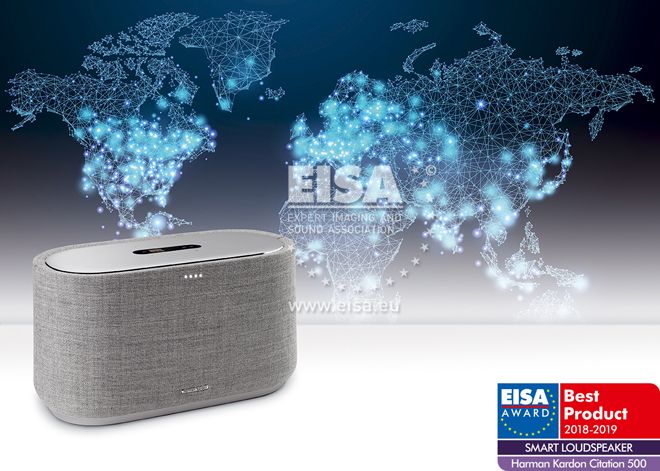 Enjoying music at home has rarely been as stylish or as smart. Harman Kardon revives the legendary Citation name for this luxurious wireless speaker, adorned with a unique textile wrap from Danish design icons Kvadrat. It's a pleasure to look at, but sounds pretty special too. The two-way speaker system with passive radiator creates the detailed, room-filling sound expected from Harman Kardon. The standout feature is the excellent integration of Google Assistant, allowing the Citation 500 to be controlled by voice commands. It also forms the heart of a smart home, employing the voice feature to control products compatible with Google Assistant or Chromecast.
---

EISA HEADPHONE 2018-2019
Sennheiser HD 660 S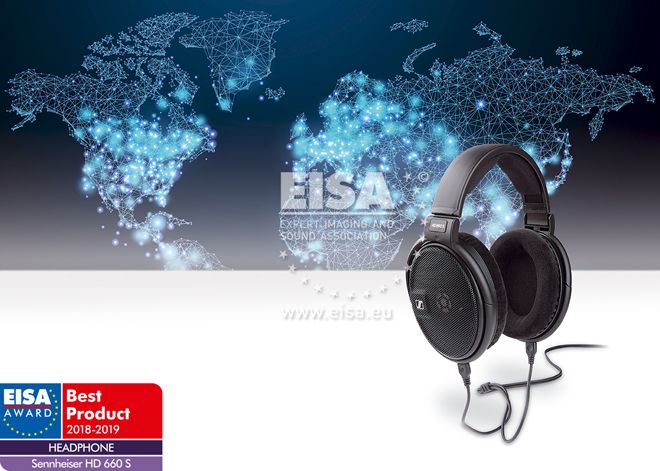 Seventy-three years young, Sennheiser has long dominated the hi-fi headphone market – and the new HD 660 S shows just why. This modern rework of a classic open-back design is fashioned with great care, using hand-selected transducers and sturdy detachable cables. The earpads and headband feature thick padding and the HD 660 S is very comfortable to wear for extended periods. Moreover, it is hard not to like its warm, laid-back and friendly sound which bests the performance of many 'phones at twice the price. It's a fine choice for home hi-fi enthusiasts, especially when treated to a high quality source.
---

EISA HIGH-END HEADPHONE 2018-2019
Focal Clear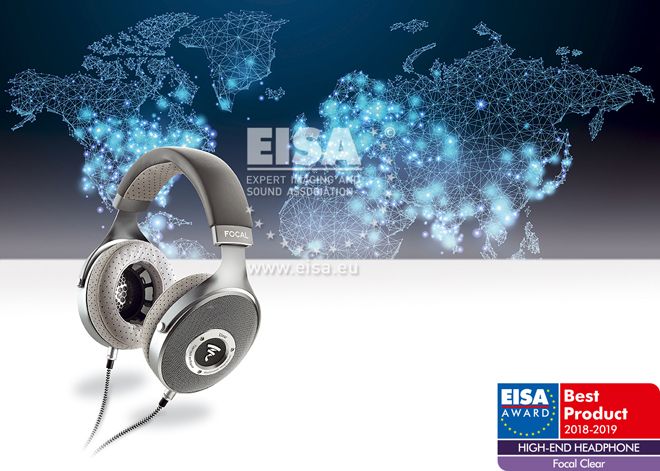 Clear by name, clear by nature. This headphone delivers a wonderfully open and translucent sound thanks to clever design and excellent build quality. It may appear relatively expensive, but Focal has gone all out for greatness and succeeded. Like the company's more affordable Elear and pricier Utopia models, the Clear's dynamic drive units have a specially shaped diaphragm with a roll surround, optimising response while controlling any break-up modes. This makes for a crisp and insightful sound that's fatigue-free yet boasts a particularly firm and animated bass. Factor in the sumptuous leather-covered earpads and headband, and this new design delivers hours of musical fun in consummate comfort.
---

EISA HI-FI INNOVATION 2018-2019
Micromega M-One M-150
The M-150 from Micromega's M-One series is surely this year's most intriguing new integrated amplifier. The slimline case comes in a wide range of colours, and is packed with handy features. Under the lid, a powerful DSP chip running custom code forms its beating heart while its 'Micromega Acoustic Room System' provides correction/equalisation for those who require it in less-than-ideal listening environments. Also inside is a robust 150W power amplifier cooled by a fan-assisted heat pipe system and aspirated by the company's novel resonant power supply (RPS). The M-150 also offers a wide range of digital and analogue inputs, streaming, a binaural headphone amp and an MM/MC phono stage. But whatever your source, this amp sounds clean, punchy and fun.
---

EISA PORTABLE DAC/HEADPHONE AMPLIFIER 2018-2019
iFi Audio xDSD
With so many mobile audio products on the market, the pressure was on for iFi's Audio's new xDSD to sparkle – and so it does. This battery/USB-powered DAC/headphone amplifier turns your smartphone, laptop or portable player into a great-sounding music centre. The secret of its success lies in its combination of super-light magnesium alloy casework, useful S/PDIF and USB-A inputs, PCM/DSD-compatible DAC and punchy analogue output stage – the latter being far more powerful than before. Switchable digital filtering lets you choose between the smoothest frequency balance and the fastest transients. So while iFi Audio's xDSD isn't cheap, it exudes quality and is perfect for indulging in music on the move.
(Combined Award with Mobile Devices)
---
And the rest of the awards...
​HOME THEATRE AUDIO
EISA HOME THEATRE AMPLIFIER 2018-2019
Denon AVC-X8500H
EISA HOME THEATRE RECEIVER 2018-2019
Pioneer VSX-933
EISA HOME THEATRE SPEAKER SYSTEM 2018-2019
KEF Q Series
EISA BEST BUY HOME THEATRE SPEAKER SYSTEM 2018-2019
Jamo S 809 HCS / S 810 SUB / S 8 ATM
EISA HOME THEATRE IN-WALL SPEAKER 2018-2019
Focal 300IWLCR6 / 300IW6
EISA SOUNDBAR 2018-2019
LG SK10Y
EISA BEST BUY SOUNDBAR 2018-2019
Polk Audio MagniFi MAX
EISA HOME THEATRE SUBWOOFER 2018-2019
SVS SB-4000
EISA HIGH-END UHD BLU-RAY PLAYER 2018-2019 (Combined Award with Home Theatre Video)
Panasonic DP-UB9000 series
EISA BEST BUY UHD BLU-RAY PLAYER 2018-2019 (Combined Award with Home Theatre Video)
Sony UBP-X700
EISA SLIM INSTALLATION COMPONENT 2018-2019 (Combined Award with In-Car Electronics)
Morel Virtus Nano Integra 602 & SoundWall PowerSlim PMC600
HOME THEATRE VIDEO
EISA HOME THEATRE TV 2018-2019
Philips 65OLED903
EISA BEST BUY OLED TV 2018-2019
Philips 55OLED803
EISA BEST BUY LCD TV 2018-2019
TCL 55DC760
EISA ARTIFICIAL INTELLIGENCE TV 2018-2019
LG 65SK9500
EISA PREMIUM OLED TV 2018-2019
LG OLED65E8
EISA PREMIUM LCD TV 2018-2019
Samsung 65Q9FN
EISA MONITOR INNOVATION 2018-2019
Sharp Aquos LV-70X500E
EISA BEST BUY PROJECTOR 2018-2019
BenQ W1700
BenQ HT2550 (in the USA)
EISA PREMIUM PROJECTOR 2018-2019
Sony VPL-VW760ES
EISA HIGH-END UHD BLU-RAY PLAYER 2018-2019 (Combined Award with Home Theatre Audio)
Panasonic DP-UB9000 series
EISA BEST BUY UHD BLU-RAY PLAYER 2018-2019 (Combined Award with Home Theatre Audio)
Sony UBP-X700
EISA PHOTO VIDEO CAMERA 2018-2019 (Combined Award with Photography)
Panasonic LUMIX DC-GH5S
PHOTOGRAPHY
EISA CAMERA OF THE YEAR 2018-2019
Sony α7 III
EISA PROFESSIONAL DSLR CAMERA 2018-2019
Nikon D850
EISA DSLR CAMERA 2018-2019
Canon EOS 6D Mark II
EISA BEST BUY CAMERA 2018-2019
Canon EOS M50
EISA SUPERZOOM CAMERA 2018-2019
Sony Cyber-shot RX10 IV
EISA MIRRORLESS CAMERA 2018-2019
Fujifilm X-H1
EISA PROFESSIONAL MIRRORLESS CAMERA 2018-2019
Sony α7R III
EISA DSLR ZOOM LENS 2018-2019
SIGMA 14-24mm F2.8 DG HSM | Art
EISA DSLR TELEZOOM LENS 2018-2019
Tamron 70-210mm F/4 Di VC USD
EISA DSLR PRIME LENS 2018-2019
Canon EF 85mm f/1.4L IS USM
EISA PROFESSIONAL LENS 2018-2019
Nikon AF-S NIKKOR 180-400mm f/4E TC1.4 FL ED VR
EISA MIRRORLESS WIDEANGLE ZOOM LENS 2018-2019
Sony FE 16-35mm F2.8 GM
EISA MIRRORLESS STANDARD ZOOM LENS 2018-2019
Tamron 28-75mm F/2.8 Di III RXD
EISA MIRRORLESS TELEZOOM LENS 2018-2019
Sony FE 100-400mm F4.5-5.6 GM OSS
EISA PHOTO INNOVATION 2018-2019
Canon Speedlite 470EX-AI
EISA PHOTO SERVICE 2018-2019
CEWE Photobook Pure
EISA PHOTO VIDEO CAMERA 2018-2019 (Combined Award with Home Theatre Video)
Panasonic LUMIX DC-GH5S
EISA BEST SMARTPHONE 2018-2019 (Combined Award with Mobile Devices)
Huawei P20 Pro
MOBILE DEVICES EXPERT GROUP
EISA CONSUMER SMARTPHONE 2018-2019
Nokia 7 Plus
EISA LIFESTYLE SMARTPHONE 2018-2019
Honor 10
EISA BEST BUY SMARTPHONE 2018-2019
NOA Element N10
EISA NOISE CANCELLING HEADPHONES 2018-2019
AKG N700NC
EISA MOBILE LOUDSPEAKER 2018-2019
JBL Xtreme 2
EISA WIRELESS IN-EAR HEADPHONES 2018-2019
JBL Endurance DIVE
EISA ARTIFICIAL INTELLIGENCE LOUDSPEAKER 2018-2019
LG XBOOM AI ThinQ WK7
LG ThinQ Speaker WK7 (in the USA)
EISA MOBILE AUDIO PLAYER 2018-2019
Pioneer XDP-02U
EISA BEST SMARTPHONE 2018-2019 (Combined Award with Photography)
Huawei P20 Pro
EISA PORTABLE DAC/HEADPHONE AMPLIFIER 2018-2019 (Combined Award with Hi-Fi)
iFi Audio xDSD
IN-CAR ELECTRONICS
EISA IN-CAR HEAD UNIT 2018-2019
Pioneer AVIC-Z910DAB
EISA IN-CAR HIGH-END COMPONENT 2018-2019
Audison TH K2 II A Coro
EISA IN-CAR SMART UPGRADE 2018-2019
Match UP 7BMW
EISA IN-CAR SUBWOOFER 2018-2019
Audison APBX 10 AS
EISA IN-CAR PROCESSOR 2018-2019
Helix DSP MINI
EISA IN-CAR AMPLIFIER 2018-2019
Ground Zero GZPA 4SQ
EISA IN-CAR DSP AMPLIFIER 2018-2019
JL Audio VX800/8i
EISA IN-CAR INTEGRATION 2018-2019
Mosconi Gladen Pico 8|12 DSP
EISA IN-CAR INNOVATION 2018-2019
Gladen Aures
EISA SLIM INSTALLATION COMPONENT 2018-2019 (Combined Award with Home Theatre Audio)
Morel Virtus Nano Integra 602 & SoundWall PowerSlim PMC600