EISA Awards 2014 2015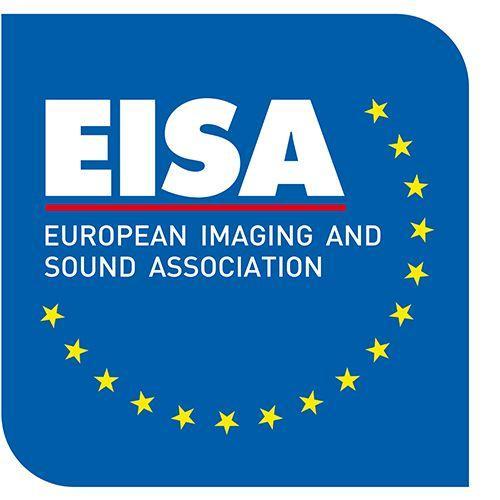 From the EISA Convention held in May to the final General Meeting in June, member magazines pool their combined experience to arrive at a consensus of the very best in sound and vision products available across the wider European continent. With every magazine having reviewed a broad swathe of specialist products, these Awards are typically agreed upon with amicable efficiency. The process is undoubtedly assisted by the increasingly fluid movement of equipment across the continent, blurring national stereotypes. Enthusiasts, it seems, are only interested in achieving the very best sound and picture quality, regardless of nationality.
To find out more about EISA, visit www.eisa.eu
European High-End Audio 2014-2015
KEF Reference 5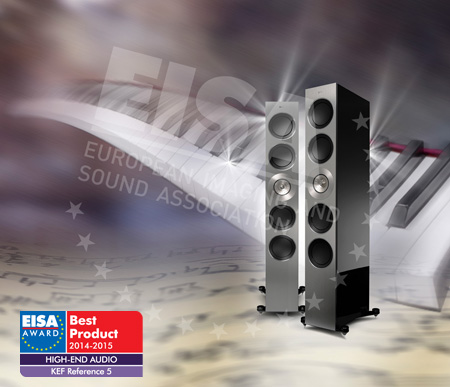 For over 40 years KEF's flagship range has been distinguished by the name 'Reference' – an exercise in high quality engineering brought bang up-to-date for 2014 with the launch of five new Reference class loudspeakers. Available in Piano Black, Satin American Walnut and Luxury Gloss Rosewood finishes, the 1.35m tall Reference 5 stands proud as the flagship of the range. The combination of four newly-designed 6.5-inch bass drivers, with gently contoured aluminium cones designed to complement the Uni-Q point source array, delivers a deeply impressive and realistic sound. This, plus its above-average sensitivity, excellent bass extension and handsome appearance earns the Reference 5 EISA's High-End Audio accolade.
European Stereo System 2014-2015
Marantz SA8005/PM8005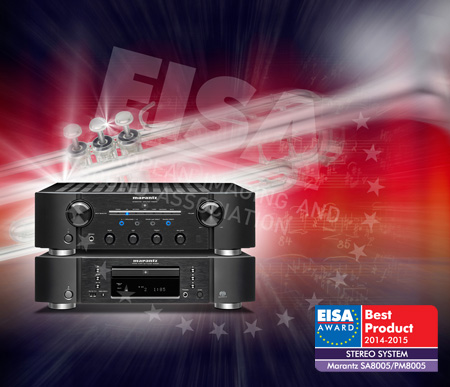 Proving that stereo separates can still pack a host of functionality into a single chassis, Marantz's SA8005 SACD player is so much more than a simple 'disc spinner'. Not only does it breathe new life into plain vanilla CD but its full complement of digital inputs, including DSD-compatible USB, ensures the SA8005 can form the hub of a cutting-edge computer-based music system. This player/DAC is ideally partnered by the PM8005 integrated amplifier, rated at 70W/8ohm and fitted with a MM phono input to further increase the versatility of the system as a whole. The slick and richly-detailed sound of this combination is more than reminiscent of Marantz's costlier Premium series – it's an impressive blend of performance and value.
European Analogue Source 2014-2015
Pro-Ject Xtension 9 Evolution Superpack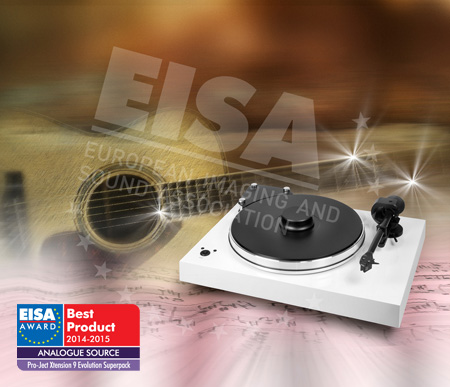 Pro-ject kicked off its Xtension line-up back in 2009 with the Xtension 12, a relatively large deck designed to take 12in tonearms. This Superpack sees the company's more rack-friendly Xtension 9 Evolution turntable pre-fitted with the latest version of its one-piece carbon fibre 9CC Evolution tonearm plus the range-topping Black moving-coil cartridge from Ortofon's Quintet series. The result is a turntable that sounds smooth and assured, yet is certainly no slouch when it comes to digging deep into the grooves in search of detail. Add clarity, crispness and a presentation that manages to sound solid yet punchy when the occasion demands, and you have a turntable package that is nothing if not value for money.
European Digital Source 2014-2015
Sony HAP-Z1ES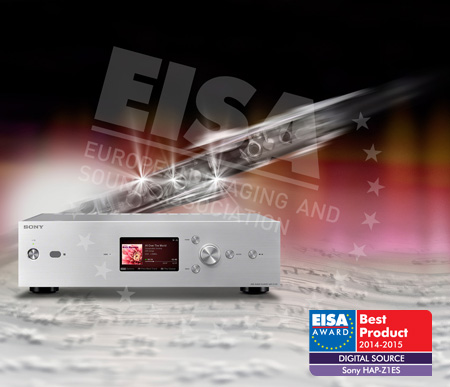 The multinational corporation responsible for audio milestones such as the revolutionary Walkman, the digital compact disc and SACD is embarking on another initiative to bring hi-fi replay back to the top of consumers' wish lists. Its new 'hi-res audio' separates are fronted by the HAP-Z1ES digital music file player featuring a built-in 1TB hard drive and USB expansion port. The HAP-Z1ES connects to a home network via wired Ethernet or Wi-Fi, and it provides internet radio using the vTuner platform but it replays music files directly from its internal drive for a truly consistent and self-contained performance. Dynamic and spacious, the HAP-Z1ES has the capacity to sound all the sweeter with its user-selectable DSD-upsampling mode. It's the perfect digital source for all your hi-res downloads.
European Hi-Fi Headphone 2014-2015
OPPO PM-1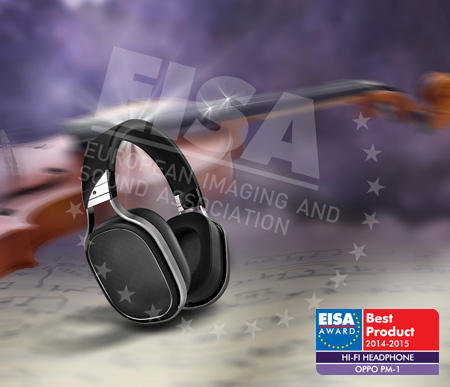 They may be the first headphones from a company with no history in the market but these open-back, isodynamic designs are a remarkable debut. Painstakingly engineered, each of the PM1's planar magnetic drive units features a seven-layer, yet thin, diaphragm with flat aluminium conductors on both sides. What's more, these conductors follow a spiral pattern in a bid to maximise the spread and evenness of the driving force. It's a design that not only saves weight but one that results in a huge leap in sensitivity compared with rivals. Add hefty yet superbly even bass and a lusciousness with richly recorded material and the PM-1 can rightly be described as the most exciting new headphones to have been released this year.
European Loudspeaker System 2014-2015
Bowers & Wilkins 683 S2 Theatre
Ever since the first 600-series loudspeakers were launched in 1995, B&W's most popular range has continued to be defined by its application of innovative technologies. The new 600 Series is no exception with all its models benefiting from the latest generation of woven Kevlar bass/mid cones that saw their debut some 20 years ago. In the slim 683 S2 floorstanders these Kevlar units are supplemented by a pair of aluminium bass drivers while the entire range of 683 S2, smaller 686 S2 wall-mountable surrounds and impressive HTM61 S2 centre speaker, all feature B&W's latest decoupled double-dome aluminium tweeter. While the 683 S2 floorstanders would grace any high quality stereo set up, in combination with the 686 S2, HTM61 S2 and ASW610XP subwoofer they make for a glorious multichannel speaker system.
European Compact Hi-Fi System 2014-2015
JBL Authentics L16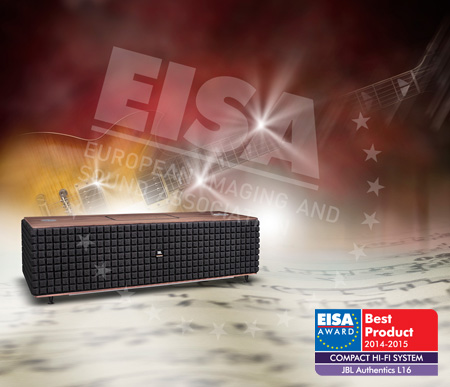 With styling that echoes the company's legendary L100 Century bookshelf model from the 1970s, this desktop speaker system sees a single walnut-veneered wooden enclosure housing three drivers per side, each powered by a dedicated 50W amplifier. It also offers wireless playback via AirPlay for Apple products, DLNA for Android users, Bluetooth with NFC, twin USB inputs for charging devices, and an optional Qi charging pad can be connected for those with devices that support it. For turntable lovers, one input can be switched between a line-in, phono MM or MC. Signal processing is at 96kHz/24-bit and includes Harman's Clari-Fi technology, which is designed to improve the sound of compressed music files. A compact classic, this stylish desktop system deserves pride of place in any music-lover's living room.
European On-Wall Loudspeaker System 2014-2015
DALI RUBICON LCR
Part of the Danish brand's five-strong RUBICON series, this fullrange on-wall speaker features a version of the high frequency module first heard in the company's EPICON line. This sees a 29mm soft dome tweeter allied to a 17x45mm ribbon tweeter, just 1mm thick, this hybrid module being 'rotatable' in a bid to disperse sound around the room if the speaker is placed horizontally, and so avoid the traditional listening sweet-spot. A 16.5cm wood fibre cone takes on bass duties while two hidden bass-reflex ports running up the rear of the cabinet boost lower frequencies. A stylish and flexible speaker (it can also be used on a stand or shelf), the RUBICON LCR is a persuasive one-stop solution for both stereo and multichannel sound.
European High-End Audio Solution 2014-2015
Avantgarde Acoustic ZERO 1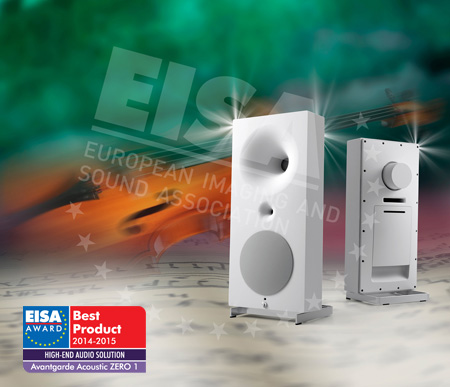 Who says horn-loaded loudspeakers have to be large? This three-way active design stands just 104cm tall with each sleek-looking 32cm deep moulded enclosure housing modified versions of the company's XA-series high-quality 50W amp – one for each of its two horns – plus a 400W Class D Hypex module driving a ported 30cm woofer. Source signals are fed to just one speaker, which then syncs wirelessly with the other. What's more, the ZERO 1 is a Plug & Play system thanks to onboard 66-bit FPGA digital processing and six built-in 24-bit Burr-Brown DACs, meaning all you have to add is your source. Advanced digital filters allow calibration of the system's output with great accuracy to ensure time, phase and amplitude coherence across the entire audible range. Clean-sounding and airy, the ZERO represents a compelling fusion of futuristic tech in a compact and user-friendly package.
European Hi-Fi Accessory 2014-2015
iFi nano iDSD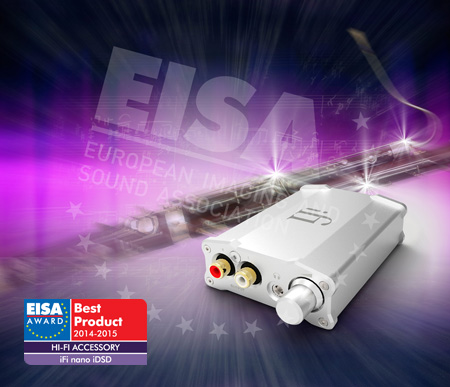 Beautiful sounds can certainly come from very small packages, as iFi's nano iDSD serves to demonstrate. This USB DAC is powered via an internal Lithium battery that's charged via the connected USB hub on a PC or Mac, offering up to ten hours of playing time with most headphones or via the RCA line outputs. The single USB input confers compatibility with the highest resolution music files including 384kHz/32-bit DXD and quad-speed DSD256 and will even play DSD files directly from a mobile phone (iOS/Android) or iPad using a third-party App. The specification includes precision, temperature-compensated clocks and a bespoke headphone amp rated at 80mW but it's the impressively sweet and insightful sound that is the nano iDSD's most memorable feature. This has to be the hi-fi bargain of the year!
European USB DAC 2014-2015
ASUS Essence III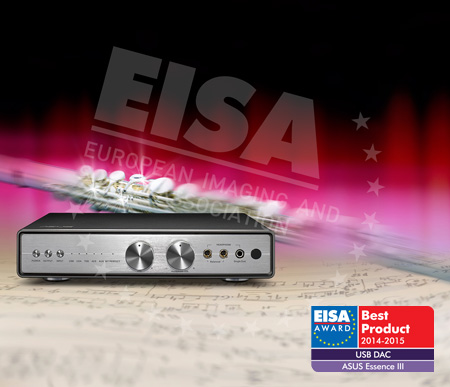 With a reputation for both advanced computer hardware and some of the best performing soundcards on the market, ASUS is ideally placed to develop an external USB DAC with real audiophile pretensions. This is the Essence III, a highly versatile DAC/preamplifier with DSD-compatible USB (DSD64 and 128) plus optical and coaxial S/PDIF and AES/EBU digital inputs. The analogue stages are especially sophisticated, employing a stepped-attenuator volume control and dual-mono DACs to drive balanced line outputs and also a balanced headphone output on mini-XLRs –typically the preserve of very high-end headphone amplifiers. Its performance is as clean and incisive as the engineering, with an honest and compelling sound that puts many traditional hi-fi marques to shame!
European Multiroom System 2014-2015
Samsung M7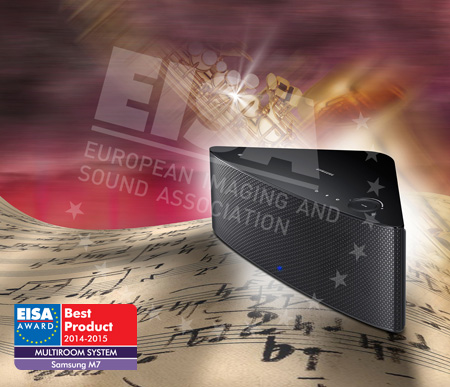 This stylish, wedge-shaped wireless speaker has a trick up its sleeve. Not only can it stream music from a variety of sources and access services like Spotify and Deezer directly, but run the company's Multiroom app on a tablet or smartphone and music can be sent to other M7 speakers around your home. The speaker itself houses twin 19mm tweeters, two 56mm midrange drivers and a 10cm woofer while Bluetooth connectivity, a touch-sensitive volume control and the ability to decode FLAC files up to 44.1kHz/16-bit only add to its appeal. And it's no slouch when it comes to sound quality either, the M7 boasting a rich, weighty and room-filling presentation that is able to punch hard when appropriate.
And the rest of the EISA Awards:
Home Theatre Audio
EUROPEAN HOME THEATRE RECEIVER 2014-2015 Pioneer VSX-924
EUROPEAN HOME THEATRE SOUNDBAR 2014-2015 Focal Dimension
EUROPEAN HOME THEATRE SOUNDBASE 2014-2015 LG LAB540
EUROPEAN HOME THEATRE SOLUTION 2014-2015 Philips Fidelio E5
EUROPEAN HOME THEATRE HIGH-END 2014-2015 Yamaha CX-A5000/MX-A5000
EUROPEAN HOME THEATRE BLU-RAY PLAYER 2014-2015 Panasonic DMP-BDT700
Home Theatre Display & Video
EUROPEAN FULL HD TV 2014-2015 Samsung UE55H7000
EUROPEAN HIGH-END TV 2014-2015 LG 77EC980V
EUROPEAN 4K ULTRA HD TV 2014-2015 Sony KD-65X9005B
EUROPEAN SMART TV 2014-2015 LG 55LB870V
EUROPEAN CAMCORDER 2014-2015 Sony FDR-AX100
EUROPEAN HOME THEATRE PROJECTOR 2014-2015 Epson EH-TW9200W
Photo
EUROPEAN CONSUMER DSLR CAMERA 2014-2015 Canon EOS 1200D
EUROPEAN ADVANCED DSLR CAMERA 2014-2015 Pentax K-3
EUROPEAN PROFESSIONAL DSLR CAMERA 2014-2015 Nikon D4s
EUROPEAN CONSUMER COMPACT SYSTEM CAMERA 2014-2015 Olympus OM-D E-M10
EUROPEAN ADVANCED COMPACT SYSTEM CAMERA 2014-2015 Fujifilm X-T1
EUROPEAN PROFESSIONAL COMPACT SYSTEM CAMERA 2014-2015 Sony Alpha 7R
EUROPEAN COMPACT CAMERA 2014-2015 Sony Cyber-shot RX100 III
EUROPEAN ADVANCED COMPACT CAMERA 2014-2015 Panasonic LUMIX DMC-FZ1000
EUROPEAN TRAVEL COMPACT CAMERA 2014-2015 Panasonic LUMIX DMC-TZ60
EUROPEAN CONNECTED CAMERA 2014-2015 Samsung NX30
EUROPEAN DSLR LENS 2014-2015 Sigma 50mm F1.4 DG HSM [A]
EUROPEAN DSLR ZOOM LENS 2014-2015 Tamron 16-300mm F3.5-6.3 Di II VC PZD
EUROPEAN DSLR TELEPHOTO ZOOM LENS 2014-2015 Tamron SP 150-600mm F5-6.3 VC USD
EUROPEAN COMPACT SYSTEM LENS 2014-2015 Fujinon XF56mmF1.2 R
EUROPEAN COMPACT SYSTEM ZOOM LENS 2014-2015 Olympus M.ZUIKO DIGITAL ED 12-40mm F2.8
EUROPEAN PHOTO ACCESSORY 2014-2015 Manfrotto MT055CXPro4
EUROPEAN PHOTO & VIDEO CAMERA 2014-2015 Panasonic LUMIX DMC-GH4
EUROPEAN LIFESTYLE CAMCORDER 2014-2015 Canon LEGRIA mini X
EUROPEAN SMARTPHONE CAMERA 2014-2015 Samsung Galaxy K zoom
Mobile Devices
EUROPEAN ADVANCED SMARTPHONE 2014-2015 LG G3
EUROPEAN CONSUMER SMARTPHONE 2014-2015 Huawei Ascend P7
EUROPEAN HEADPHONE 2014-2015 AKG K845BT
EUROPEAN TABLET 2014-2015 Sony Xperia Z2 Tablet
EUROPEAN MOBILE AUDIO SYSTEM 2014-2015 Harman Kardon Esquire Mini
In-Car Electronics
EUROPEAN IN-CAR HD MEDIA PLAYER 2014-2015 Audison bit Play HD
EUROPEAN IN-CAR NAVI-MEDIA SYSTEM 2014-2015 Pioneer AVIC-F60DAB
EUROPEAN IN-CAR AMPLIFIER 2014-2015 Mosconi GLADEN D2 100.4 DSP
EUROPEAN IN-CAR SPEAKER SYSTEM 2014-2015 Rainbow GL-C6.2
EUROPEAN IN-CAR SUBWOOFER 2014-2015 Morel ULTIMO 10 Titanium
EUROPEAN IN-CAR PREMIUM UPGRADE 2014-2015 Alpine X800D-ML
EUROPEAN IN-CAR INTEGRATION 2014-2015 Audison AP8.9 bit
EUROPEAN IN-CAR HIGH-END COMPONENT 2014-2015 Ground Zero GZPC 163SQ-LTD