EISA Awards 2017 2018
The European Imaging and Sound Association celebrates the year's most desirable hi-fi hardware
For 35 years EISA has been selecting the most innovative, cutting-edge products for its prestigious EISA Awards. The Awards are debated and voted upon by groups of specialist judging panels covering the full spectrum of consumer electronics and photographic products, including Hi-Fi, Home Theatre, In-Car Electronics, Photo, Video and Mobile Devices. Key to the success and relevance of the annual EISA Awards lies in the evolution of its categories, always reflecting the changing trends and technologies of the consumer electronics world. Moreover, the Association itself continues to evolve, as 2017 was also the year that EISA announced its global expansion with a total of 5 new member magazines and websites from Australia and the USA.
To win an EISA award all products undergo a comprehensive multi-step judging process. Products are intensively tested at the facilities of individual EISA member magazines and are also presented at the Association's annual Convention in Antwerp in May. Products that pass this stage already rank among the best in the world. The final deliberations take place at EISA's annual General Meeting in June where a democratic voting process establishes a consensus of excellence and determines the winning products. Unsurprisingly many of this year's EISA Award-winning products in the Hi-Fi category, including those from Marantz, Pro-Ject, ELAC and Q Acoustics were premiered – as World Exclusives – within the pages of Hi-Fi News.
To find out more about EISA, visit www.eisa.eu
---

EISA WIRELESS LOUDSPEAKER 2017-2018
KEF LS50 Wireless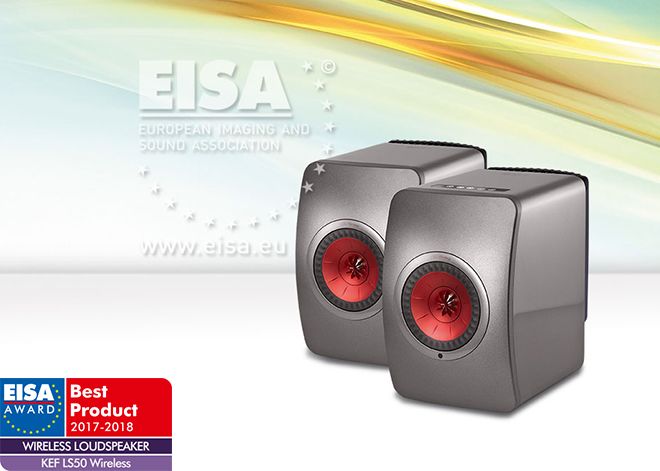 This is a versatile all-in-one active speaker solution that streams network music, is compatible with aptX Bluetooth and Tidal, and handles hi-res music up to 192kHz/24-bit via its USB input. Optical digital and line-level RCAs are there if you need them, too. The punchy built-in 230W amplification drives the speakers directly and the refined Uni-Q mid/bass driver has a centrally mounted tweeter that throws out wide stereo images with pinpoint precision. Retaining the talents of the EISA award-winning LS50 passive loudspeaker, especially for a world without wires, this new addition makes perfect sense.
---

EISA BEST VALUE LOUDSPEAKER 2017-2018
DALI SPEKTOR 6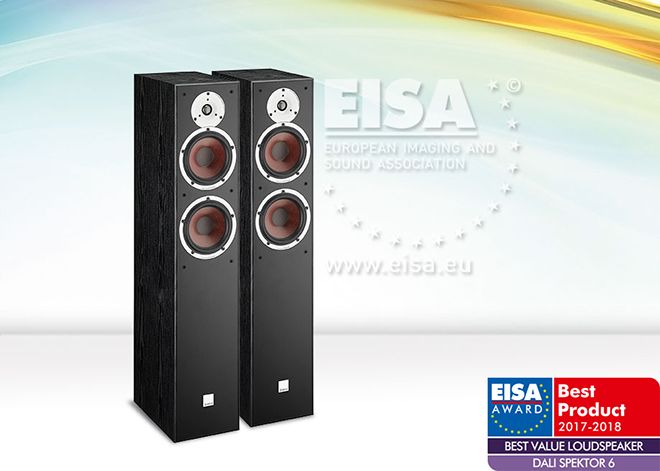 Budget floorstanding speakers don't get much better than this. The flagship of DALI's SPEKTOR range serves up a seriously big sound thanks to its large, sturdily built cabinet – available in stylish black and walnut finishes – and a high quality driver complement. The soft dome tweeter is refined beyond its price class and the twin wood-fibre mid/bass units sound unexpectedly civilised, yet can really shake the room. This affordable box is far more fun than it has a right to be, and is surprisingly room-friendly too.
---

EISA BOOKSHELF LOUDSPEAKER 2017-2018
Dynaudio Contour 20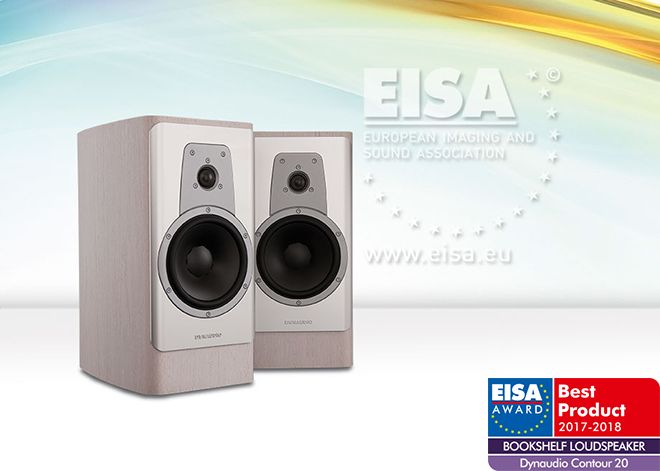 An exceptionally accomplished standmount loudspeaker, the Contour 20 sounds much bigger than it looks. The latest in a long line of Contour bookshelf designs – starting way back in the early '80s – this is the first to sport Dynaudio's excellent Esotar2 tweeter. Allied to a single MSP diaphragm mid/bass and bolted to a thick aluminium front baffle plate, the result is a wonderfully lyrical yet accurate sound, with surprisingly deep bass. The radiused edges of the exquisitely finished cabinet complete a very pretty picture.
---

EISA FLOORSTANDING LOUDSPEAKER 2017-2018
Q Acoustics Concept 500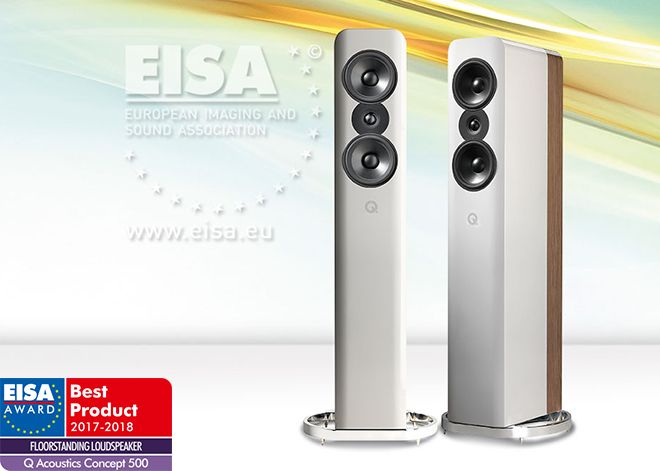 Mainstream speaker makers often struggle when they move upmarket, but not Q Acoustics. The Concept 500 is an audacious new floorstander employing highly optimised drivers and cabinet. This svelte new loudspeaker comes in a choice of white or black gloss, with contrasting real wood veneers. The special tweeter blends seamlessly with twin mid/bass drivers, which are set into the heavily braced, multilayered gel-lined cabinet. This loudspeaker sounds refined way beyond its price, with a neutral yet musical performance.
---

EISA HEADPHONES 2017-2018
Denon AH-D7200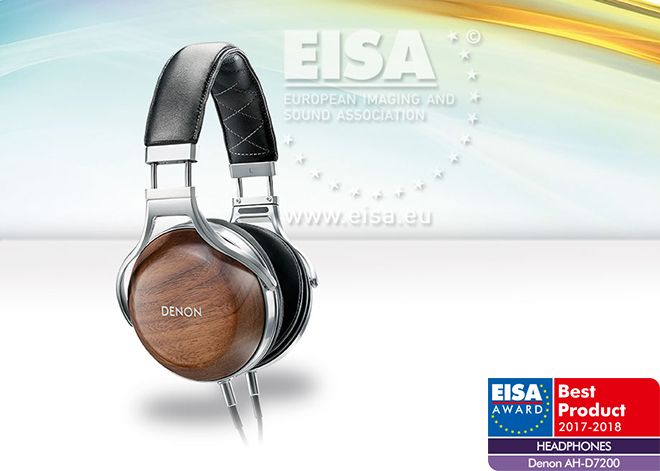 When it comes to headphones, you can't put a price on comfort. Thanks to its light walnut ear cups and sheepskin leather headband, this is one of the most pleasant to wear – and its sound is very easy on the ear, too. The Denon AH-D7200 sounds opulent and sumptuous, ideal for extended listening sessions with your favourite music. Its new FreeEdge-drivers – set in a closed-back cup with memory foam padding – give great lustre to the music, the sound never descending into harshness. This is a great return to form for Denon.
---
EISA DAC/HEADPHONE AMPLIFIER 2017-2018
Pro-Ject Pre Box S2 Digital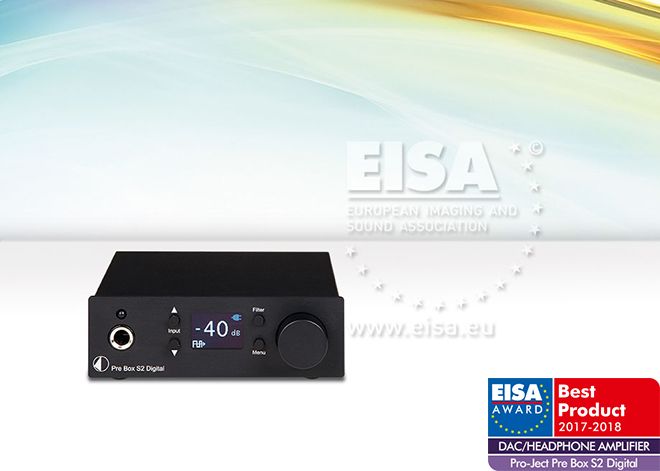 This petite box shows that – in the world of digital audio – less can be more. Its long list of features includes full preamp functionality and the latest ESS Sabre DACs running in dual mono configuration. So it handles everything from DSD512 to 768kHz/32-bit PCM music media and will even recognise and decode MQA files. High quality passive components, an integrated headphone amplifier and a host of digital filter options complete the big picture. With an open and expressive nature, and supreme versatility, the Pre Box S2 Digital sounds bigger and bolder than it looks – making it great affordable hi-fi.
---

EISA BEST VALUE TURNTABLE 2017-2018
Pro-Ject Essential III Flexi-Range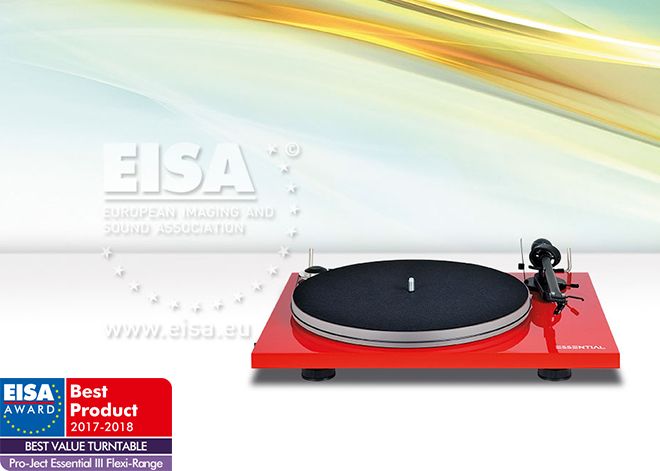 A great step on to the vinyl ladder, Pro-Ject's Flexi-Range has six different models that cater for every aspiring vinyl junkie. From the super value Essential III to the fully loaded Record Master – with electronic speed control, built-in phono stage, analogue-to-digital converter and USB output – there's something for everyone. Even an aptX Bluetooth model is available. Each deck comes with an Ortofon OM10 cartridge, for better sound than its predecessor. With red, black or white gloss options, it has style to match its fine sound.
---

EISA HIGH-END TURNTABLE 2017-2018
ELAC Miracord 90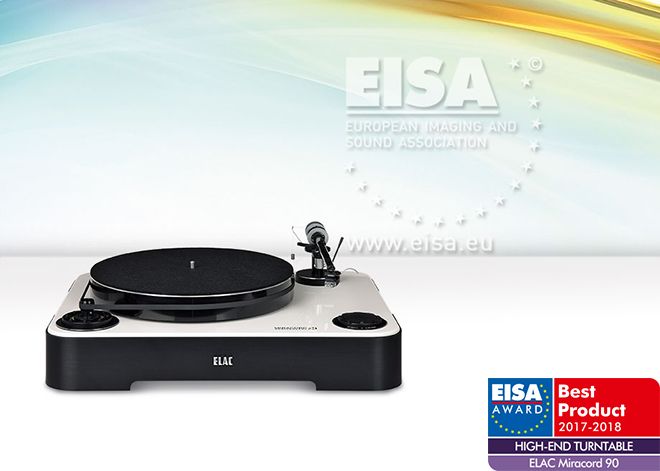 To celebrate its ninetieth anniversary, ELAC has released a beautiful new turntable. This artfully reimagined record player fuses traditional values with contemporary design. Its substantial MDF chassis comes in a choice of lavish finishes, providing a solid foundation for the heavy, belt-driven platter. Electronic speed control gives stable running and variable pitch, while the carbon-fibre tonearm includes a cartridge specially developed with Audio-Technica, making sweet analogue music. It's a great comeback from one of the legends of vinyl.
---

EISA INTEGRATED AMPLIFIER 2017-2018
Hegel Röst
Don't let its slimline proportions fool you, for here's a vibrant-sounding amp that connects to a wide range of sources. Hegel's patented SoundEngine circuitry provides a glass-clear window on the music, but also packs an 80W punch that's enough to drive most loudspeakers. It has a fine sounding DAC built-in, complete with excellent AirPlay, USB and DLNA functionality – so you can play music directly off your home network. Sleek ergonomics make it a pleasure to use, IP control gives home automation control and it's easy on the eye, too.
---

EISA BEST VALUE AMPLIFIER 2017-2018
NAD C 338
NAD is famous for powerhouse amplifiers that punch way above their weight – but the C 338 brings a whole new dimension to the marque. It is the world's first stereo integrated amp with inbuilt Chromecast compatibility, streaming most major music services from the tap of an app. Despite its slim size, the amp's Class D power stage packs 50W per channel and offers almost every input you'll ever need – from Bluetooth, optical/coaxial digital, MM phono and line-level analogue. Factor in the headphone stage, and nothing else matches its performance at the price.
---

EISA HIGH-END STEREO SYSTEM 2017-2018
Marantz SA-10 & PM-10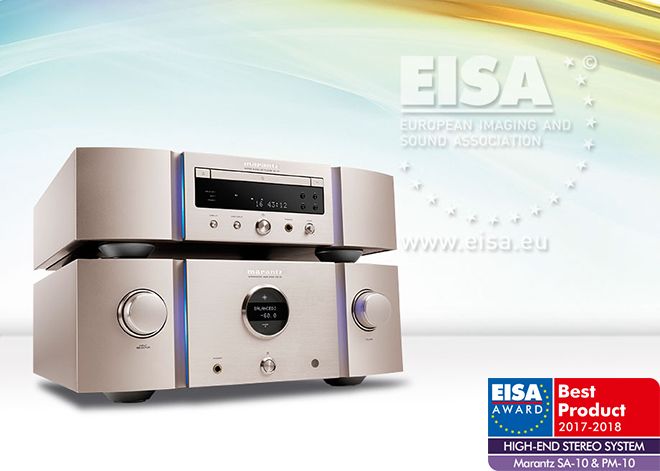 Marantz's flagship disc player and integrated amplifier combination sees the manufacturer reaching new heights of innovation and sound. The SA-10 plays SACD, CD and digital files to an extremely high standard thanks to the Marantz Musical Mastering digital processing suite, which uses custom hardware and software to carry out genuine 1-bit conversion. The new PM-10 is the company's first high-end Class D amplifier, featuring state-of-the-art Ncore power modules for a hugely powerful, low distortion sound. Together they make a formidable combination.
---

EISA HI-FI INNOVATION 2017-2018
Devialet Gold Phantom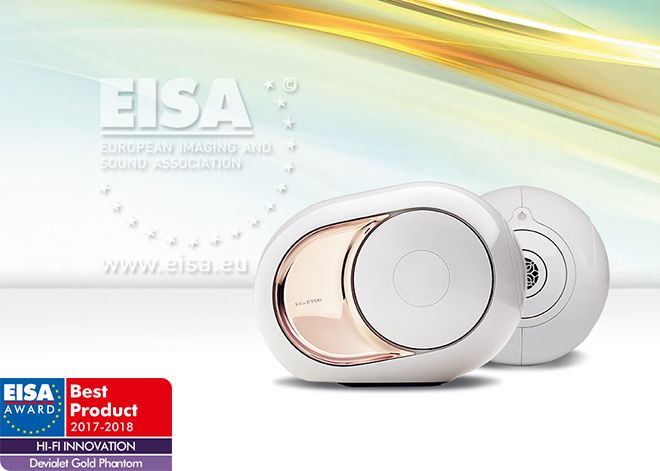 The 'Gold' is a major evolution of the revolutionary Phantom speaker from Devialet. Packed with unique technology, including an astonishing 4500W of integrated ADH (Analogue/Digital Hybrid) amplification and SAM bass management, the side-firing bass domes deliver a massively extended low frequency impact while the new titanium tweeter offers sweet-sounding highs. Connectivity includes AirPlay, Bluetooth and Spotify Connect with wired Ethernet and optical digital inputs too. Never has so much hi-fi innovation been packed into so compact and elegant an enclosure.
---

EISA MULTIROOM NETWORK PLAYER 2017-2018
Yamaha WXC-50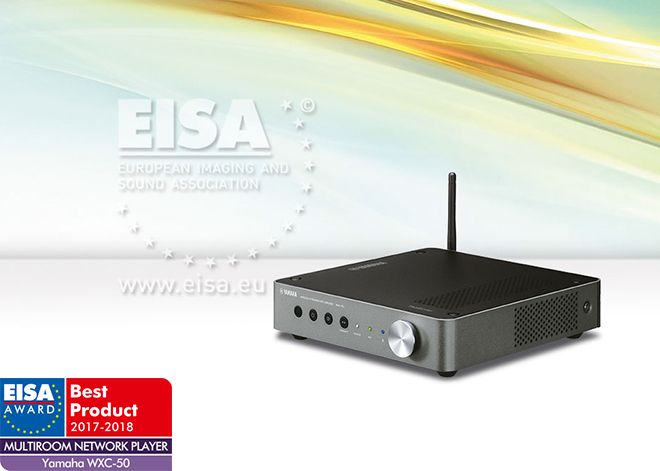 Despite its diminutive dimensions, this new wireless streaming preamplifier is a hi-fi Swiss Army knife that performs a wide range of roles. It works as a standalone streamer or a DAC/preamp, and has full multiroom functionality via Yamaha's smart MusicCast networking system. This technology streams sound all around the house, controlled by an easy-to-use app on your mobile device. The WXC-50 supports everything from double-speed DSD to hi-res FLAC files, next to all popular music streaming services. It's an affordable way into multiroom music.
---

EISA PORTABLE DAC/HEADPHONE AMPLIFIER 2017-2018
RHA Dacamp L1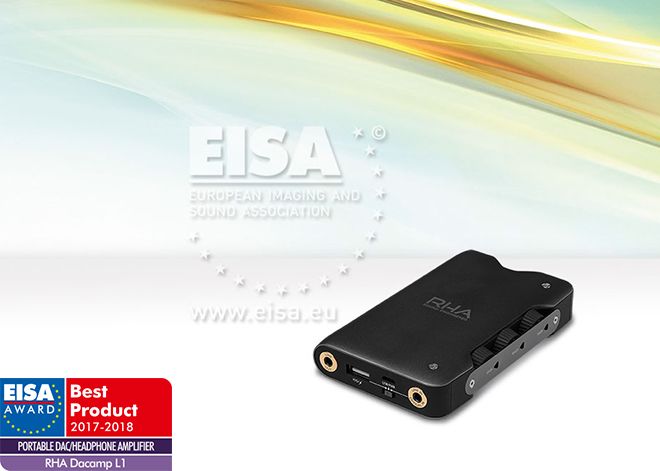 This young company has hit the ground running with its first portable DAC and headphone amp. Supplied with all the cables needed to connect digitally to your mobile device, it sports an optical digital input alongside USB. Audiophiles will love its balanced headphone output alongside the regular 3.5mm jack socket, and its ten-hour battery life. High quality ESS DAC chips serve up a detailed and vivid sound, and its rugged aluminium casing is one of the most stylish around. For music on the move, it's a terrific choice.
(Combined Award with Mobile Devices)

---
And the rest of the awards...
​HOME THEATRE AUDIO
EISA HOME THEATRE SPEAKER SYSTEM 2017-2018
Focal Sib Evo
EISA HOME THEATRE RECEIVER 2017-2018
Yamaha RX-V483
EISA SOUNDBAR 2017-2018
LG SJ9
EISA TV AUDIO UPGRADE 2017-2018
Sonos PLAYBASE
EISA HOME THEATRE HIGH-END 2017-2018
DALI PHANTOM S Series
EISA HOME THEATRE SOLUTION 2017-2018
Denon HEOS AVR
EISA HOME THEATRE SUBWOOFER 2017-2018
SVS PB16-Ultra
EISA UNIVERSAL ULTRA HD BLU-RAY PLAYER 2017-2018 (Combined Award with Home Theatre Video)
OPPO UDP-203
EISA BEST BUY ULTRA HD BLU-RAY PLAYER 2017-2018 (Combined Award with Home Theatre Video)
Panasonic DMP-UB300/UB400 Series
HOME THEATRE VIDEO
EISA HOME THEATRE TV 2017-2018
Sony KD-65ZD9
EISA LCD TV 2017-2018
LG 55SJ850V
EISA SMART TV 2017-2018
Samsung QE55Q7F
EISA OLED TV 2017-2018
LG OLED65E7
EISA BEST BUY TV 2017-2018
TCL U55C7006
EISA BEST BUY OLED TV 2017-2018
Philips 55POS9002
EISA HOME THEATRE PROJECTOR 2017-2018
Epson EH-TW9300W
PHOTOGRAPHY
EISA CONSUMER DSLR CAMERA 2017-2018
Canon EOS 77D
EISA PROSUMER DSLR CAMERA 2017-2018
Nikon D7500
EISA PROFESSIONAL DSLR CAMERA 2017-2018
Canon EOS 5D Mark IV
EISA CONSUMER COMPACT SYSTEM CAMERA 2017-2018
Fujifilm X-T20
EISA PROSUMER COMPACT SYSTEM CAMERA 2017-2018
Sony α6500
EISA CAMERA 2017-2018
Sony α9
EISA COMPACT CAMERA 2017-2018
Sony RX100 V
EISA SUPERZOOM CAMERA 2017-2018
Sony RX10 III
EISA PHOTO & VIDEO CAMERA 2017-2018
Panasonic Lumix DC-GH5
EISA INSTANT CAMERA 2017-2018
Fujifilm Instax SQUARE SQ10
EISA DSLR LENS 2017-2018
SIGMA 135mm F1.8 DG HSM | Art
EISA DSLR ZOOM LENS 2017-2018
Tamron SP 150-600mm F5-6.3 Di VC USD G2
EISA PROFESSIONAL DSLR LENS 2017-2018
Canon EF 16-35mm F2.8L III USM
EISA COMPACT SYSTEM CAMERA LENS 2017-2018
Sony FE 100mm F2.8 STF GM OSS
EISA PROFESSIONAL COMPACT SYSTEM CAMERA LENS 2017-2018
Sony FE 70-200mm F2.8 GM OSS
EISA COMPACT SYSTEM CAMERA ZOOM LENS 2017-2018
Olympus M.ZUIKO DIGITAL ED 12-100mm F4.0 IS PRO
EISA PHOTO INNOVATION 2017-2018
Tamron 18-400mm F3.5-6.3 Di II VC HLD
EISA PHOTO DISPLAY 2017-2018
EIZO ColorEdge CG2730
EISA SMARTPHONE CAMERA 2017-2018 (Combined Award with Mobile Devices)
Huawei P10
MOBILE DEVICES EXPERT GROUP
EISA BEST SMARTPHONE 2017-2018
Samsung Galaxy S8/S8+
EISA CONSUMER SMARTPHONE 2017-2018
Honor 8 Pro
EISA BEST BUY SMARTPHONE 2017-2018
NOA Element H10le
EISA MOBILE HEADPHONES 2017-2018
JBL Everest Elite 750NC
EISA MOBILE SPEAKER 2017-2018
JBL Boombox
EISA WIRELESS IN-EAR HEADPHONES 2017-2018
Sennheiser MOMENTUM In-Ear Wireless
EISA WEARABLE DEVICE 2017-2018
Huawei Watch 2
EISA MOBILE AUDIO PLAYER 2017-2018
FiiO X5 3rd gen
IN-CAR ELECTRONICS
EISA IN-CAR HEAD-UNIT 2017-2018
KENWOOD DMX7017DABS
EISA IN-CAR HD PLAYER 2017-2018
Clarion NX807E
EISA IN-CAR SMART UPGRADE 2017-2018
Mosconi GLADEN RC-CAN
EISA IN-CAR SUBWOOFER 2017-2018
GLADEN PRO 10
EISA IN-CAR ACTIVE SUBWOOFER 2017-2018
Pioneer TS-WX70DA
EISA IN-CAR PROCESSOR 2017-2018
Helix DSP.2
EISA IN-CAR AMPLIFIER 2017-2018
Mosconi GLADEN PRO 5|30
EISA IN-CAR INTEGRATION 2017-2018
Hertz H8 DSP
EISA IN-CAR SPEAKER SYSTEM 2017-2018
Vibe Audio CVEN62C-V4