EISA Awards 2015 2016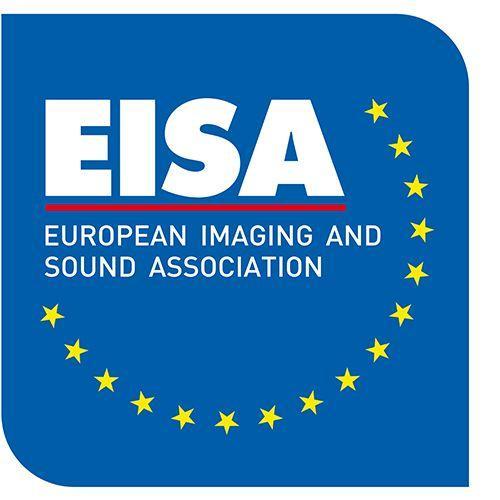 The European Imaging and Sound Association celebrates the year's most desirable hi-fi hardware
While fiscal turmoil within the Euro Zone continues to dominate headlines in the UK, the collaboration of EISA's member magazines continues without pause just as the aspirations of our fellow hi-fi and music enthusiasts remain undaunted. From the EISA Convention held in May to the final General Meeting in June, member magazines pool their combined experience to arrive at a consensus of the very best in sound and vision products available across the wider Euro continent.
With every magazine having reviewed a broad swathe of specialist products, these Awards are typically agreed upon with amicable efficiency. The process is undoubtedly assisted by the increasingly fluid movement of equipment across the continent, blurring national stereotypes. Enthusiasts, it seems, are only interested in achieving the very best sound quality, regardless of nationality.
Every issue of Hi-Fi News reflects the 'borderless' reality of our hobby with truly state-of-the-art products now available in the UK from both established and new specialists across Europe. This year, EISA Award-winning products including those from Focal, Pro-Ject, Marantz, Mark Levinson, B&W and Oppo, have all been premiered – typically as World Exclusives – within the pages of Hi-Fi News.
To find out more about EISA, visit www.eisa.eu
---
European Turntable 2015-2016
Pro-Ject RPM3 Carbon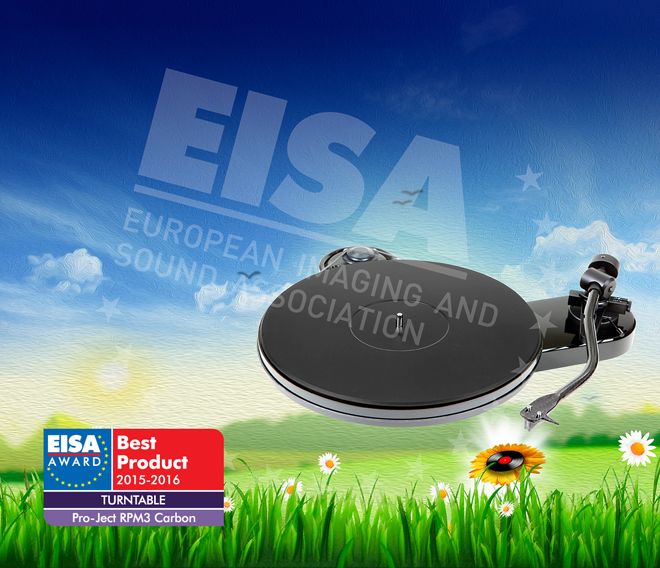 Benefiting from trickle-down technology developed for its costlier RPM-series turntables, this new deck features a host of engineering innovations to boost its sound. The V-shaped chassis and dynamically-balanced platter are both fashioned from MDF, the latter with a mat made from recycled LP vinyl, while the outboard 15V AC motor is driven by a compact synthesised power supply. The new 10in S-shaped tonearm is a key feature, comprising a damped alloy tube surrounded by a resin and carbon-fibre mix. This, in turn, carries a custom silver-wired version of Ortofon's classic 2M moving-magnet cartridge, the final ingredient in what is a deeply impressive deck offering a remarkably stable and foot-tapping sound.
---
European Network Media Player 2015-2016
Marantz NA8005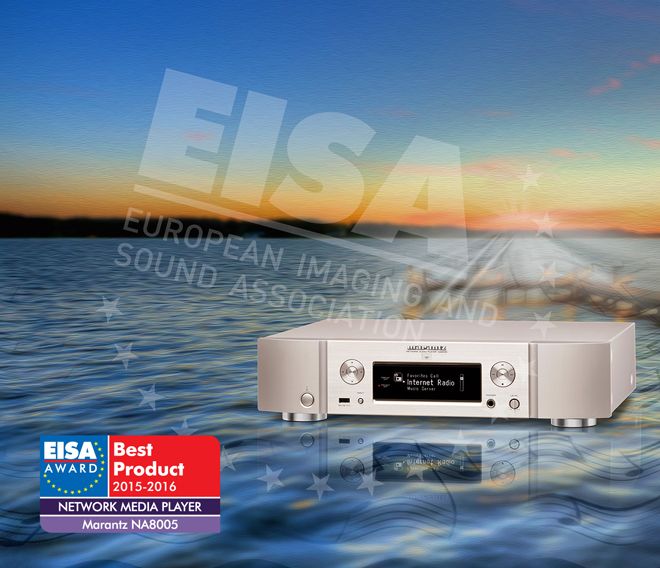 This upmarket digital music player is compatible with numerous sources thanks to its range of conventional coaxial and optical inputs, asynchronous USB and network streaming of files up to 192kHz LPCM and DSD128. The player also supports Apple AirPlay, Spotify Connect and internet radio. A fascia-mounted USB socket connects to smartphones, tablets and music storage devices to further broaden its appeal. This is a player that relishes hi-res content while its smooth, sweet treble also makes it the perfect antidote to low bitrate audio streams and AAC or MP3 rips. Lush and substantial bass completes a package that deserves pride of place in any networked hi-fi system.
---
European USB DAC/Headphone Amplifier 2015-2016
OPPO HA-2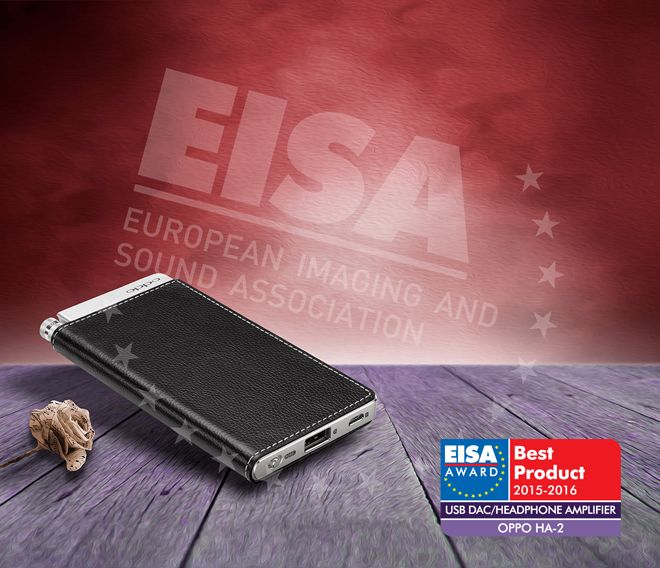 With a compact alloy case clad in high quality leather, this portable DAC/headphone amp is clearly aimed at the style conscious. Yet it's certainly no slouch when it comes to sound. Inside its slimline case, an ESS Sabre DAC supports hi-res audio playback up to 384kHz LPCM and DSD256. The HA-2 sports two USB inputs (Type A and micro B) on the bottom and two 3.5mm sockets on the top. One of these is a headphone output, able to drive a wide choice of cans, the other socket doubling as an analogue input or a line output, enabling users to hook the device into a traditional hi-fi system. Able to work with a wide range of Apple and Android devices, the OPPO HA-2 is the smart choice for those seeking a polished-sounding and gutsy performer that's keenly priced.
---
European Amplifier 2015-2016
Hegel H160
The very model of a modern integrated amplifier, Hegel's H160 offers a substantial 150W output from an innovative and flexible design that offers both analogue and digital inputs. These include coaxial and optical alongside USB and network connections, the latter supporting both DLNA and Apple's AirPlay. The H160 is also equipped with a separate line amp, and 6.35mm socket, designed to cope with the most esoteric of headphones. Fire-up the H160 and you'll be rewarded with a potent sound, its deep and tightly-controlled bass underpinning a brightly-lit musical experience. The H160 is a perfect solution for old and new audiophiles alike!
---
European Loudspeaker 2015-2016
Bowers & Wilkins CM6 S2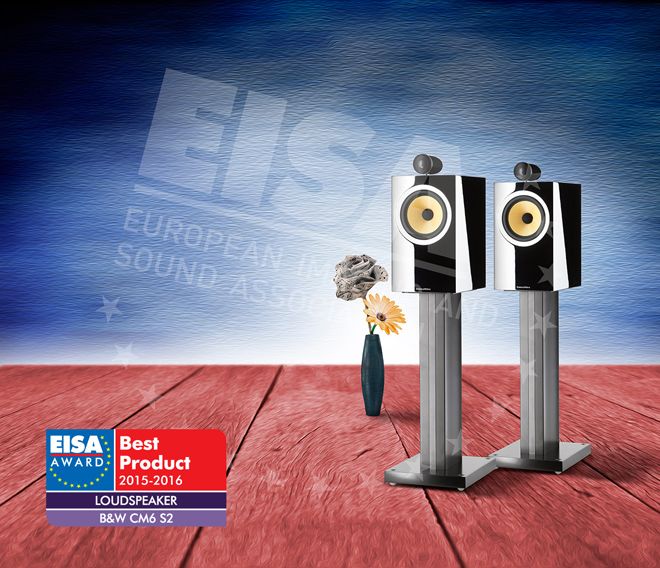 The latest addition to the British brand's five-strong CM series, the CM6 S2 is the only standmount in the line-up to feature 'Tweeter on Top' technology, which sees the 25mm tweeter mounted within a decoupled pod atop the main cabinet. The cabinet itself houses a 165mm woven Kevlar bass/midrange driver and is designed to be used with dedicated bolt-on FS-CM2 stands – though self-adhesive rubber feet are provided for those who wish to shelf-mount the speakers. Meanwhile, a rear port with optional foam bung allows for some fine-tuning of the bass. For those with smaller listening rooms who prize a sweet treble, this refined and insightful loudspeaker delivers a sound whose impressive scope and scale belies its diminutive proportions.
---
European High-End Amplifier 2015-2016
Mark Levinson No585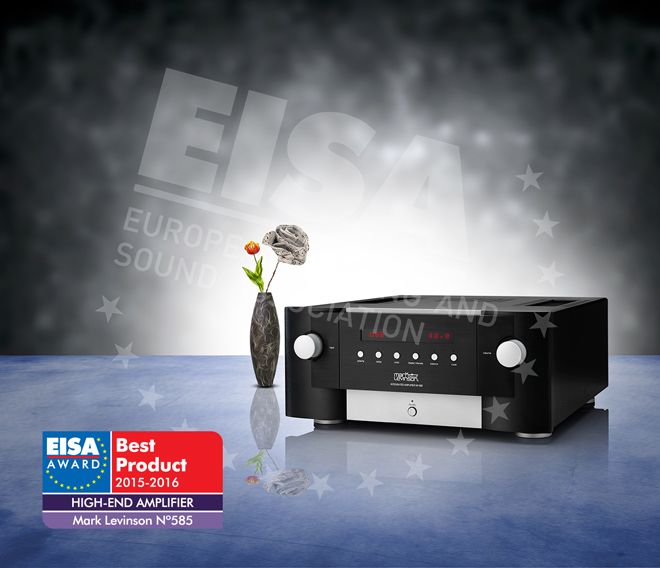 Who says you need a rack full of separates to enjoy glorious high-end sound? From Harman's premium Mark Levinson brand comes a fully balanced Class A/B integrated amplifier that also packs a 32-bit LPCM and DSD-capable USB DAC. Rated at a conservative 200W per channel with stability into 2 ohms for excellent loudspeaker control, its four analogue and six digital inputs will accommodate a wide variety of sources. Powerful-sounding with a superb dynamic range and smooth, grain-free treble, it has the ability to create a wide and stable soundstage. The No585 is the sure-fire way to spectacular yet clutter-free sound.
---
European High-End Loudspeaker 2015-2016
Focal Sopra No2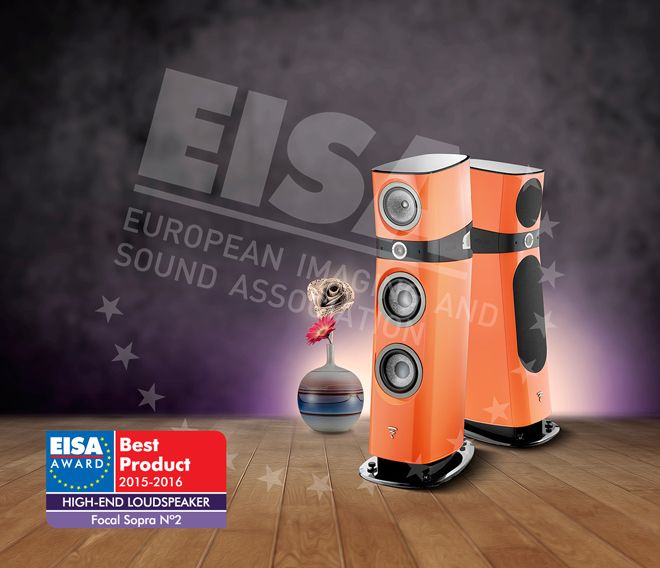 Part of a new series of loudspeakers that sits between the company's Electra and range-topping Utopia models, the Sopra No2 is no wallflower thanks to its striking cosmetics and range of brightly coloured finishes. A 3-way design utilising Focal's 'W-coned' drivers, it includes a pair of 18cm woofers combined with a 16.5cm midrange and one of the company's tried-and-tested beryllium inverted-dome tweeters. The Sopra No2 is the fruit of Focal's continuing work on magnet and driver suspension design, all aimed at reducing distortion. And that work has paid off: the Sopra No2 enchants with a sound that's by turns spacious and explicit, powerful yet unforced, setting new standards in its category.
---
European Multiroom System 2015-2016
Denon HEOS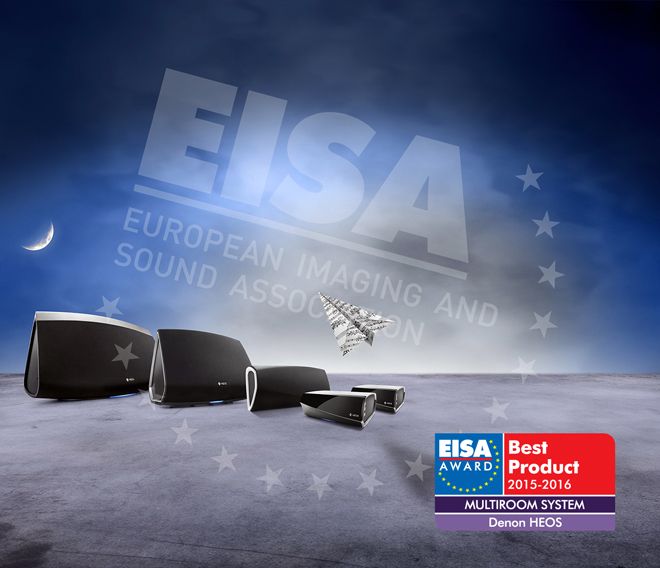 HEOS by Denon provides all the components needed to piece together a versatile sound system for your home. Loudspeakers come in a variety of models – the HEOS 1, 3, 5 and 7 – while partnering separates extend to the impressively versatile HEOS Amp and HEOS Link preamp. The HEOS HomeCinema is perfect for placing under your screen as a soundbar, while the HEOS Extend is an ideal way to increase the reach of your Wi-Fi for elegant wire-free music. The entire system is configured and driven by the intuitive HEOS app (iOS and Android), while Spotify, Tidal, Deezer and TuneIn radio are just some of the integrated music services on offer. Capable of a surprisingly deep bass, a well-judged midrange and room-filling energy, this is the perfect way to spread stunning sonics throughout the house.
---
European Headphones 2015-2016
Sennheiser MOMENTUM 2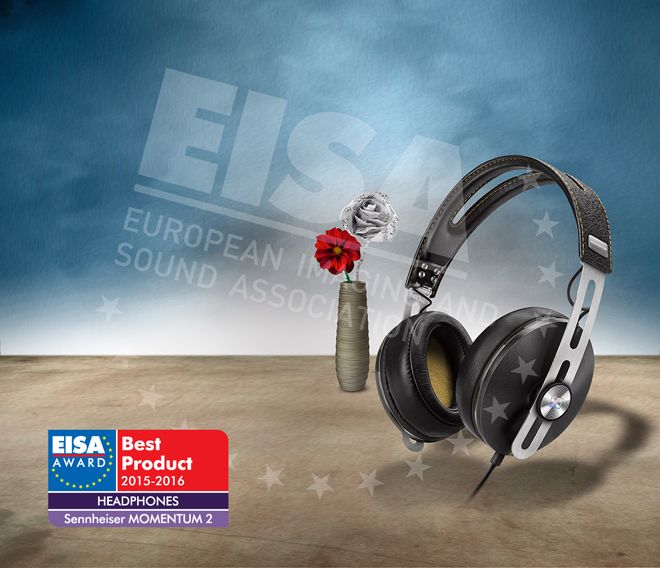 Sennheiser's MOMENTUM 2 over-ear headphone builds on the success of its original MOMENTUM model. This new version offers larger cups and a foldable headband to make things easier for those using the MOMENTUM on the move. Other niceties include a higher quality in-line microphone along with detachable cords, while the luxurious fine leather and brushed stainless steel of the original have been retained. Easy to drive and with an impressive bass, the MOMENTUM 2 manages the trick of sounding pleasingly rich yet also highly detailed when the music demands. This puts the MOMENTUM 2 at the pinnacle of its category and price.
---
European Compact Hi-Fi System 2015-2016
Naim Mu-so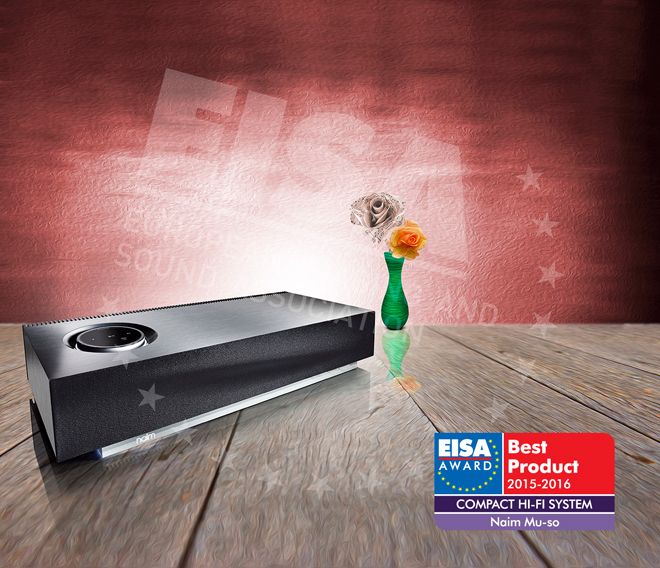 Naim has pulled no punches with its first entry into the wireless all-in-one system market. Inside the MDF casework with its sleek aluminium sleeving can be found no fewer than six custom-made drive units: two tweeters, twin midband drivers and two elliptical bass units, each driven by a custom 75W Class D amplifier. The Mu-so is governed via a touch-sensitive rotary control, covering volume, input selection and music playback, while a dedicated app extends control to multiple Mu-so systems throughout your home. Under the bonnet powerful onboard DSP runs Naim's own code to facilitate AirPlay, aptX Bluetooth and UPnP capability. The wireless speaker/system market is a very competitive one, but hear this crisp, rhythmic and powerful-sounding solution and you'll be smitten.
---
And the rest of the EISA Awards:
HOME THEATRE AUDIO EXPERT GROUP
EUROPEAN HT RECEIVER 2015-2016
Pioneer VSX-930
EUROPEAN HT SOLUTION 2015-2016
Philips Fidelio B5
EUROPEAN SOUNDBASE 2015-2016
Sony HT-XT3
EUROPEAN SOUNDBAR 2015-2016
Canton DM 90.3
EUROPEAN HT SPEAKER SYSTEM 2015-2016
Klipsch Reference Premiere RP-280 Home Theatre System
EUROPEAN BEST VALUE HT SPEAKER SYSTEM 2015-2016
JBL Arena Cinema 5.1
EUROPEAN HT SUBWOOFER 2015-2016
ELAC SUB 2070
EUROPEAN BLU-RAY PLAYER 2015-2016
Pioneer BDP-LX88
EUROPEAN HT STREAMING SOLUTION
Netflix
HT VIDEO & DISPLAY EXPERT GROUP
EUROPEAN HOME THEATRE PROJECTOR 2015-2016
Epson EH-LS10000
EUROPEAN BEST BUY TV 2015-2016
Philips 55PUS7600
EUROPEAN HOME THEATRE TV 2015-2016
LG 65EG960V
EUROPEAN HIGH END TV 2015-2016
Samsung UE65JS9500
EUROPEAN SMART TV 2015-2016
LG 65UF950V
EUROPEAN CAMCORDER 2015-2016
Panasonic HC-WX970
EUROPEAN DESIGN TV 2015-2016
Sony KD-65X9005C
EUROPEAN PHOTO & VIDEO CAMERA 2015-2016
Panasonic LUMIX DMC-G7/G70
PHOTOGRAPHY EXPERT GROUP
EUROPEAN CONSUMER DSLR CAMERA 2015-2016
Nikon D5500
EUROPEAN PROSUMER DSLR CAMERA 2015-2016
Canon EOS 7D Mark II
EUROPEAN PROFESSIONAL DSLR CAMERA 2015-2016
Canon EOS 5DS/5DS R
EUROPEAN CONSUMER COMPACT SYSTEM CAMERA 2015-2016
Fujifilm X-T10
EUROPEAN PROSUMER COMPACT SYSTEM CAMERA 2015-2016
Olympus OM-D E-M5 II
EUROPEAN PROFESSIONAL COMPACT SYSTEM CAMERA 2015-2016
Sony Alpha 7 II
EUROPEAN PREMIUM COMPACT CAMERA 2015-2016
Leica Q
EUROPEAN TRAVEL COMPACT CAMERA 2015-2016
Sony Cyber-shot DSC-HX90/V
EUROPEAN DSLR LENS 2015-2016
SIGMA 24mm F1.4 DG HSM | Art
EUROPEAN PROFESSIONAL DSLR LENS 2015-2016
Canon EF 11-24mm f/4L USM
EUROPEAN DSLR ZOOM LENS 2015-2016
Tamron SP 15-30mm F2.8 Di VC USD
EUROPEAN DSLR TELEPHOTO ZOOM LENS 2015-2016
SIGMA 150-600mm F5-6.3 DG OS HSM | Sports
EUROPEAN COMPACT SYSTEM LENS 2015-2016
Sony FE 90mm F2.8 Macro G OSS
EUROPEAN COMPACT SYSTEM ZOOM LENS 2015-2016
Fujifilm Fujinon XF 16-55mm F2.8 R LM WR
EUROPEAN PROFESSIONAL COMPACT SYSTEM LENS 2015-2016
Olympus M.Zuiko Digital ED 40-150mm F2.8 PRO
EUROPEAN PHOTO INNOVATION 2015-2016
DxO ONE
EUROPEAN SMARTPHONE CAMERA 2015-2016
LG G4
IN-CAR ELECTRONICS EXPERT GROUP
EUROPEAN IN-CAR HEAD UNIT 2015-2016
Kenwood DNX7150DAB
EUROPEAN IN-CAR AMPLIFIER 2015-2016
HELIX P SIX DSP
EUROPEAN IN-CAR SPEAKER SYSTEM 2015-2016
Hertz MLK 1650.3
EUROPEAN IN-CAR SUBWOOFER 2015-2016
Focal Performance Expert P 25 F
EUROPEAN IN-CAR PROCESSOR 2015-2016
​HELIX DSP PRO
EUROPEAN IN-CAR PREMIUM UPGRADE 2015-2016
Alpine X701D-A
EUROPEAN IN-CAR SMART UPGRADE 2015-2016
MOSCONI GLADEN PICO 2
EUROPEAN IN-CAR HIGH-END COMPONENT 2015-2016
Ground Zero GZPW Reference 250
MOBILE DEVICES EXPERT GROUP
EUROPEAN ADVANCED SMARTPHONE 2015-2016
Samsung Galaxy S6 edge
EUROPEAN CONSUMER SMARTPHONE 2015-2016
Huawei P8
EUROPEAN MULTIMEDIA SMARTPHONE 2015-2016
Sony Xperia Z3+
EUROPEAN MOBILE HEADPHONES 2015-2016
AKG N60NC
EUROPEAN MOBILE SPEAKER 2015-2016
JBL Xtreme
EUROPEAN TABLET 2015-2016
Lenovo YOGA Tablet 2 Pro
EUROPEAN WEARABLE DEVICE 2015-2016
LG Watch Urbane