EISA Awards 2016 2017
The European Imaging and Sound Association celebrates the year's most desirable hi-fi hardware
So, from the EISA Convention held in May to the final General Meeting in June, member magazines continue to pool their experience and inform the Association's consensus of the very best in home and mobile sound and vision products.
Hi-Fi News will always reflect the 'borderless' reality of our hobby as we review state-of-the-art products from both established and new specialists across the wider European continent and, indeed, the world. Unsurprisingly many of this year's EISA Award-winning products, including those from Marantz, AKG, Pro-Ject, B&W and Chord were premiered – as World Exclusives – within the pages of Hi-Fi News.
To find out more about EISA, visit www.eisa.eu
---
EUROPEAN HIGH-END LOUDSPEAKER 2016-2017
Bowers & Wilkins 802 D3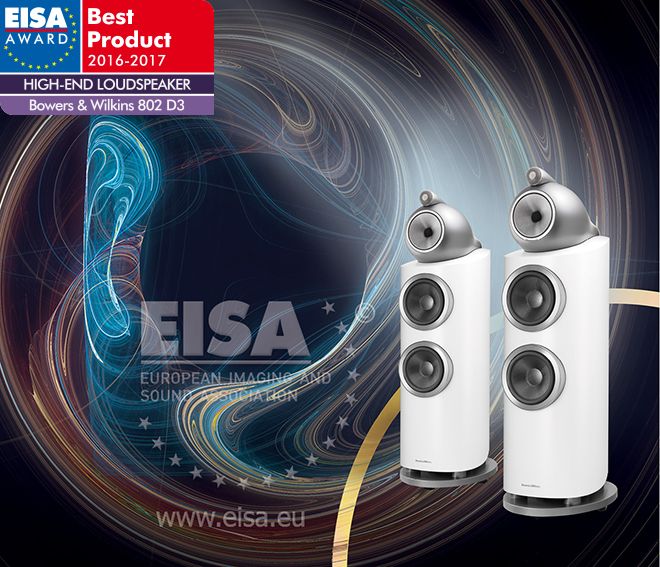 The British company's 800 series has long showcased the peak of its expertise and this year saw the range brought bang up to date with the launch of seven new loudspeakers. Standing over 1.1m tall, the 802 D3 is the penultimate floorstander in the line-up and features an entirely redesigned 'Turbine' head assembly, machined from solid aluminium and housing its new Continuum midrange driver and trademark diamond-dome tweeter. With twin Aerofoil bass units providing a solid foundation to its sound, this latest 802 delivers the marque's most lucid and insightful music-making yet. It is a true reference in the world of hi-fi loudspeakers.
---

EUROPEAN LOUDSPEAKER 2016-2017
ELAC Debut F6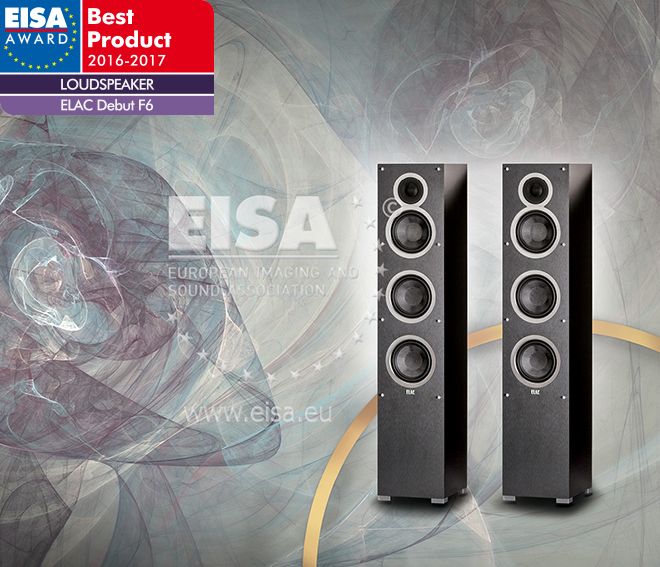 The Debut range represents a step change for the German company as it is designed in California by world-renowned audio and loudspeaker engineer Andrew Jones. The flagship F6 is a three-way, bass-reflex floorstander featuring a 25mm cloth dome tweeter, 165mm aramid-fibre midrange driver and twin 165mm aramid-fibre woofers. It's no easy task building a fine-sounding budget loudspeaker, but the F6 succeeds by putting the emphasis on fun while never tripping-up when handling busy-sounding or complex mixes. This is an honest, generously-proportioned and highly entertaining music-maker and you certainly can't take issue with the price.
---

EUROPEAN COMPACT AUDIO SYSTEM 2016-2017
Naim Audio Mu-so Qb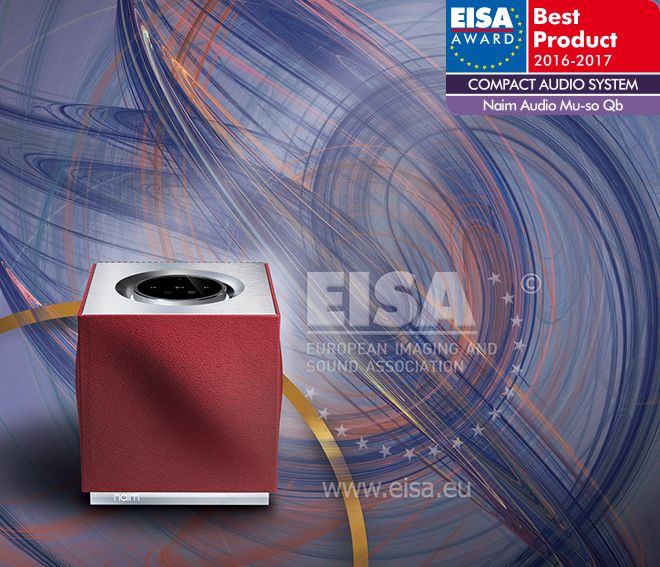 This miniaturised next-generation version of Naim Audio's 2015-2016 EISA Award-winning Mu-so sees no fewer than five drivers, each with its own Class D amplifier, plus a pair of passive bass radiators arranged inside a very compact and beautifully built one-box music system. Alongside UPnP streaming, AirPlay, aptX Bluetooth, optical and line-in connections, there's native support for Tidal, Spotify and a host of Internet radio streams plus multiroom capability. If you're looking for a sound that's open, effortless and punchy straight 'out of the box' then once again Naim has the perfect solution.
---
EUROPEAN TURNTABLE 2016-2017
Pro-Ject The Classic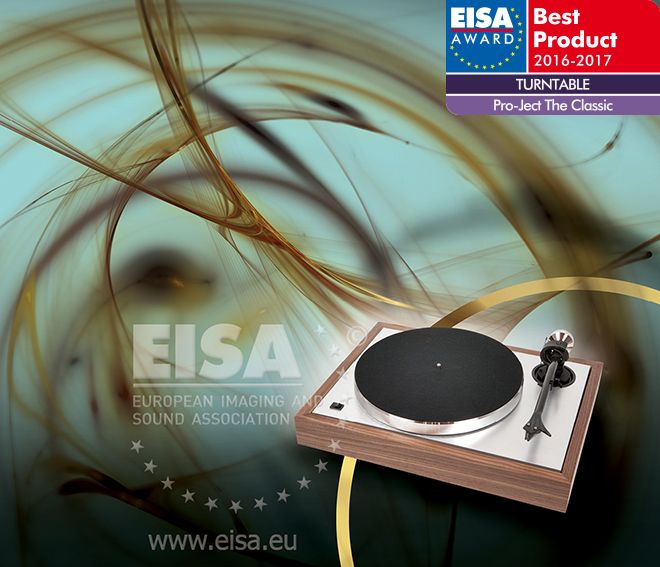 Released to celebrate the company's 25th anniversary, the timeless, traditional look of The Classic hides plenty of up-to-date engineering aimed at making this two-speed turntable as plug-and-play as possible. The main chassis plate rests inside an elegant wooden frame on six elastomer balls that provide some measure of isolation, while the inner circumference of the precisely-machined 2.1kg aluminium platter is also damped with a similar material. The deck is pre-fitted with a hybrid carbon/alloy tonearm that offers the potential to unleash even greater potential with better pick-ups, and rounds off one of the most stylish, snappy-sounding and user-friendly vinyl sources around. A new classic is born!
---

EUROPEAN STEREO SYSTEM 2016-2017
Marantz CD6006 & PM6006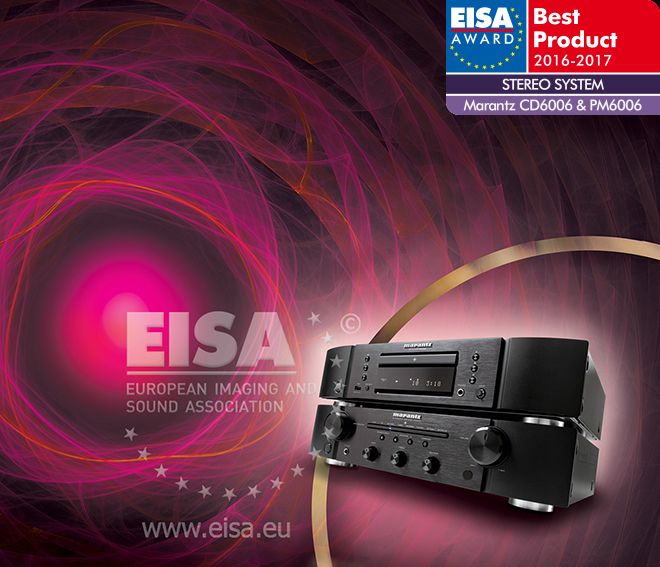 High quality stereo separates are this company's mainstay, its 6000 series being first launched some six years ago. This latest iteration of amplifier and CD player sees both components share a tried-and-tested 192kHz/24-bit DAC, upstream from its custom HDAM audio stages, as used across the Marantz range. While the CD6006 now boasts specially selected components and a reworked circuit layout, the PM6006 gains an optical digital input and a beefier design better suited to driving a wider range of loudspeakers. If you're seeking the high-end Marantz sound at a bargain price, this combination's supremely polished, yet powerful performance won't disappoint.
---
EUROPEAN NETWORK MEDIA PLAYER 2016-2017
Bluesound NODE 2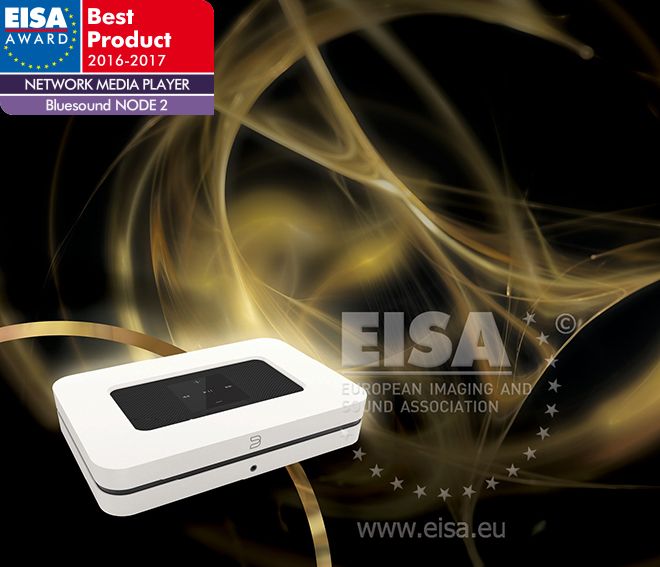 The latest version of this versatile network media player has not only gained sleek-looking casework but now sports more inputs, including wired and wireless Ethernet, USB, aptX Bluetooth and a combo optical/3.5 mm socket. The NODE 2 is also easier to use, with playlists being compiled automatically, and is more responsive thanks to an increase in processing power. Support for Spotify, Qobuz and Tidal, among others, plus compatibility with MQA means listeners can enjoy easy access to web-streaming in lossless sound quality. Best of all, the NODE 2 sounds dynamic, three-dimensional and fatigue-free, making for a performance that belies its deceptively modest appearance.
---
EUROPEAN HIGH-END DAC 2016-2017
Hegel HD30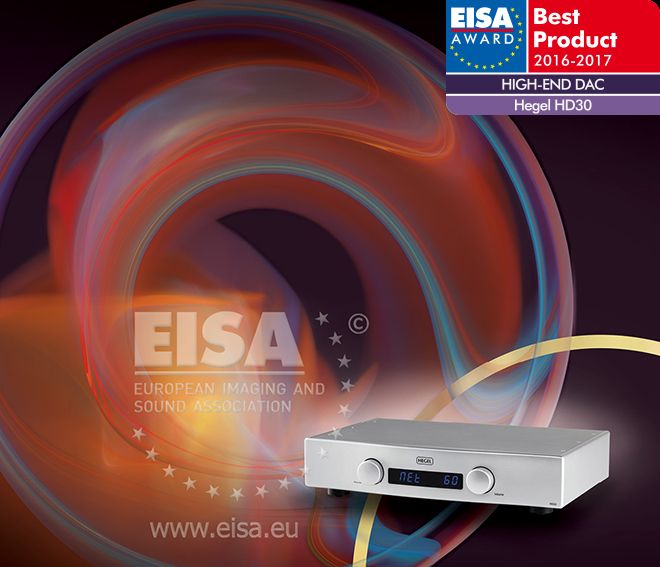 Built around a very select choice of upsampling and DAC chips, and with some digital wizardry of its own, Hegel's HD30 is both a DAC/digital preamp and high-end audio streaming solution. This digital control centre offers eight digital inputs, including USB and an Ethernet port that allows the HD30 to function as a DLNA digital media renderer, allowing access to music over a home network, and supporting AirPlay. Moreover it can also drive a power amp directly via its balanced and unbalanced analogue outputs. Full compatibility with high resolution file types, including DSD128, is offered and all are delivered with remarkable impact, sweetness and detail. It's our first choice for enjoying the highest quality sound without the clutter.
---
EUROPEAN HIGH-END HEADPHONES 2016-2017
AKG N90Q
While not the first headphones to boast on-board digital signal processing, this closed-back design has an ace up its sleeve. TruNote technology uses microphones located within the headphone capsules to automatically correct the frequency response for the ears of any listener. There's also active noise cancellation, a choice of three sound modes and a built-in DAC fed by a micro USB input, also used to recharge the internal battery. Open and neutral sounding, with particularly impressive bass, the AKG N90Q gets closer than most to achieving loudspeaker-like sound. Game-changing technology often comes at a price, but if you want to take your private listening to the cutting edge, the AKG N90Q is well worth the cost.
---
EUROPEAN MULTIROOM SYSTEM 2016-2017
Sonos PLAY:5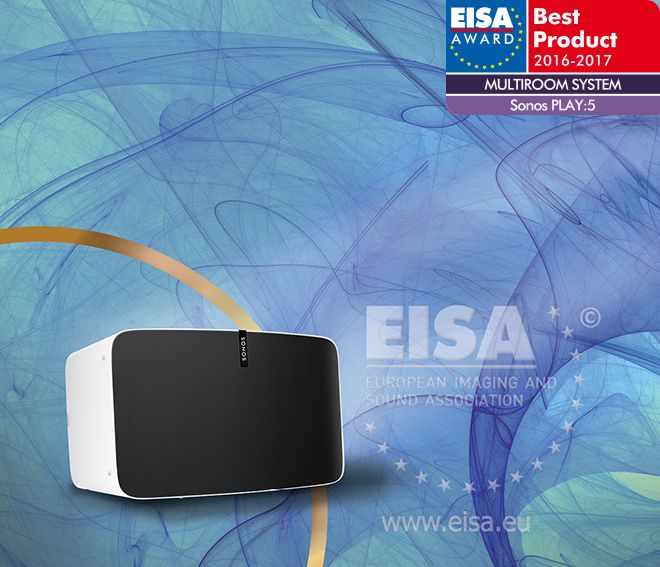 Sonos' intention to attract hi-fi enthusiasts has been realised in the sleek curves of the PLAY:5. It now combines six specialised drivers, including three tweeters and three mid-woofers, angled to produce a wider soundstage, and new and improved Class D amplifiers offering three times the power of its predecessor. Using Trueplay via the user-friendly Sonos-app, even non-experts can obtain a higher quality sound in acoustically challenging rooms, such as kitchens, while special orientation sensors enable the compact enclosure to be positioned horizontally or vertically. Sonos has become the byword for multiroom, wireless audio and in the PLAY:5 it has found a champion worthy of the acclaim.
---
EUROPEAN USB DAC/HEADPHONE AMPLIFIER 2016-2017
Chord Mojo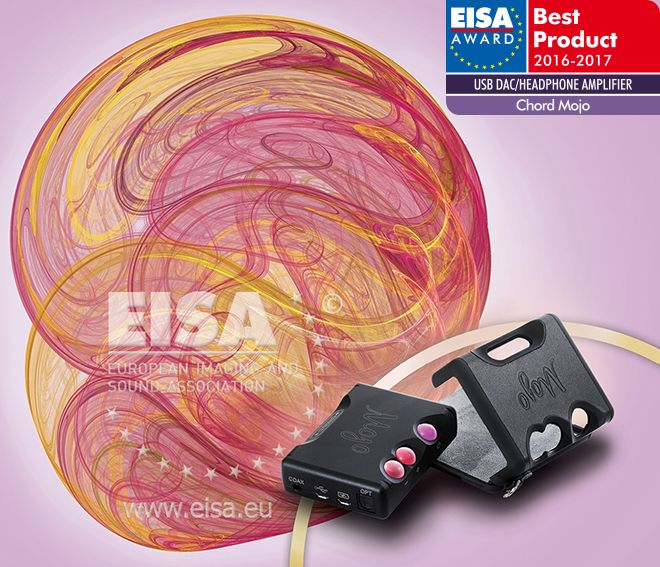 With technology distilled from its high-end DACs, Chord's pocket-sized yet hugely capable USB headphone amplifier comes in a milled-from-solid aluminium case, decorated with colour-coded controls. Battery-powered, all the Mojo's digital processing and DAC functions are implemented in custom code rather than with off-the-shelf parts, promising compatibility with LPCM audio up to 768kHz and DSD up to DSD256. With expansion modules planned to accept SD card storage, Wi-Fi capability and a Bluetooth add-on for wireless connection, a better mix of versatility, sound quality and sheer value for money has yet to be found.
(Combined award with Mobile Expert Group)
---
EUROPEAN AV ACCESSORY 2016-2017
SPIN remote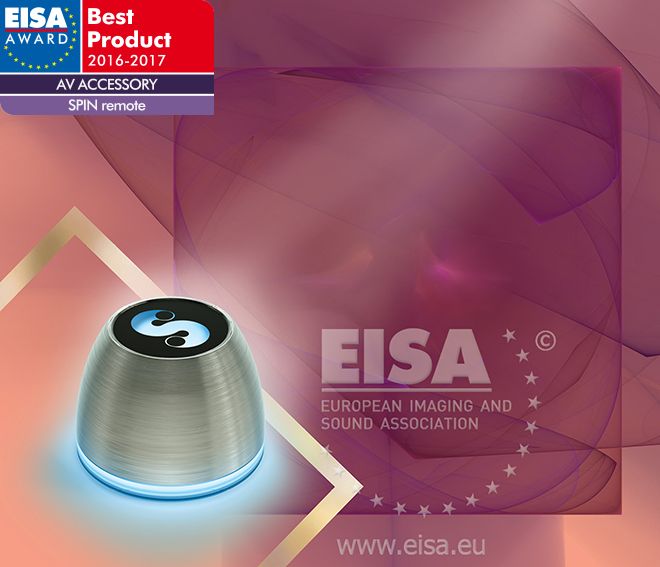 Home entertainment enthusiasts are used to controlling multiple devices with multiple remotes, often leading to a frustrating experience. SPIN remote flips the control concept on its head with a revolutionary new design that favours simplicity over complexity. This sleek silver dome is packed with sensors so that it can detect motion, rotation, orientation and touch, allowing the user to take control using a series of gestures and movements. Via an intuitive smartphone app, different functions can be assigned to the controller depending on how it is held, making operation of your devices – TV, speaker system, smart lighting – way more fun than it has any right to be.
(Combined award with Home Theatre Video Expert Group and Home Theatre Audio Expert Group)
---
And the rest of the EISA Awards:
HOME THEATRE AUDIO EXPERT GROUP
EUROPEAN HT SPEAKER SYSTEM 2016-2017
DALI OPTICON 5.1
EUROPEAN HT RECEIVER 2016-2017
Denon AVR-X2300W
EUROPEAN SOUNDBASE 2016-2017
Canton DM 55
EUROPEAN SOUNDBAR 2016-2017
Yamaha YSP-5600
EUROPEAN HT HIGH END 2016-2017
Trinnov Audio Altitude32
EUROPEAN BEST VALUE HT SPEAKER SYSTEM 2016-2017
Monitor Audio Bronze 5.1
EUROPEAN ULTRA HD PLAYER 2016-2017
Panasonic DMP-UB900
(Combined with HT Video Expert Group)
HOME THEATRE VIDEO & DISPLAY EXPERT GROUP
EUROPEAN TV 2016-2017
Samsung UE55KS9000
EUROPEAN HOME THEATRE TV 2016-2017
Panasonic TX-65DX902
EUROPEAN SMART TV 2016-2017
LG UH770V
EUROPEAN HIGH-END TV 2016-2017
LG Signature OLED65G6
EUROPEAN HOME THEATRE PROJECTOR 2016-2017
BenQ W2000
EUROPEAN BEST BUY LARGESCREEN TV 2016-2017
Philips 65PUS7601
PHOTOGRAPHY EXPERT GROUP
EUROPEAN DSLR CAMERA 2016-2017
Canon EOS 80D
EUROPEAN PROSUMER DSLR CAMERA 2016-2017
Nikon D500
EUROPEAN PROFESSIONAL DSLR CAMERA 2016-2017
Canon EOS-1D X Mark II
EUROPEAN CONSUMER COMPACT SYSTEM CAMERA 2016-2017
Olympus OM-D E-M10 Mark II
EUROPEAN PROSUMER COMPACT SYSTEM CAMERA 2016-2017
Sony α6300
EUROPEAN PROFESSIONAL COMPACT SYSTEM CAMERA 2016-2017
Fujifilm X-Pro2
EUROPEAN PREMIUM COMPACT CAMERA 2016-2017
Sony Cyber-shot RX1R II
EUROPEAN TRAVEL COMPACT CAMERA 2016-2017
Panasonic Lumix DMC-TZ100
EUROPEAN DSLR LENS 2016-2017
Tamron SP 85mm F1.8 Di VC USD
EUROPEAN PROFESSIONAL DSLR LENS 2016-2017
Canon EF 35mm F1.4L II USM
EUROPEAN DSLR ZOOM LENS 2016-2017
Sigma 50-100mm F1.8 DC HSM Art
EUROPEAN PROFESSIONAL COMPACT SYSTEM LENS 2016-2017
Sony FE 85mm F1.4 GM
EUROPEAN COMPACT SYSTEM ZOOM LENS 2016-2017
Fujinon XF100-400mm F4.5-5.6 R LM OIS WR
EUROPEAN PHOTO INNOVATION 2016-2017
Panasonic DUAL I.S. System
EUROPEAN PHOTO SOFTWARE 2016-2017
DxO OpticsPro 11
EUROPEAN PHOTO PRINTER 2016-2017
Canon imagePROGRAF PRO-1000
EUROPEAN PHOTO & VIDEO CAMERA 2016-2017
Sony α7S II
(Combined with HT Video Expert Group)
EUROPEAN ACTION CAMCORDER 2016-2017
Olympus TG-Tracker
(Combined with HT Video Expert Group)
EUROPEAN SMARTPHONE CAMERA 2016-2017
Samsung Galaxy S7 / S7 edge
(Combined with Mobile Expert Group)
IN-CAR ELECTRONICS EXPERT GROUP
EUROPEAN IN-CAR HEAD UNIT 2016-2017
Kenwood DDX5016DAB
EUROPEAN IN-CAR HD PLAYER 2016-2017
Sony RSX-GS9
EUROPEAN IN-CAR SMART UPGRADE 2016-2017
Match M 5DSP
EUROPEAN IN-CAR SUBWOOFER 2016-2017
Hertz Mille Legend ML 2500.3
EUROPEAN IN-CAR PROCESSOR 2016-2017
Audison bit One HD
EUROPEAN IN-CAR HIGH-END COMPONENT 2016-2017
Ground Zero GZPA Reference 4PURE
EUROPEAN IN-CAR INTEGRATION 2016-2017
Mosconi GLADEN DSP 8TO12 AEROSPACE
EUROPEAN IN-CAR INNOVATION 2016-2017
Clarion Full Digital Sound
MOBILE DEVICES EXPERT GROUP
EUROPEAN ADVANCED SMARTPHONE 2016-2017
HTC 10
EUROPEAN CONSUMER SMARTPHONE 2016-2017
Huawei P9
EUROPEAN MOBILE HEADPHONES 2016-2017
JBL Reflect Mini BT
EUROPEAN MOBILE SPEAKER 2016-2017
JBL Charge 3
EUROPEAN WEARABLE DEVICE 2016-2017
Garmin fēnix 3 HR
EUROPEAN BUDGET SMARTPHONE 2016-2017
Coolpad Torino
EUROPEAN VR HEADSET 2016-2017
HTC Vive
EUROPEAN MOBILE INNOVATION 2016-2017
LG G5