EISA Hi-Fi Awards 2019-2020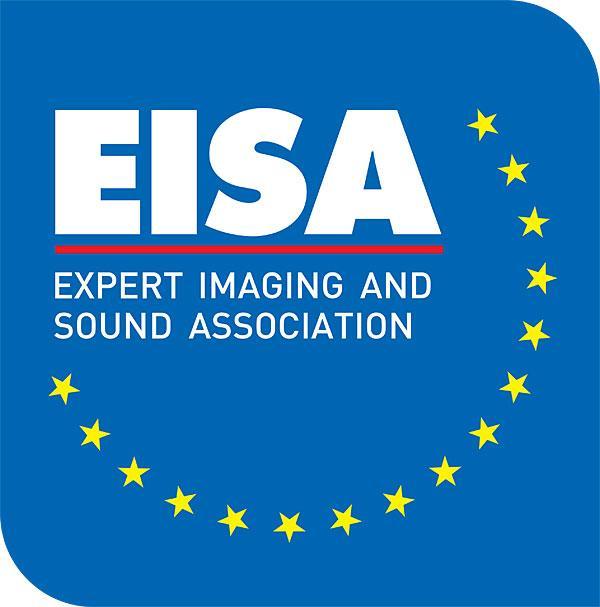 For over 30 years EISA has been selecting the most innovative, cutting-edge products for its prestigious EISA Awards. The Awards are debated and voted upon by groups of specialist judging panels covering the full spectrum of consumer electronics and photographic products, including Hi-Fi, Home Theatre, In-Car Electronics, Photo, Video and Mobile Devices. Key to the success and relevance of the annual EISA Awards lies in the evolution of its categories, always reflecting the changing trends and technologies of the consumer electronics world. Moreover, the Association itself continues to evolve, recently welcoming new members from Australia, Canada, India, the USA, Russia, Hong Kong and Japan.
To win an EISA award all products undergo a comprehensive multi-step judging process. Products are intensively tested at the facilities of individual EISA member magazines and are also presented at the Association's annual Convention in Antwerp in May. Products that pass this stage already rank among the best in the world. The final deliberations take place at EISA's annual Global Meeting in June where a democratic voting process establishes a consensus of excellence and determines the winning products. Unsurprisingly many of this year's EISA Award-winning products in the Hi-Fi category were premiered – as World Exclusives – within the pages of Hi-Fi News.
To find out more about EISA, visit www.eisa.eu
---
EISA ACTIVE STEREO SPEAKER 2019-2020
ELAC Navis ARB-51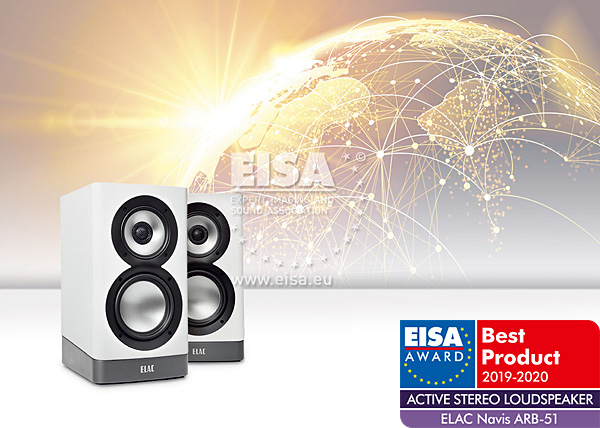 Part of a new, two-strong active speaker range from ELAC – there's also the larger floorstanding ARF-51 – this bookshelf design combines custom drivers and an analogue crossover design all perfectly integrated with inbuilt amplification to give a sound of remarkable precision and clarity. By dedicating one amplifier to each driver – the tweeter and midrange are mounted concentrically for enhanced focus – ELAC ensures each is driven to the best of its capabilities. Connect the speakers to a preamplifier via RCA or XLR cables, and you have a complete, optimised system. You can even connect the speakers wirelessly using a choice of ELAC AirX2 hubs. Brilliant!
---
EISA ALL-IN-ONE SYSTEM 2019-2020
Naim Mu-so 2nd Generation
Naim created a whole new market sector with the launch of its Mu-so: a high quality all-in-one streaming system. With the Mu-so 2nd Generation, it has taken that winning formula and reinvented it, packing in both extra features and more sound quality, utilising completely new drivers co-designed with Focal, making this even more of a one-box solution for room-filling music. The adoption of Naim's 'Future Platform' brings a wider range of streaming options, including audio at up to 384kHz/32-bit and a huge number of services via Chromecast Audio. The inclusion of an HDMI-ARC input also allows the new Mu-so to enhance your TV, but the real revelation is the sound: wide-open, fast, detailed and yet reassuringly weighty, it sets the standard all other integrated systems now have to beat.
---
EISA BEST BUY AMPLIFIER 2019-2020
Rotel A11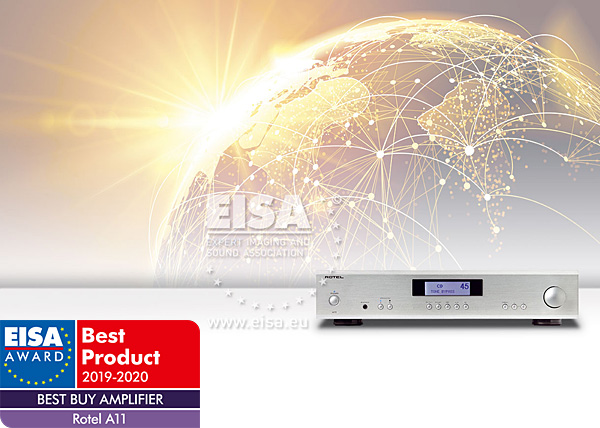 In a history stretching back almost 60 years, affordable amplifiers without frills but packing lots of performance have been central to the Rotel story. The A11 is the latest in this illustrious line – and it's an absolute bargain. Built around the classic Rotel Class AB amplifier design, it's rated at 50W per channel, and has a sensible array of inputs for the modern user. It will accommodate four line sources, there's a moving-magnet phono for a turntable, and aptX Bluetooth for wireless streaming from portable devices. Add in the sound quality made possible by careful design and the use of custom Rotel components, and you have an extremely attractive music-first integrated amplifier.
---
EISA BEST BUY TURNTABLE 2019-2020
Pro-Ject X1
The Pro-Ject name is synonymous with value-for-money turntables built in Europe. Since 1991 the company has arguably been leading the vinyl revival, and the X1 is its latest reinvention of the classic Pro-Ject 1 deck that started it all. Look beyond the gloss finish, using eight layers of paint and several rounds of hand-polishing – yes, on an affordable turntable – and you'll find just about every aspect of the design has been improved, from the MDF plinth to the platter, the motor suspension and speed control, and the carbon/aluminium sandwich tonearm. Even the pre-fitted cartridge is new, being made by Ortofon and tuned by Pro-Ject. This is surely the best sub-€1000 turntable package on the market.
---
EISA BOOKSHELF LOUDSPEAKER 2019-2020
Monitor Audio Gold 100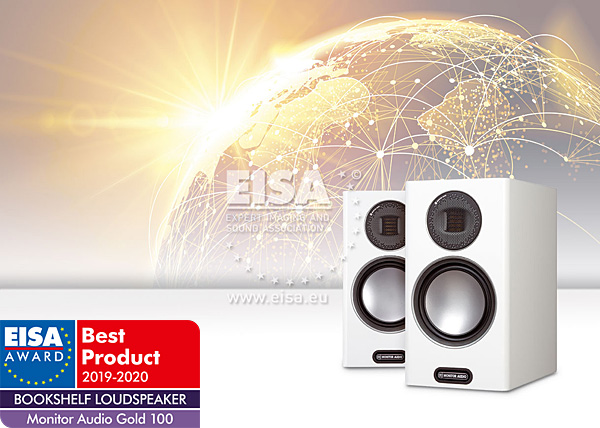 Building on decades of success in speakers both small and large, the Monitor Audio Gold 100 is a bookshelf/standmount design with a big sound that belies its compact dimensions. Featuring the latest version of the company's C-CAM driver technology, using a composite ceramic/aluminium magnesium construction for lightness and rigidity, it sounds fast, detailed and powerful, with excellent integration between the drive units, and surprisingly deep and tuneful bass. Add in Monitor Audio's meticulous construction and beautiful choice of finishes, and you have a truly superior compact speaker design.
---
EISA COMPACT STEREO SYSTEM 2019-2020
Marantz Melody-X (M-CR612)
Combining style and simple operation with flexibility and striking performance, the Marantz 'Melody' series of compact systems has long been attracting plaudits – and the M-CR612, or 'Melody X', is its best yet. Available in either gloss black or classic Marantz champagne gold, it combines CD playback, network music and streaming services including Spotify, TuneIn Radio and Tidal, FM/DAB+ radio, and both analogue and digital inputs, so you can use it to boost your TV sound. It's also compatible with HEOS, so can be used as part of a multiroom wireless audio system, and can even be voice-controlled using Amazon Alexa, Google Assistant or Apple Siri. Add in the option of running two pairs of speakers with separate volume controls, or doubling the power into one pair, and you have a remarkably flexible – and superb sounding – compact system.
---
EISA DAC 2019-2020
Chord Electronics Qutest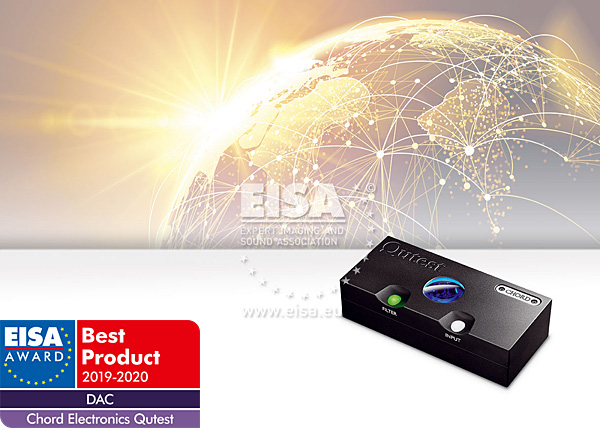 Designed as a replacement for the acclaimed 2Qute, the Chord Electronics Qutest differs from the company's other compact DACs in that it has no built-in headphone amp, but puts all its effort into delivering top digital-to-analogue quality. Based on the company's celebrated FPGA DAC architecture from the Hugo 2, it has optical and coaxial digital inputs, plus an isolated USB-B input for computer connection. All this is wrapped in Chord's superb-quality milled aluminium casework, with analogue outputs adjustable to suit power amps, preamps and headphone amps. If you want a big, dramatic sound from a compact DAC, this is the one.
---
EISA DIGITAL SOURCE 2019-2020
Pro-Ject CD Box RS2 T/Pre Box RS2 Digital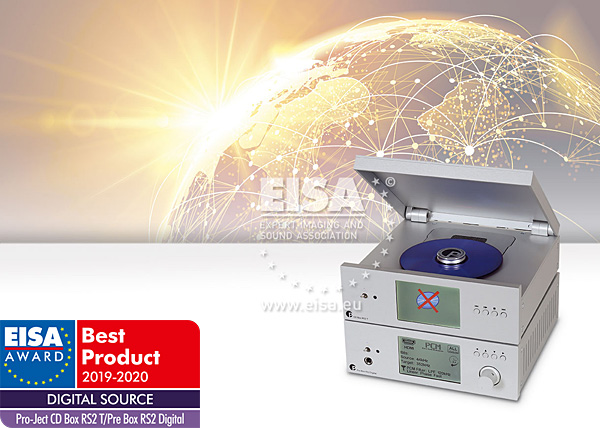 Although best known for its turntables, Pro-Ject is building an enviable reputation in digital audio, too – and this two-box CD transport and DAC/preamp is its most impressive component yet. A real ground-up design, the CD Box RS2 T features a customised CD-Pro 8 transport mechanism, supported by an alloy/carbon fibre chassis and state-of-the-art disc-reading electronics. Digital connections to the hugely flexible Pre Box RS2 Digital DAC even include HDMI, with a synchronising clock. The latter also boasts Bluetooth, USB-B, coaxial and Toslink digital inputs, with a choice of solid-state and tube-based analogue outputs. With support for MQA and no fewer than seven digital filter options too, this combination delivers CD and hi-res digital audio sound in a range of delicious flavours – this is true audiophile performance, and supreme flexibility, packed into two remarkably compact enclosures!
---
EISA HEADPHONE 2019-2020
Focal Elegia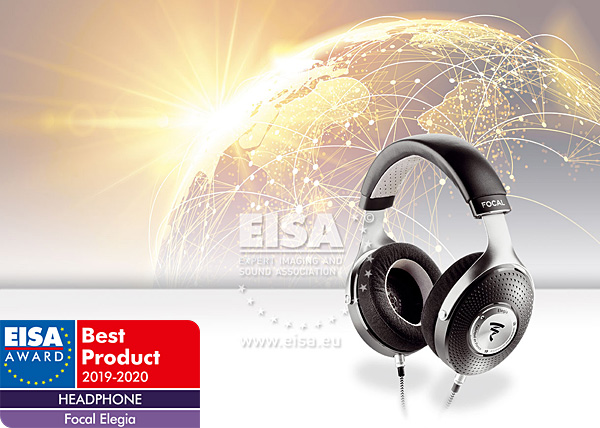 The Elegia is Focal's first audiophile circumaural closed-back headphone, and brings a wide range of Focal's own technologies together to create a model with a powerful yet precise sound. These include the company's M-profile driver for a wider radiating surface, a frameless copper voice-coil and ultra-fine surround to keep the driver firmly under control. The easy-to-drive Elegia delivers a wide frequency range from deep bass to the subtlest ambient nuance, helped by the noise-excluding properties of that closed-back design. It's a great listen, and comfortable to wear, whether at home or on the move.
---
EISA HI-FI UPGRADE 2019-2020
IsoAcoustics GAIA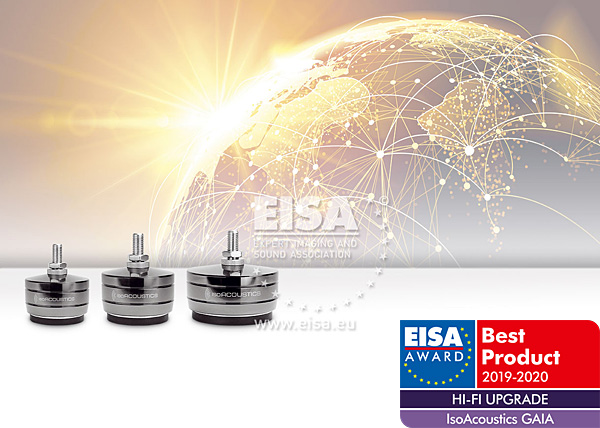 We all know the value of isolation when it comes to getting the best from hi-fi electronics, but until you hear IsoAcoustics' GAIAs in action, you'll never know how much this applies to speakers, too. Proving there's life beyond the old faithful floor spikes, the cylindrical GAIA 'pods' connect into the base of your speaker, isolating the cabinet from vibration while resisting any tendency for it to move. Typically, they have the effect of lowering the noise floor, improving soundstage focus and tightening up the bass. With a machined stainless steel housing finished in dark chrome, and able to support up to 100kg, the GAIAs look superb – and what they'll do to your music is magical.
---
EISA HIGH-END AMPLIFIER 2019-2020
Hegel H390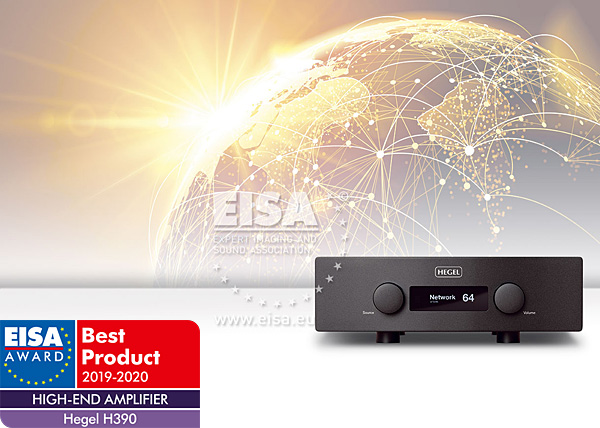 At first glance, Hegel's H390 looks like a slimmed-down, more affordable version of the Norwegian company's mighty H590 amplifier – which is hardly surprising, because that's just what it is. However, there's more to the H390 than that: it offers almost all of the performance of its 'big brother', for about half the price! That means the ability to drive just about any speaker to stunning effect with its 250W per channel output, built-in UPnP and AirPlay 2 streaming, Roon Ready certification and MQA plus DSD decoding. Access online services, plug in digital or analogue sources, or simply send it music from your phone – this superbly flexible, yet simple-looking, amplifier will do it all.
---
EISA HIGH-END LOUDSPEAKER 2019-2020
KEF R11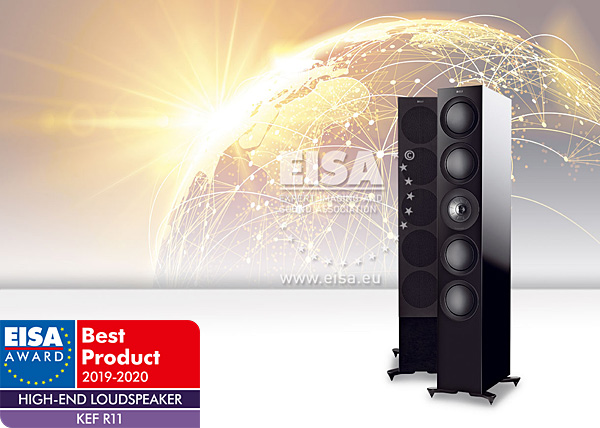 KEF has been making great speakers for almost 60 years, but it's hit a new high in style, performance and value with the new R Series. The R11 brings together all the elements of that success, from the latest generation coaxial Uni-Q driver for superb imaging and focus, anodised to match the choice of premium cabinet finishes, through to the clever microperforated grilles, which solve the old 'on or off' problem. The result is a slender speaker capable of a big, rich, room-filling sound packed with detail and delivering superb musical involvement, and with the style to ensure it looks every bit as impressive as it sounds.
---
EISA LOUDSPEAKER 2019-2020
Bowers & Wilkins 603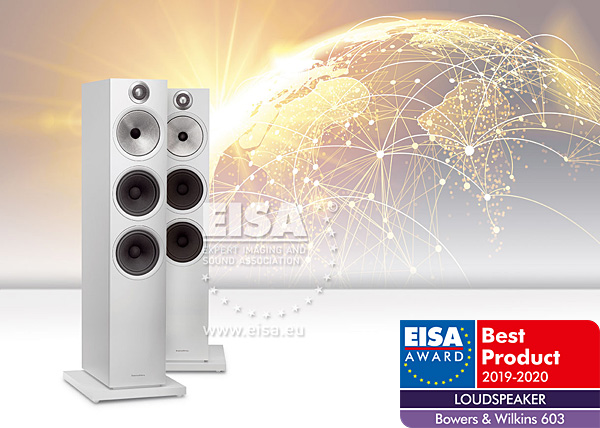 The Bowers & Wilkins 600 Series has set the standard in affordable speakers for decades, and this latest version is its best yet. That's especially true of the floorstanding 603, which offers a striking combination of performance and value for money, thanks to technology trickled down from the flagship 800 Series Diamond speakers and a range that's rationalised down to just the essentials. The 'Decoupled Double Dome' tweeter and 'Continuum Cone' midrange give the speaker detail, focus and presence, while twin bass drivers with 'Flowport' tuning ensure the sound is always rich and dramatic. This is a surprisingly advanced speaker design for the money.
---
EISA SMART AMPLIFIER 2019-2020
NAD M10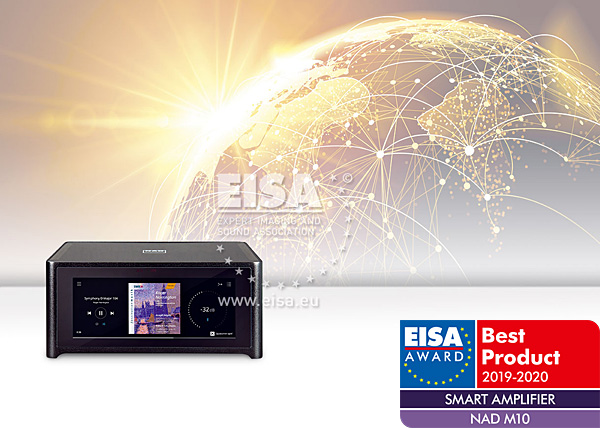 It took a while for NAD to enter the world of all-in-one network music solutions, but the M10 was worth every moment of the wait, for this sensational little amplifier is also a complete 'just add speakers' music system. The dramatic full-width touchscreen display sets the tone, allowing you to access the full range of the M10's capabilities. These include streaming music services, with BluOS allowing multiroom playback with Bluesound products, Bluetooth and AirPlay 2, plus digital and analogue inputs, an HDMI-ARC connection for TV sound, and even Dirac Live room correction to optimise the sound. Finally, with NAD's HybridDigital amplification on board, the M10 will drive virtually any partnering speaker – it is a true master of modern music playback.
---
EISA STEREO SYSTEM 2019-2020
Primare CD35/I35 Prisma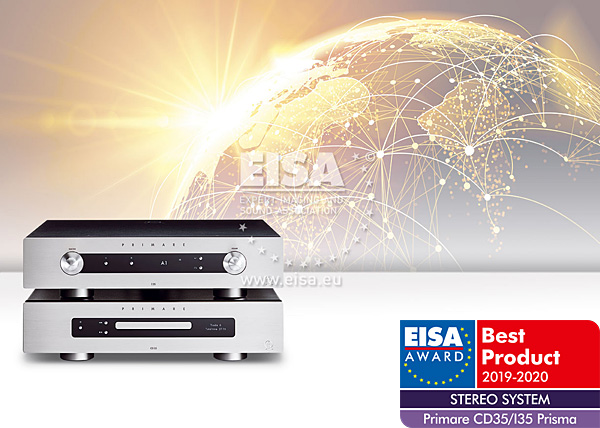 Recipient of a previous EISA Award, Primare continues its winning ways with this I35 amplifier and CD35 Prisma CD/network player. The amplifier is a simple, but fabulous-sounding, all-analogue design that delivers plenty of power using the company's UFPD 2 amplification. Its modular design means you can add Primare's DAC stage, and the Prisma network/multiroom module, when required. The CD35 Prisma CD player is also fully networked, offering wired and wireless connectivity for AirPlay, Bluetooth and Spotify Connect, as well as Chromecast built-in to access thousands of streaming services. This is so much more than a simple CD player/amp system: it's the future of hi-resolution home hi-fi.
---
EISA STREAMING DAC 2019-2020
Mytek Brooklyn Bridge
As the name suggests this latest Mytek product is designed to form the bridge between network audio and a hi-fi system – but it goes much further than that. Based on the technology of the company's DAC+, the Brooklyn Bridge combines network player, DAC and preamp in one compact unit, complete with digital, analogue and phono inputs, and RCA, XLR and headphone outputs. Controlled by a smartphone app, it will play from network sources, Roon, online streaming including Qobuz and Tidal, a computer via USB, and even USB storage devices. It may be compact, but this is a remarkably flexible – and superb-sounding – network streaming player.
---
EISA TURNTABLE 2019-2020
MoFi UltraDeck+M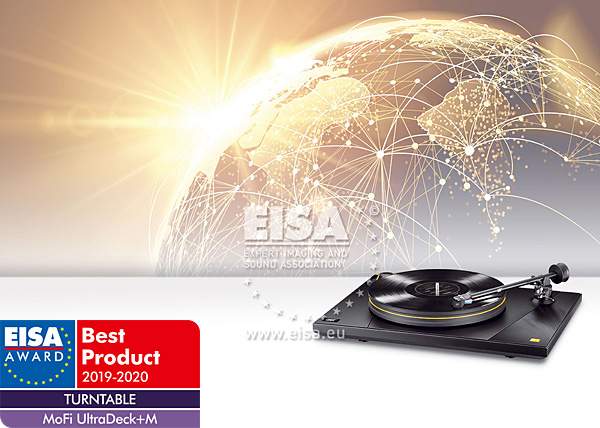 From the same company that brought you Mobile Fidelity Sound Lab vinyl pressings, the UltraDeck+M is not just an excellent turntable, but also a complete 'plug and go' solution to play your records. It comes complete with a pre-fitted high-quality MoFi MasterTracker moving-magnet cartridge, meaning you can have it up and running in minutes, and is superbly engineered throughout for precision and quality, drawing on the expertise of some leading names in vinyl replay. That means it delivers rock-solid pitch stability, while that metal-bodied cartridge really gets 'under the skin' of the music you choose to play, emphasising the value and engineering on offer here.
---
EISA WIRELESS STEREO SPEAKER 2019-2020
KEF LSX
KEF created quite a stir when it launched the wireless version of its EISA Award-winning LS50 speaker, transforming an already hugely impressive design into a complete 'hi-fi system in a speaker' solution. The LSX makes that concept both more compact and more affordable, combining the company's expertise in driver, amplifier and wireless streaming technologies with a stylish design available in a range of eye-catching colours. With Apple AirPlay 2 and Bluetooth built-in, plus access to Spotify and Tidal, all controlled from a neat app on your smartphone, this could be all the hi-fi system many users will need.
---
EISA AV ACCESSORY 2019-2020 (combined with HTA and HTV EGs)
IsoTek SMART Delta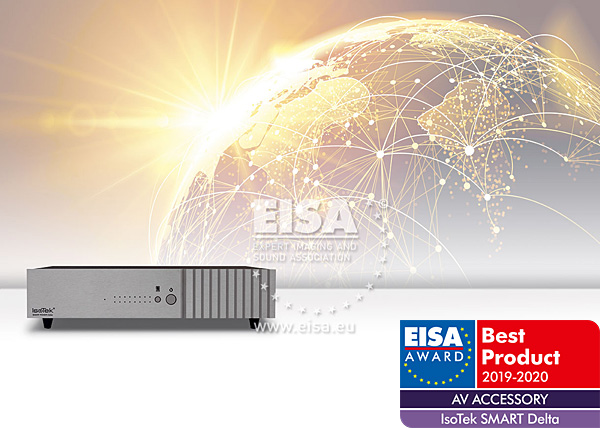 Every AV system needs power – and lots of it – but only clean power will let all of your components, audio and video, deliver their very best performance. IsoTek's SMART Power range takes things even further, for as well as cleaning the power line, removing extraneous noise, and protecting against power surges and spikes, it offers fully programmable system power-up and shutdown. Using control over LAN or Wi-Fi, you can sequence the order of power on/off, assign names to each of the unit's outlets, and even set it all up and 'drive' it from an app on your phone. They don't call it 'SMART' for nothing – and its effect on your system's performance will be just as impressive.
More Awards:
HOME THEATRE AUDIO EXPERT GROUP
EISA AV RECEIVER 2019-2020
Denon AVR-X2600H
EISA BEST BUY HOME THEATRE SPEAKER SYSTEM 2019-2020
DALI OBERON Series
EISA HOME THEATRE HIGH-END 2019-2020
Focal Astral 16
EISA HOME THEATRE SPEAKER SYSTEM 2019-2020
Arendal Sound 1723 Monitor S THX 5.1
EISA HOME THEATRE SUBWOOFER 2019-2020
SVS SB-3000
EISA PREMIUM HOME THEATRE RECEIVER 2019-2020
NAD T 758 V3
EISA PREMIUM SOUNDBAR 2019-2020
Sennheiser AMBEO Soundbar
EISA SOUNDBAR 2019-2020
LG SL8
in some markets LG SL8Y, LG SL8YG
EISA TV SOUND SYSTEM 2019-2020
DALI KATCH ONE
COMBINED WITH HI-FI/HT VIDEO&DISPLAY EXPERT GROUP
EISA AV ACCESSORY 2019-2020
IsoTek SMART Delta
COMBINED WITH HT VIDEO&DISPLAY EXPERT GROUP
EISA UNIVERSAL PLAYER 2019-2020
Pioneer UDP-LX500
HOME THEATRE VIDEO&DISPLAY EXPERT GROUP
EISA 8K TV 2019-2020
Samsung QE82Q950R
EISA BEST BUY OLED TV 2019-2020
Philips 55OLED804
EISA BEST BUY PROJECTOR 2019-2020
BenQ CinePrime W2700
EISA HOME THEATRE PROJECTOR 2019-2020
BenQ CinePrime W5700
EISA HOME THEATRE TV 2019-2020
Philips 65OLED984
EISA BEST PREMIUM OLED TV 2019-2020
LG OLED65E9
in some markets (LG OLED65E9PLA, LG OLED65E97LA, LG OLED65E9PUA)
EISA SMART HOME TV 2019-2020
LG 65SM9010
in some markets (LG 65SM9000, LG 65SM9000PLA, LG 65SM9010PLA, LG 65SM90107LA)
COMBINED WITH HI-FI/HT AUDIO EXPERT GROUP
EISA AV ACCESSORY 2019-2020
IsoTek SMART Delta
COMBINED WITH HT AUDIO EXPERT GROUP
EISA UNIVERSAL PLAYER 2019-2020
Pioneer UDP-LX500
COMBINED WITH PHOTOGRAPHY EXPERT GROUP
EISA PHOTO/VIDEO CAMERA 2019-2020
Sony α6400
PHOTOGRAPHY EXPERT GROUP
EISA ADVANCED CAMERA 2019-2020
Fujifilm X-T3
EISA ADVANCED FULL-FRAME CAMERA 2019-2020
Panasonic LUMIX DC-S1R
EISA BEST BUY FULL-FRAME CAMERA 2019-2020
Canon EOS RP
EISA BEST BUY ZOOM LENS 2019-2020
Tamron 35-150mm F2.8-4 Di VC OSD
EISA CAMERA INNOVATION 2019-2020
Fujifilm GFX100
EISA CAMERA OF THE YEAR 2019-2020
Nikon Z 6
EISA COMPACT CAMERA 2019-2020
Sony Cyber-shot RX100 VI
EISA LENS INNOVATION 2019-2020
Canon RF 28-70mm F2L USM
EISA PHOTO INNOVATION 2019-2020
Sony Real-time Eye AF
EISA PHOTO SOFTWARE 2019-2020
Skylum Luminar
EISA PORTRAIT PRIME LENS 2019-2020
Sony FE 135mm F1.8 GM
EISA PROFESSIONAL STANDARD ZOOM LENS 2019-2020
Nikon NIKKOR Z 24-70mm f/2.8 S
EISA PROFESSIONAL TELEPHOTO ZOOM LENS 2019-2020
SIGMA 70-200mm F2.8 DG OS HSM | Sports
EISA STANDARD PRIME LENS 2019-2020
Canon RF 50mm F1.2L USM
EISA STANDARD ZOOM LENS 2019-2020
Canon RF 24-105mm F4L IS USM
EISA SUPER-TELEPHOTO PRIME LENS 2019-2020
Canon EF 600mm f/4L IS III USM
EISA TELEPHOTO PRIME LENS 2019-2020
Sony FE 400mm F2.8 GM OSS
EISA TELEPHOTO ZOOM LENS 2019-2020
SIGMA 60-600mm F4.5-6.3 DG OS HSM | Sports
EISA WIDEANGLE PRIME LENS 2019-2020
Sony FE 24mm F1.4 GM
EISA WIDEANGLE ZOOM LENS 2019-2020
Tamron 17-28mm F2.8 Di III RXD
COMBINED AWARDS WITH MOBILE DEVICES EXPERT GROUP
EISA BEST SMARTPHONE 2019-2020
Huawei P30 Pro
COMBINED WITH HT VIDEO&DISPLAY EXPERT GROUP
EISA PHOTO/VIDEO CAMERA 2019-2020
Sony α6400
MOBILE DEVICES EXPERT GROUP
EISA ADVANCED SMARTPHONE 2019-2020
OnePlus 7 Pro
EISA BEST BUY SMARTPHONE 2019-2020
Xiaomi Redmi Note 7
EISA BEST EARBUDS 2019-2020
JBL Reflect Flow
EISA BEST NOISE-CANCELLING HEADPHONES 2019-2020
Sony WH-1000XM3
EISA CONSUMER NOISE-CANCELLING HEADPHONES 2019-2020
JBL LIVE 650BTNC
EISA ELECTRIC VEHICLE 2019-2020
Xiaomi Mi Scooter Pro
EISA LIFESTYLE SMARTPHONE 2019-2020
Honor 20 Pro
EISA MOBILE SPEAKER 2019-2020
LG XBOOM Go PK7
in some markets (LG XBOOM Go PK7W, LG PK7, LG PK7W)
EISA PARTY SPEAKER 2019-2020
JBL PartyBox 100
EISA WIRELESS IN-EAR HEADPHONES 2019-2020
OnePlus Bullets Wireless 2
COMBINED AWARDS WITH PHOTOGRAPHY EXPERT GROUP
EISA BEST SMARTPHONE 2019-2020
Huawei P30 Pro IN-CAR ELECTRONICS EXPERT GROUP
EISA IN-CAR HEAD UNIT 2019-2020
KENWOOD DMX8019DABS
EISA IN-CAR SOUND PROCESSOR 2019-2020
Brax DSP
EISA IN-CAR AMPLIFIER 2019-2020
ESX QE1200.4
EISA IN-CAR SPEAKER SYSTEM 2019-2020
Morel Elate Carbon 603
EISA IN-CAR SUBWOOFER 2019-2020
Ground Zero GZPW 10SQ
EISA IN-CAR SMART UPGRADE 2019-2020
Alpine PWD-X5
EISA IN-CAR DASHCAM 2019-2020
Alpine DVR-F800PRO
EISA IN-CAR HIGH-END COMPONENT 2019-2020
Eton Core S3
EISA IN-CAR INNOVATION 2019-2020
Zapco HDSP-Z16V