Buying hi-fi on a budget Page 2
Meanwhile, Marantz stablemate Denon has its own entry-level offering in the form of its recently-launched 800NE series of CD player, network player and amplifier, which are yet to be reviewed. However, Denon does have a second string to its bow in the form of its Design Series, which is a range of components dressed in compact form, finished in gloss black sandwiched in aluminium and – like the NAD D 3020 V2 – able to be used on a shelf or desk either in conventional 'horizontal' format or 'vertical' to save space.
Future Classics
The most affordable amplifier in the Design Series is the little PMA-30 [HFN Oct '17] which is rated at 40W/c into 4ohm, but exceeds that figure using its TI digital module feeding a Class D power stage. It has conventional digital inputs – but no ultra-hi-res USB-Type B – plus a single set of analogue inputs. And while its sound is on the restrained, polite side of neutral, that'll be no bad thing when it comes to partnering it with inexpensive speakers.
If you're looking for a similar amplifier yet with a dollop more power and more generous input provision, including USB Type-B 'computer audio', you might want to consider a brand not best known for amps – ELAC. Its Element EA101EQ-C is as tiny and light as its name is heavy, and – as we noted in our review of Feb '17 – while it won't set the world alight, it's a creditable attempt at bringing the iPhone generation back into the hi-fi fold, showing that ELAC is good for more than its core business of designing and making speakers.
On the subject of speakers, they've been a mainstay of the budget hi-fi arena, with the intense competition between – then mainly British – companies several decades back creating a strong heritage of over-achieving inexpensive boxes. Some of the brands have fallen by the wayside over the years or moved upmarket, but one of the real classics – Wharfedale's Diamond range – is still going strong.
Reviewed in HFN Dec '17, the Diamond 11.1 is part of an eight-strong range, distinguished by its curvaceous cabinets, high-quality finishes and slot-ported reflex design, using what the company calls a 'distributed port' in order to smooth airflow and prevent chuffing. It's all a long way from the original Diamonds, which were fairly simple little speakers when they first hit the shops a third of a century ago, and for its size is capable of a highly convincing sound.
Real World Design
The same goes for the latest version of another old-stager of the affordable speaker sector, Monitor Audio's Bronze series. As the name suggests, this is the company's entry-level range – above it sit Silver, Gold and Platinum – and the Bronze 2, which we reviewed in HFN Feb '16, shows just how much can be done with 'trickle down' technology.
Despite a very reasonable £280 per pair price tag, the Bronze 2 still uses C-CAM drivers, the abbreviation indicating ceramic-coated drivers made from an aluminium/magnesium alloy, all in the quest for lightness and rigidity. Back in the original review I concluded that these were 'beautifully finished speakers with a refined, mature sound for the money, and yet with that spark of vitality and excitement destined to grab the listener's attention. It's a real world design, perfect for use on the end of modest electronics yet capable of withstanding future upgrades'.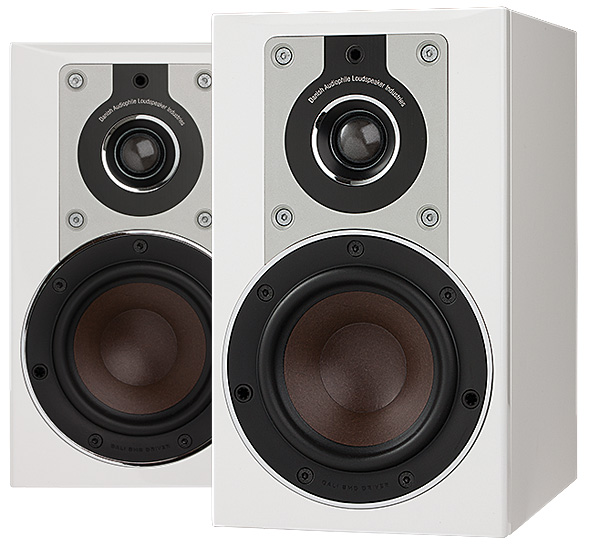 Room-Filling Sound
We drew a similar conclusion about the little DALI Opticon 1 speakers in HFN Oct '18. Yes, at £499, they cost rather more than the Wharfedale Diamonds or Monitor Audio Bronze 2s, but we concluded that the design was 'an enjoyable, agreeable and pleasing performer that doesn't dwell on its own failings, or those of the matching system or music. In practice, it's so likeable the more time you have with it, the more you find it beguiles'.
Rather more plain-looking is the ELAC Debut B6 speaker, reviewed in HFN May '16. But its simple looks belie designer Andrew Jones's wealth of experience, gained with the likes of KEF, Infinity and Pioneer/TAD, and a sound with excellent punch, and a real ability with rhythms. While this loudspeaker is perhaps not as forgiving as some at this level, get the system-matching right, and it won't fail to thrill.
And if you want to think big, one of the more conspicuous hi-fi bargains of the moment is the flagship of the recently launched entry-level Wharfedale D series, the D330. Selling for just £499 per pair, these speakers stand a little under a metre tall. As we discovered in the Jan '19 issue, they're room-friendly and easy to match even with modest amplification, but also capable of a huge, room-filling sound that's something of a revelation for the money, and excellent insight into the layers of a recording.
Putting It Together
So how would you put these electronics and speakers together to make fine little first time systems – or indeed an excellent second set-up for a study or bedroom? As always, you can't beat auditioning these components for yourself, but here's a few pointers. If space is tight, the Denon PMA-30 or NAD D 3020 V2 amplifiers, used in 'upright' mode and driving the Wharfedale Diamond 11.1 loudspeakers, would have obvious appeal – just add the source component of your choice.
But as a personal preference I'd have no problem at all with a combination of the Marantz 6006 CD player and amp, connected up to the rich yet fast-sounding Monitor Audio Bronze 2 loudspeakers. It's a combination I've heard on more than one occasion, both in my own room and elsewhere, and it has a sense of 'rightness' about it with which it's hard to argue.
But then that's the fun of starting out in hi-fi this way: the ability to mix and match the cocktail of source, amp and speakers to get just the sound you want. Though be warned – it could all get a bit addictive!