Under the covers... Wings Band On The Run Wings Covers
Wings Covers
When Paul and Linda McCartney formed Wings, they were all about getting back to simple pleasures. The cover of the band's debut Wild Life seemed to reflect this. Yet Barry Lategan's photo of the band sat on the branch of a tree, dipping their toes into what looks like a country stream, was a touch deceptive. They were in fact in Osterley Park, West London, where the band would, of course, return to shoot the cover for Band On The Run.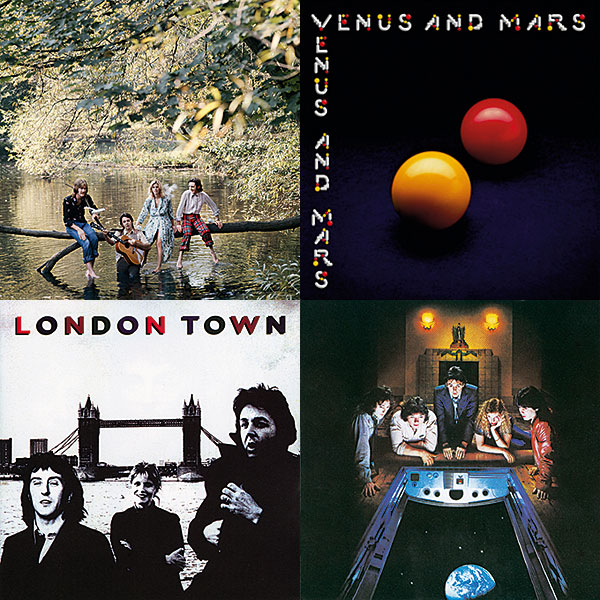 However, Wild Life didn't result in impressive sales, and the band's second album, Red Rose Speedway (1973), was credited to Paul McCartney And Wings, just in case anyone missed The Beatles connection. It was also reduced from a double to a single LP by the record label, who weren't too confident about its prospects (imagine telling Paul McCartney you didn't really rate his new songs). The lavish gatefold artwork planned for the double remained, though, fronted by Macca with a large rose in his mouth, placed there by Linda.
Pretty much the opposite approach was taken for the cover that came after Band On The Run's star-studded tomfoolery. Venus And Mars, which arrived in 1975, was simply adorned with a shot of two billiard balls on a table, shot by Linda and overseen by LP design gurus Hipgnosis. Were there any other record buyers in the ensuing years who assumed it was just a self-titled album by some band called Venus And Mars? Just me then.
A less confusing affair was Wings At The Speed Of Sound. This 1976 studio set simply featured the title as if it were on a lit-up sign above a cinema. Nice. But if that gave the impression everyone was slighty phoning it in with the cover ideas, the crushingly literal image on the front of London Town (1978) was a nadir. It featured the newly reduced trio's cut-out figures in front of a photo of Tower Bridge – a concept a primary school art class could have outdone in terms of imagination.
Thankfully the group rediscovered their mojo for Wings' last hurrah, 1979's Back To The Egg, the newly re-expanded quintet shown looking through a hatch in the floor of a room at a distant planet Earth. This is what we want, folks – musicians as extra-terrestrial aristocrats, not a bunch of windswept scruffs waiting for a bus.