Sylvia Robinson Page 2
'I see him talking to the kids and see how they'd answer back,' she recalled later. 'He would say something every now and then, like, "Throw your hands in the air", and they'd do it. If he'd said, "Jump in the river", they'd have done it… A spirit says to me, "Put a concept like that on a record and it will be the biggest thing you ever had".'
And so it is that rap as we know and the world loves it, is born. Here she is in the studio now with her trio of proteges. She creates the track in one take, give or take a couple of patch-ins to Mike's lines. She cues them from the control booth, pointing at each one in turn to butt in. It is raw and exuberant and works near as dammit like clockwork bar this ludicrous moment when Hank is rapping and suddenly the phone rings. It's his boss from the pizza parlour who says if Hank ain't back in his apron in 15 minutes, he's fired.
As it so happens, 15 minutes is exactly the length of 'Rapper's Delight', which is way too long for the radio. Sylvia won't budge. The record remains unedited and thus blanked by just about every radio station that might have lent a sympathetic ear until a chap called Jim Gates, a jock at WESL, in St Louis, does the deed and almost overnight Sylvia's proved right.
'An order for 5000 records comes in off a few plays,' recalls Sylvia. 'Then it starts getting played all over. We can't press it fast enough – you have to order it and wait weeks for the next shipment.'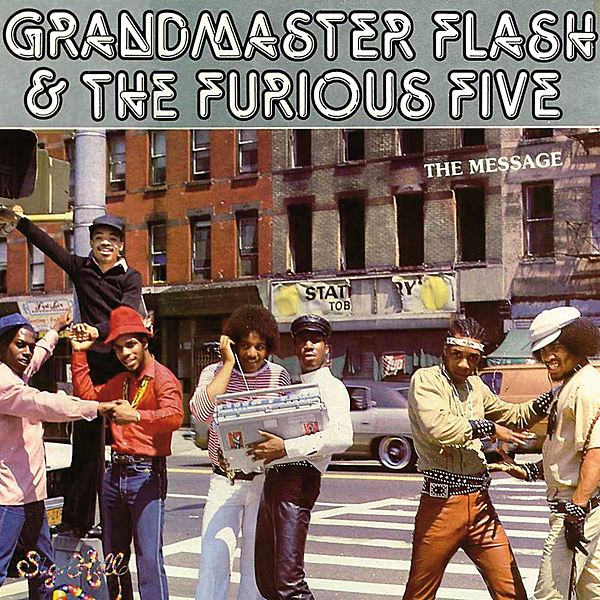 Flash Point
Once they spot the potential of hip-hop on vinyl, more vocal and lyrical talents clamour to climb aboard. One such hopeful outfit is Grandmaster Flash & The Furious Five who, under Sylvia's production, front 1981's brilliant mash-up, 'The Adventures Of Grandmaster Flash On The Wheels Of Steel' and the eternally astonishing 'The Message' in 1982, which will sell a million copies in around a month.
'The Message' begins when Duke Bootee (Edward Fletcher), one of the Sugar Hill studio band, starts messing around on the piano in his mother's basement intending to create a song with the boisterous feel of Zapp's 'More Bounce To The Ounce', a big dance floor hit. When he plays the track to Sylvia Robinson, she decides it will suit Flash very nicely thank you, even though he and his Five are initially reluctant to have anything to do with it due to the lyrical content being so dark.
They consider it neither fit for a party nor the street. However, one member, Melvin Glover aka Melle Mel, agrees to try recording it as a duet with Duke Bootee. Hearing an early take of the song, Flash then changes his mind, but he's already shut out of the sessions, except for a brief skit where the group is 'arrested'. Mel adds his own lyrics to Bootee's, including the line, 'A child is born with no state of mind', which he'd used on Flash's debut release, 'Superrappin''. Sylvia also claims composers credits.
Going where no rap track had ever ventured before, 'The Message' is massive with its ear-worm refrain of, 'Don't push me 'cos I'm close to the edge'. In 2012 a Rolling Stone poll hails it the greatest rap song of all time. Naturally, Sylvia then attempts to follow it up with 'The Message II (Survival)', released in 1983, but it isn't as good or as successful. Again Flash is absent. He's been ousted from his own group.
Whatever, the label does have one last magnificent hurrah in the shape of 'White Lines (Don't Do It)', a typical slab of Sugar Hill genius. Superimposed over an uncanny approximation of a track called 'Cavern' by Liquid Liquid, Sylvia and Melle Mel compose a lyrically ironic celebration of clubland's rampant cocaine lifestyle, think better of it, add the 'Don't Do it!'s to keep radio happy and then release it under the misleading aegis of Grandmaster & Melle Mel so the public will be fooled into thinking they're getting a bit more Flash. Without doubt, one of the most stunningly graphic tracks to emerge in the '80s, it still hits hard some 35 years on.
Of course, all good things come to an end and, with the kick-start Sugar Hill has given it, hip-hop and rap develops rapidly leaving the label behind. Records such as 'Check It Out' by Wayne & Charlie (The Rapping Dummy), betray Sylvia's enduring taste for tacky novelty, she turns down a video made for 'White Lines' by a film student named Spike Lee and starring a young Laurence Fishburne while a young dude who calls himself LL Cool J sends the label nine demo tapes and hears nothing back, eventually signing with the emerging Def Jam which sells over a million copies of his debut LP, Radio.
Old-School Cred
The inevitable financial troubles come to a head and in 1995 the Robinsons sell the rights to their catalogue to Rhino Records, retaining the publishing so they still collect on Sugar Hill songs through sales, radio play and every time another act samples them to add some old-school credibility to their own track. Sylvia Robinson's heart fails on the 29th of September 2011. Last heard, Warner Brothers have her biopic in pre-production.