KLH Ultimate One Headphones Page 2
Arguably more serious in practice is that the Ultimate One is slightly sensitive to the integrity of its earpad seal. This is normal for closed-back designs but open-backs like the KLH tend to form two distinct groups: those that are substantially unaffected by a compromised earpad seal, and those that are sensitive to it. Of recently measured open-backs the Quad ERA-1 [
HFN
Aug '18], Meze Empyrean [
HFN
Dec '18] and HiFiMan Arya [
HFN
Aug '19] are all in the first group, whereas the MrSpeakers Ether 2 [
HFN
Jul '19] and the Ultimate One fall into the latter. The Ultimate One is a good deal less sensitive to leakage past spectacles or though hair than the Ether 2, but its bass/lower-mid tonal balance may nonetheless change from user to user.
Train Of Thought
The first thing I discovered when donning the Ultimate Ones [writes CB] was, due to their low clamping force, they tended to slide forwards (or off) if I looked down – eg, standing up to change a disc. No means a deal-breaker, but something to remember. But on to the listening! For high-res files I used a Mytek Brooklyn DAC/amp [HFN Aug '17] with my Macbook Pro running Audirvana 3.5 software, while for analogue tests a Beyerdynamic A2 headphone amp [HFN Sep '17] was pressed into service.
Prompted by letters in last month's Sound Off pages from our railway enthusiast readers, I dug out my old ASV Transacord LP, Rhythms Of Steam [ATR 7033], made by Peter Handford in the late '50s. Night-time freight trains recorded near Newark trundled through my head from right to left, the first of them presented in such a way that I almost felt I could stretch out an arm and touch it. Then a struggling second passed in the other direction, closer and taking its time, sounding very much 'in the head'.
From bygone realities to even earlier fiction, and Alan Bennett reading from AA Milne's House At Pooh Corner [BBC Records' REC 493; mono]. The voice was rather thickened with the Ultimate Ones and expressive nuances in the narration consequently dulled a little, although diction was clear enough. With stereo and Kate Bush's track 'Hounds Of Love' [The Whole Story; EMIKBTV 1] the Ultimate Ones darkened the vocal colour for which Bush opts and the low register accompaniments had more of a thump, but the overall presentation was musical and engaging.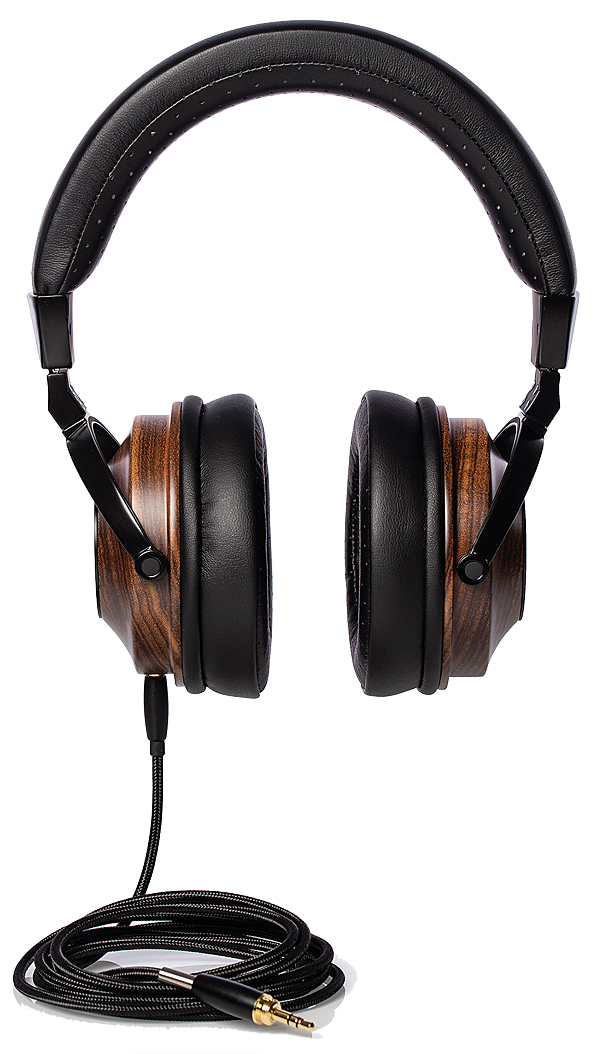 The Schubert Impromptus which András Schiff plays on his c.1820 fortepiano [ECM 4817252; 96kHz/24-bit – see p94], with its extraordinary 'as new' quality, unfolded with a combination of simplicity and sophistication which the Ultimate Ones' revealing qualities served handsomely. The rippling start to D899 No 2 certainly grabs attention with these headphones.
My one reservation concerning Steven Osborne's Hyperion recording of Beethoven's last piano sonata, Op.111 [CDA68219; review next month], is about the metallic timbre of his close-mic'd Steinway. The Ultimate Ones did this no favours and it was a relief to turn instead to the Till Fellner live version on ECM [481 6837]. The lucidity of his counterpoint playing is an absolute joy and with the Ultimate Ones I just sat through the complete performance uttering a silent 'yes!' along the way at what he did.
Orchestral Colour
In 1982, producer John McClure made a lush-sounding programme Aisle Seat – Great Film Music with John Williams conducting the Boston Pops Orchestra [Philips 65 14 328; digital LP]. As the music segued from the climax of the E.T. 'Flying Theme' into the main theme by Vangelis for Chariots Of Fire you could hear where everything was coming from, and the track's rhythmic appeal was well presented by the Ultimate Ones. Again the soundstage was contained within the head, a likeable characteristic of these 'phones.
DG's producer for Seiji Ozawa's Ravel series from the mid '70s was the great Thomas Mowray. Rifling through my box set [2740 120], I selected the atmospheric Alborada del Gracioso orchestration, and while there was some thickening of textures at full level, this didn't prevent my marvelling at Ravel's use of orchestral colour. Cymbals possessed a sheen, there was a mournful solo bassoon in the middle section, a soaring of woodwinds like birds in flight, and castanets... Moreover, low strings and percussion confirmed the Ultimate Ones' adroitness with subtle dynamic and spatial detail, while showing off a bright, clean treble.
To bring the listening to a stirring, if sinister, orchestral conclusion I turned to Sir Andrew Davis's new Chandos recording of Berlioz's Symphonie Fantastique with his Toronto SO [CHSA5239; 96kHz/24-bit], where the church bells in the finale are evidently real.
The Ultimate Ones exactly pinpointed their position in the soundstage, while the low-register rhythmic patterns and bass drum near the ending (also in sharp focus) had a vivid insistence – in contrast to the shimmering upper strings opening with harps in 'Le Bal'. These were rendered with exquisite transparency, along with real weight to the double-basses – superb!
Hi-Fi News Verdict
These debut headphones offer excellent value for money. Finish is superb, the styling familiar and not all listeners will be bothered by that low head clamping effect that can cause the 'phones to slide forwards. Sonically they offer a detailed treble and consistent 'in the head' presentation. Bass may be influenced by the user's hair or spectacles but the One's insightful and engaging sound will surely win out.