iFi Audio iCAN Phantom Headphone Preamp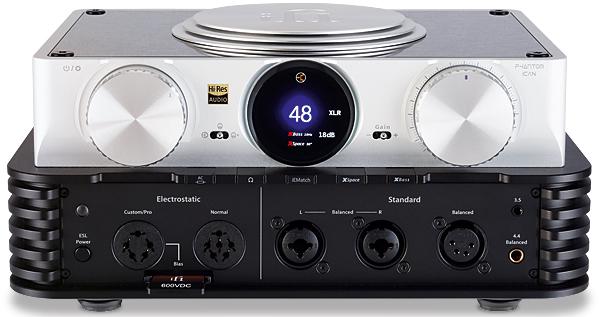 Purist 'analogue only' headphone amps have a new champion in the form of iFi Audio's flagship iCAN Phantom, designed for in-ears to electrostatics and all 'phones inbetween
When you state your headphone amplifier is the 'Rolls-Royce of flagships' you must be very confident that it's a clear cut above rival high-end devices. But that's exactly what iFi Audio is doing with the iCAN Phantom, shown for the first time at High End Munich in May '23. This £3749 analogue headphone amplifier is positioned above all its previous efforts, including the erstwhile flagship Pro iCAN Signature headphone amplifier, which remains on sale at £2299.
That's quite a price hike, but the Phantom has new tricks, not least its integration of iFi Audio's Pro iESL Energiser (formerly an external add-on) to supply the high signal voltages for a wide range of 'statics. The result is a powerful headphone amplifier ready for use with dynamic, planar magnetic and electrostatic cans. This, as far as I can ascertain, is a world first, and it ties neatly into the up-tick in new electrostatic headphones coming from Audeze, Dan Clark Audio and HiFiMan, joining stalwarts Stax and Koss.
Double Vision
While the iCAN Phantom targets those in the enthusiast community who own a variety of headphones, and features both solid-state and tube-based input stages for those who like to 'season' their sound, it's still a one-box solution with an emphasis on convenience. The design, however, might make you think otherwise, as it melds a silver-coloured top half with a larger, more functional-looking lower section in black. It's a bit idiosyncratic, although there's no faulting the fit and finish, which is outstanding.
A nice touch is the smoked glass panel atop the aluminium case, which gives a peek at its inner workings. Here you'll spy the GE5670 tubes, switched into circuit in the 'Tube' and 'Tube+' modes, and rated at around 100,000 hours of use. In any event, removing the panel to replace these is trivial.
The iCAN Phantom's impressive power is delivered by iFi Audio's 'True Differential Balanced' amp design, a further evolution of its PureWave circuitry concept. And there are more 'brand regulars' included, both in terms of technology (such as the capacitive battery pack and iPower Elite power supply) and functionality (XBass and XSpace analogue processing).All of which makes the iCAN Phantom just a little less purist than models like Ferrum's OOR [HFN Dec '21].
Info-Packed
Operating the Phantom can be done via two large rotary buttons on the top section – one controlling a sophisticated ALPS volume control – that flank a colourful, info-packed OLED screen and buttons for gain selection and tube/solid-state operation. Alternatives include iFi Audio's remote control, which makes some tasks a little less fiddly, and a new app made possible by the iCAN Phantom's built-in Nexis module.
The amp's lower section sports a plethora of connections on both the front and back. On the rear are three RCA and one balanced XLR input(s) handling up to four analogue sources, plus single-ended and balanced outputs when using the iCAN Phantom as a preamplifier in a loudspeaker-based system. But it's the front panel that says 'I am not your average headphone amp', as just about every output you can think of is there. Next to conventional 3.5mm and 6.35mm single-ended options are Pentaconn 4.4mm balanced, one XLR4 and two 3-pin XLRs. Remarkably, there's even a second 6.35mm connection with inverted phase.
The above cater to dynamic headphone types, leaving two outputs dedicated to high impedance electrostatic cans, sequestered off to the left next to an additional power button for the built-in energiser. One output labelled 'Normal' offers a 230V bias, while the Custom/Pro connection can be bias-adapted.
This brings us to a neat surprise iFi Audio has hidden on the back of the amp. Use a little bit of force to detach the top heatsink, and storage space is revealed for what appear to be SD memory cards, but are actually bias cards to physically (and safely!) switch to a particular bias when listening to different brands of electrostatic cans. If you're not sure if you require 640V, 500V or another HT DC value, you can find names of popular ES headphones on each card. Useful, as selecting the wrong bias could be ruinous.
Challenge Accepted
I wonder if some might look at the two-tone styling of the iCAN Phantom, the app control, and its dizzying feature list, and think it lacks seriousness. They shouldn't though, as it's a deeply impressive performer: powerful, revealing and suited to a variety of headphone flavours. Processing and 'tube' modes are there to massage its sound but, arguably, it doesn't need them as it conjures a stunning performance right out of the box.