Thorens MM-008 Phono Preamplifier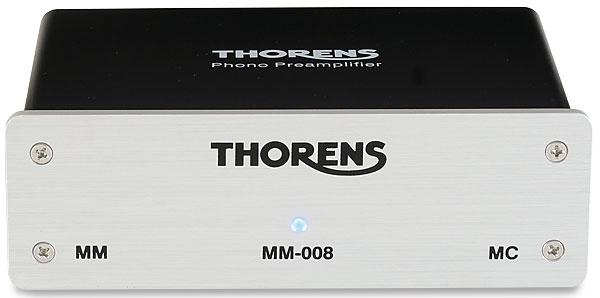 Who better than a legendary turntable maker to offer a go-to, affordable, universal phono stage? The Thorens MM-008 looks set to shake up the entry-level sector
If anyone still doubts the extent of the LP renaissance, beyond the use of turntables as a trope for cool ads aimed at hipsters, the plethora of affordable gear coming from purist brands known for high-end price points should convince them otherwise. Forget those £69, all-plastic 'record players' sold online to snare newbies: when a company such as Thorens brings out a phono stage like this £220 MM-008, it indicates that renewed LP usage is not the sole province of seasoned audiophiles. Or, indeed, wealthy ones.
Thorens has, in fact, produced a quartet of starter phono stages, including the MM-008 ADC, which is the same as the unit reviewed here but equipped with an on-board ADC, and USB output, for digitising one's LPs. And if MCs aren't a concern, the company also offers a pair of fixed value MM-only units, the MM-002 and the MM-002 Flex, the latter having been specifically designed to fit under a turntable.
Fully Loaded
With or without an ADC and USB output, an MM-008 is the obvious choice if upgrading and the freedom to use either type of cartridge is important. Moreover, instead of DIP switches or front panel selectors, or other solutions that would increase the cost of the unit, Thorens accommodates different MCs via a set of three pairs of plug-in adapters. This reminded me of Gryphon's earliest phono stage, which used this method of setting the load values.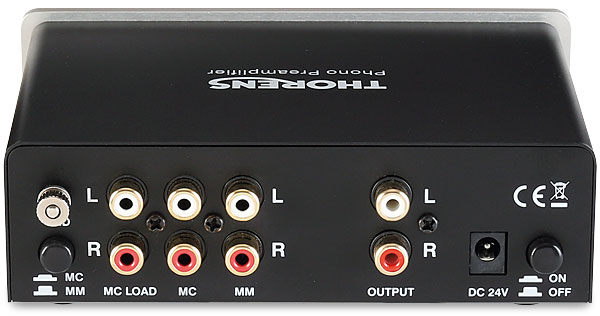 Thorens supplies the MM-008 with plug-in values of 10ohm, 100ohm and 1kohm. With this trio of loads and a standard 47kohm MM input, pretty much every mainstream cartridge is covered. This isn't the place to wax about how precise settings need to be, which I would hope is an issue only for the level of hi-fi user who is way past newcomer status. Even though I am a reviewer and an obsessive in many ways, I admit to being cavalier about this, finding variances of up to ±10% often inaudible. Having opened this can of worms it is worth emphasising that even editor PM thinks these are acceptably 'universal' values. He also pointed out that, as these are basically phono plugs fitted with resistors, it would be easy enough to fashion ones with other values. Still, I doubt anyone will be using the MM-008 with one of the super-expensive, super-exotic MCs which ask for loads of, say, 1ohm.
With an ear to completeness, though, I did test this not just with sub-£100 MM cartridges and under-a-grand MCs, but with a £10k MC more likely to find its way through a phono amp of similar status. To my delight, it proved more indicative of this device's competence than the results with like-priced cartridges as it revealed the compromises – and they were small.
Pound For Pound
It was that observation which was enough to metaphorically smack me over the head with the Law of Diminishing Returns, something which is of crucial importance when shopping at this cost level. One must never forget (especially reviewers) that music lovers constrained by a budget must weigh how each and every pound is spent. This deceptively simple-looking box wastes not a penny, and while its looks will strike many as prosaic, I maintain that it is impossible to fault any device where functionality is the primary criterion.
With costs a constraint, the MM-008 is powered by an external wall-wart which also allows the phono stage itself to be housed in a bijou 150x50x117mm (whd) enclosure, including the phono sockets and earthing tag. You need to add another 25mm depth for the loading plugs.
On the front panel, such as it is, in addition to basic font texts and the Thorens logo, is a centrally-located LED that glows blue when the unit is on. Around the back are the aforementioned earthing post, push buttons for MM/MC input selection and power on/off, the input for the power from the wall-wart, and four pairs of RCA phono sockets. From the back, on the right are the left-and-right line outputs, while the remaining sockets accommodate MM and MC cartridges, with the remaining pair for the MC loading plugs.
While obviously having to address newcomers to vinyl, and thus supplied with an owner's manual that leaves no questions unanswered, the MM-008's connections and operation are intuitive in hi-fi terms. Veteran audiophiles will therefore deduce the setting-up without even needing to glance at it. Having said that, I got no sound out of the amp when I first switched it on with an MC cartridge. Doh – I forgot to choose MC at the back.
Licensed To Thrill
Leaving out that momentary display of stupidity, from opening the box to hearing music took just four minutes. I started with the EAT B-Sharp turntable [HFN Jul '20] with the Jo No5 cartridge [HFN Dec '18], before trying a brace of Ortofons on a basic Pro-Ject deck, and the aforementioned £10k+ model. The bulk of the listening was undertaken with the Jo No5. And the opener was a real shock: I wasn't expecting the level of slam and punchiness afforded by the Thorens MM-008, as extracted from the John Lennon box set, Gimme Some Truth [Universal 02435 00198].