Thorens MM-008 Phono Preamplifier Page 2
While this contains remastered, and therefore new-to-me sounds, I did first play the original LPs, so I would be hearing what the phono stage was doing. 'Cold Turkey' possessed the drive and hostility I'm sure an ex-junkie would want to express. This was one of his most aggressive numbers, and the MM-008 was not shy about it.
While I suspected that something was slightly compromised, I couldn't put my finger on it until I listened to the less-cluttered, elegiac 'Grow Old With Me'. This gorgeous song ripped out people's hearts when it was played in the wake of Lennon's murder, and hearing it during the week of the 40th anniversary of this heinous deed may have affected my assessment of the playback, but I held back the tears. An ode to spending a long life with a loved one, it now suffers too much from painful irony, but I had to get all objective.
What was apparent was a reduction in absolute transparency, vis-à-vis dearer stages, so there were audible gains moving up the ladder to the £499 MoFi UltraPhono [HFN Mar '20], Pro-Ject's £550 Tube Box DS2 [HFN Jul '20] and EAT's £1298 E-Glo Petit [HFN Feb '19]. Thorens' MM-008 wasn't exactly muddy, but a diminution and slight haze were noted, though no more drastic than, say, cable variations. But I must reiterate that the difference between £220 and £499 is far greater to a budget-conscious individual than one able to consider items costing five-figures.
Unaffected was the glorious soundstage, which filled the listening area, wider than it was deep, but no less satisfying for that. The openness may have been affected by the slight haze, but it was still easy to 'listen into' the sound, and to locate each specific element in its own space.
Free Flow
Before leaving Lennon, I played one of the precious few tracks from his solo career which bears comparison with his work in The Beatles. '(Just Like) Starting Over' enjoyed a blissful jauntiness which almost made me forget his hypocritical 'Working Class Hero' or the bitter 'How Do You Sleep?'. The pace-rhythm-whatever crowd will delight in its near-reggae syncopation, and it flowed unhindered through the Thorens MM-008. This phono stage, by the way, handles bass with aplomb.
As I found out to great surprise, when, by sheer coincidence, McCartney III [Capitol 02453 13659] arrived during the listening sessions. It turned out to be as terrific a release as the advance word promised. The opener, 'Long Tailed Winter Bird', with its slithery guitar work, could have come from any number of virtuoso axe wizards, but this was Macca showing that he is far more than a bassist. This album, with only a few guest spots, is Paul playing everything.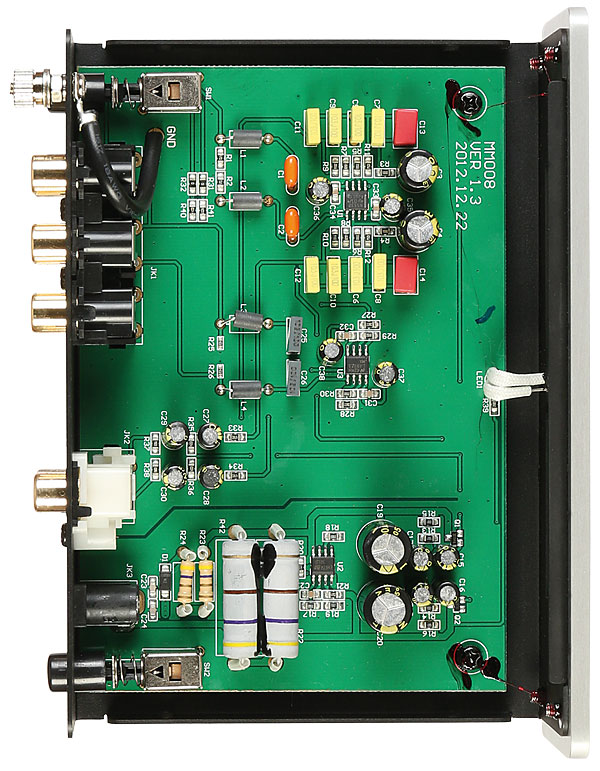 Funky Foundation
It was, however, 'Find My Way' which made the entire LP a winner in my book. This sounded like a Beatles number circa Rubber Soul, and it possesses some seriously deep and rich bottom-end moments. The extension and control, just shy of what I expect of the be-tubed Pro-Ject or EAT phono stages, were convincing enough to survive playback through Wilson Sasha DAW loudspeakers [HFN Mar '19].
Here we come to a paradox common to HFN's Budget Esoterica series – affordable gear which performs far better than perhaps it should. If ownership and use of the MM-008 was confined to entry-level systems then it's likely to be heard primarily through two-way bookshelf or standmount speakers of limited 'wooferage'. Played, then, through the Falcon Acoustics LS3/5A [HFN Dec '18], it was no less apparent that the MM-008 can deliver a sense of weight even through systems of restricted bass extension.
Away from my Beatlefest, I listened to the more raucous blues tracks on The Butterfield Blues Band's East-West [Speakers Corner/Elektra EKS-7315], especially for the speed and attack of Mike Bloomfield's and Elvin Bishop's guitar playing. The MM-008 was more than capable of communicating both the sizzle and the liquidity, while that bottom end provided a rich and funky foundation, immediately noted on the opener, 'Walkin' Blues'. So the Thorens MM-008 isn't to be regarded as 'cheap 'n' cheerful': it's more 'beer-budget bliss'.
In a sector crowded with superlative phono stages from NAD, Pro-Ject, MoFi and far too many others to list, shoppers in the budget arena are spoiled for choice. Any phono amplifiers from familiar manufacturers will more than gratify, but the Thorens MM-008 has one quality that, for some, will make it a stand-out in this hotly-contested category: a pedigree going back more than 130 years. Arguably an abstract virtue, but it's something to which you cannot put a price.
Hi-Fi News Verdict
Products that bring a smile to our faces should be celebrated, and as hi-fi purchases go beyond performance and value, pride of ownership cannot be discounted. Here the Thorens logo on the MM-008 speaks volumes, even to those born 25 years after the TD 160 was discontinued. The magic is that its sound never reveals for a second that this little gem costs less than a case of decent chianti. And it's almost as yummy.