PSB M4U 8 Headphones Page 2
On a personal note, the earpads are only just circumaural so those with larger ears might find their pinnae squished. Also, the head clamping force is quite high. As a result, comfort is only moderate, while knocking or brushing the cable while wearing the headphones can generate intrusive levels of mechanical noise.
Tonally Truthful
Pairing the PSB M4U 8s with an Apple MacBook Pro via Bluetooth was quick, and I was soon enjoying wandering out of the room with Bartók still playing in my head. But the sound – with the fourth movement of his String Quartet No 4 in the Chandos recording by the Arcadia Qt [CHAN10992(2); 96kHz/24-bit] – could only be described as 'mid-fi'. Switching to the micro USB cable I found I was unable to achieve an adequate listening level on the two Macs I tried, so I listened with the M4U 8s plugged in using the analogue cable.
As KH's Lab Report suggests, there was now no shortage of level when listening via Audirvana's 'gain control', but for the reviewing tests proper I used the M4U 8 with a DNM Series 6 preamp for analogue material, or the Mytek Brooklyn DAC [HFN Aug '17] for downloads. The Brooklyn brought a major improvement to my Bartók example, which arguably was a little warmer than ideal, but when listening in active mode I was presented with the interplay between the four strings set pleasingly across a wide soundstage.
For my speech test I turned to DG's outstanding version of Stravinsky's The Soldier's Tale with the Boston Chamber Players and narration by Sir John Gielgud. With the original LP [2530 609] and listening in passive mode, I soon found these headphones bringing up surface rumble. Also, voices had a slight blanketing cover, while timpani were 'thumpy'.
PSB's active mode improved the sense of balance, voices with music, although a prevailing hardness rather curtailed involvement in the story. Not a reliable choice for the vinyl enthusiast, I concluded.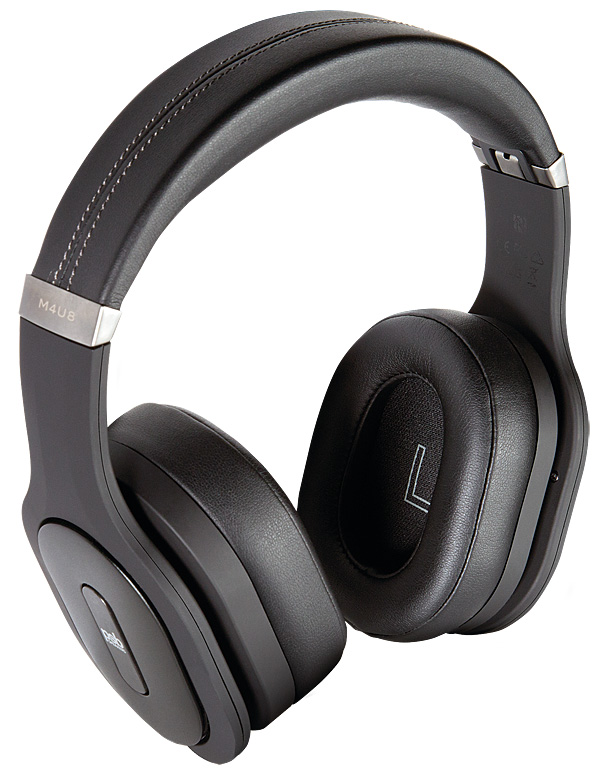 'The Last Chance Texaco' by Rickie Lee Jones on her eponymous Warner Bros album [K56628; Nimbus pressing] also sounded bass-heavy in passive mode but improved considerably when I switched to active. Now low-register instruments had weight but were not obtrusive, while vocals were tonally more truthful.
Level Playing
Listening solely in active mode for the remainder of the tests I turned to British bass James Platt on a new Hallé label CD [CDHLL7550] of Pushkin settings by Shostakovich, with Sir Mark Elder conducting. Here I was conscious of miking making him stand out, as did the double-basses in the fourth song. Such detail seemed to come unnaturally forward.
Iván Fischer's concluding recording in his Channel Classics Mahler cycle [CCS SA 38019; 96kHz/24-bit] was similarly testing. Again, it was difficult to adjust the level to prevent everything seeming very forward. This is a personal reservation and other listeners might well be more than happy with the sound, as the soundstage width and depth were so solid.
Violinist Isabelle Faust has returned to Bach in a new Harmonia Mundi 2CD set [HMM902335.56] which has uniquely familiar pieces in a different instrumental guise. So the Orchestral Suite No 2 has violin rather than flute… She's with the Akademie für Alte Musik Berlin, and here I enjoyed the elan of the performance, not least the jaunty Polonaise. I also had some good results with solo pianoforte, notably Maurizio Pollini's new Chopin disc [DG 483 6475] recorded in the Munich Herkulessaal last year. The ambience of the hall was well represented and only on some heavily hit chords did the sound become aggressively metallic.
More Than A Smile
Duke Ellington's 1932 'It Don't Mean A Thing (If It Ain't Got That Swing)' with the great Ivie Anderson [Columbia/Legacy 516425 2; CD rip] chugged along in a foot-tapping way, vocal set back – and all too short. Sounding just as enjoyable in its very different way, Miles Davis's 'Concierto di Aranjuez (Adagio)' from Sketches Of Spain [Columbia/Legacy CK 65142; CD rip] starts with the brass cutting in from the castanet-clicking backdrop, then leaves the canvas bare for Miles' soulful solo. Through the M4U 8s I enjoyed it more than I usually do.
Playing 'Blues De Luxe' from the 1968 Jeff Beck debut album Truth [EMI 8 73749 2] – a studio production with audience noise spliced in – the M4U 8s couldn't tame the sonic brashness. Yet musically the flow of the song and the zany side-effects brought on more than a smile – that tinkly piano in the left channel (3m 40s) and the tongue in cheek applause it earns...
Putting my classical hat firmly back on I played Smetana's Mà Vlast with its ever-popular 'Vltava' [Decca 483 3817], recorded live in 2014 with the Czech PO under the late Jiří Bělohlávek. The elegance of the orchestral phrasing and the course of the great river (with Wedding interlude) were beautifully portrayed, the sound from Smetana Hall Prague generally set decently back. Yes, the PSB M4U 8s are especially good on 'atmosphere'.
Hi-Fi News Verdict
The forward presentation of these headphones will be a matter of personal taste, and the side pressure exerted may not make for comfortable or cool listening over long periods. However, the options for outdoor and hi-fi system use coupled with its high standard of construction and presentation – the accessories include duplicate earpads – make the M4U 8s an attractive proposition at this modest price.