Pioneer UDP-LX800 Universal BD Player Page 2
A nice touch, although invisible to the user, is the wit shown within the player. The power transformer is in a copper-plated housing pressed with a pattern evoking the f-shaped holes in a string instrument's soundboard, this embossing increasing rigidity while also breaking up the flat surface to combat standing waves. Meanwhile the housing for the power supply circuitry is in a similar anti-vibration case, this time embossed with a bass clef.
All of that contributes to what is an unusually hefty machine. So it may look like any other Pioneer player, if a little on the large side at some 13cm tall, but anyone expecting something rather tinny is going to be disappointed. In practice, the UDP-LX800 weighs an impressive 13.8kg, which is well up into hi-fi amplifier territory, let alone a disc-player.
Proven Pedigree
Pioneer makes no secret of the fact that the analogue audio section here is derived from its flagship PD-70AE SACD/CD player [HFN May '18], right down to identical signal paths for each channel. However, with that player being even larger and more heftily built, and this 'universal' machine selling for the same money despite the addition of all the UHD video, USB inputs and network audio functionality, surely there's been some 'give' in terms of pure audio performance?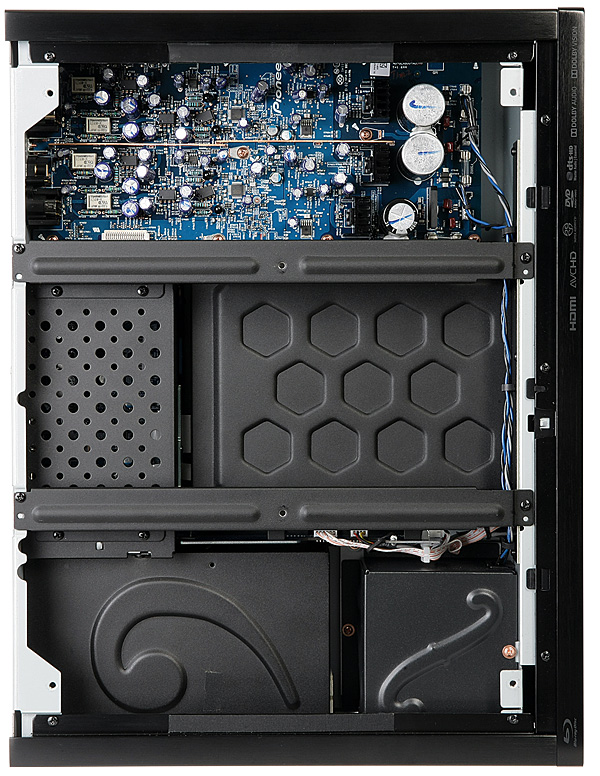 The answer to that is definitely a yes: the UDP-LX800 can't quite match the solidity of sound, weight and detail of its audio-only stablemate, but it's a pretty close-run thing, for as PM notes in his Lab Report, the similarities are far greater than the differences. All of which means this is an extremely respectable disc player with benefits, as well as being a machine very well suited for multipurpose audio/video home entertainment systems.
Playing the recent Kate Bush remasters, the 'LX800 offers a fine insight into the oddness of 'Delius' from Never For Ever [Parlophone/Fish People 0190295593889; 96kHz/24-bit], and does a good job of unravelling 'All We Ever Look For' as it builds in intensity. Yes, the sound is just a shade dry and overprecise, and a little extra warmth (but as not as much as the 'Slow/Soft' digital filters bring) wouldn't go amiss, but this is a long way from the old 'home cinema gear is rubbish at music' myth.
With Steven Wilson's Home Invasion live set [Eagle Vision ERBCD5364; 96kHz/24-bit] the 'LX800 may thicken up a little when the music gets really busy, but it shows no lack of conviction when driving a track such as 'Nowhere Now'. There's bags of live ambience here, but at the same time real punch and slam in the rhythm section when required.

Media Agnostic
What's more, it shows no favours to either network playback or music on USB drives, the sound being indistinguishable between the two even when one ups the ante with the free-flowing intricacy of the Elgar and Finzi Violin Concertos played by Ning Feng [Channel Classics CCS 40218; DSD128/5.6MHz]. The bite of bow on string, the fluidity of the performance and the excellent balance between the soloist and orchestra – all are open for inspection, and a brief listen to the multichannel version via my AV receiver and surround system shows the added ambience and presence the extra speakers can bring.
However, a little definition and detail is traded when playing this way when compared to the direct analogue connections to a high-quality amplifier. Of course in a versatile set-up, such as mine, one can make both connections and switch between them at will.
Playing James Greer's Tokyo No Densha [Musicity 002; 48kHz/24-bit], the 'LX800's slightly over-analytical sound serves well this assemblage of field recordings and electronica, sweeping the listener into the soundscape of the set's two long pieces in compelling fashion.
I'm aware that so far I've mainly reviewed this Blu-ray player not even as a disc machine, so well does it handle files rather than physical media. However, yes, it is also very good when playing SACD and CD media, bringing to bear those same qualities of insight and detail, allied to that slightly light but always tight and involving presentation.
That makes it an extremely good disc player, even if not to these ears in quite the same league as the stablemate PD-70AE. The latter would be my choice of the two if I didn't want, or need, the video disc capability also on offer here.
Hi-Fi News Verdict
Pioneer proves that you can make a fine multiformat player with few compromises, the UDP-LX800 delivering a convincing performance whether with SACD/CD discs or network/USB files. The downside is the need for a monitor to get the most from the player, but if you're also watching BD discs that will be no hardship. It's not quite at the level where it'd be the first choice for audio-only users – but it's close.