Meze Empyrean headphones
Meze Audio turns up the heat in the hotly-contested high-end headphone sector with the radical Empyrean, claiming the first 'Isodynamic Hybrid Array Headphone'
Yes, £2700. For headphones. Ulp!… Meze Audio isn't messing around with its assault on the state-of-the-art and, thankfully, its new Empyrean model goes to great lengths to justify that price. These ooze with innovation, the construction is impeccable – all the better to convey immediate perceived value – and, thanks in no small part to the impressive packaging, an air of luxury rare in hi-fi. Which is what I have been screaming about for years: these tell you that you're getting what you pay for, and in spades.
How the cans arrive is as good a place as any to start. The Empyrean comes in an aluminium briefcase that I would be happy to use for just that purpose; conveniently, the sculpted, fitted foam inserts can be removed with ease. It's so well made and attractive that I almost thought it came from Rimowa, the German maker of the ribbed aluminium luxo-luggage that seems to have taken over the planet. Along with the headphones nestling securely in a cutout are two separate sets of leads that deserve comment, as both are, in their own way, slightly ill-conceived.
Dream State
First, let's dismiss the practicality element as it relates to the 1m pair terminated in a mini-jack for use with portables. I cannot – by any stretch of my experience as a seasoned traveller – imagine anyone so masochistic as to schlep a pair of these massive-by-any-standards cans onto a train, or fill up their hand-luggage allowance for a flight, or climb on a bicycle… let alone wear them jogging. Dream on.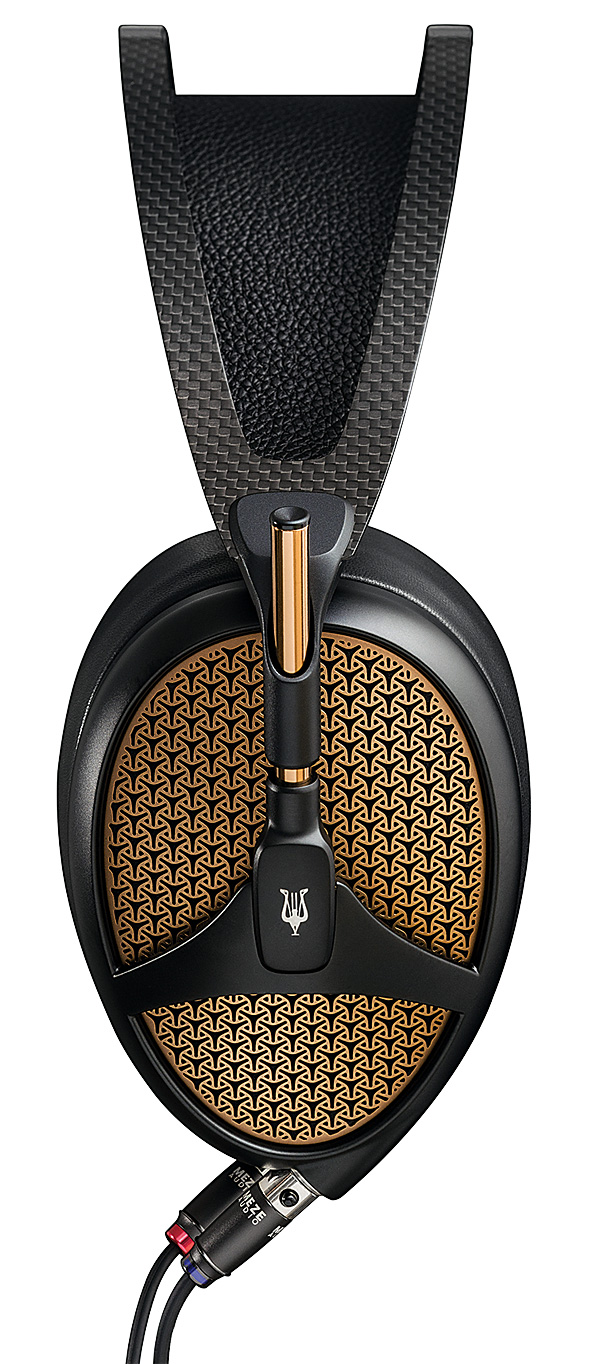 Then we come to the 3m cables fitted with a ¼in jack. Let me start the campaign right now: while near-rigid, nay, wilfully inflexible solid-core-type cables may be suitable between components, as they operate in situ, what's with all these user-unfriendly wires that actually mitigate against mobility? Free movement is essential with headphones, even when sitting down in a listening room. As for coiling them to put them away after a session, it becomes an unnecessary and unwelcomed chore.
No, I'm not about to start championing wireless headphones, but these moves away from user-friendly wires are surely driving people into the arms of the Bluetooth merchants. Aside from my reservations about the wires, the Meze 'user experience' is immediately gratifying, adhering to the principle established by Apple with all of its wares, and inspiring everyone from B&W to Wilson Audio.
I'd posit that Apple could slip guano into an all-white, origami-esque carton and its devotees would still be thrilled upon opening the box.
As ludicrous as this may seem to audiophiles who don't even blink at £20,000 preamplifiers that arrive with badly-cut slabs of Styrofoam for protection, for some it's nice to encounter a brand keen to reassure purchasers that their money is well-spent.
Then we come to the technology. For one who still delights in using aged Stax electrostatics and who employs the Audeze LCD-X [HFN Sep '14] as a reference, panel-type cans have always trumped conventional cones. There seems to be an inherent coherency, transparency and openness in such designs, and Meze Audio takes this a stage further by improving on the full-range concept through the use of what it describes as a 'hybrid array driver'.
The Rinaro Connection
Meze collaborated with Rinaro Isodynamics, boasting of over 30 years of R&D experience in the field of planar magnetics and isodynamics, to devise the MZ3 driver, exclusively for use in the Empyrean. The world's first and only 'dual-shaped voice coil array', the MZ3 combines two configurations – switchback and spiral-shaped – which the company says is a superior means of 'allowing sound to be targeted with accuracy around the natural shape of the ear'. More on this in KH's boxout, opposite.
Among the claimed benefits for this concept, and its 'anthropometric earpad design', are increased direct exposure to frequencies over the 10kHz range, along with improved imaging and localisation. These are said to be the by-product of 'decreasing the impact of short wave time delays caused by diffused field reflections'. Sounds wonderfully Wilsonian to me.
That aside, ergonomically the Empyrean looks, feels and behaves like a circumaural headphone should. It may be slightly less sensitive than some [see KH's Lab Report] but I don't see this as a basis for criticism in reviews of headphones. Indeed, it's particularly absurd when assessing cans for use mainly with high-quality, and probably high-powered amplification. Conversely, I concur that it is absolutely an essential detail when assessing cans, especially earbuds, that will be used with severely power-limited, portable devices (mobile phones, tablets or digital players). For that situation, sensitivity does matter. Nevertheless, during exactly 50 years as a hi-fi user, dating back to the summer of 1968, when I bought my first system, I have only come across one pair of headphones that were genuinely 'hard to drive'. And they were the notoriously insensitive Wharfedale Isodynamics.
So when I switched from the [6dB] more sensitive Audeze LCD-X to the Meze Empyreans I had to rotate the volume control slightly clockwise. But this was well within the compass of the Quad PA-One [HFN Feb '15] that I used for much of my listening, and measured by editor PM at 130mW/25ohm – so not by any stretch the most powerful headphone amp featured in this magazine.
Squishy Cushions
Then we come to yet another source of personal irritation: the topic of comfort. How daft is this as a review concern? Since when were any two heads identical? Moreover I wear glasses when listening, so my observations are of no value to those spared the need for spectacles.