Exposure XM CD/XM5 CD Player/Amplifier Page 2
The XM5 uses a 200VA toroidal power transformer and this is bolted to the aluminium chassis. The amp also packs a very capable moving-magnet phono section, and there's a Wolfson DAC fitted that accommodates PCM audio through all of its inputs or DSD via USB. Connectivity includes the aforementioned MM, two RCA line inputs, including an AV bypass, two Toslink optical and two BNC digital inputs, plus a USB-B port. There's also a handy line-level output giving an upgrade route should the owner wish to use the XM5 as a preamp with the company's matching XM9 monoblocks. Overall the amplifier is a pleasure to use, though rather than having to scroll through the inputs I'd have preferred buttons that directly corresponded to them.
Coming Clean
The Exposure XM CD/XM5 duo is an essay in what's possible in terms of sound quality for under £2500. I can think of very few CD player/DAC/integrated amp combos that do better at the price. It has a gentle, easy charm that makes whatever type of music you play a pleasure to hear. Yes, in absolute terms, it has its limitations, but few could argue with the subtle, polished and involving sound that your money buys.

Those who have heard Exposure's mid-price separates will instantly recognise the XM CD/XM5's 'family sound'. That means an amp that sounds clean, but slightly tonally warm, allied to a smooth, crisp-sounding CD player. Together it's a presentation that ticks all the boxes at this price. Spin up Steely Dan's 'Black Cow' [Aja; MCA Records 088 112 056-2] and the refined nature of the combo is immediately revealed. This is thanks to a subtly warm bass, smooth – almost silky – treble, and an even and open midband. The bass guitar work on this track instantly stood out; it was powerful and rich, really making its presence felt. You could hear how the bassline was crafted in such a way as to power the song along, where on another system it might sound largely irrelevant.
There was definitely some overhang, however. The XM CD/XM5 seemed to catch the transient attack of struck bass guitar strings very well, yet the notes hung around just a little longer than they might have. This wasn't an unpleasant effect as sometimes a little bulbousness at the bottom can pad things out very pleasantly, but it's something to remember when matching this duo with loudspeakers.
Don't Look Back
As for the midband, this is essentially smooth, open and detailed, inviting the listener to peer right into a recording. It's certainly not a forensically detailed presentation though, instruments at the rear of the soundstage having a slightly opaque feel. It's perhaps best described as giving impressive vision in the short and middle distance, while lacking some definition further beyond. Yet this pairing hides its tracks well and you're not conscious of this until you put it up against considerably more expensive electronics.
UB40's 'King' [Signing Off; Graduate Records GRAD CD 2] was a great example of this. There was a wealth of detail upfront, with a lively rendition of snare rim-shots and the rhythm guitar playing off beat. All the lead instruments, such as the heavily processed electric organ, were separated out very clearly and there was good timbre to lead vocals and harmonics, with everything delivered with evenness and clarity. I loved the reedy sound of the saxophone playing too. Yet there was never any undue forwardness, or any sense that the upper midband was too brightly lit. Up top, the ride cymbals had a subtly sweet sound that combined with a satisfyingly metallic zing.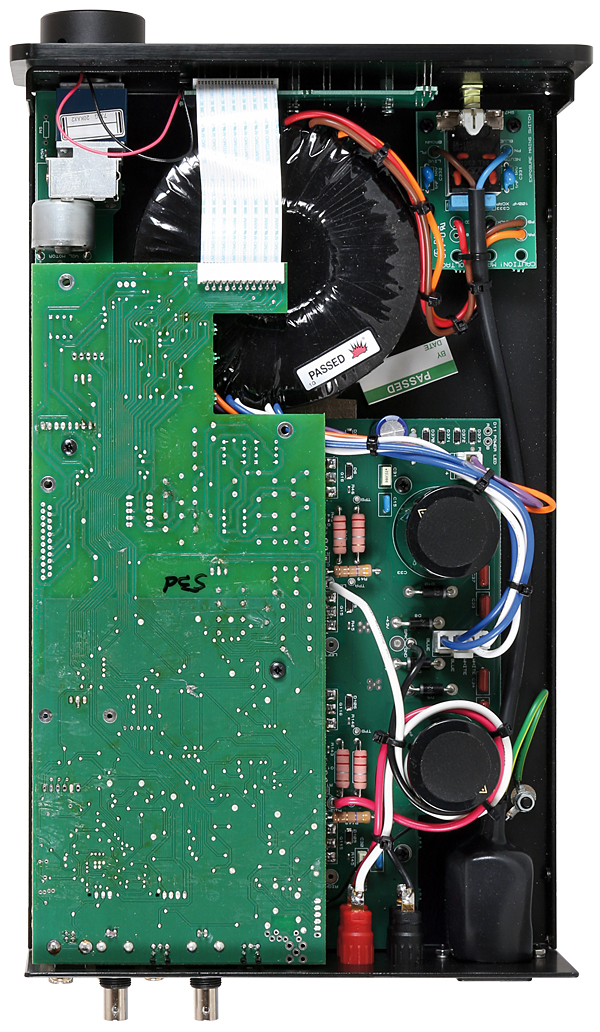 Gold Rush
Soundstaging is generous, though up to a point. So this isn't the most expansive-sounding system in terms of lateral scale, and it doesn't have a cavernous feel from front to back. Yet within its constraints, both vocals and instruments were located with confidence.
For example, feeding the XM5's DAC directly with a hi-res DVD-Audio of Rush's 'Red Barchetta' [Moving Pictures; Mercury B0015272-00] via a Sony Blu-ray player was a joy. Instruments were clearly positioned and while the lead guitar dominated the proceedings, Geddy Lee's vocals were still firmly projected stage front. Drums, bass guitar and the distinctive sound of the Oberheim synthesiser all cut through too, locked solidly in their own particular place in space. Yet what impressed me most about the XM CD/XM5 combination was the way it conveyed the natural flow of music, ensuring it always sounded involving and expressive, immersing the listener in the magic of whichever piece it was asked to play.
So it was that Vivaldi's La Cetra, Op.9 [Holland Baroque Society/Rachel Podger; Channel Classics CCS SA 33412] proved most enjoyable. The music ebbed and flowed in a spirited manner, despite this combination not having the dizzying transient speed of some pricier systems. It told the listener all about the expressive playing of the first violin, and the gutsy, almost dramatic cello playing behind it. This system proved well able to impart the subtle dynamic accents that can make music such fun.
Hi-Fi News Verdict
Exposure's XM CD/XM5 duo is the mouse that roared. It has a charming sound that's articulate and engaging, while never descending into harshness. This likeable personality extends to its design, which is compact yet clever and provides plenty of facilities. Despite its diminutive dimensions, there's no sense of this combination playing second fiddle to any full-sized separates system costing a similar price.