dCS Rossini Transport/DAC v2 SACD Transport/DAC Page 2
It's all very impressive, and remarkably flexible, if maybe not for the faint-hearted. I'll admit to having a few 'now why's it doing that?' moments along the way during the course of this review!
That apart, both units are of massive build, if perhaps overly so for many a hi-fi equipment rack given that the Transport stands some 18cm tall, on top of which space will be required for airflow. But these products are clearly beautifully designed, assembled and finished, right down to the sleek and substantial remote control handset controlling both. My only slight quibble would be that the space for discs in the Transport's loader was not just a snug fit for SACDs and CDs, but a tight one, making loading and unloading slightly fiddly, while PM's lab work noted that switching the units into standby may turn off the displays, but it doesn't seem to reduce the power consumption.
Coming Clean
Time to come clean: I have to admit that these days I don't play discs, be they CD or SACD, too often. New arrivals are ripped either using a computer (for CDs) or an early Sony PS3 (SACDs), and after that it's just a matter of calling up files from the server. No wonder I find myself buying more storage with monotonous regularity. In reviewing the Rossini pairing, however, the discs came out of storage and nostalgia reigned, this also giving me the chance to play disc and file versions back-to-back.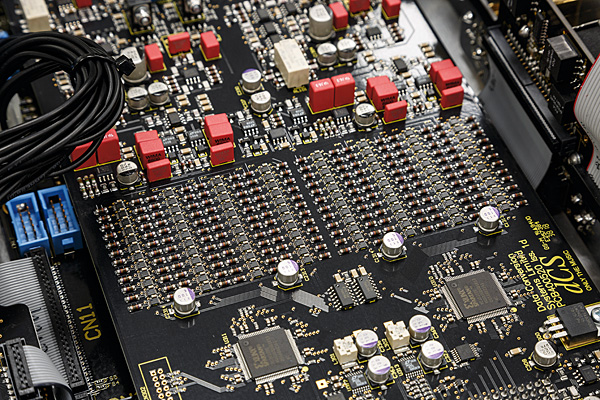 The executive summary? Yes, it may be jaw-droppingly expensive, but if you want to play discs side-by-side with all that newfangled streaming stuff, you'll be hard-pressed to find a more revealing, dramatic and involving way of doing so. Eschewing the delicate classical or limpid jazz, I went straight in with the 2001 SACD release of Frankie Goes To Hollywood's 'Rage Hard' [ZTT ZTT177SACD], switching between upsampled CD to direct DSD64 on the epic title track from Welcome To The Pleasuredome. Here the Rossini pairing did an excellent job of bringing the CD layer up close to what SACD could deliver, but the DSD layer just had that edge in snap, space, detail and sheer pounding drive. The bass rumbled and bounced against the punchy percussion, and the massive scale of the track was delivered with drama and slamming dynamics.

This super-crisp sound, with monumental weight when required, was also much in evidence with Pink Floyd's Wish You Were Here [Analogue Productions CAPP 33453 SA], the slow burn of 'Shine On You Crazy Diamond' having lovely tinkling detail and spaciousness before that signature guitar break and the rich, tight bass and drums it unleashes. The sound was solid, breathtaking and almost three-dimensional in the room – with this much information, there really is no need for surround effects, whether real or 're-imagined'.
DSD Delivers
Cooling things down a little with Dire Straits' first album [Vertigo UIGY-9032], again the native DSD signal path proved to have just that little more openness than the upsampled CD layer could muster. But, again, it was a close thing, with the gap narrowing as I experimented with the various DSD filter settings, the more extreme of which can soften down the sound to 'what's the fuss all about?' levels. Back off on the filters and let the sound breathe, and you have a presentation as fascinating as it's musically rewarding, with 'Sultans Of Swing' coming up fresher than one could imagine.
Streaming Superlatives
'Wide open' doesn't even cover it. This two-box player digs deep into a recording, providing as much spine-tingling insight as any listener could want. And it does it whatever you play, breathing new life into familiar CDs, or sparkling with well-engineered SACDs, and sounding magnificent when streaming music from local storage or online services.
The scintillating live recording of Mahler 3 by the Gürzenich-Orchester Köln under François-Xavier Roth [Harmonia Mundi HMM90531415; 48kHz/24-bit download] is treated to real drama and striking atmosphere through the Rossini pairing, the light and shade of the massive first movement capturing the attention, and the whole 90+ minutes of the work flying by, so firmly is the listener immersed in both the composition and the performance.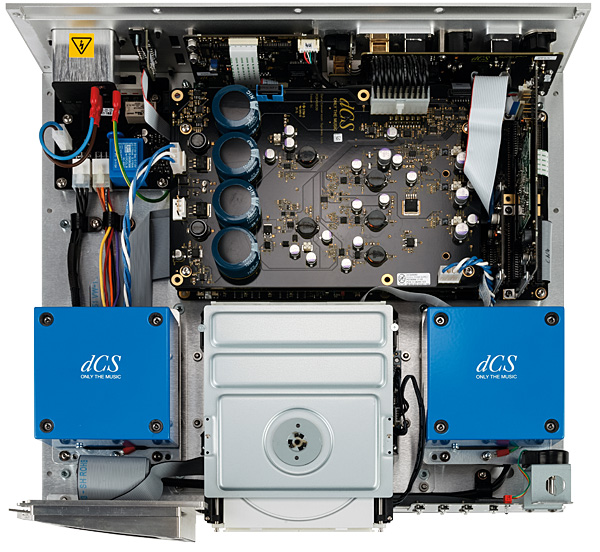 Hi-Fi News Verdict
Whether you are clinging on to your CD collection, rediscovering music on SACD or bridging the divide between physical and file-based music, this remarkable dCS duo brings out the best of everything you throw at it, with the reassurance of firmware updates to keep it up to speed with wherever music goes. Unashamedly in the top flight of hi-fi, it rewards the investment with spectacular performance.