Cambridge Audio Evo 150 Streaming DAC/Amplifier

This London-based company may be a relative latecomer to the all-in-one streaming system market, but its debut models have style a-plenty – and performance to match
Given Cambridge Audio's track record in digital audio, it is perhaps a little surprising it's taken the company so long to enter the network systems arena. It was an early developer of add-on DACs in 1994 [see HFN Jun '21] and has been making streaming components for a good while, even going to the lengths of developing its own network audio hardware. The Cambridge catalogue currently caters for 'computer audio' enthusiasts with the entry-level £169 DacMagic 100 right up to the £4499 Edge NQ network preamp.
However, a full decade since the network-attached systems market was shaken into being, we now have a duo of 'just add speakers' systems from Cambridge Audio, combining full network audio playback with preamp functionality and onboard amplification courtesy of Hypex's Ncore Class D modules. Both units – the £1799 Evo 75 and the £2249 Evo 150 featured here – share the same slimline casework, just under 32cm wide and standing a little under 9cm tall, and are immaculately finished with high-quality anodised casework. And both share a full colour display that carries a host of information, including album artwork.
Meet The Panel
You get a choice of finishes, too, albeit in an unusual manner: packed with each of the Evo models are two sets of side panels, which are held in place by (very strong) magnets, and can thus be swapped – with a bit of tugging – by the user. The wooden panels are finished in a walnut veneer while the alternative sculptural black panels are made from a material called Richlite, the principal constituent of which is recycled paper. And although the company has made no announcement to the effect, it's perfectly possible that other finishes could be made available through aftermarket snap-on panels should there be a demand.

Clearly the Evo(s) are designed to be more than just another Cambridge Audio product. There's already a matching pair of Evo S bookshelf speakers, offered for £649 via the company's website, while on the way is an Evo-style CD player, set to sell for £749, for which a dedicated connection is provided on the rear of both the Evo 75 and 150.
The obvious distinction between the two Evo models is their power output – the Evo 75 is rated at 75W/8ohm and the Evo 150 is double that. But while the streaming provision and feature-set are largely similar, there are other differences, in the form of the Evo 150's greater input/output flexibility. The Evo 75 is hardly meanly equipped with its optical and coaxial digital inputs, a single line-in, an HDMI ARC connection for a TV and a USB port for playing music from storage devices. Output is via a single set of loudspeaker terminals, a mono subwoofer output and a pair of preouts, along with a 3.5mm headphone socket on the front panel.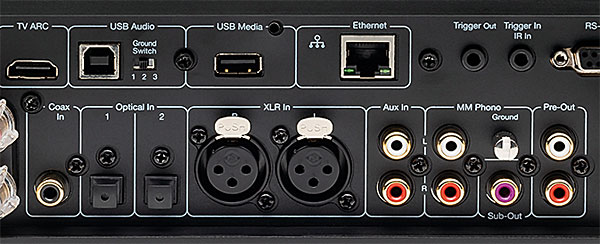 Complete Control
To this the Evo 150 adds extra inputs – a second optical in, a USB-B port for computer connection, one set of balanced XLR inputs and a MM phono stage – and an additional set of speaker terminals complete with A/B switching. The upshot of all this is that, while the Evo 75 will be more than sufficient for many users' needs, the more expensive model really has all the bases covered, and also more flexibility for those wanting to use it in a custom installation: to the 75's simple input for a remote infrared receiver, the 150 adds 12V trigger in/out and an RS-232C control port. The Evo 150 also offers a range of other options including device naming, tone controls and volume limiting.
Common to both is extraordinary flexibility when it comes to music playback. As well being able to stream from network storage and access services including Qobuz, Spotify Connect, Tidal Connect and Internet radio, the Evo 150 supports AirPlay 2, Bluetooth input/output and Chromecast built-in. MQA decoding is also onboard, and the Evo range is Roon-ready. Both models allow the audio ground to be lifted from the chassis ground, to tackle any hum problems, and the Evo 150 additionally allows the option of isolating the USB-B ground. ESS's Sabre DACs feature in both systems – the ES9018K2M used here being a step up from the ES9016K2M in the Evo 75 – allowing the playback of both hi-res PCM up to 384kHz/32-bit and DSD256.