Cambridge Audio Evo 150 Streaming DAC/Amplifier Page 2
The main volume control mirrors the company's Edge preamps, using a concentric collar for input selection, and there are also slender buttons beside the display for basic functions such as play/pause and loudspeaker switching, plus a high-quality – and rather stylish – remote handset. But the bespoke StreamMagic app offers the greatest control over the Evo 150.
Real Star
Although it might seem counterintuitive to audition the Evo 150 via its external inputs – in this case the balanced XLR line input and MM phono – it's a useful method of deriving an impression of the unit's sound before drilling down into its digital capabilities. In this respect, I have to say it acquitted itself very well indeed, sounding every bit the powerful, mature and detailed amplifier, and more than worthy of my trusty Rega turntable.

Firing up the network section, however – using the Evo 150 both via Wi-Fi and Ethernet before deciding to stick with the latter purely on stability grounds – allowed this remarkable unit to flex its muscles and show what makes it a very strong contender in this competitive streaming audio arena. Playing the Shaping Chopin set by pianist Anna Fedorova [Channel Classics CCS43621] showed not only the expression and delicacy of touch of the performer, but also the skill with which the acoustic in which she played was captured. The dancing rhythms in the three Op. 34 waltzes were as crisp as the piano was well-weighted and perfectly scaled, making this charming set fly by.
And that whole thing of listening never being a chore was to become a theme of my time spent with the Cambridge Evo 150. The insight offered into the excellent sound of rock band Augustus's Ragtime World [Octave Records 0006; DSD64] brought the well-crafted recording to life. Furthermore, the outstanding realism of Zuill Bailey's set of Bach solo cello suites for the same label [0008] showed this slimline system has real star quality.
Under The Skin
Even driving loudspeakers well beyond its price-grade, the Evo 150 shows not only excellent grip and control, but also a wonderful freedom and spaciousness for which no apologies need be made. The three-dimensionality and near-tangibility of Zuill Bailey's centuries-old instrument was simply delicious.
As you might expect with those powerful Hypex Ncore modules in harness, the Evo 150 is never short of clout or drive, and will play a good deal louder than you might think without showing any signs of stress. But neither is it just for flat-out rockers. So with the layered African and Latin percussion of Art Blakey's Holiday For Skins [Blue Note UCCQ-9526; 96kHz/24-bit], the sheer punch of the percussion and drumming, set against a seemingly unstoppable beat, was thrilling. And this is not just in its impact but in how much one could hear of the tonality of the instruments.
Sheer Quality
Similarly, exploring some of the lesser-known works on Decca's Journeys In Modern Jazz: Britain 1965-72 sampler from its British Jazz Explosion remasters series [n/a cat no; 96kHz/24-bit download] showed just how much information the Evo 150 can convey while still making a magnificent noise. It also revealed the sheer quality of jazz recordings from this era.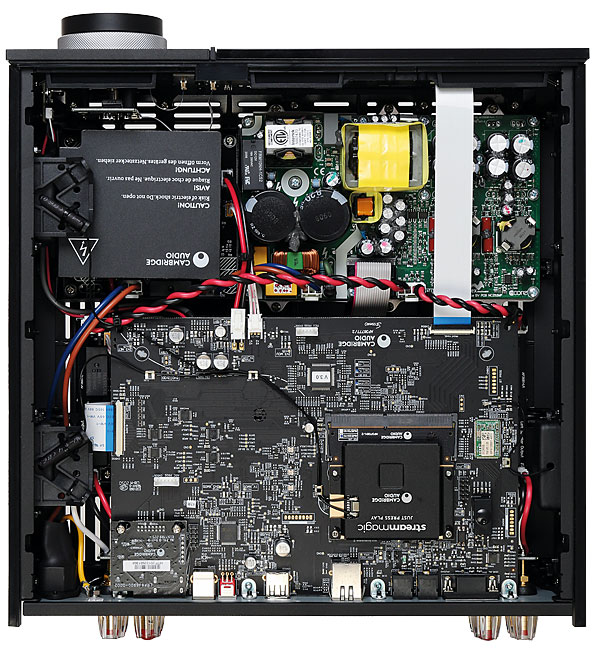 Even better, it was as impressive whether playing music from a downloaded collection or streaming from high-quality services such as Qobuz or Tidal. Picking out Sturgill Simpson's wonderful The Ballad Of Dood & Juanita found the Evo 150 exploding into life with the battle effects of the prologue, then snapping into sharp focus as the music began for real.
Simpson's voice was powerfully evoked and right before the listener, while the backing musicians had a great intimacy – just like dropping into an ad hoc gig – and fine ambience. It's just a pity this brilliant set is so short, coming in at a mere 27 minutes from start to finish.
Even unleashing an orchestra on this compact system doesn't faze it. The 2016 Vienna Philharmonic reading of Mussorgsky's Pictures At An Exhibition under Gustavo Dudamel [DG 479 6297] was resplendent in all its weight and sheer orchestral scale, yet packed with wonderful detailing between and within the great showpiece climaxes. What's more, winding up the volume brings greater detail, and even more drama, such is the dynamic headroom on offer here – cementing the impression that this is a very fine streaming solution to which one only need add some rather good speakers.
Hi-Fi News Verdict
Compact, stylish and impeccably engineered – Cambridge Audio's absurdly capable little streaming amplifier performs like a far bigger system that successfully bursts out of its diminutive frame. It'll do everything you want when it comes to network audio, is flexible when it comes to system integration, and best of all is a delight to use thanks to that StreamMagic platform. A firm 'must listen', this one.