Arcam CDS50 CD/SACD Network Player Page 2
If memory serves, the CDS27 used a Sony KEM-480AAA mechanism, actually a Blu-ray drive also found in some PlayStation models, which would explain the dual-purpose SACD/CD capability (although Sony turned off this function in its PlayStations).
As PM explains in his Lab Report, the principal difference between the FMJ CDS27 and CDS50 is Arcam's choice of DAC – the TI/Burr-Brown PCM1794 used in the former being traded here for the compact ESS9038Q2M DAC from ESS Technology. This low-consumption, surface-mount DAC chip, just 5mm square, is more typically found in high-performance mobile devices but it has already met with success in some portable USB DAC solutions.
Super Rich
Looking back over my listening notes for the old CDS27, I think it's safe to say that I found it some way off being the most interesting player I'd ever auditioned, whether when playing back discs or streaming from the rather more limited online services then available. The passage of time meant that a direct A/B comparison was not possible, but while the Arcam CDS50 seemed to have more vitality and openness about its presentation than I recall from the CDS27, what was still very much in evidence was the company's characteristic sonic balance.

Specifically, to some ears that can seem rather 'safe' and a little pedestrian, while to others it's rich, smooth and – in the very best way – inoffensive. Even taking into account the difference in output level between SACD and CD (nearly 3dB by PM's measurements), switching between the two layers on a disc such as The Who's Tommy [Polydor 9861011] shows the CDS50's ability to bring out the greater dynamics and detail of the Super Audio layer, with plenty of impact and drive, even if this isn't the most sparkling example of the SACD art.
There are other players capable to getting even deeper into the sound of discs, notably in their rendition of the depth and punch of the grumbling Entwistle bass and frenetic drumming, and the way they open up the treble, but they're a lot pricier than this 'Budget Esoterica' Arcam, and of course lack that network capability.
However, while those players may sound a little too forward and bright for some tastes, there are no such traits in the way the Arcam CDS50 plays its music, meaning that it will not only slip into a wide range of systems without problems, but will sound impressively rich and musical without straying into the old 'pipe and slippers' archetype of the brand.
That's much in evidence across a wide range of musical styles, including intimate chamber works and solo/small-ensemble jazz/blues such as Eric Bibb's Just Like Love set [Opus 3 CD22002]. Yes, the CDS50 sounds a little sweet and lush, but there's a decent sense of intimacy and involvement to the sound. What's more, performers are well separated in the mix and have decent character, even if the kind of sparkle and ambience in evidence with more overt players is somewhat downplayed.
The Big Easy
Only with larger-scale recordings, whether played from disc, sourced from local storage or streamed from online, can the CDS50 sound rather more 'of a piece', lacking some of the finer detail one might hope for.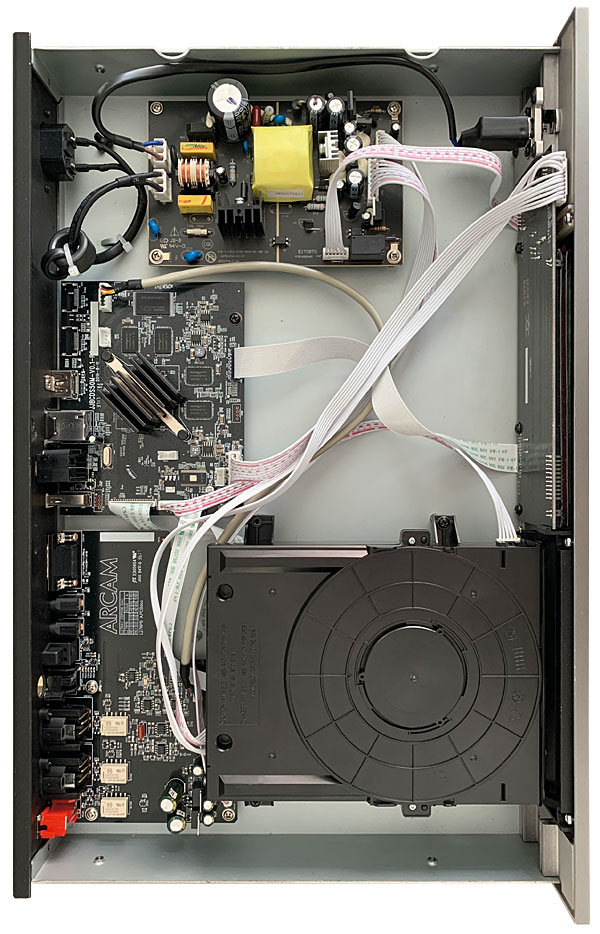 The Michael Stern/Kansas City Symphony recording of Holst's The Planets [Qobuz; 176.4kHz/24bit], comes across as perhaps a little more densely populated than I have heard it on more revealing players. The great power of 'Mars' is projected with confidence even if its instrumental lines are a little jumbled – the rasp of brass is a little muted and elsewhere in the suite the finer nuances of the woodwind can get rather subsumed.
Nevertheless, the music sounds big and warm, as just does about anything you play through the CDS50, so few listeners will have much to complain about, especially given the value for money, quality of finish and flexibility on offer here.
Hi-Fi News Verdict
The CDS50 is sensibly priced for what it does, and while it may not match the high-end in terms of format flexibility or sound quality, this remains a well-judged and competitive offering, if not a unique one in the sub-£1000 arena. Yes, it is based on the old CDS27 but it has no shortage of style, can play SACDs, and its presentation will suit a wide range of amplification – not just Arcam's – and loudspeakers.