Wilson Audio Alexia V Loudspeaker Page 2
Inside the top of the woofer enclosure is the complex crossover, with – as is Wilson practice – access to the resistors for adjusting mid/treble levels. At the bottom of the rear panel, the multi-way binding posts are sufficiently robust that they will support the heftiest of speaker cables.
V For Victory
A half-century-plus into audiophilia, few sessions make me reassess what I thought I knew. An initial, intense 90 minutes with the Alexia Vs and a guided tour by Wilson Audio's Peter McGrath served as an introduction which will remain with me for whatever time I have left before entering that level of Hell reserved for hi-fi journalists. Then followed a far longer session in PM's room, the Alexia Vs accompanied by a Vivaldi One Apex player/DAC, Constellation Centaur II 500 amplifier [HFN Dec '19] and Transparent cables throughout.
Not even my years with the Sasha DAW, nor (during non-work hours) a recent return to Quad ESL63s prepared me for the absence of cabinet intrusion, the scale of the aforementioned openness, nor the sheer grandeur of a speaker that could only be described as 'diminutive' next to its taller siblings, or any tower types in the six-figure-plus sector.

Amazing Bass
The Alexia V doesn't just punch above its weight, it re-establishes what a system of not-too-intrusive dimensions can deliver. (Brief aside – I know that some of you are thinking: 'They're massive! My wife would divorce me!' or other expressions of dismay. Please see my Dec '22 'Off The Leash' for context...)
Long-term readers know that I am not seduced by the lower octaves so much as I am by three or four other considerations above bass quality. But we'll get to the midband, stereo imaging, treble behaviour and the rest shortly. The Alexia V is a speaker that will save any sane individual the need for a subwoofer unless he or she has a hearing deficiency or happens to play bass guitar.
With the cavernously deep funk of the title track of Johnnie Taylor's Who's Making Love [Stax SCD24 4115-2], I was hearing extension previously denied to me. What the Alexia V established was a foundation that defined all that I would hear – even in delicate recordings of a near-unplugged nature. It took all of, oh, one second to realise I had to hear a hefty dose of Kodō via Warabe [Sony SRCL 4671]. If you're familiar with these traditional Japanese drummers, you know it's not just about the bass, but also the space.
Outer Space
The drums are gigantic, and so was the sound which the Alexia V delivered. You could actually hear the drum skins, the mallets, and every other detail – which brings us to my other personal criterion: three-dimensionality.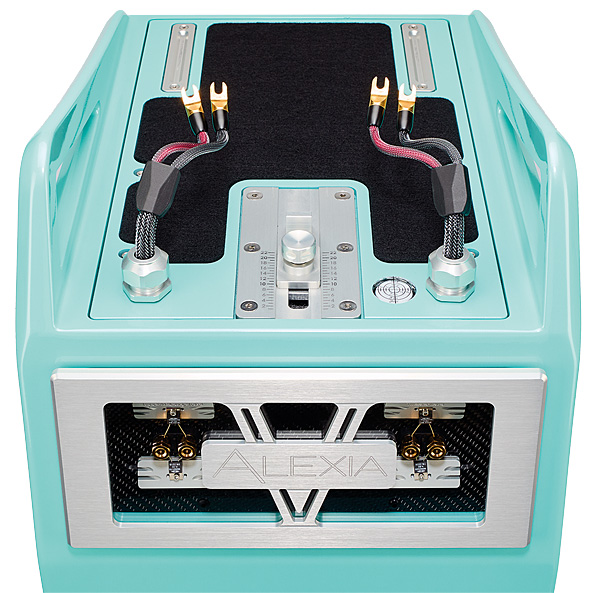 Recalling a mentor who said, 'If the soundstage is correct, all else will follow', as with the Wilsonian concern for coherent and correct time arrival, within the soundstage – thanks to its scale, width, depth and height – I could picture with ease the performers and the instruments, and their relative sizes. Retrieval of detail was of macro-lens precision, as was exact instrument positioning. Confirmed in part by images in the CD's booklet, it occurred to me that use of the term 'uncanny' is actually an understatement.
What turned this into a life-affirming experience, after dozens of favourite test tracks including most of Lou Rawls' At Last [Blue Note CDP 7 91937 2] and the most authentic reproduction and contrast between his growl and Dianne Reeves' sparkle, as well as Keb' Mo's Peace… Back By Popular Demand [Okeh/Epic EK 92687] with its gorgeous piano passages, was a recording from the Age of Sibilance. I don't know why so many 1980s recordings are the antithesis of those from the velvety 1950s, but too many nestle on a knife-edge between treble extension and torment.
Sweet And Sparkle
My adoration of Juice Newton, however, means that I would even listen to her via ear-buds if that was all I could find. Her soaring vocals – see Dianne Reeves, above – came through with such presence on 'Break It To Me Gently' from Greatest Hits (and More) [Capitol CDP 7 46489 2], it had never sounded so sweet, so devoid of sibilance. I was even driven to contemplate the draining of my pension pot.
Hi-Fi News Verdict
After sessions in different rooms and with contrasting systems, I am at a loss to describe the Alexia V as anything other than Daryl Wilson's Sgt Pepper. Neither he nor his retailers will thank me for declaring that it makes little sense to spend more, unless your room is so huge that it'll swallow these 1.4m cabinets. There's more bass and scale to be had with the Alexx V, but for most of us? The Alexia V borders on the supernatural.