Some Like It Hot Also In HFN This Month In 1983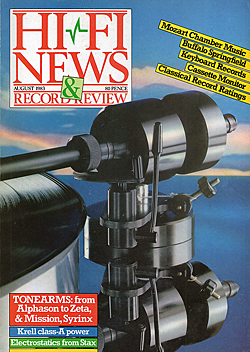 Also In HFN This Month In 1983
DISAPPEARING RECORD SHOP
Brian Whitehead on the state of classical record retailing.
AN OPEN LETTER
Basil Lane looks at the gulf opening up between the needs of 'real' hi-fi and the commercial requirements of big business.
CLASSICAL GLASS
Ken Kessler re-visits a classic name from the tube era, the M-O Valve Company.
THE IMPORTANCE OF DITHER
'Dither' is one of the buzzwords of the moment, but is everyone sure of what it means? Martin Colloms looks at the retrieval of information below the apparent threshold of digital recorders.
A JAPANESE ELECTROSTATIC
Ken Kessler auditions the Stax ELS-F81, a force/area drive speaker from a company known in the UK for its headphones.
NINE TONEARMS
Martin Colloms looks at UK models from £60 to £400: the Alphason HR100S, Zeta, Helius Orion and Scorpio, Hadcock Sound Tracer, Syrinx LEI and PU3, Mission 774SM and 774LC.
NUGGETS
Alvin Gold on loudspeakers from Technics, Wharfedale and AR.