Simple Minds: New New Gold Dream Page 2
The only problem was that this was not working out commercially, and by 1981 Simple Minds were in debt to the tune of £140,000 to their label Arista. Yet when they toured Australia in 1981, where their single 'Love Song' had become a Top 10 hit, they found themselves playing to large audiences. And as Kerr told Nick Hasted of Classic Rock, the feeling in the camp began to change. 'Maybe we can be pop stars as well', said Kerr. 'All that positive backdrop led us to the early writing sessions for New Gold Dream.'
Love Of Funk
In April 1982, having signed a new deal with Virgin, Simple Minds recorded the song 'Promised You A Miracle' inspired by new drummer Kenny Hyslop's love of funk. It was a deliberate attempt to write a hit single, which the group had recorded in tandem with 21-year-old Peter Walsh – his first main production job had been Heaven 17's hit album Penthouse And Pavement, on which he was assistant producer. Walsh had also worked with band guitarist Charlie Burchill on a remix of 'Sweat In Bullet'.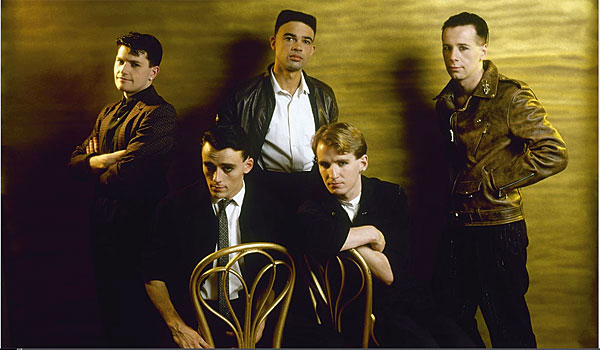 Trying to second-guess what people will buy is a high-risk strategy that can produce disastrous results and usually indicates that the group in question has lost their way. But in Simple Minds' case their desire to be part of the commercially successful and critically lauded movement dubbed 'New Pop', exemplified by The Associates and ABC, was a strategy that worked. 'Promised You Miracle' went to No 13 in the UK charts and led to their first appearance on Top Of The Pops.
And it was doubly successful in that Simple Minds had also found their true voice. The intra-band empathy they had achieved on Sons And Fascination... went up a notch on 'Promised You A Miracle'. Burchill's guitar and McNeill's keyboards interact imaginatively in the space surrounding Derek Forbes' bouyant, melodic bass playing, a combination that hallmarked the album. Kerr wrote the lyrics and melody almost off the cuff and sounds transported, singing the recurring line 'Everything is possible...' as if he really means it.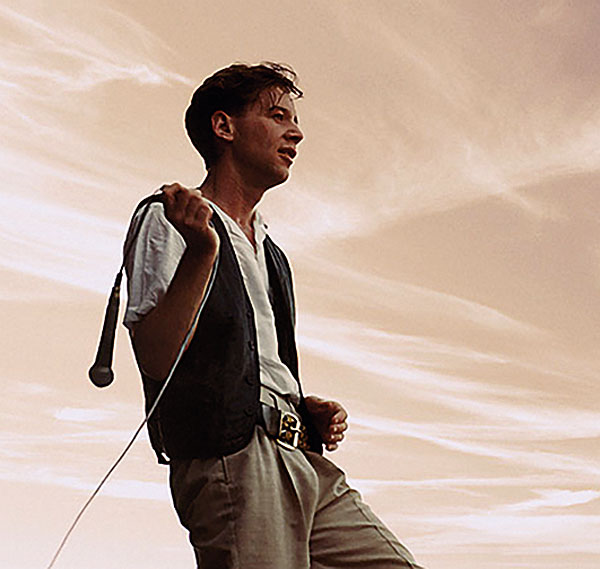 And whereas Burchill had tended to favour an edgier, more abrasive guitar sound in the past, he rethought his approach and used different amplifiers and effects.
Adding Depth
'The guitars are very distinctive on the whole album and they're very different to how I'd played before – cleaner, more melodic, lighter', he told Hasted.
And as well as having produced a pop song you could dance to, on the bridge and fade-out sections Walsh's layered production foregrounds thoughtfully picked guitar notes, while the string synths seem to stretch back hazily to a distant horizon giving depth to the sound.
Simple Minds were having their cake and eating it and the second single from the album, 'Glittering Prize', reached No 16. The band's confidence is shown on 'Somebody Up There Likes You', which had been jammed out in rehearsals and had lyrics, but they decided to leave it as an instrumental. Its serene glide through a rarefied atmosphere gives us one of New Gold Dream's most sublime moments.
Drummer Mike Ogletree, who replaced Hyslop, is pictured on the album cover but he was effectively replaced halfway through the sessions by Mel Gaynor – who had been recommended by Walsh. But they both play drums on the title track, underpinning Forbes' speedy bass and McNeill's exultant synth flourishes. Kerr sounds swept away on the '81/82/82/84' chorus as if plotting their trajectory from the past to the future.
Chart Success
'New Gold Dream sums up the paths that we had gone on, on the first four records', Kerr told Hasted. 'Some with really dark moods, some intense, some claustrophobic. And the storm broke, and then the next day you have a beautiful morning. New Gold Dream, the title, the artwork, the language of a lot of the songs, resonates that to me.'
The album went to No 3 and stayed in the UK charts for over a year, paving the way for the success of Sparkle In The Rain in 1983, which shot to No 1 on release. With Steve Lillywhite [HFN Jan '17] as producer this time around, the music sounded bolder, more rock-orientated.
For Simple Minds, everything was indeed possible, including international stardom and the ability to fill stadiums, but many look upon New Gold Dream as their finest achievement. They never made such a beautifully balanced album again.