Roksan Attessa Streaming Amplifier

The most comprehensively-equipped component of Roksan's Attessa quartet combines phono, line and digital inputs with a BluOS streaming platform and beefy amplifier
So it turns out that network amplifiers built around BluOS streaming technology are like buses. No sooner had we waved goodbye to the £1299 NAD C 700 [HFN Feb '22], then up popped the Attessa Streaming Amplifier from Roksan, a little more expensive at £1495 but cut from the same just-add-speakers cloth. This joins a competitive market alongside not only NAD's device but Bluesound's £850 BluOS-based Powernode, plus other streaming integrateds including Cambridge Audio's Evo 75 and Audiolab's Omnia. Handy for Roksan, then, that it has a lot going for it.
This is one of two amplifier models in the company's Attessa range, which launched in 2021 below its blak, Caspian and K3 series. Roksan's mission statement for its new entry-level lineup is that 'both performance and convenience are equally important', and to that you could clearly add 'style', as all the Attessa hardware to date has a very attractive design.
Star Of The Show
Indeed, from the front the Streaming Amplifier looks identical to the Attessa Integrated Amplifier (£995), and close enough to the Attessa CD Transport (£495) to have me craving a two-box system covering all listening bases. Okay, not quite 'all', as vinyl lovers would also want the Attessa TT [HFN Nov '21], a £995 belt-driven deck that shows Roksan isn't ignoring its analogue fans in this range.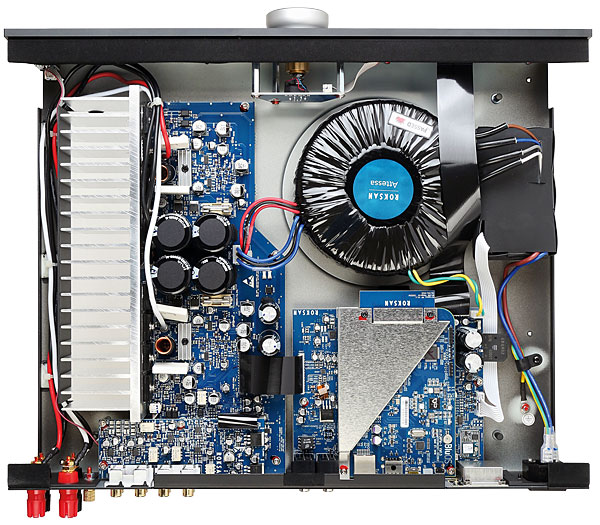 Ensuring a unified look across the Attessa models (apart from the turntable's satin white/black finish options, which are different to the silver or black chassis of the amps and transport) is an insistence on full-width enclosures, which makes a change from the proliferation of half-width offerings we've seen of late. And while wide at 432mm, it's also slim, measuring just 76mm high. Of course, this means there's no space for an all-the-rage full-colour TFT display, which you might expect from a streaming machine at this price.
Instead, the Streaming Amplifier contents itself with a tiny illuminated power/standby button, plus a thin OLED panel that extends either side of what at first appears to be a standard volume pot but is actually a rotary encoder with haptic feedback. Spin and push this to cycle through the amp's sources (shown on the left side of the display) or pump up the volume (shown on the right). Looking at a dark silver version of this amplifier, its legends and horizontal volume bar lit up in orange, it reminded me somewhat of a Cylon from the old 'Battlestar Galactica' TV show. In a good way.
Generation Game
This front panel interface proves a little tricky to get used to, particularly as the controller itself requires a firm nudge. However, it's unlikely anyone would attempt to drive the amp via this system alone (or at all). The unit is supplied with a slender remote that's a joy to use thanks to a sensible button layout and obvious functions. What's more, it can be comprehensively driven by the BluOS app.
During setup you'll also be instructed to download MaestroUnite, a free app from Roksan's parent company Monitor Audio. This governs the full Attessa range, enabling integration of the CD Transport and Integrated Amplifier (both having a built-in Wi-Fi module for this purpose) into a single 'system'. This app also handles any over-the-air firmware updates for the Streaming Amplifier, but doesn't enable music streaming. Instead, the BluOS app is your route into this wireless world.
Roksan is a little vague about the under-the-hood aspects of its Streaming Amplifier, referring to 'next generation' pre- and power amp sections and alluding to some trickle-down tech from its Caspian range in the shape of the toroidal transformer. The latter helps explain the weight of the amp (10.5kg) while the top-panel vents reveal this is not yet another cool-running Class D device. The claimed output from its Class AB engine (80W/8ohm; 130W/4ohm) is, according to PM's Lab Report, entirely realistic.
As a 'hub' product, the Attessa Streaming Amplifier covers most bases. In addition to Ethernet/Wi-Fi, aptX Bluetooth and its BluOS connection, the amp offers a trio of analogue inputs (on RCA), one of which is for an integrated MM phono stage. There are then four digital ins (two coaxial, two optical), plus USB. There's also an RCA pre-out/subwoofer hook-up. What's missing compared to some rivals is an HDMI eARC port for a simplified connection to a TV.