Radiohead: OK Computer Alternate Format Discography
Alternate Format Discography
ORIGINAL RELEASE (1997)
This album may have been released at the height of CD's dominance in the format wars, but it still makes it into our Vinyl Icon series because the band's preference for vinyl was reflected in the fact it first appeared in the UK not only as a silver disc but a double LP.
And if you venture onto Discogs to check out the album, you might find something curious. The LP [NODATA 02] is listed under four section headings: 'Eeny', 'Meeny', 'Miney' and 'Mo'. A gatefold 2LP release for a single album? Clearly these men were ahead of their time in more ways than we previously appreciated.
Those original pressings can be identified by run-off groove etchings reflecting distinctly 'Fitter, Happier'-style slogans such as 'I'm full of enthusiasm I'm going places' and 'I'll be happy to help you'.
The artwork, produced by Thom Yorke with his long-time sleeve design collaborator Stanley Donwood, featured a computer-generated collage of images Yorke had created, with stick figures shaking hands [pictured below]. 'Someone's being sold something they don't really want', Yorke explained in 1998, 'and someone's being friendly because they're trying to sell something. That's what it means to me'.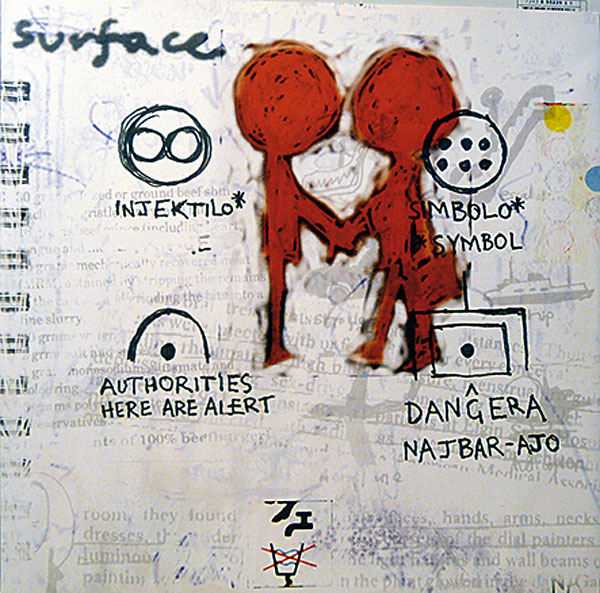 The album was also issued on cassette [Parlophone 7243 8 55229 4 9] and MiniDisc [Parlophone 7243 8 55229 8 7].
ORIGINAL CD RELEASE (1997)
OK Computer was released on CD in Japan on the 21st of May 1997 [TOCP-50201], a few weeks earlier than in the rest of the world [pictured above]. This was a common ploy back when Compact Discs were extremely expensive in Japan, as it made it less tempting to wait for a cheaper import CD. The production quality, which is sometimes markedly superior on Japanese discs of that era, doesn't seem to put its overseas counterparts to shame.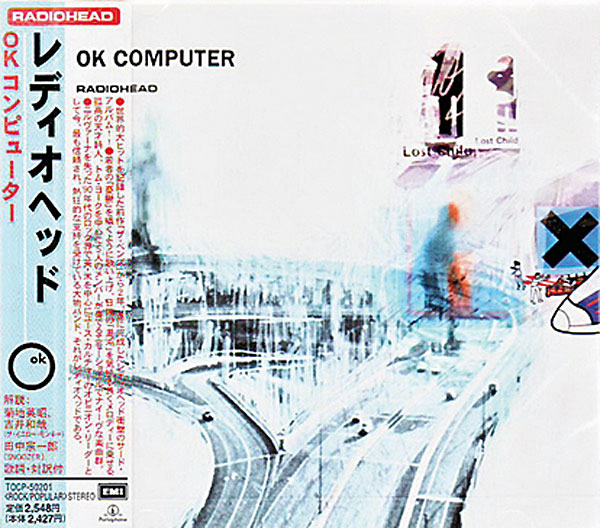 SPECIAL EDITION/BOX SET
With the rights to the original album's material back under the group's control due to XL Records' purchase of the Radiohead catalogue from EMI, the band themselves curated OKNOTOK 1997 2017 [XLLP868], celebrating the 20th anniversary of the album with an expanded and remastered reboot. This featured three previously unreleased tracks, 'I Promise', 'Man Of War' and 'Lift'. Blue vinyl 3LP incarnations were also made available, as well as a UHQCD Japanese edition [XLCDJP868].
AUDIOPHILE VINYL
Radiohead famously parted ways with Parlophone and its parent company EMI in 2007, but the latter retained rights to their back catalogue until 2016. The year before that, the label squeezed the last drops from its investment with a 2LP 180g reissue of the original album [7243 8 57331 1 8]. Some listeners say this vinyl pressing is superior to its expanded XL successor. Just don't tell Thom.