Quad Vena II Play Integrated Amp/DAC

It's all there in the suffix 'Play', which transforms Quad's Vena II from a comprehensive all-in-one amp/DAC solution into something with wired and wireless future-proofing
Is Editor PM simply testing me, or coaxing me? I'm not merely uninterested in streaming, Wi-Fi, et al to the point of virulent loathing, I'm actually reverting to decades-old formats for daily listening: CDs, tapes and LPs. That said, I am not unaware of DTS Play-F, having used it for many months for the wireless speakers on my kitchen counter – though with no more concern than I show a spatula or potato peeler. Yet here I am faced with Quad's update to the Vena II, its entire raison d'être being the full-on wireless experience.
At £799, it's only £150 more than the regular, Lancaster-grey Vena II, which stays in the catalogue at £649. The Vena II Play looks to be the same device we reviewed last year [HFN Jun '19], but now sprouting a trio of antennae from its backside. This wondrous all-in-one was already a perfect solution for a compact, no-mess-no-fuss system, needing only a pair of speakers such as the ideally-matching Quad S1s and whichever sources you cared to feed it, analogue or digital – including phono! – to create a full set-up.
Fast Talking
Ditto for the Vena II Play, only now you can easily and painlessly access all of those digital music streaming services with zappy names including Spotify, Tidal, SiriusXM, Deezer, Qobuz, Napster, TuneIn, iHeartRadio, ad nauseam. I know: it's the preference of everyone under 40 and I have to get with the programme.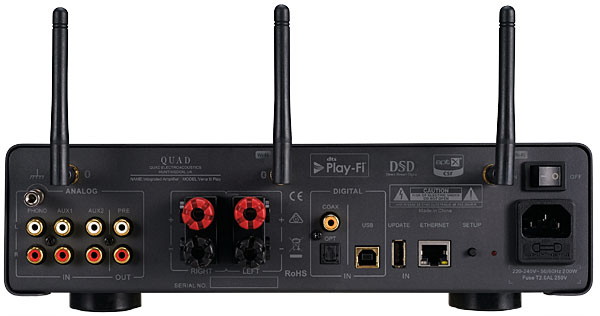 So I must admit to the occasional foray into the realms of HDtracks and Amazon Music, given that much of which I have purchased miraculously finds its way into the app. With that experience in tow, I had the Vena II Play talking to my (Android) Huawei P30 Pro, iPhone 6, iPad, iMac and Mac Air so swiftly that I had to remind myself of what it once took to get an 8-bit soundcard working, let alone a printer. DTS Play-Fi makes USB connections seem like hooking up an acoustic-coupled modem.
I wired the Vena II Play to a pair of the aforementioned Quad S1s – a personal favourite – and JBL's 4312M II monitors with YTER cable via the excellent multi-way binding posts. I also routed music to the DTS Play-Fi-ready SVS Prime wireless speakers to test the distributed sound/networking function. Because of the SVSs, I already had the DTS Play-Fi app in my phone. What I didn't try is Alexa, however.
Total cost of the system as reviewed, by the way, with a Sony CDP-XE370 CD player added for playing 5in discs, but not counting streaming subscriptions, came to £1700. (The Sony is discontinued and has a value of under £50…)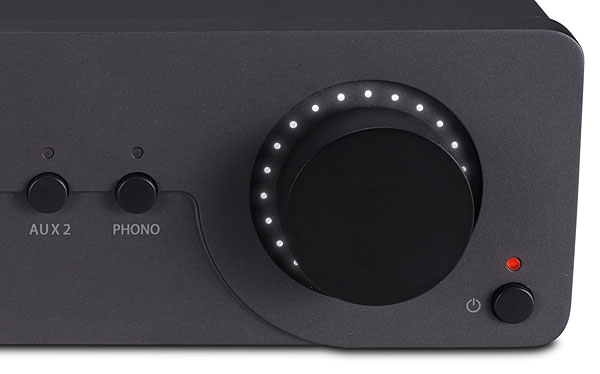 Astonishing Value
Here we must pause, however, especially during the cataclysm which is currently changing all of society's rules and values. More than ever, expenditure is now a major concern, and £1700 remains a fortune to a single parent, an OAP with a state pension, and all manner of normal folk.
I must stress too, that cost always becomes the elephant in the room when dealing with entry-level gear, because that is why the stuff exists. Even if we are accustomed to five-figure price tags in our pursuit of excellence in the context of HFN/RR, we must not be glib. So let me emphasise that the Vena II Play represents astonishing value. The amp has plenty of grunt, the ergonomics are faultless, while the remote is perfect in its execution.
How Quad does this is part of the charm, not least being of offshore manufacture. But PM pointed out that the motorised volume control is gone and so the remote volume, I assume, is now digitally governed. With the Vena II Play, one is treated to an array of white LEDs around the rotary that show its progress. Yes, your ears tell you it's working, but visual evidence is far more useful than trying to detect the movement of a matte-grey dial from across the room.
Connections are self-explanatory, as is the front panel: operation and connection couldn't be simpler, with everything identified and no quirks to accommodate. In fact, I dropped the Vena II Play into the spot where my Quad VA-One [HFN Dec '16] sits, for quickly exploiting the USB link to my Mac, and realised that, in practice, the Vena II is a solid-state answer to the VA-One. Even the remotes are the same.