The Powerhouse Page 2
Across the front, the Reference 1 wears its gain, balance, record out and source selectors. In a channel below are press-press toggles with the same feel as the knobs. They always self-centre, so you push them up or down to choose on/off, balanced or single-ended input, normal or inverted polarity and mute/operate. Green LEDs tell you what mode you've chosen.
Power Of Three
Is there a more jam-packed rear panel to be found than the one on the Reference 1? Across the top are the righthand phono and XLR inputs; across the bottom, the lefthand channel's inputs. In addition to these eight sets are three pairs of outputs, one for record and two for main, also in XLR and phono form. Lastly, there are easily accessible fuses and captive mains leads. (Note that these products were the first I've used in 1996 with the CE marks.)
Inquisitive readers might wonder how a preamp can weigh 30lb. Like the 600, this wears a 3/8in-thick aluminium front panel. Inside are the eight Sovtek 6922 dual triodes, chosen for their reliability, while tube regulation is solid-state for maximum silence, via a combination of MOSFETs and JFETs. Part of the weight is also due to the inclusion of three separate toroidal power supplies, one each for DC regulation, high voltages and the digital section. Discrete components are also used throughout, the Reference 1 being an IC-free zone.
Although only 21 LEDs surround the volume control, there are plenty of steps inbetween... in excess of 156 according to Bill, at 0.3dB per step. You'll soon develop the right flick of the wrist for turning the switch just enough to activate a single step, and learn to hold it for continuous adjustment. Simple. The balance control, meanwhile, operates in an identical manner. Switch-on is accompanied by a 45-second delay, and Audio Research recommends lowering the volume even when you're using mute before changing sources.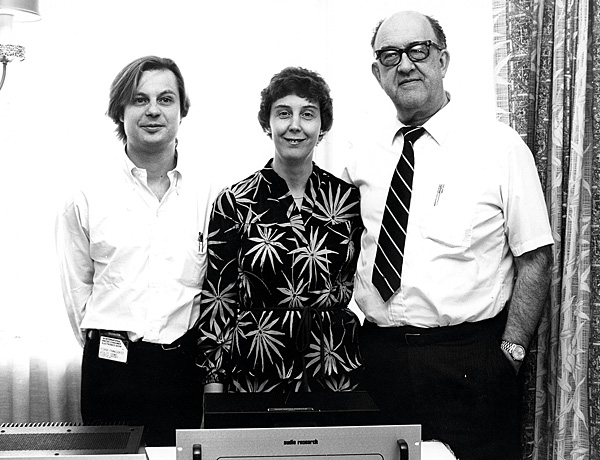 When it comes to the specifications, you're going to think I accidentally misplaced the sheet and picked up one from a tranny preamp. The frequency response is said to be ±0.5dB from 1Hz to 200kHz, with –3dB points at 0.3Hz and better than 400kHz. Distortion? Less than 0.01% at 2V RMS output. Gain is 12.3dB balanced, 6.3dB unbalanced, tape output is 0dB, and the input impedances are 220kohm balanced and 110kohm unbalanced. Finally, the output impedance is 200ohm balanced, 400ohm unbalanced, and maximum output is 7.0V RMS, or 3.5V RMS single-ended.
Bass Brilliance
As the amplifier arrived long before the preamp, I had a chance to use it with a number of respected control units, but I shan't embarrass them. More than once I was told that I wouldn't know what these amplifiers could do until I heard them with the Reference 1 preamp, and these harbingers of bliss were right. And while I also tried the Reference 1 with other power amplifiers, I have every reason to believe that these items will sell in tandem. They're just so perfectly matched, as you'd expect of components designed to work together from the outset.
With products so close to perfect, so commanding, so coherent and so blatantly superior to anything else on the planet, it seems daft to break down the performance into those little categories which determine our priorities. So it is with a great sense of inconsistency that I, known to be ambivalent about bass as a priority, must point you to the lower octave brilliance of this system.
Consider that I have been using Wilson's System V loudspeakers ever since they were launched, that I know my room pretty well, and that I returned to the usual source material. The CD player of choice was the Marantz CD-12/DA-12 in balanced mode. Wires, meanwhile, were courtesy of Harmonix for the loudspeaker connections and Mandrake balanced for the rest, which means all familiar stuff.
Sins Of Omission
And still I never knew just how much low-end information there was from the piano behind Lou Rawls on 'At Last', or how much more bottom octave activity could be wrestled from Willy DeVille's 'Assassin Of Love'. More impressive still was the weight added to otherwise bass-free sessions like the a cappella of Bobby McFerrin or The Persuasions. Here was a system that showed me what sins a component can commit in the sub-60Hz sector. So, no, I didn't spend too much time with my cherished LS3/5As in tandem with the Audio Research amp package. But I did rediscover a whole lot of material which I thought the Wilson loudspeakers were being fed intact.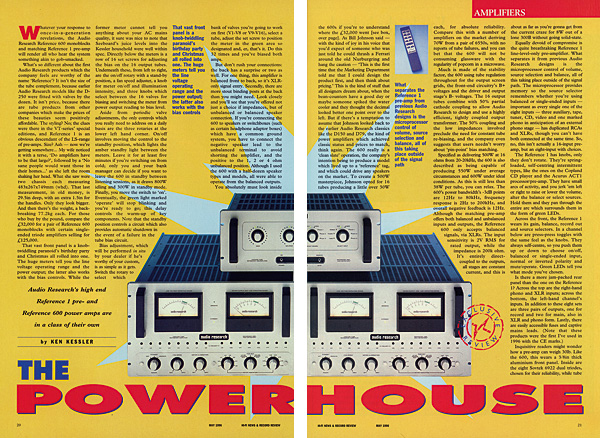 It's not dry, mechanical bass, as is the fruit of much lesser solid-state equipment. Rather, the Reference 1/Reference 600 combo emulates with ease the kind of bottom octave action many presume to be the sole preserve of the better solid-state amplifiers. It's bass without restrictions. Extension, quantity, speed, 'tunefulness' – pick a trait and this system excels at it. More delightful still, and part of their overall supremacy as a purveyor of 3D images, is the way the Reference components prove that low frequency information is directional.
Elderly jazz recordings with unplugged bass were revealed to be so rich with localised bass sounds that I cannot imagine even the most venal of centre subwoofer vendors continuing to argue that bass is non- directional at best.
But the midband... How on earth do you juggle such clarity with so much warmth? A natural acoustic with almost heightened precision? I condensed the session by playing vocals of a highly textured nature – Rawls as well as the brilliant counterpoint of Dianne Reeves. Think of a juxtaposition that's better: Rawls' voice so lived-in that it makes Joe Cocker sound like Macaulay Culkin, Reeves' voice so sweet, clear and pure that you worry about the absence of texture. And yet their duet on 'At Last' showed how two utterly disparate sounds can blend yet remain distinct, how a truly transparent, coherent system can handle both simultaneously, even when there's a minimum of ancillary instrumentation to cover up any minor cracks.
At the risk of annoying my family and neighbours, I did rock out on occasion. I sampled Led Zeppelin in all their glory, got dusty with ZZ Top, trashed my imaginary Les Paul to Jeff Beck. I felt like a kid all over again, discovering hi-fi for the first time, even digging out the recordings which, back in 1968, christened my first-ever system. And tried not to think about how much £9900 and £32,000 equal...
Read My Lips
Bill Johnson should retire. He has nothing left to prove because the Reference 1 preamp and Reference 600 power amps are, as far as I'm concerned, the finest audio amplification devices ever produced. Read my lips: the very best sound I've ever heard from a hi-fi system in my entire 43 years on the planet.
Now it's up to everyone else to take it from here.