Oppo Bdp 105eu (£999)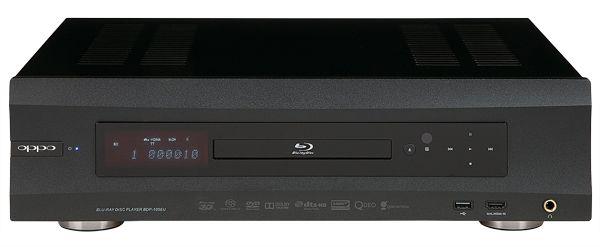 The BDP-105EU delivers breath-taking clarity and detailing the like of which many high-end CD players will struggle to achieve
Oppo's new BDP-105EU is a universal disc-spinning, network-streaming, digital hub, processor, preamp and audiophile DAC all rolled into one chunky and imposing package. The lush 32-bit ESS Sabre DACs from the BDP-95EU remain, and you can now feed these from the disc drawer, coaxial and electrical S/PDIF digital inputs, three type A USB sockets, front and rear HDMI sockets, wired Ethernet or Wi-Fi, using the supplied dongle.
While the '95EU's e-SATA port has been deleted, this machine now leverages Audio Return Channel to input audio from ARC-compatible devices, such as a TV, connected to either of the twin HDMI outputs. The inclusion of an asynchronous type B USB input allows the '105EU to be hooked direct to your PC, and the Oppo is capable of decoding pretty much any common audio format up to 192kHz/24-bit FLAC.
This machine's networking abilities are at the cutting edge of AV hardware from any manufacturer. It handles both Digital Media Player and Digital Media Renderer type DLNA functions and can access local network media files shared by computers via the Server Message Block or Common Internet File System protocol. Mobile High-Definition Link input via the front HDMI port supports a range of smartphones and tablet devices, allowing playback of HD video media while simultaneously charging the device.
Oppo has gone to some lengths to deliver serious audiophile performance. Its revised heavyweight chassis has passive cooling and the high-current toroidal power supply was designed specifically for this machine. (Needless to say, there's a headphone socket.) For all stereo sources the BDP-105EU has a fully-balanced analogue stereo board, driven by its own dedicated 32-bit ES9018 Sabre DAC. The audio menu allows swapping between fixed line-level or variable output from all of the analogue connections, including the stereo XLRs. The player's volume control is handled in the digital domain and is silky-smooth without any nasty thumps, pops or clicks.
Picking up the pace
In operation the BDP-105EU is blissfully silent and goes from standby to 'ready' with considerable alacrity. With audio connected through the multichannel RCA and stereo XLR outputs, the general balance is very similar to the excellent BDP-95EU, majoring on a crisp and detailed presentation with excellent transient attack. The sound offers great insight, even with recordings that are a little thicker than ideal.
The Who's Quadrophenia on CD falls squarely into that category. It can sound a little flat, yet the Oppo really allows the music to breathe into life. There is fabulous separation through the multi-track vocal harmonies, with the tiniest details building a picture of each voice in the mix. The Oppo picks up the pace with gusto. The fast drum solo that starts 'Bell Boy' charges from the speakers with plenty of '70s rock band energy. The low frequency registers are drum-skin tight with little overhang and no mid-bass bloom.
With a 24-bit/96kHz FLAC recording by Eleanor McEvoy the sense of space and presence created was tangible, the sound thrillingly taut with McEvoy's voice leaping from the speakers with astounding realism. Each enunciation was precision-machined into the soundstage and every note of her guitar rich with the instrument's woody character. If you ever wanted conclusive proof that high-res computer audio is where high-fidelity music needs to be going, then Oppo's BDP-105EU universal player is it.
Blu-ray picture quality is stunning in 2D or 3D and SACDs are a revelation in punchy colour, giving music a dynamic realism that is utterly addictive.
Verdict
The BDP-105EU is a fabulous piece of digital engineering that offers spectacular value. It delivers breath-taking clarity and detailing the like of which many high-end CD players will struggle to achieve.
Originally published in the 2013 Yearbook