Naim Audio Uniti Atom Headphone Edition Streamer/Headphone Amp Page 2
Most of my listening to the Uniti Atom Headphone Edition was, unsurprisingly, carried out using a variety of headphones, but I also tried it running as a preamp into my main system.
Easy Does It
It acquitted itself well in both roles, though I wouldn't have minded a fixed output option on the preamp sockets, enabling it to be used as a source as well as a streaming pre. It's also worth noting that Naim says all three headphone outputs can be connected simultaneously, which could be handy given that rear-panel XLR output, but that for best performance it's best to stick to using one output at a time. Incidentally, the front headphone outputs will mute the preouts when 'phones are connected, while a button above them switches the rear output on and off.

It's worth sticking to that 'one headphone at a time' suggestion for while the Atom HE doesn't sound laboured even if you do use all the outputs simultaneously, there's a useful gain in impact and clarity to be had, whether or not balanced 'phones are being used. And that 'useful gain' in quality is sufficient to take the Atom HE from excellent to superb.
In fact whichever kind of headphone output you use, this is a device able to bring out the best in a wide range of accompanying models, from easy-going moving-coil types to demanding planar magnetic designs such as the balanced Oppo PM-1 [HFN Jul '14].
But whichever you use, the essence of the Atom Headphone Edition is that it manages to drive headphones with both ease and conviction, while at the same time maintaining those Naim-esque qualities of detail and rhythmic acuity.
Even relatively lush headphones such as the B&W P9 Signature [HFN Mar '17] are kept under strict control and made to work for their living, while more obvious 'monitor' designs including the original Focal Spirit Pro [HFN Dec '15] – still among my favourites – sound fast, wide open and thrilling, without straying into harshness.
Without resorting to the complexities and 'fiddle factor' of designs such as SPL's Phonitor xe [HFN Jul '21], Naim has managed to design a headphone amp all about the most important sonic trait – the direct communication of music. And that means just about every style of music you choose to throw at this streaming headphone amp, including really raw recordings like Motörhead's No Sleep 'Til Hammersmith [Bronze BMGRM023LP] sounds suitably driving and thrilling, for all its abrasive edge. Similarly, a characterful vocal such as Sonja Kristina's cover of ELP's 'Still… You Turn Me On' [Purple Pyramid records' A Tribute To Keith Emerson And Greg Lake; CLO 1539] is beautifully resolved and has superb character.
By the way, should you ever want to hear the original 'god of hellfire', Arthur Brown, tackling the first part of 'Karn Evil No. 9' in his 70s, or Keith Emerson's son and grandson attempting 'Fanfare For The Common Man', this curiosity is the one for you.
Major Scale
The sound here is never less than entirely focused on the performance, as is clear with American Quilt [675 Records 538668572], the rootsy Paula Cole set of standards across a variety of genres. The singer's voice is revealed with all its textures intact, to glowing effect, while the accompanying musicians are exceptionally placed, for example on the stomping 'Black Mountain Blues'. Without recourse to any obvious signal-manipulation, the Naim Atom HE seems to do a fine job of dispelling that 'shut in' effect sometimes afflicting headphone listening, even when powering closed-back designs such as the Focal Stellias [HFN May '19].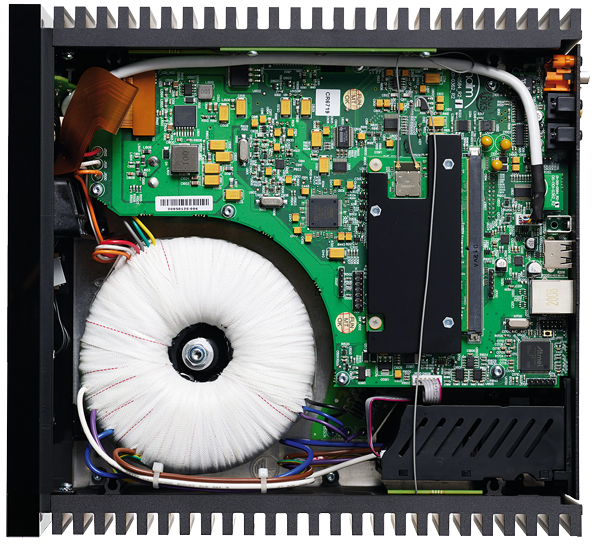 And the Uniti Atom HE puts in a good showing with the scale and drama of classical music, too, whether it's the gentle, small-scale scoring of the Brazilian Landscapes album of recorder, percussion and guitar [OUR Recordings 6220618; DSD 128, see p94], which is treated to a lucid, beautifully-measured view of the instruments, or the weight and power of the Budapest Festival Orchestra/Iván Fischer recording of Brahms' Third Symphony [Channel Classics CCS SA 43821; DXD].
From the opening chords of the Brahms, the Atom HE, driving the Oppo PM-1 headphones in this case, delivers a sound of real drama and impact, but packed with detail and with a delicious sense of the orchestra ranged before the listener. The wide-ranging ability of this compact but substantial streaming headphone amp is never in doubt.
Hi-Fi News Verdict
Although it's had headphone amps in its lineup before, Naim is something of a latecomer to the whole streaming head-fi arena. However, the arrival of this unit, delayed by you-know-what, was well worth waiting for. The Atom HE sounds magnificent across a range of musical styles and partnering headphones, combining fine detail, power and control. It's even a respectable streaming preamp, too.