iFi Audio xCAN Portable Headphone Amp Page 2
Seriously though, I found the iFi Audio amp more than adequate for most normal use, and for day-to-day commuting the battery life will be fine. The little box connected simply and reliably to the various Bluetooth devices with which I tried it, while the comprehensive package in the box – carrying pouch, USB-C charging cable and short 3.5mm single-ended and 2.5mm balanced interconnects – covered all the wired connection needs.
Straight Talk
To hear this amplifier at its best I'd recommend steering clear of all those processing modes, however purist they may be in their implementation. Turn on the XBass II bass boost and the sound muddies up and becomes subjectively rather slow in the low frequencies, while the 'presence' mode can give an artificial 'spotlighting' of performers with high-quality recordings, although it can be advantageous when playing compressed and lacklustre MP3 files.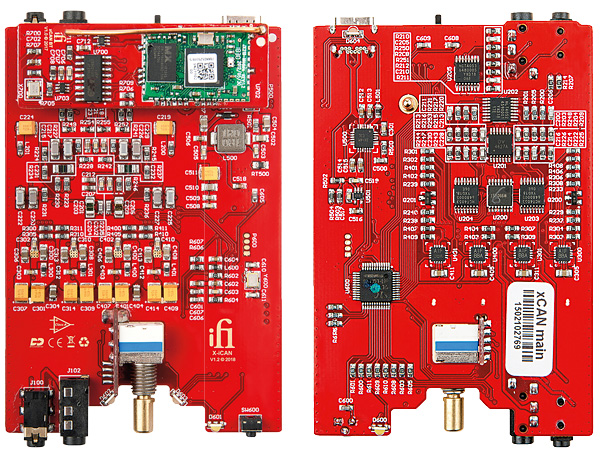 These additional modes really aren't needed, as the xCAN sounds extremely good when used in 'straight through' working, with all the gubbins turned off. Used with a variety of headphones, from the PM-1s [HFN Jul '14] through to B&W P9 Signatures [HFN Mar '17], and including my usual Phonak Audeo/Snugs IEMs and in-ear models from Focal and Astell & Kern, the xCAN is an impressive performer across a range of musical styles. The bass is deep and powerful, the midband has fine clarity and the treble is forceful without ever becoming abrasive. It makes you wonder why the designers bothered with all those 'enhancement' modes, doesn't it?
I must admit I preferred the sound of the xCAN when used in analogue mode, fed from a range of digital audio players from Astell & Kern, Onkyo and Shanling – yes, I tried it with the tiny Shanling m0! – which all gave a better sound than when using Bluetooth from my iPhone 8 Plus. I've never been a great fan of Bluetooth, finding it to give a slightly hazy sound, and here that was definitely the case with the xCAN's crisp, punchy analogue performance somewhat lacking when using a wireless connection.
Snap And Sting
When the xCAN is good, however, it's very good indeed, providing a close-focused view of the first Dire Straits album in DSD64 [from Vertigo UIGY-9032], played on the Onkyo DP-S1 digital audio player [HFN Oct '17] I used for most of the listening. The sense of space around the performances was thrilling without any help from presence-boosting, and the snap and sting of the instruments equally striking.
What's more the xCAN is at home when driving hard with a spot of classic Motörhead, thundering out the dense mix of the live No Sleep Til Hammersmith set [Universal 0602517855755] with all its savagery intact. It's not what you'd call the world's cleanest recording, but boy is it thrilling heard through a pair of big, punchy cans driven by this little iFi Audio amp.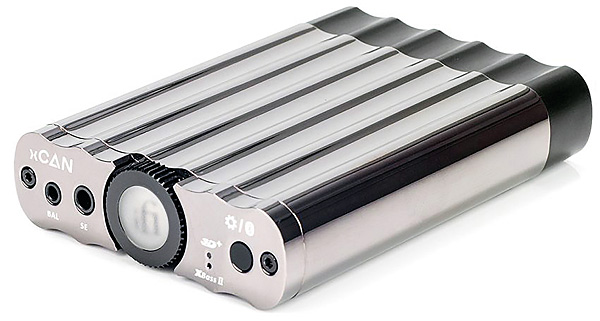 Clean things up with Walter Trout's Survivor Blues covers set [Provogue 819873018193], and the xCAN is in its element with the resolution and sheer slam available, and has more than enough power to let you crank up the levels. But that same finesse and even-handed approach is just as applicable to something a bit more intimate and restrained, such as Lady Gaga's soulful 'Heal Me' from the excellent A Star Is Born soundtrack album [Interscope 00602567775539], where the production values certainly shine through.
With the intricacies of small-ensemble jazz or chamber recordings the xCAN is again able to show what it can do, with remarkable definition and insight into instrumental sound and performances. This is true whether it's the tight bass of Lars Tormod Jenset and Andreas Bye's pattering drums on the Espen Eriksen Trio's Never Ending January set [Rune Grammofon RCD 2173, 96kHz/24-bit] or the virtuosity of Rachel Podger on her re-imagining of Vivaldi's 'Four Seasons' [Channel Classics CCS SA 40318; DSD256]. With Podger's violin the xCAN lets the music flow, spark and crackle, delivering all of the excitement of this fresh take on a familiar work.
Hi-Fi News Verdict
Something of a niche product at just £100 less than the mighty xDSD, the xCAN will surely appeal to digital audio player owners looking for a bit more sonic welly. But make sure it has the connectivity you need, and ignore all the heavy-handed 'sound enhancement' modes, for it sounds best when used 'straight'. A simpler, more affordable version, shorn of frills, might be an even more attractive prospect.