iFi Audio NEO iDSD DAC/Headphone Amp

Launched with a typically dazzling array of acronyms, the NEO iDSD is nonetheless a more focused DAC/pre/headphone amp, equipped with the latest 'hi-res' Bluetooth
Seemingly there's no stopping Southport-based iFi Audio: it just keeps on trotting out new digital products, all aiming to fill a gap in the market – or create a new gap to fill. Indeed, while writing this review I was unsurprised to see another new launch pop up, in the form of the bright red iDSD Diablo.
The £699 NEO iDSD featured here, however, comes from a different strand of the company's offering, slotting in well below the £2499 flagship Pro iDSD [HFN Sep '18] in the desktop DAC/headphone amp/preamp market. It may be little more than a quarter the price of that range-topper, lacking its switchable valve/solid-state output stage and digital filters, but it doesn't take long to discover the NEO iDSD is a highly appealing component, whether used on the desktop to drive headphones or slotted into a full-on hi-fi system.
Packed into its slender form is not just a DAC/headphone amp configuration, of the kind the company is rolling out across most of its products, but also the choice of balanced XLR and single-ended RCA line/preamp outputs. And while it's not as tiny as some of iFi Audio's offerings, the NEO iDSD is still compact – just 21.4cm wide and a shade over 4cm tall – and has the usual sense of quality and precision about its build that's a hallmark of the brand.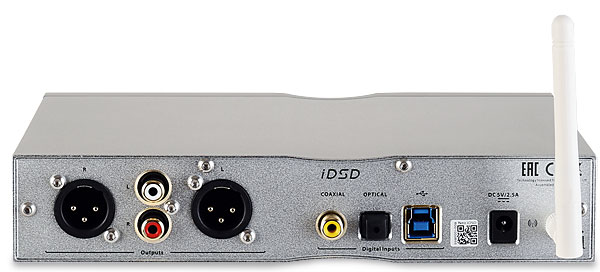 Neat Feature
What's more, for those planning a life on the desktop for their new acquisition, it comes with a little stand, made of the same high-quality aluminium as the NEO iDSD's casework, allowing the unit to be stood on end, thus giving it a space-saving footprint. Do that, and the OLED display – which covers file format, sample rate, input selection and volume – rotates 90o to the correct orientation. OK, we've already seen this on hi-fi products from the Denon Design series and latest compact NAD amplifiers [HFN May '18], and of course, re-orientating displays have long been taken for granted on smartphones and tablets, but it's still a neat feature.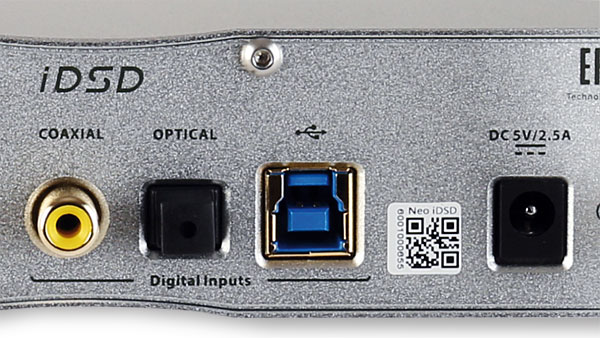 The NEO iDSD's input provision and format compatibility ensures wide-ranging flexibility: coaxial and optical digital ins are provided, along with a 'stacked' USB-B port for connection to a computer. There are Windows drivers available for download from the iFi Audio website, but none are needed for Mac or Linux. In addition, there's Bluetooth wireless connectivity, described by the manufacturer as 'bleeding-edge' (but then there's a lot of such language in the publicity material) in its application of the latest Qualcomm QCC5100 module.
This chipset handles not just AAC/SBC/aptX and aptX HD, but also aptX Adaptive, aptX LL, the LDAC format used by Sony devices and Huawei's HWA/LHDC. In other words, if your portable device can output hi-res audio wirelessly, then the NEO iDSD will be sure to accept it.
Power Upgrade
Otherwise the highest resolutions are only possible over the NEO iDSD's USB-B connection, extending to 768kHz/32-bit PCM and DSD512, thanks to the Burr-Brown DSD1793 DAC, which is already widely used across the iFi Audio range. The NEO iDSD also offers MQA decoding, but the digital implementation here is simpler than that in, say, the Pro iDSD, with the latter's various filter and upsampling options left out here in the cause of simplicity, and economy.
Meanwhile, the front-panel headphone outputs, which run to a standard 6.35mm unbalanced socket, and 4.4mm Pentaconn for balanced working, are fed via a digitally-governed 'analogue' volume control, as are the variable-level line outputs. This single rotary on the NEO iDSD also combines with the two little buttons on the fascia – for input selection/Bluetooth pairing and power – to also switch between fixed and variable mode, mute the output, and adjust the brightness of the display. Finally, the NEO iDSD comes with iFi Audio's 5V iPower plugtop supply, with the option of upgrading to the company's £99 iPower X.
Power Play
In operation, this DAC/headphone amp swiftly reveals two things – one is that it's exceptionally simple to use, shorn as it is of much of the faffing about – sorry, flexibility. Just hook it up, and it works. In our review of the flagship Pro iDSD, I commented that 'this is one of those "need to know what you're doing" products – there's no fast or easy way to get the most out of it, and some aspects of its set-up need work'. The NEO iDSD is much more of a 'plug and play' prospect, and even without a direct comparison with the range-topper, it's clear this newer, and much more keenly-priced model sounds very good indeed, whether used with high-quality 'phones or connected into a main system.