HiFiMan Sundara Headphones Page 2
Although tapping the thin steel hoops of the Sundara's headband elicits a tinny ring, I wasn't aware of coloration due to headband resonance when listening to pink noise replayed over one capsule, nor of migration of the noise towards the inactive capsule due to headband vibration. So the Sundara avoids the manifest resonance problems we've experienced in the past with similar headband designs in some models [see Investigation,
HFN
Jul '16].
Hendrix Reprised
With more or less the same set-up – DNM Series Six preamp for analogue and digital disc sources, and the Mytek Brooklyn DAC/amp [HFN Aug '17], fed from a MacBook Pro with the latest iteration of Audirvana Plus for downloads – I began [writes CB] where I left off last month with the £2799 Focal Stellia headphones. The track was a string quartet arrangement of Jimi Hendrix's 1967 hit, 'Purple Haze', played by the Kronos Quartet [Nonesuch 979 111-1; LP] and recorded in 1985. Then it had me 'standing up and "conducting"… hard to keep still'.
With the Sundara the overall impression was of mildness, giving rise to a more objective listening experience. The wide soundstage was good and the little dissonances in the two violin parts on the recording registered cleanly, yet there wasn't a lot of real presence or clout.
I turned to my collection of the Walter (later Wendy) Carlos electronic arrangement LPs as I hadn't listened to the Bach Third Brandenburg Concerto for years. The album, Switched-On Bach [CBS 63501], had impressed the HFN team in its day (1968) – not surprisingly, since this realisation was consistently inventive.
With the Sundara the music was enjoyable, having good channel separation and clearly focused central information. However, while the overall presentation was very pleasant and tuneful it was also somewhat bland as a quick check with my reference headphones sharply confirmed. There was little real midband richness, while the buzzy distortion in this transcription sounded more like a pick-up mis-tracking on a soiled pressing.
The animal noises on two of my favourite Beatles White Album tracks, 'Blackbird' and 'Piggies' [EMI PCS 7067/68; original stereo LPs] registered faithfully along with all the other channel effects. I listened on through 'Rocky Raccoon', where every word was crystal clear. These Sundaras 'time' very convincingly, as was confirmed by the drummers spaced extreme left and right on The Allman Brothers' 'Black Hearted Woman' [The Road Goes On Forever compilation; Capricorn Records 2037 101].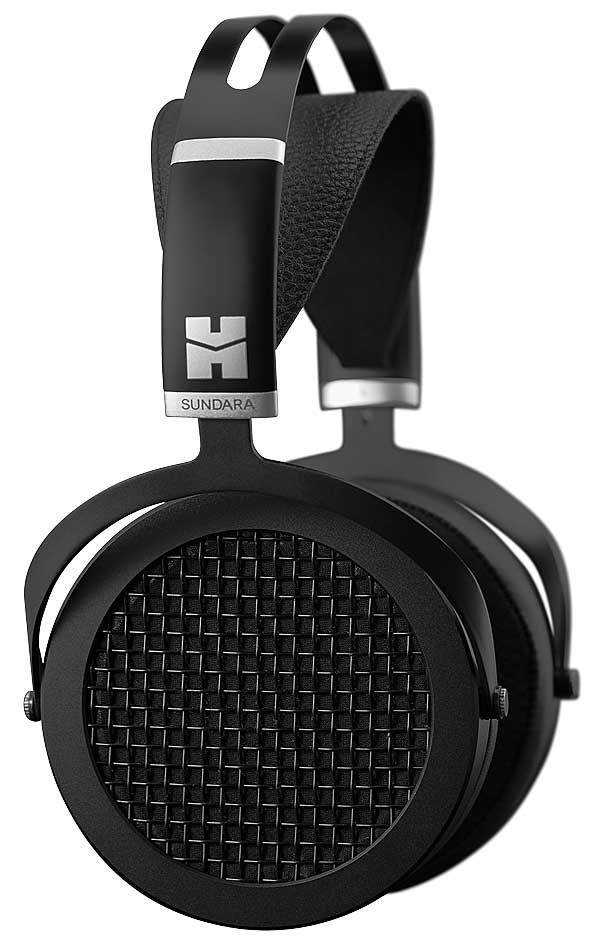 Wanting to hear the headphones with pure speech I turned to a well-known voice in the form of Alan Bennett animatedly reading stories in 1984 from AA Milne's House At Pooh Corner [BBC Records REC 493; mono LP] – I was definitely a Pooh child rather than a Mr Toad. With the story of 'Pooh Sticks' Bennett's lower registers were naturally reproduced and there were no problems with sibilants but the voice reproduction was further recessed (regardless of the volume setting) than perhaps it should have been. Furthermore, some of the expressive nuances in the narration were smoothed down. It prompted a return to more adult stuff.
Boldly Present
In Sir Michael Tippett's score for his Symphony No 3 he suggested miking for the soprano's vocal interjections in Part 2 to allow them to ride over the orchestra. This is reflected in Hyperion's new recording with Martyn Brabbins and the BBC Scottish SO [CDA68231/2; 96kHz/24-bit download], to be reviewed next month, where some of them are quite stridently demanding of your system and strenuously demanding of the vocalist.
Heard on some headphones the orchestral sound can seem crowded, but the Sundara gave a detailed, wide and deep soundstage presentation with Tippett's individual scoring – flugelhorn and exotic percussion are both present – boldly present and clear.
The HiFiMan Sundaras are perhaps most convincing with smaller-scale material: solo piano, string quartets, jazz, etc. The very beautiful Melos Quartet recording of Debussy's one work in that medium sounded quite magical [DG 469 130-2] whereas Karajan's 1964 La Mer in the same CD compendium was exposed as now rather dated in quality. With Maurizio Pollini's classic version of the three movements from Stravinsky's Petrouchka, transcribed for piano, and in Prokofiev's Sonata No 7 the Precipitato finale [DG 447 431-2], the placing of the instrument in the Munich Herkulees-Saal, the subtle dynamic control and impressive concentration in the playing all made a very good case for trying these headphones.
Finally, with the Modern Jazz Quartet's 1960 studio take on 'It Don't Mean A Thing…' [Pyramid; Atlantic 812273679-2], the sense of rapport was palpable as the music went from vibraphone to John Lewis's extended solo and back again as the track ended. They all seemed to be having a good time!
Hi-Fi News Verdict
You'd need to try these on for a comfortable fit before parting with your money. And we think the Sundaras are best suited, musically, to listeners who again seek a comfortable experience and would happily forgo the last degree of tonal refinement and dramatic presence. Perhaps geared less to the orchestral or opera enthusiast, for what they accomplish with mainstream rock and pop they offer good value.