HiFiMan Arya Headphones Page 2
Third, although this is a bit obscure, what HiFiMan calls its 'Window Shade' system behind the drive unit claims to combine driver protection with optimised open-back design. However, it looks very much like a set of horizontal structural bars with a woven metal grid behind, which is pretty standard fare.
Fruit Cups
I began the listening [writes CB] with my spoken voice/orchestral standby, Prokofiev's Peter And The Wolf with the Lyon Opera Orchestra under Kent Nagano and Patrick Stewart narrating [Erato 4509-97418-2]. With the Aryas driven by a Beyerdynamic A2 headphone amp [HFN Sep '17], stage positioning was clear while the timbres of the instruments representing the characters in the tale were vividly accurate. The bassoon was fruity and there was real 'wham' from the drums. What's more, the story-telling was full of expressive nuances, with just a hint of realistic sibilance.
I briefly mentioned Onyx's Vaughan Williams Sinfonia Antartica last month [ONYX 4190] and with the Aryas I could better appreciate the spatial separation between soprano soloist Rowan Pierce and the wordless women's chorus. Timothy West's beautifully spoken prefaces were done at Henry Wood Hall, London, with a lovely ambience around the voice, and wedded to Liverpool's Philharmonic Hall for the music. The opening movement, with the composer's adroit use of contrasting percussion colours, had a slightly recessed soundstage but you could hear deep into the acoustic and low registers were weighty. The Aryas held my attention more than with other 'phones.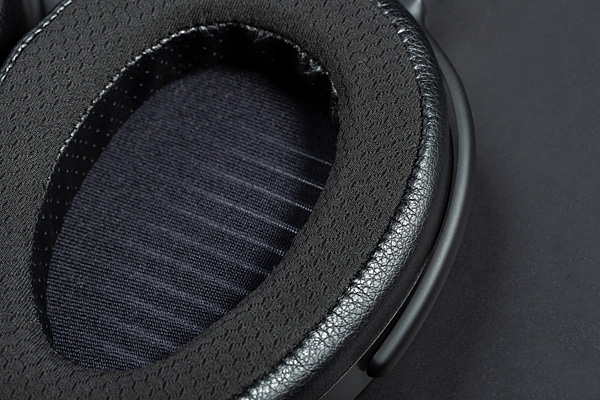 When Pink Floyd's The Dark Side Of The Moon was issued in 1973 the distant left/right conversation in the intro was a talking point. Did your system allow you to make out the words? The novelty has now worn thin on me, but this time round [SACD: EMI 582136 2], from the deadened 'heart beats' and circling 'helicopter' that lead on to 'Breathe' my attention was piqued by the Aryas and the sound had never seemed so invitingly smooth while the lyrics were all consistently clear.
Curious to see how these 'phones could reproduce chamber music strings I sampled a new Ssens Trio CD of Mozart's Divertimento K563 [Lawo LWC1122]. The cello made a rich, deep sound while the violin lead never became screechy. This is a fine modern production, in contrast with the next track I chose...
Karl Münchinger was an old Decca stalwart. He led three sets of the Bach Brandenburg Concertos, the 1959 stereo versions of Nos 4-6 I have on a 'Weekend Classics' CD [421 028-2]. The upper strings can become piercingly edgy here and everything is closely balanced. What would the Aryas make of it all? Well, it was extremely listenable. In particular, the thoughtful harpsichord playing by Irmgard Lechner, with her subtle timing, registered engagingly and her general continuo work you could always focus on too.
Hot Stuff
Turning the clock back far more I switched to jazz, and a Sony Duke Ellington compilation taken from 78s [Columbia Legacy 516 425-2]. It's labelled 'Hot' and hot it certainly was here, with Ivie Anderson in 'It Don't Mean A Thing' (1932) and tenor sax Ben Webster in 'Cotton Tail' (1943), its punchy rhythms revealing another facet of these headphones' abilities.
A later jazz classic, 1959's Time Out [Columbia Legacy CH 65122; SACD], had the flow of Paul Desmond's opening alto sax in 'Take Five' sounding vibrant, then ceding to drums (Joe Morello), with Dave Brubeck's regular piano pulse underlying the track. With even lovelier sax playing on 'Three To Get Ready' I felt with the Aryas that I could go on listening indefinitely.
For two contrasting solo piano recordings I switched to downloads (using a Mytek Brooklyn DAC/amp [HFN Aug '17] with Audirvana Plus software), and composers Schubert and Rachmaninov. Boris Giltburg has recorded the latter's 24 Preludes for Naxos [8574025; 192kHz/24-bit] on a Fazioli grand, while Barry Douglas's Schubert series has the amenable Sonata in A, D664 [Chandos CHAN 20086 96kHz/24-bit], where he plays a Steinway. The recording here smoothly reproduced Douglas's clean, straightforward playing, and repayed repeated listenings.
For the Rachmaninov I chose the C-sharp minor Prelude. The sensitivity of Giltburg's playing was given full measure by the Aryas, the sound filling out widely in the agitated section from 1m 57s. There's wider dynamic range here than with the Chandos, the Aryas taking it in their stride, the perspective of the instrument never shifting back and forth.
But the icing on the listening cake was Richard Strauss's Four Last Songs from Norwegian singer Lise Davidsen's debut CD [Decca 483 4883] where videos show she stands within the Philharmonia Orchestra (conductor Esa-Pekka Salonen) at Henry Wood Hall rather than out front, facing. I like the way she's balanced as the accompaniments really do reflect that positioning, rewardingly integrating voice and orchestra, with a pleasing suggestion of overall depth.
Hi-Fi News Verdict
With their generous ovoid cups the Aryas allow ample space for the ears, while swivelling yokes ensure a comfortable but evenly spread pressure to the head. These are non-fatiguing to use over extended listening periods, being neither bright nor bass-heavy. Indeed, their excellent tonal and spatial presentation make for a strong commendation for critical listening over a wide range of music genres.