HiFi Rose RS130 Music Library/Streamer

Korea's HiFi Rose has moved upmarket with its first DAC-less, transport-only network player – the result is an impressive combination of purity and innovative technology
As if on a one-company mission to prove all the variations possible when it comes to network audio, Korean brand HiFi Rose has gone in very short order from being an upstart newcomer to its current role as a pillar of the digital establishment. And it's done so not by the simple expedient of taking one platform and pitching it at a range of price-points, but rather by expanding its offering to fill every niche from the all-in-one 'just add speakers' system [HFN Mar '22] to the highly-focused high-end network component explored on these pages.
Beginning as a side-project of an executive of Citech, a Korean company founded in the 1950s to make set-top boxes for TV before developing touchscreen Internet kiosks, HiFi Rose has a rapidly evolving lineup of models based around the company's in-house Rose platform, software, and hardware. Even the all-analogue 'steam punk' RA180 amplifier [HFN Jul '22] – itself another example of the company's ability to have consumers expecting the unexpected – offers phone/tablet control via its own Rose AMP app.
Touch And Go
Now it's moved that process along even further, launching the RS130 'Ultimate Network Transport'. The company's most expensive streaming component yet at £4299, and the first model without a built-in DAC, it's a high-end example of less being more, focused entirely on delivering the best possible digital output into an outboard DAC of the buyer's choice.
This is much more than just a stripped-down version of one of HiFi Rose's existing network players so, as befits the price, there's a lot of interest going on here, and much of it new for this model. Even the dominant visual feature, that touch-sensitive display across the front panel, is larger and brighter than ever (but can be dimmed!), and has large, responsive virtual buttons making setup and operation easy.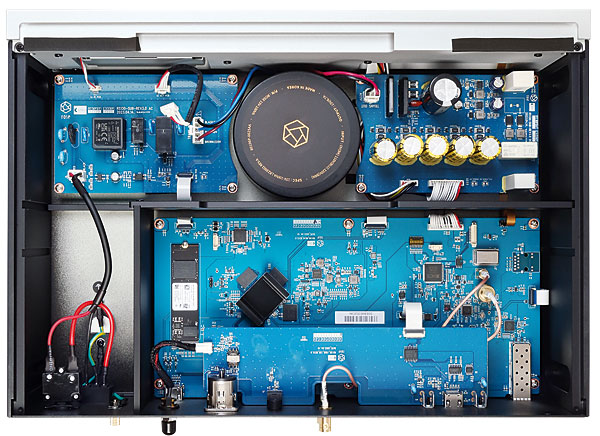 Heavy Metal
What's more, considering this is 'only' a transport, it's a solid, hefty beast, the thick, high-quality aluminium casework contributing to the 12kg bodyweight. As usual the top-panel is adorned with a three-dimensional version of the corporate logo, inset into the metalwork, and in this case providing ventilation for the circuitry within. Ahead of this central vent, four little crystal buttons along the front edge of the top-plate allow access to favourite presets, play/pause, muting and power functions. So the RS130 can be operated using its mix of physical and virtual buttons, as well as a Bluetooth remote handset, or – as is most likely – via the Rose Connect app on an Android or Apple device.
To the rear of HiFi Rose's transport, some things are familiar, and others less so. In the former category are the coaxial, AES/EBU and optical digital outputs, plus an HDMI out to feed audio and video to a suitable TV or AV receiver. Connections are also provided for an external third-party digital clock, and there's a further HDMI-type port used to deliver an I2S digital audio stream to a compatible DAC.
Quiet Please!
The RS130 also has a lot of USB ports – two for the connection of external storage, a Wi-Fi dongle or even an optical drive for disc-ripping, and one designated 'USB DAC' to output audio to your favoured device. There's also a 'USB Fibre' port, for use with a hub to isolate the unit from external noise, and the same applies to the 'Ethernet Fibre' port, which is the only way to create a wired connection to a home network. The fibre port uses a slide-in SFP transceiver, one of these with an RJ45 port for a conventional wired connection being supplied in the RS130 box.
By switching this for a suitable adapter I was able to connect the unit directly to my existing fibre network, and the gains in clarity and focus experienced suggest that users with copper wire networking would be well advised to insert a short length of fibre to isolate the player from any network noise. Doing so will cost around £60 – for a copper-to-fibre converter, a couple of SFP transceivers and a short run of fibre 'cable' – and is definitely money well spent.
That was the only tweakery involved in getting the most from this network transport, no doubt thanks to the care that's been taken in its design. A new linear power supply layout has been implemented, including an over-sized transformer and a supercapacitor by way of reservoir and isolation. An oven-controlled master clock ensures the stability of the 'timing' and reclocking of all streams, and an SSD is fitted internally to cache data from USB- or network-connected drives.