HiFi Rose RS130 Music Library/Streamer Page 2
It's also possible to insert a larger-capacity SSD into the RS130 via a hatch under the chassis to provide internal storage. A device of up to 4TB can be fitted, with the stipulation that this should be no more than 7mm thick, and preferably a Samsung drive, as that's what the Korean engineers have tested. Think about £180 or so for a suitable SSD.
Your Dac's Best Friend
Here I have to introduce my usual caveat regarding digital transport devices such as this… All they can do is deliver the cleanest possible datastream to whichever DAC you choose to use downstream of them. Their 'sound' is more a case of no sound, allowing the DAC to work to its full potential. But there's a sidebar to all this, in that HFN reviews and PM's Lab Reports have found that highly tuned digital transports will usually have the most effect with relatively modestly priced DACs. That was certainly the case here as the likes of the iFi Audio NEO iDSD [HFN Mar '21], the less expensive Chord Mojo 2 [HFN Apr '22] and the budget AudioQuest DragonFly Cobalt [HFN Oct '19] proved the most revelatory with the HiFi Rose RS130.

Indeed, I'd go so far as to suggest that, while the little AudioQuest 'DAC in a stick' might prove too much of a leap of faith for buyers of the RS130, either the Chord or iFi Audio DAC would be a very good match, and the latter has the advantage of a sort-of visual blend with the transport, too.
With the NEO iDSD in harness and the RS130 streaming the new, very crisp and dynamic Steven Wilson remix of ABC's The Lexicon Of Love album [Neutron Records/UMC; 96kHz/24-bit download], the ability of the combination to reveal levels of subtle detail in what is an exceptionally familiar recording was immediately impressive. Yes, the remastering has punched things up a bit, but even going back to my original 1983 CD copy [Mercury 810 003-2] showed two things: one is that the HiFi Rose/iFi Audio pairing was revealing nuances I hadn't previously been aware of, and the other is that I've now been buying various copies of this album for 40 years!
Going back to a recording a decade newer, Matthias Bamert's Stokowski's Symphonic Bach with the BBC Philharmonic for Chandos [CHAN 9259], the way the RS130 transport delivers these 'big band' arrangements of familiar pieces is certainly dramatic. Moreover, what these compositions lack in subtlety the recording more than makes up for in terms of orchestral weight and scale, as illustrated by the ample bass on offer here.
No Worries
By the way, as with all the recordings I auditioned, I played the Bamert set from a USB drive plugged into the RS130, from an internal drive fitted into the transport, and streamed from my NAS array (after a lengthy scanning process to allow the RS130 to index my admittedly large music library). In each case the sound was indistinguishable, meaning the full flexibility of this transport can be used without worry.
With a more recent orchestral recording – the 2016 Dennis Russell Davies box set of the complete Philip Glass symphonies, on the composer's own label [Orange Mountain Music OMM 0104] – the way the RS130 accentuates the rhythms in the music, and Glass's love for extreme bass dynamics set against subtle detail, is delivered to thrilling effect. Not least, I might add, in the Bowie-inspired 4th Symphony...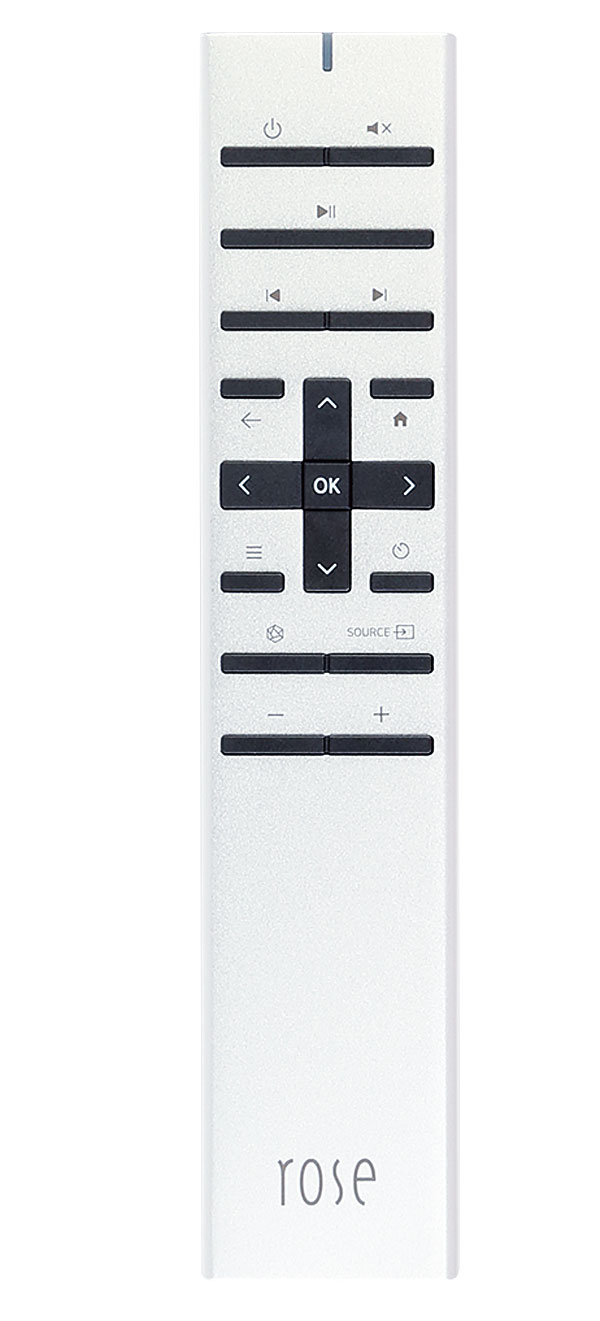 High Flyer
Depending on the digital output in use – and the capabilities of the connected DAC – the RS130 supports files at up to 768kHz/32-bit and DSD512, with downsampling and DoP transmission available respectively for DACs unable to match those extremes. HiFi Rose's transport is heard at its best with high-resolution files, for example delivering crystalline detail with the Hoff Ensemble's Polarity [2L 2L-145; DSD256]. Here there is an almost luminous view of pianist Jan Gunnar Hoff, bassist Anders Jormin and drummer Audun Kleive, fully recreating the 'you are there' impression that 2L label boss Morten Lindberg always strives to achieve.
However, the RS130 remains impressive in its handling of music at much lower data-rates, and I hugely enjoyed using it to listen to everything from Internet station Radio Paradise to some of the 2023 BBC Proms, where its clean feed made the most of the live Radio 3 stream. Do you need it? That's going to be a personal decision, but there's no denying this is a very superior network streaming source.
Hi-Fi News Verdict
HiFi Rose continues its steady progression upmarket with this transport-only streamer, retaining its innovative approach. Optical USB and Ethernet connections are deployed as a barrier to noise while the internal buffering of data from external sources – NAS and USB – helps tackle jitter and drop-outs. The result is a device that makes the most of almost any DAC you might try – even surprisingly inexpensive ones!