EAR PhonoBox Phono MM/MC Preamplifier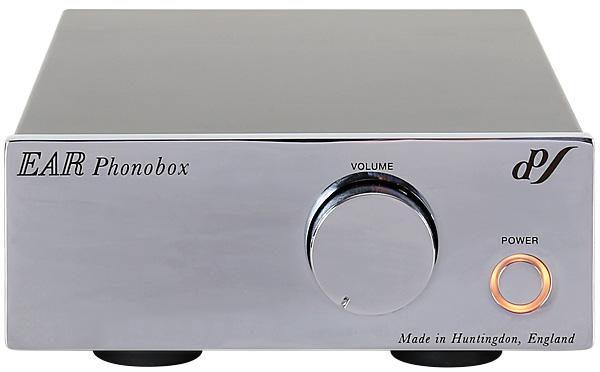 Replacing the longstanding, and long-popular 834P, EAR's new PhonoBox is still tube-powered and comes with MC and volume options in addition to a 'deluxe' chrome finish
Acat among the pigeons: at a time when we are being treated to a range of superb phono stages at modest prices, what for me is the true milestone of the genre has just appeared in what must be its fourth or fifth generation. The new EAR-Yoshino PhonoBox (also called the Phonobox or Phono Box) is the replacement for the venerable 834P [HFN Jun '94], which has seen a few tweaks and variants over the years, most notably restyles to smarten up the otherwise purely functional styling.
This is reflected in the new unit's options – you can buy the black box, fixed output, MM-only version for £1000, have the same with both MM and MC for £1199, or go for the chrome-finished 'Deluxe' for £1499. Amusingly, the finish of the thick black front panel is as luxurious as the chrome in its own stealthy way. The Deluxe is MM/MC but both it and the black MM/MC version are offered with or without volume control for no extra charge. Yes, you read that correctly: something extra for free.
Given that it costs no more, and if you can bear the thought of a volume control's presence when hair-shirted purists might opt for none, I would recommend choosing one of the versions that comes with a volume control. And I say this for a couple of reasons.
On The Level
The first is that, in a phono-only system, the PhonoBox can be connected directly to a power amp and thus act as a preamp – perfect minimalism for LP users. As for the other boon, I found that, because this is a fixed-value unit with well-chosen general values for MC cartridges and more than enough gain, the volume control comes in handy for fine adjustment of level.
I used the PhonoBox with various integrated and preamps, including the Audio Research REF 6 [HFN May '16], with a cluster of MCs of varying output: Koetsu Urushi Black, EAT Jo No5 [HFN Dec '18] and No8, TechDAS TDC01 Ti [HFN Sep '14] and Denon DL103. At no point did I feel that there was any sort of gross mismatch, which was a repeat of my experience with the 834P, consistently over a quarter-century.
To remind you of the PhonoBox's great granddaddy, it was a small, unadorned box, ideally positioned alongside an existing preamp. Less slick than its grandchild, the original EAR 834P had a rotary on/off control and an optional rotary volume, and a press button for MC or MM cartridges around the back. Three ECC83s made up the valve complement, the MM input a standard 47kohm and MC a nominal 5-50ohm while adding 20dB of gain via an internal transformer.
Slightly larger than the 834P but of a lower profile at 180x77x310mm (whd) versus the older model's 124x95x275mm, the aluminium-chassis PhonoBox contains three 13D16 triodes, but you can ask for ECC83s. As EAR always selects its tubes with care and therefore stymies tweakers who want to root around in their spares boxes for NOS gems, there's little point in replacing them with audiophile 'unicorn' tubes in the quest for improvements, but be my guest. Once again, two small transformers provide the additional x10 step-up for MC cartridges.
No-Brainer
Simplicity is the order of the day here, and editor PM is right to describe this as close to plug-and-play. The front bears only the illuminated on/off button, glowing red in standby before changing to a nice amber hue when switched on. It's just as clean around the back. A press button selects between MM (out position) and MC input (in position), while an earthing post is sited below, between the gold-plated RCA sockets for phono-in and line/preamp out. Also on the back is a three-pin IEC mains socket, with a fuse. As you can see, then, EAR really did design this phono preamp to be a no-brainer to ensure absolutely no techno-fear in newcomers to vinyl replay, while its performance utterly belies its cost.
Quiet Revolution
Warm-up was swift, siting presented no problems and thus it might be a bit of a let-down for those who feel cheated if they can't fiddle about with whatever new component they've acquired. Sorry, but the EAR PhonoBox is as easy to install as, well, a CD player. It's doesn't get any more user-friendly. As much as I know some of you simply must complicate matters, this won't let you. I wish the clock on my cooker was as easy to use.
I had, however, inadvertently created for myself, and the PhonoBox, a different set of criteria. My review of the 834P started out with the obvious – 'What distinguishes the 834P from solid-state phono stages are the sense of openness, scale and three-dimensionality' – and praised its soundstage and 'some of the sweetest bass I've heard in years. As for vocals, all I can do is s-i-g-h-h-h'. And that hadn't changed. Life is so much easier for a reviewer when a component can be compared side-by-side with its immediate predecessor. As much as I adore the 834P, I think I'd better start saving up for a PhonoBox... for its quietness alone. Put this down to structural integrity, design refinements, the ALPS pot on the variable-output version (which I reviewed), possibly higher-grade tubes than would have been in the 834P – whatever the reason, the PhonoBox offers a whole level of refinement above the 834P.