EAR PhonoBox Phono MM/MC Preamplifier Page 2
It's worth knowing just how the nature of the PhonoBox compares to the 834P which, for all of its musicality, was a bit wild 'n' woolly, albeit in a euphonic way. Rich, classically valve-y, with enough detail to satisfy in systems way above its price category, the 834P is still a gem. But the PhonoBox? All it took was a spin of The Beatles' Abbey Road 3LP anniversary reissue [Apple 02508 00744] to appreciate that the transparency and resolution of the PhonoBox was of a much higher, most satisfying and revealing calibre.
Simply Dazzling
To allay any confusion, I had already familiarised myself with the differences between the anniversary reissue mix and the 1969 original, so this was not about remasters vs. first pressings. If there was a new vs. old battle going on, it was between phono stages. But while I prefer my original Abbey Road, the PhonoBox is clearly an advance on its antecedent. And yet the price is, in real terms, actually lower than that of the 834P back in the day.
There's an article to be written about how much the cost of hi-fi equipment has plummeted in real terms, especially vis-à-vis spending power, and this only enhances the appeal of the PhonoBox. As with its forebear, the bass is simply dazzling in its richness and authenticity. The new take of 'Come Together' had a weight and mass than we just wouldn't have been able to experience a half-century ago, and the PhonoBox – just like the 834P – nailed it: you could feel each and every note.
But I wasn't surprised. Designer Tim de Paravicini really 'gets' bass and knows how to extract every bit of it. His power amps, even the smaller ones, deliver rock-solid slam without sacrificing any valve-ness. This works to great effect on both electric and unplugged bottom octaves, so don't write this off as one solely for headbangers. But they will be delighted with its forcefulness.
Turning to the punkish Runaways' Queens Of Noise [Modern Harmonic/Sundazed MH-8094], as punchy and raucous an affair as its title promises, the PhonoBox dug deep, while working fast to ensure that the transients from both bass guitar and kick drums were taut and precise.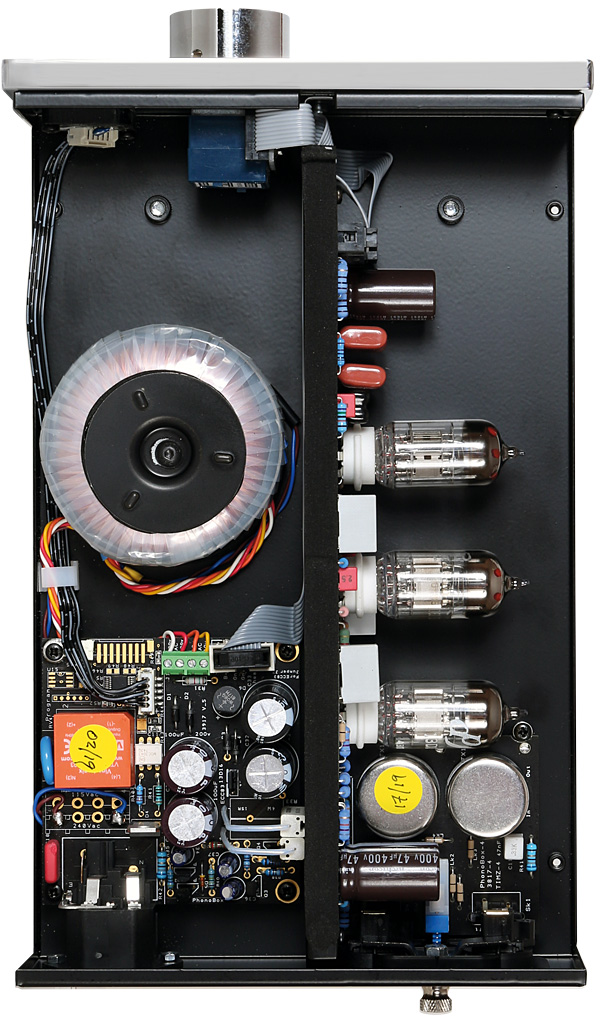 Joan Jett's guitar work showed that this prowess extends up the frequency range, and the PhonoBox's speed is one of its secret weapons. Quick, decisive, with sharp edges to each note in her fiery leads – it's the kind of performance I used to relish when there was a battle between tubes and transistors, now a conflict as out-dated and unimportant as LP-vs-CD. (And we know which were the winners...)
Speed Demon
It also demonstrated another family trait shared with the 834P, when it came to scale. Whitesnake is quintessential stadium rock, and even the band's ballads sound massive. The remastered Slip Of The Tongue [Rhino 0190295409784] is the usual feast of swagger, with even better guitar showmanship, and the delivery was apposite for Steve Vai's complex playing. This unit is fast and nothing caught it out.
Rather more pensive is Arthur (Or The Decline And Fall Of The British Empire) [BMG BMGCAT407DLP], for my money The Kinks' greatest release ever – and far better than the deliriously over-rated The Kinks Are The Village Green Preservation Society. Ray Davies never shied away from using unusual instruments and sound effects, and this paean to a long-lost England that may never have even existed, like a musical version of R F Delderfield's family epics, is rich with nuance.
Just listen to the militaristic drum opening of 'Yes Sir, No Sir' behind proper, sinuous electric guitar, contrasted with brass that wouldn't shame the Black Dyke Mills Band. It's airy, spacious percussion, yet so crisp that it takes your breath away. As intended, you don't know if it's rock, or a repeat from a late-1950s episode of Saturday Night At The London Palladium.
'She Bought A Hat Like Princess Marina' and 'Drivin'' are pure music hall. They're rendered all the more evocative (don't forget: this is the band that all but invented heavy rock with 'You Really Got Me' a mere four years earlier) by the inclusion of contrasting instruments in terms of the eras being evoked. Take the chunky bass guitar and twangy lead on 'Drivin'' or harpsichord, wild lead guitar and kazoo on 'Marina' – I can't begin to tell you how much this little phono stage reinvigorated my love for the album... which I have done for precisely 25 years longer than I have treasured the 834P. And now I adore the latter's grandchild.
Hi-Fi News Verdict
In 1994, I described the 834P's performance as: 'In a word: wonderful'. Fast forward to 2019, and ditto the PhonoBox, which, like the 834P, 'swings so fluidly and has such wide dynamics' – but unlike its still-cherished forebear, it's quieter, more refined and thus an even bigger bargain. Look elsewhere if you're a variable-loading obsessive, but I doubt you'll find anything more downright musical.