Copland CTA408 Integrated Amplifier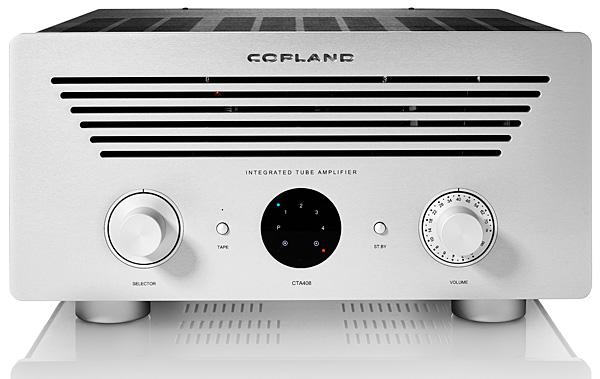 A modern integrated amp with the valve du jour, Copland's CTA408 leaves nothing out and delivers the lot – could this be the biggest bargain in high-end audio?
Of late, I have been banging on, to the dismay of many, about how high-end audio has priced itself beyond any regard for reality. That said, context is everything. So, if I tell you a burger can cost £18 in a London restaurant and that Copland's CTA408 integrated tube amp is actually a bit of a bargain at £6398, please accept that I'm painfully aware the latter sum is a fortune to many, but the former is highway robbery. Eighteen quid for a burger!
Anyway, my reasoning for deeming the Copland a great buy is based on a recipe which is, by current market norms, overly generous. If not, then tell me, please, what boxes aren't ticked in the following list?
Handsome styling, magnificent build quality, a quartet of KT150s (my fave modern valve), a proper tape-or-processor loop, a mixed MOSFET/triode tube preamp stage, plus a MM/MC phono stage with inputs for two decks and three selectable loads for the MC. There's also full remote control, a motorised volume control, a Class A headphone amp, a choice of black or silver front panels and robust, multi-way speaker terminals for 4 or 8ohm.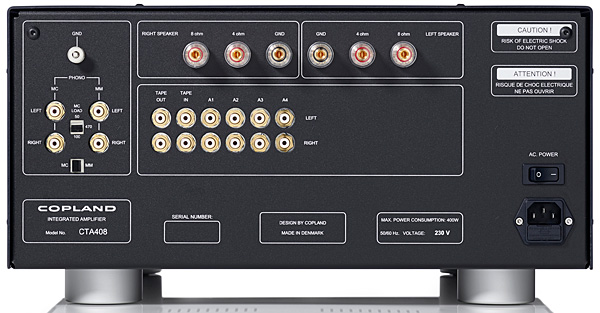 Analogue Lovers
If that isn't enough, please allow me to answer the question. Aside from the lack of a balanced input, I can think of nothing else that's missing. As for the absence of a DAC, that is no great hardship in a world where killer mini-DACs exist for under £100. Moreover, the CTA408 is unashamedly aimed at analogue lovers.
Behind the amusingly retro looks – the pattern of the front-panel ventilation slots recalls 1940s radio grilles – is a modern valve integrated amplifier, which I realise is an oxymoron to some of you. But, as PM reminded me with peerless perception, 'The KT150 "gherkin" has kick-started numerous new and revamped valve amps from Audio Research to Icon Audio. Would we be seeing so many new tube amps if development had stopped with the KT88?'
Modernity continues with a phono stage that uses J-FETs and active RIAA equalisation courtesy of 'more than one hundred discrete components inside a noise-shielding box of its own'. As our interior shot shows, this unit is endowed with a generous, sophisticated power supply. Copland also makes the output transformers in-house, and it's to these designs that one might attribute in part the rock-solid, deeply extended bass – as heard through the revealing Wilson Yvette loudspeakers [HFN Feb '17] .
Brief aside, which shows you how at least one reviewer's mind works. It swiftly occurred to me that I was listening to an integrated not too far removed from my reference amplifier, because the trusty Audio Research REF75SE on which I depend derives its power from a quartet of KT150s. As a result, these are the tubes I've been listening to for a couple of years, and as all of you know, one's ears become seasoned to a system's sound. It also explains why the CTA408 had no trouble driving the Yvettes with such ease – the KT150 is one balls-y bottle.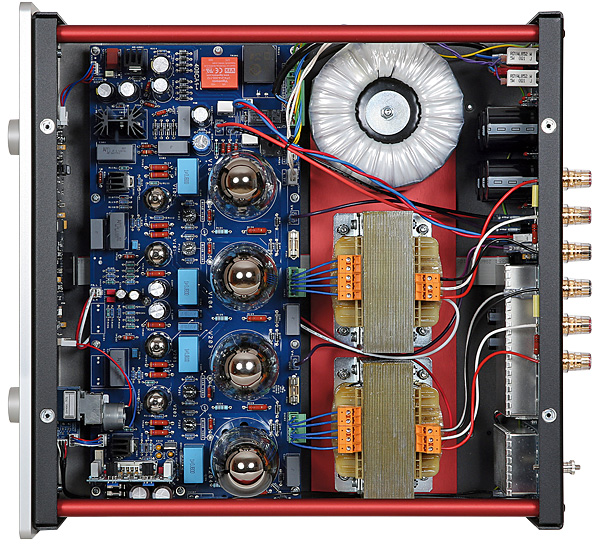 Pure Instinct
To shield the glassware from a switch-on surge, they are protected by a soft-start warm-up period. The display doesn't illuminate until the sequence is completed. Once you press the power button on the remote or the standby button on the fascia (having switched on the mains at the back), a flashing 'On' lamp indicates that the CTA408 start-up procedure has commenced, taking around 30 seconds. After this initial stage in the warm-up regimen, the 'On' lamp stops flashing and the audio outputs start to operate after another 20 seconds. If you turn up the volume and play a source through the amp before that second warm-up stage has ended, you'll hear an awful noise as the valves settle down, so be patient.
When it comes to ergonomics, this amp is a self-explanatory delight, so much so that I wanted to see how far I could go, as is my habit, before having to read the manual. Eventually, I turned to it solely for an explanation of the warm-up procedure I just recounted for you, but that was it. For any experienced hi-fi user, the Copland CTA408 really is instinctive to operate.
Its remote does everything, though why the hand-held controller also has CD player controls when there isn't one in the current catalogue is a mystery. The source selection scrolls through the inputs in both directions, whether manually through the rotary or using the remote's up/down buttons. The display arranges the indications in an arc, the panel showing 'P' for phono, followed by numbers 1-4 for the line inputs. Tape monitor, which is accessed by the aforementioned button, is accompanied by a tiny blue light above it that illuminates when it's selected.