Copland CTA408 Integrated Amplifier Page 2
Insert your headphones into the ¼in jack on the right-hand side of the amp – a nice touch instead of a front-panel location – and the speaker outputs mute. All other connections are placed conventionally at the back, but here you must do some pre-set-up preparation. The phono connectors are sunken into the casework rather than standing proud of the back panel, and I suspect there may be some outsized, overkill, bling-bling phono plugs that won't fit into the cut-outs that surround each RCA socket.
At Last
That header is meant to be ironic, given the first CD I played, for this unit was up-and-running in record time, driving LS3/5as before the Yvettes, while I tried Koetsu Urushi and EAT Jo No5 [HFN Dec '18] cartridges, via the VPI HW-40 Anniversary turntable/arm. For headphones, I used assorted Master & Dynamic models, as well as a new planar magnetic model from Audeze – the LCD-4z.

With a Marantz CD12/DA12 player as the digital source, the piano in 'She's No Lady' from Lou Rawls' At Last [Blue Note CDP 7 91937 2] sounded massive, powerful and with a most convincing illusion of the actual instrument being in the room. I tested my suspicions by banging out a few chords on my wife's upright just to feel the resonance of the real McCoy and also enjoyed a blast through the Audeze LCD-4z, which proved disarmingly out-of-the-head. The CTA408's headphone output is superb.
Via speakers, the amplifier spread the piano across the room, providing the scale of a full-sized instrument. Wow. Rawls' gravelly voice was heard with every element of its compound textures so vividly revealed that I suddenly recalled the memorable night when I heard him live, almost 30 years ago. When a sound system does that for you, it's passed one of the 'reality' tests that defined Quad's Peter Walker's adage about hi-fi adhering to the closest approach to the original sound.
See Through
It wasn't merely visceral – it was primal, unfettered, so genuine that I almost forgot I was listening to a CD. The inherent 'contrasts test' of the title track, which pits Rawls' voice against Dianne Reeves' crystal-clear instrument, only reinforced my initial impressions that this amplifier is able to demonstrate sublime levels of transparency, such that nuances are easier to discern. But the trick to achieving this is to avoid a presentation that's hygienic, clinical or over-etched.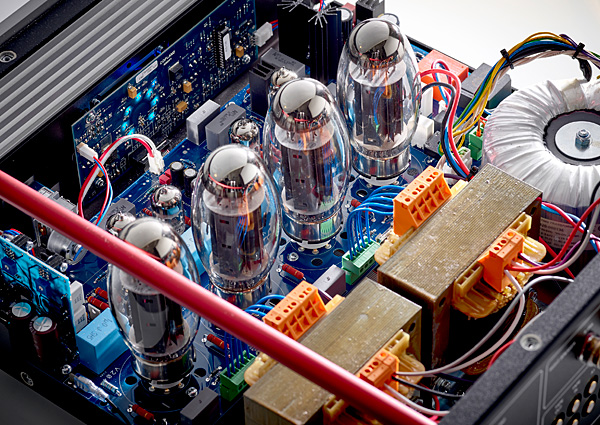 With Julie London's take of 'Bewitched, Bothered And Bewildered' on The Best Of… 1955-1962 [Real Gone Jazz RGJCD 514], the breathiness that characterises her delivery – she could render salacious 'Rudolph The Red-Nosed Reindeer'– was earthier than I'd heard through most systems, nearly matching the vivacity of the far dearer Audio Research REF6 preamp [HFN May '16] and REF75SE power amp combination. As subtleties go, this makes you reach for the headphones just to confirm what you think you just heard.
Tube Talk
I'm trying to be careful here, and really don't want to overdo the similarities to the ARC combination. That pairing has greater impact, headroom and scale, but then it should at more than double the price. The CTA408, then, emerges as a scaled-down facsimile, not least because of the identical output tube complement, and that is not a backhanded compliment. This is one for the grown-ups, even if they have a bias toward separate pre/power combinations.
I would like to think that this reasoning makes sense. If you heard a group of properly-designed 35W amps containing EL34 tubes or a selection of 50W/ch amps with 6550s, you would discern the characteristics of the valves through whatever the designers did to voice them in their own way. For those acclimatised to KT150s over a long period, the behaviour is unmistakable, and the Copland CTA408 positively celebrates the valve's persona.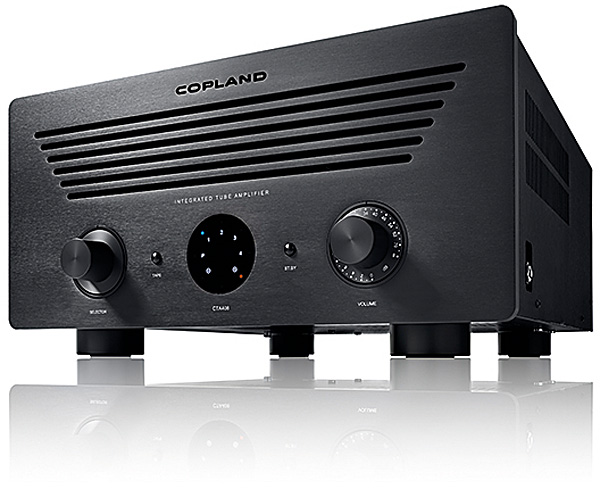 Which is my way of saying that this is a hugely illustrative amplifier for showcasing the KT150 – and that's a tube which I consider to be not only the salvation of the valve amp genre but its greatest ambassador for new-to-tubes listeners. Turning to the superlative phono stage, I played again the LPs I used for the VPI turntable sessions, as the sound was fresh but through different electronics.
The knockout came from a spin of The Best Of '66 Volume Two [CBS ABS1], which showed the amplifier's command of silky strings, punchy brass and what might well be this design's most outstanding trait: a soundstage so massive that even the LS3/5a speakers sounded as if they had mainlined steroids. Or should that be stere-oids?
Hi-Fi News Verdict
At a time when companies are hawking cables with prices per metre equal to the cost of a new kitchen or an SUV, it's uplifting to be able to say that here is something which delivers double what you pay for it. The Copland CTA408 isn't just fully-equipped and with perfect usability, it also sounds like £25,000 worth of separates. This just may be the best-value high-end integrated of the decade. I love it..