Bob Marley: Natty Dread Alternate Format Discography
Alternate Format Discography
Original Vinyl LP
Natty Dread was first released on Island records in November 1974. The UK, US and most European versions came with a record bag with photos by Adrian Boot and lyrics and record labels in different and striking configurations of red, green and gold – these were the colours of the Rastafarian movement [ILPS 9281].
The Canadian LP included a similar inner sleeve and featured an unusual variant of the disc label featuring a seascape with an airplane with 'Island' in skywriting letters, a car parked on chalk cliffs and an anthropomorphised palm tree that appears to have a taken female form [ILPS 92981].
This label also graced the original Japanese version, which had a similar inner sleeve and a double-sided insert with a portrait photo of Marley on one side and lyrics in Japanese on the other. It came with a white green and black obi strip [ILS-80158]. LP releases in the later '70s and into the '80s came with the graduated blue sunrise and sunset labels.
The Jamaican LP was a joint release between Island and Tuff Gong – the Kingston-based record label that Marley formed in 1965 – also with red gold and green labels but with different artwork. It had the same catalogue number as the UK release. The album was then re-pressed in 1976 in Barbados by West Indies Records and came out on Total Sounds in conjunction with Island [ILPS 9281].
In 1982 a Japanese LP was jointly released on Island/Polystar in the 'Explosion 2000 Series', with a green and white obi strip and a white inner sleeve with lyrics in Japanese [20S-83]
In 1990 Natty Dread was digitally remastered by Barry Diament and Rob Fraboni at Barry Diament Audio in New York City. This formed the basis of remastered releases in all formats, with UK and European LPs credited as a co-release between Tuff Gong, with its logo on the label [TGLLP3], and Island Records [846 204-1].
8-Track
In the US in 1974, Natty Dread was released on 8-track cartridge with pink packaging and the classic late '60s white Island 'I' logo [Island Records, Y81-9281].
Cassette
The cassette edition issued in the UK had red print direct onto a grey cassette shell [Island, ICT 9281]. The US cassette on Island bore the catalogue number M5 9281.
A small run of Jamaican cassettes was issued in 1974 on Tuff Gong. These had black or white shells with white paper labels, but without any serial number (one was recently seen on eBay for $475).
In 1983 a US cassette was manufactured with the entire album on both sides, in a white shell with white labels [Island 7 90037-1]. Finally, in 1990 came a US cassette in transparent shells, based on the 1990 remastering [Tuff Gong 422-846 204-4].
Compact Disc
Natty Dread was first released on CD in 1986 in Japan on the Polystar label [P32D-25009] in conjunction with Island, with a black, red and white obi strip telling us that this was the 25th anniversary of Island Records – although the label was actually founded in 1959. The initial UK and US CD releases came the following year on Island [CID 9281; 90037-2].
In 1990 the Barry Diament and Rob Fraboni remaster made it to CD and was released on Tuff Gong in the US [422-846 204-2] and Tuff Gong and Island in the UK and Europe [TGLLP 3; 846 204-1].
A 2001 version of Natty Dread was released on CD in the UK, Europe and the US as part of a 'Definitive Remasters' series on Tuff Gong/Island [314 548 895-2]. It was prepared by Ted Jensen at Sterling Sound, New York, under the supervision of the Marley family and Chris Blackwell [pictured below, left]. It includes the track 'Am-A-Do', recorded during the Natty Dread sessions and first issued in 1991 on the Talkin' Blues live and studio compilation.
In 2006 a Japanese CD based on the 2001 remaster was released in a facsimile LP cover card sleeve with a printed inner sleeve and sleeve notes [Tuff Gong/Island UICY-93120]. It came in this format to the UK and Europe that year as part the 'Vintage Vinyl Replica' series, which was set up for export outside Japan, with the same label and catalogue number details.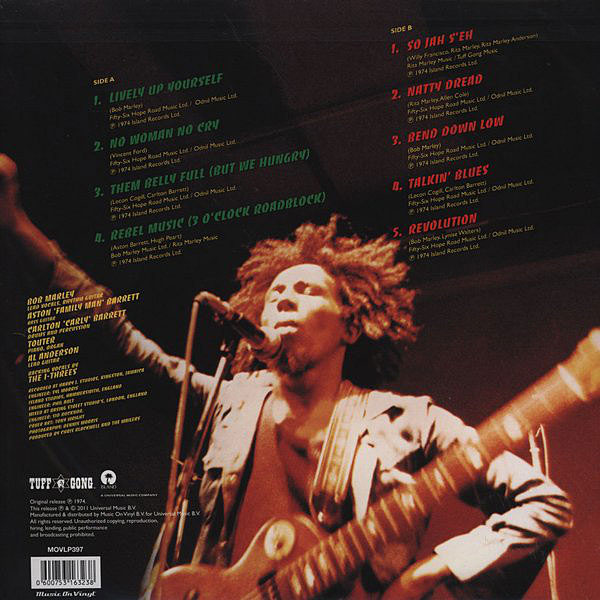 Audiophile LP
The first 180g audiophile LP release of Natty Dread appeared on the Island/Speakers Corner label in 1995 [ILPS 9281]. Dutch firm Music On Vinyl then released a 180g LP in Europe [pictured below] in 2011 [MOVLP397]. Another Netherlands pressing was the Back To Black LP reissue [pictured below], which had been part of the Complete Recordings box set but was also released separately [Tuff Gong/Island 600753600665].