Auris Audio Euterpe Headphone Amp/DAC Page 2
What the DAC section of the Euterpe ensured was a smoothness and absence of edginess, despite Simon's being a new(-ish) recording, whereas Bonnie Raitt's Madison Square Garden dates back exactly 40 years, to September 1979, and was betraying its age in a different way. This was no example of wide dynamics so much as wide soundstage, though the scale made up for the lack of deep bass in the recording – not, I emphasise, the Euterpe's fault.
To my surprise, three hours passed during which neither headphones nor the Euterpe drove me back to my loudspeakers. The unit was proving eminently listenable, even though not the quietest of headphone amps – the Quad isn't that much better in this area – although I found myself frustrated by the first sector of the volume control. Lots of travel with hardly any gain, then – whoosh – a sudden increase in volume (headphone sensitivity depending, of course).
Turning to LPs, I'd just pillaged the local HMV, knocking out vinyl at £6.99 a pop and couldn't resist Nina Simone's I Put A Spell On You [Philips PHS 600-172]. I'd forgotten how sublime was the recording: wall-to-wall sound and a natural acoustic to support the piano, rich strings and punchy sax in an utterly audiophilic manner.
Jazz titles like this, abetted by classical and easy listening, created the whole 'hi-fi experience' back in the 1950s, because it was 'grown-ups', not teens, who could afford the first hi-fi systems. This half-century-old recording, aside from amazing content which would have been arresting even via two paper cups and a piece of string, were complemented by the Euterpe's sumptuous behaviour. I was reminded of the Nirvana, about which I wrote, 'This is the romantic, lush, less-clinical alternative [to solid-state], which is my way of saying it is so tube-y that it plays on one's valve-vs-transistor prejudices'.
Sonic Spectaculars
In this respect, then, it begs to be compared to Quad's PA-One rather than the host of solid-state headphone amps vying for the same sum. While many valve headphone amps give you a direct conduit to tube noise – low-level, it is hoped, or irritatingly humming if not – there are those of us who prefer it to the more clinical nature of transistors. Simone's textured vocals were delivered with every nuance accounted for, but free of sibilance and sounding authentically breathy.
It was time for sonic spectaculars, so I fired up the Otari and dug into my treasure trove of reel-to-reel tapes. A cult is developing for the once-forgotten miracles on the Command label, so forget finding them for a fiver. With slogans like 'The greatest advance in sound… since high fidelity was invented' and 'For discriminating people who desire the finest in sound', and with Enoch Light at the helm, these are just the ticket for the closest listening one can get: via cans. Bob Haggart And His Orchestra's Big Noise From Winnetka [Command RS 4T 849] is a 1960s interpretation of the big band sounds of the 1930s and 1940s, with the sort of 'fidelity' that we still dream about. Transient speed: check. Bombastic bursts: present and accounted for. Scintillating, sizzle-free treble: another box ticked. Prairie-wide openness: yup.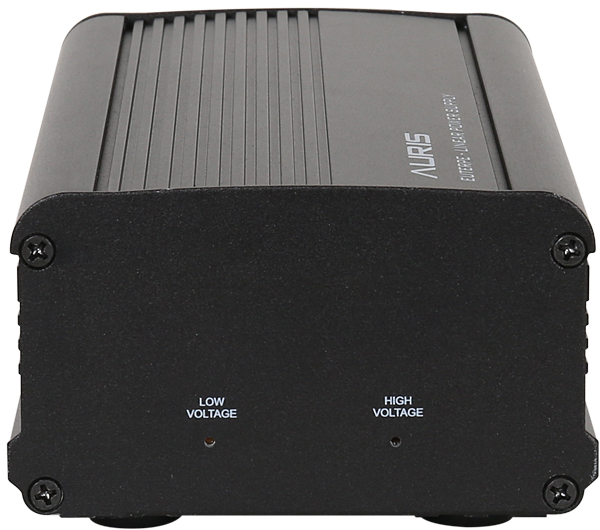 I listened intently to the recordings via Wilson Sasha DAW loudspeakers [HFN Mar '19] before donning cans to see how much scale they could approximate, while accounting for the inescapable conflict between sounds in front of you, and sounds in your head. But the main virtues? The clarity, the speed, the freedom from the curses of either digital processing or whatever stands between a master tape and an LP? In spades.
Beyond Value
Big band recordings such as this deliver inspiring levels of impact which, while best savoured via loudspeakers, still have much to offer the headphone user, even when robbed of realistic dimensional scale and appearing in miniature in one's head. Skull-filling it may be, but the freedom from distraction when transported by 'phones to a private listening space is simply beyond value.
Such is the quality of the transfer that, even with so much going on, the direct feed begs forensic inspection and – despite those residual noise levels – the Euterpe is transparent enough to allow the sort of focused attention to the tiny details that might even be overwhelmed by speaker playback.
Auris Audio has ensured that its Euterpe imposes little on the sound, but what it does contribute is a warmth that some (like me) find irresistible – even if it may be euphonic thaumaturgy.
Hi-Fi News Verdict
Here's where you have to choose between head and heart, or between being a savvy consumer or a whack-job audiophile: this is one of the sweetest headphone amps I've used for under £2000, it's fun to use and looks great but is limited in flexibility, it's quirky, has a mediocre volume control and swiftly let's you know if it's overdriven. I could happily live with it, but I know it would often frustrate me.