Audio Research Reference Cd9 (£11,995)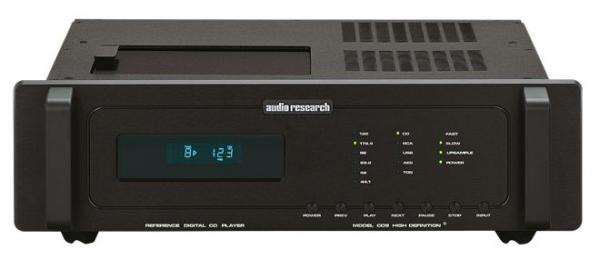 Regardless of parameter (textures, space, attack, neutrality) the REF CD9 truly excels
This is a replacement for the four-year-old CD8, which can serve as a standalone player, a transport-only front-end thanks to digital outputs, and – most importantly – a 'digital media bridge' of sorts, like the processor-only REF DAC.
Looking at it primarily as a CD player, there's a valve-based analogue section and valve power supply regulation, the tube complement totalling five 6H30s and one 6550C. As it's a top-loader you cannot put anything on top which would hamper its ventilation. CDs are held in place on the Philips PRO2R transport with a light puck.
To ensure the highest standard of playback beyond the CD element the CD9 accepts asynchronous USB 2.0, AES/EBU, RCA and Toslink digital inputs, compatible with data up to 24-bit/192kHz on all inputs. ARC's supplied software CD enables you to use the USB 2.0 input with both Windows and Mac systems.
Facilitating further practicality, the back contains, as well as the digital inputs, AES/EBU and BNC digital outputs, single-ended RCA and balanced XLR outputs, and mains input.
Via remote, you can select sample rate conversion for all digital inputs as well as CD; and there are selectable digital filter settings. These are shown as vertical fascia displays together with Fast or Slow Filter, Upsample and Power.
Below the LED displays are seven metal control buttons for (L to R): Power on/off, followed by transport controls, Previous, Play, Next, Pause, and Stop, followed by Input.
Hearing a difference
Audio Research believes that digital sources can be optimised. Experimenting with the user-adjustable parameters provided varying results from CD to CD: it was not always a case of simply setting everything to what one assumed was the best. Many CDs sounded more lifelike and natural with native resolution than via upsampling, but it differed from disc to disc (and even remastered editions of the same recording).
Determining which filter to use was less straightforward. We dug out pairs of CDs, such as 2000/2012 versions of The Beach Boys' sublime Surf's Up [Capitol] and they sounded sufficiently dissimilar to call for deft use of the remote.
While for many readers USB will prove not just an attractive option, but a crucially important inclusion, it was clear that the sound of this player with CDs was generally of a superior level to what we heard via USB – with or without upsampling – and 24-bit/48kHz USB audio delivered via an iMac and Mac Air did not sound better than the CD9's on-board disc player.
But with high-res downloads played through a worthy program we found that material such as the 24-bit Beatles recordings (available only in the form of a USB stick) and the 'free' 96/24 download provided with McCartney's Band On The Run reissue [MPL/Concord Music] sounded spectacular. They had the edge over CD by exhibiting smoother transient decay, reduced sibilants and more punch.
Returning to CDs, it was reassuring to confirm our initial reaction to the player's seductive silkiness. We played Lou Rawls' 'At Last' from the CD of the same name [Blue Note]. The opening piano, followed by a sliding note on guitar sounded glassine-translucent without being brittle, tinkly without sounding thin. Of course, it serves as the backing for two of the strongest voices ever to pair on disc: Rawls' rich-as-Amarone depths with Dianne Reeves' near-operatic soaring. Their call-and-response sections positioned the two singers with uncanny presence.
Verdict
Top-loader or not, this is one of the finest players we have ever heard. Regardless of parameter – textures, space, attack, neutrality – the REF CD9 truly excels. The lack of artifice is as good as it gets.
Originally published in the 2013 Yearbook